22-Team Saudi Women's Football League Begins, India Still Far Behind; Premier League to Reconsider Five Sub Rule at Meeting With Managers and More (Football Round-up)
Short Passes (Football News Round-up): Saudi Arabia restart women's football league amidst criticism of "sports washing" to gloss over many wrongs in the country | Premier League to reconsider five sub rule at meeting with managers | Ready for the exit of Lionel Messi from Spanish football, says La Liga president Javier Tebas | PFA to convene a special task force to study brain injuries and the issue of dementia among footballers | Swiss demand pay cuts from sports clubs in return for Covid-19 aid.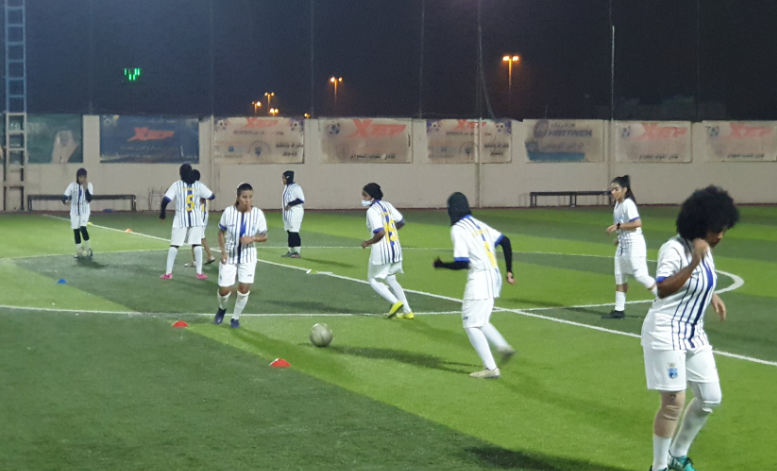 (Representative image) Seven matches took place in the capital Riyadh and the Red Sea city of Jeddah on the opening day of the Saudi Women's Football League  on Tuesday.
Here's a fact to really open our eyes to the state of women's football in India. Saudi Arabia — a country flogged regularly for its regressive policies towards women — now has a full fledged 22-team women's football league. What does India -- a country where women supposedly have equal opportunity to career and enterprise -- have? A barely three-week long tournament in the name of a league with 12 teams participating in it. 
Saudi Arabia's league takes on added significance when you consider that it was just two years back -- in 2018 -- that women were allowed to enter the stadium to watch a men's football match. And it was less than a year back, in  December 2019, when the Saudi Arabia Football Federation organised its first ever women's competition -- the Jeddah Women's Football League. It was won by Jeddah Eagles. 
The Saudi Women's Football League (WFL) was conceptualised soon after, and was scheduled to begin in March this year. It is impressive that the delay, owing to Covid-19, did not translate into cancellation of the tournament — something that various federations have done for women's football — a huge step towards women participation in sport in the country. 
Seven matches took place in the capital Riyadh and the Red Sea city of Jeddah on the opening day of the WFL on Tuesday. The 22 teams -- with almost 600 players in the roster -- will compete in their respective cities before taking part in the national championship stage for the Cup. The prize purse for the league is 500,000 Saudi riyals ($133,000).
Read More | 2020 FIFA U-17 Women's World Cup Cancelled, India Awarded Hosting Rights for 2022
Through the WFL, the organisers are aiming "to empower women and to encourage them to become active and to participate in sports at the community level," said the government-run Saudi Sports for All Federation (SFA).
"Based on what we've seen, and how beloved the sport of football is all over the kingdom, I believe we will see many more of our sisters getting involved in professional sports," Abdullah Alyami, a Saudi football coach and sports journalist, was quoted by Arab News.
Saudi Arabia also hosted a maiden international golf tournament last week. The back-to-back moves in the sporting realm to empower and encourage women, makes us wonder whether the gulf kingdom -- known for its ultra conservative rules for women -- has, in actual, turned a corner. And, it is a little hard to believe that a country which had almost no organised women's football till two years back, had enough players in the mix to form 22 teams at the height of a pandemic. Something doesn't add up, and critics of the regime have expressed scepticism too. 
They term these tournaments as "sportswashing", and an act to cover up the poor human rights record of the country. While sports is good, it is meaningless when basic human rights are not provided for its citizens, says Michael Page, deputy Middle East director at Human Rights Watch.
"Saudi citizens and residents should enjoy top-notch entertainment and sporting events, but they also should enjoy basic rights such as free expression and peaceful assembly," Page was quoted by the BBC. 
Well if Saudi has sportswashing, India has hogwashing when it comes to women's football. The scores are level!
Premier League Begins Talks on Five Sub Rule
The Premier League began conversations to allow the use of five substitutes in its matches. They are the only major competition in Europe to limit substitutes to three, following FIFA's decision to extend an emergency rule that allowed for extra replacements after the return from the first lockdown.
At a meeting with league executives, top-flight managers are believed to have expressed a collective view different from those of their clubs. Premier League clubs have twice voted against increasing from three substitutes, with a majority of them believing such a change would benefit only the richer sides.
Although there is no proposed timing for a potential third vote, or a date for another meeting at which a vote could be held, it is probable that the issue will be broached again.
Read More | Musical Chairs and Football: The Trend of Changing Ownership in the ISL
After the latest round of international fixtures — and the inevitable Covid-19 positives followed by injuries — more voices have joined in to support the introduction of five subs for the season. 
Although it is true that the rule will give greatest assistance to those with deeper squads, it has become clear that the congested 2020-21 season has created a higher risk of muscle injuries for all players.
The English Football League (EFL) was also following the three substitution rule but on Wednesday reversed its stand and agreed to an expanded bench. The changes will come into effect from Friday. Championship teams will be expected to name a bench of nine players, while those in Leagues One and Two will name only seven extra players.
La Liga Ready for Messi Exit
Lionel Messi, whose burofax caused an earthquake of unprecedented proportions in Barcelona earlier this year may have cooled his head regarding a separation from his boyhood club, but La Liga president Javier Tebas feels the player's exit is imminent and said Spanish football is "ready" for it.
Read More | Unoriginal But Understandable — 'Matchday: Inside FC Barcelona' Indicative of the Rut That has Swallowed Camp Nou
Tebas, obviously, would love to see Messi stay in Spain but also felt La Liga will be just fine without him too. Of course it will be. Football, as well as the league is larger than a star player, even if it is Messi we are talking about.
"We would prefer Messi to stay in La Liga but Ronaldo and Neymar left and we have not noticed any difference," Tebas said. "We are ready."
The 33-year-old Argentina superstar would be available on a free transfer at the end of this season. Manchester City, where former Barca coach Pep Guardiola is the manager, has been touted as Messi's destination prompting Tebas to take a dig at the Premier Club. 
"It seems the only club in the Premier League that talks about registering Messi is Manchester City, who compete outside the rules. I am not the only one saying this," he said.
"I am not too worried about them. I have criticised what they do so many times. Doing it one more time makes no difference. City is neither affected by Covid or pandemics or anything because they are financed differently and it is impossible to fight against that."
PFA Taskforce to Study Dementia
The Professional Footballers' Association (PFA) will set up a taskforce to study the issue of brain injury leading to dementia in football.
The PFA has been facing criticism from families of ex footballers who either died or are struggling with dementia. They have called out the organisation for its lack of support and even failure to acknowledge the health hazard. 
On Wednesday, the PFA said it would form the new Neurodegenerative Disease Working Group (NDWG). The members are not yet confirmed. The union, however, said that the taskforce would "ensure a more holistic support system is available for former footballers and their families".
"By establishing this advisory group, we hope to give the people most affected a strong voice in how the PFA supports former players and seeks to protect current players," the union was quoted by the BBC.
The introduction of a taskforce comes after criticism mounted following the death of 1966 World Cup winner Nobby Stiles last month. Stiles' family, who died aged 78 after suffering from dementia and prostate cancer, also spoke about the lack of support. 
Stiles is the fifth member of England's World Cup-winning squad to have been diagnosed with a brain injury disease.
Swiss Demand Pay Cuts Against Covid Aid
The Swiss government has demanded 20% pay cuts from top players and coaches in return for aid to sports clubs pushed to the brink of collapse by vanishing ticket sales during the Covid-19 pandemic.
The government detailed a 350 million Swiss franc ($384 million) loan scheme for top football, ice hockey and other clubs who have lost revenue due to virus restrictions forcing them to play without spectators.
Under the proposals announced yesterday, grants of up to 115 million francs will be handed out next year, designed to replace up to two-thirds of lost revenue. Clubs must also ditch paying dividends for five years and maintain their youth and women's set-ups.
"The sport clubs and the professional leagues have been hit hard," Sport Minister Viola Amherd told a news conference in Bern. "Many clubs are facing an existential threat. We have to make sure our sporting structure does not go under in the crisis, and we have to build it up again."
The aid was welcomed by the Swiss Football League. Chief Executive Claudius Schaefer said it showed the government recognised the "very difficult" situation of clubs as well as their social and economic importance.
Get the latest reports & analysis with people's perspective on Protests, movements & deep analytical videos, discussions of the current affairs in your Telegram app. Subscribe to NewsClick's Telegram channel & get Real-Time updates on stories, as they get published on our website.
Subscribe Newsclick On Telegram