40 Years of Jana Natya Manch -: A Journey of Struggle and Hope
This year, the Jan Natya Manch (Janam) completes forty years since its first nukkad natak, Machine was staged in 1978.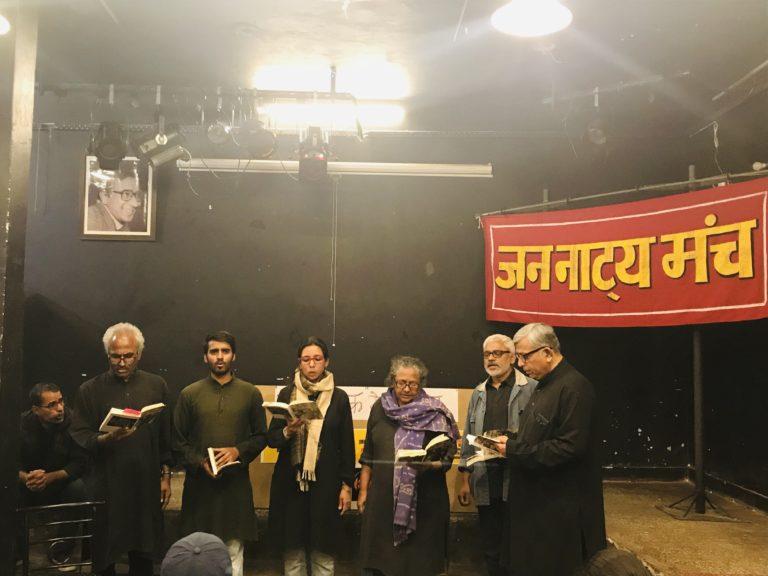 This year, the Jan Natya Manch (Janam) completes forty years since its first nukkad-natak, Machine, was staged in 1978. It was founded in 1973 by a group of Delhi's left-wing theatre amateurs who wanted to take theatre to the people.
Known as one of the pioneers of the street theatre initiative in India, Janam continues to address issues of social concern like price rise, elections, communalism, economic policy, unemployment, trade union rights, globalisation, women's rights, education system, etc.
On February 21, 2019, a seminar was organised at the May Day café to commemorate 40 years of Janam. People who have been a part of Janam since its early years came together to share their memories of the plays, the rehearsals and the times. The speakers included Janam's members, both old and new, who witnessed its journey and also contributed to the movement at different points in time.
Janam emerged as a form of resistance to give voice to the rage of the people, especially the working classes, against oppressive regimes. It had played a vital role in organising workers, revolutionaries and social activists, especially in its early plays like Machine and Ab Chakka Jaam.
But political messaging aside, how was it that in an era of commercialisation, political tyranny, and crackdown on artists, that a small group of amateur-theatre artists were able to signify a revolution? At a time when it was a crime to be political, how did Janam become a flagbearer of progressive thought?
That evening, the small and cosy hall at May Day transformed into a retrospective of the early political moments that illuminated the intertwined relationship between Janam and the workers.
The discussion began by outlining the literary and cultural context out of which Janam grew. "In the late 70s, the Emergency was over, and a radical political transformation was in the air. This consolidation of the workers' movements or peasant struggles was not restricted to only Bengal, but was beginning to spread to North India too," narrated Manmohan, one of the speakers at the event.
In 1973, a revival of sorts of the Progressive Writers Movement has begun in Hindi literature. Mahadevi Verma was one of the pioneers of this literature of change, which soon gained the support of other writers, both leftists as well as liberals. Small publications had amplified the revolution by publishing politically charged literature. During the Emergency, they were banned, and shut down, but that did not stop them. They continued to resist. This left a deep impact on the minds of the literary public. A deep desire to unite and forge collective alliances was indicated by writers from diverse fields of arts. So, theatre practitioners from the National School of Drama, cultural activists, publishers and so on, came together in solidarity. It was clear that literature could not be art for art's sake anymore, it was driven by a political conscience.
"But instead of cynicism, there was an agitation towards seeking alternatives, and change. We wanted to rekindle the same activist sentiments that were in full swing during the Progressive Writers Movement but had become passive over time," he added.  
It only makes sense then, that their first play, Machine, was shown at a writers convention in Timarpur.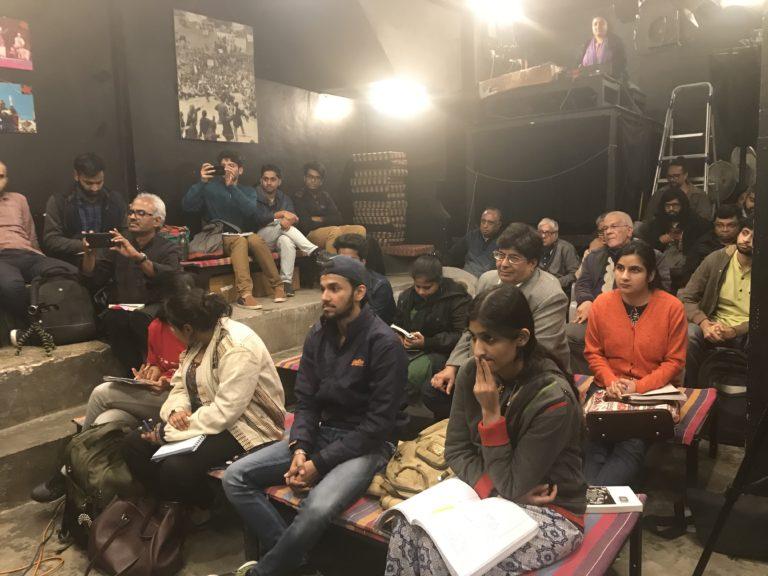 Machine was written as a reaction to the Herig India strike and was first performed at a worker's union demonstration. "But what makes Machine historical is not simply the fact that it was staged during a workers protest, but because in a matter of mere 12-13 minutes we were able to explain the whole capitalist machinery at the time in a creative and efficient way," stated theatre activist and editor, Sudhanva Deshpande.
"There was a three-tier system in the capitalist machinery at the time. At the top was the boss, then the machine and the worker at the bottom. But even a worker's relationship with the machine is complex. One the one hand it oppresses him and alienates him, on the other, it is also its companion. Therefore, a major reason why it was successful was because people could relate to the play, as part of the big wheel, as well as an individual entity," recalled Rathin Das, another former member of Janam, who had been associated with the theatre group as an actor and later took to journalism as a career.
The evening began with a reading of Machine, just as it was performed for the first time. All the actors aligned themselves in a machine-like formation and heralded the play with a clenching-machine-like sound.
One of the members told the audience how the idea of creating a tragic-pop like visual spectacle was actually an experiment to pull the audiences attention. Janam's early plays, though they had been performed on makeshift stages and chaupals in the big and small towns and villages of north India, the group had not experimented with street theatre before.
The experiment bore fruit. Moloyashree Hashmi credited the actors for their improvisation. Most of them, she told us, were experienced professionals, some with even five years of theatre experience. Their training helped the form immensely.
She also spoke about the felicitous nature of the language of the play: "Though the text is prose, the language is that of poetry. Despite rooted in a 'realistic' tradition which describes the toil of the labourer, the language does not lose its imaginative flavour. This was because both Rakesh Saxena and Safdar Hashmi (who co-wrote the play) were acutely aware of the power of language."
The popularity the plays gained among the public, especially the working classes, could not be wholly attributed to its political messaging. If the plays were excessively pedagogical in nature, they could have easily been rejected.
"Our attempt always is to ensure that the theatrical or performative aspect is always top-notch. We pay a lot of attention to it. The measure of success for all our plays is how entertaining they are to the audiences and if they have been able to effectuate a new worldview," commented Sudhanva Deshpande.
"The second parameter to gauge success depends on how intently associated the play is to the movement that it is rooted in; if and how much, our play has been able to aid them or their cause in any way," he added.
Indeed, Janam had been a key link in bringing together activism and art. Brinda Karat, a member of Communist Party of India (Marxist), who was also a speaker at the panel, testified to this.
Brinda Karat came to Delhi in 1975, after the Emergency had been imposed. As a member of the CPI(M), she worked mainly with the textile workers. Back then, the main workers union in Delhi was textile-based with 1800-2000 workers being concentrated in five textile factories – two owned by Delhi Cloth Mill (DCM), one by National Textile Corporation Limited (NTCL) and one by Birla. A kind of residential settlement had also been constructed around the factories for the workers, such that their lives had become restricted to the space. During the Emergency, she recalled, an atmosphere of threat and fear loomed, such that even if 15 workers were seen at the same time at a teashop the guard would ward them off, saying that that wasn't allowed. As a result, all trade unions had been bifurcated. Karat's job involved organising them into one collective.
She recalled how Janam served as a bridge between intellectuals and workers unions. Thousands of workers would assemble and watch the plays because they wanted to know what had become of the negotiations.
She commended the proficiency of Janam's plays which identified the most intricate details about the workers' lives, that would seem unimportant to others. For instance, a cycle stand and a canteen were prominent features of plays. "This was as real as it could get because there was a zabardast struggle taking place at the DCM Canteen about, 'Mera Canteen Kaisa Ho?'  There used to be a cycle stand once which was dismantled long back, even before the Emergency. But it had become a part of the workers' memory."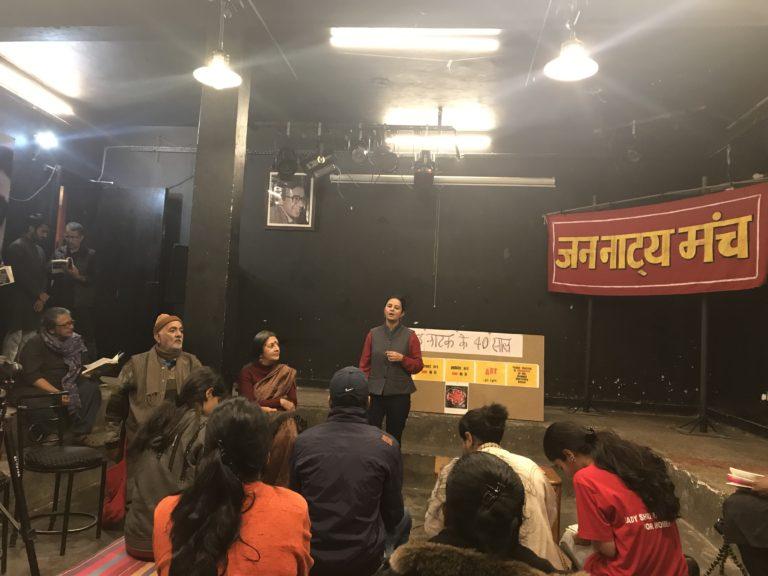 Thus, the impact was so profound that long after the plays were over, workers would keep asking and requesting her to have the theatrewallahs return so that they could speak to them in their quarters.
Sudhanva Deshpande affirmed how a crucial part of Janam's training came from their intensive and continual interactions with the workers. "Many of us did not come from the same background. Therefore, doing street theatre and taking it to factories and other real locations was a big educating and learning experience for us."
From 1978-1988, Janam did 24 street plays and nearly 4000 shows, an average of 400 shows per year. The team comprised of 12 people who declared they did nothing but street plays.
Deshpande recalled how he was a student at Delhi University when he first learnt of the workers strike in 1986 through a student organisation, Students' Federation of India (SFI). Two years later, he became completely associated with the Jan Natya Manch. "1988 was a landmark year for Janam, because many of their senior team members had become older and married with children, and had domestic responsibilities to look after. So Safdar wanted to involve young people in the group."
KM Tiwari, who had worked with unions in the Ghaziabad and Sahibabad industrial areas narrated how another play Ab Chakka Jaam had come to be.
"Ab Chakka Jaam was a reaction against the minimum wage rate for the workers. When the play was staged, the minimum wage rate was a meagre 120 rupees, and the workers were paid 150 rupees. In 1986, when the strike was called, there was not a single workers basti where the play was not shown."
He continued, "The question that the play incited in the minds of the worker was: 'Jiyengey kaise hum?' (How will we live?) We are four-five people huddled together in one room, like animals. All of us work in shifts, half our lives are spent in completing one shift at a factory where we also eat. When we go back home, the rest of our family members are completing their second shifts. When do we live? Why are we asking for more pay? Why should we demand fixed hours? And why were we even holding a chakka jaam protest? – these issues were addressed through the play.
"That which I do not get in a theatre, and often I don't even have the money to go to a theatre, but when I do, it offers me song and dance and all kinds of other entertainment, but never the story of my life."
As a result, 1986 witnessed a one-day strike, 1987 a three-day strike, and in 1988 a seven-day-strike was organised in the whole of Delhi-NCR region. Despite the pressures of the authorities, the strike was successful.
Thus, by introducing the workers to their own selves, Janam laid the foundations for a class conscience. It had shown the workers that change was possible, that one resistance or protest could shake the system if only one persisted.
This copy was updated on March 5, 2019.
Get the latest reports & analysis with people's perspective on Protests, movements & deep analytical videos, discussions of the current affairs in your Telegram app. Subscribe to NewsClick's Telegram channel & get Real-Time updates on stories, as they get published on our website.
Subscribe Newsclick On Telegram