51 Days of Agitation: Villagers Protesting Azamgarh Airport Expansion in no Mood to Relent
The sit-in protest is gathering wider support, as organisations and activists from other UP districts converge for a solidarity march.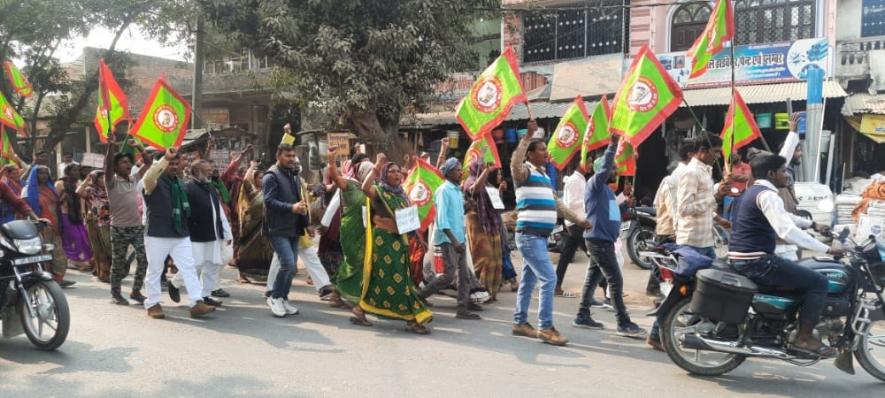 Azamgarh: It's been 51 days and the weather is getting cold, but the spirit of villagers protesting Azamgarh airport's expansion refuses to die, especially among women, who are in the forefront of the struggle.
"Considering the number of people who participated in the march today (Friday), our confidence has increased. We protested in a democratic way and we are sure it will remain like that in future. The state government is spending a huge sum of money to conduct a ground survey for expansion of the airport site before work on the DPR (detailed project report) starts. Why is it wasting so much money on a project which we won't allow?" Neelam, a landowner from Jamua Jolha, told NewsClick amid the padyatra (foot march).
"The villagers have decided that if anyone comes (to conduct a ground survey), we will ask them to leave. It will be done without using force. If the state government wants to arrest us, it can do so," she added.
Neelam was part of the Kisan Sangharsh Yatra being taken out by residents of eight villages likely to be affected by the airport expansion project. It was supported and joined by social activist Sandeep Pandey and various other organisations and villagers from other districts who had marched to Azamgarh to express solidarity with the agitation.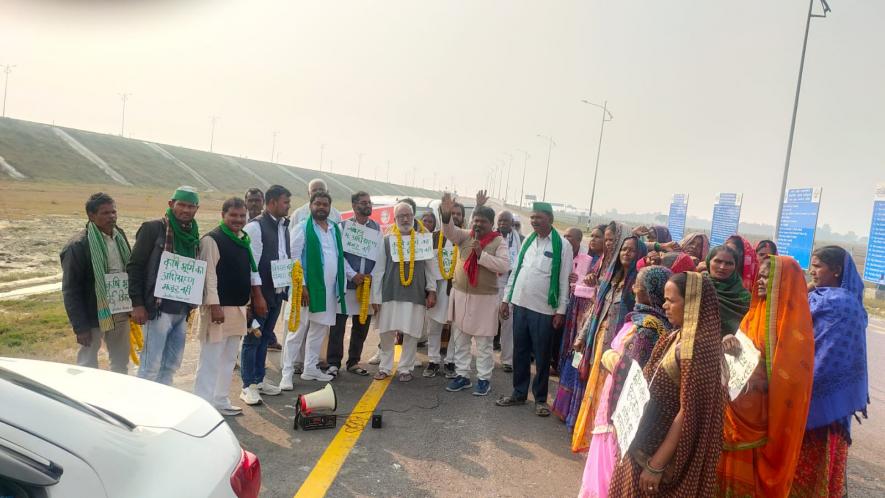 Nirmala (60), a resident of Jigina Karampur, was visibly upset and angry as she waved a black flag. "Why do you think I am here on the streets in this cold leaving my children back at home? This is a question of our identity, our land and our village. It (the state government) is promising a lot of things, but I don't care."
She said money holds no importance for her or her family.
"If they force me out of my land and village, I will immolate myself. I prefer to die rather than leave the land where I have lived for so many years," she told NewsClick.
Nirmala's companion Dulari (58), who also hails from Jigina Karampur, didn't say much. Instead, she waved a black placard which read: "Vikas chahiye, vinash nahi" (we want development, not destruction) and "Land is our right... Let us live and be what and who we are."
Read Also: 'Will die but Won't Give Up Land', say Farmers Opposing Azamgarh Airport Expansion
Acquisition of land for the proposed airport in Azamgarh district is turning into a landmine, with women engaged in agriculture in the affected villages taking up cudgels up in arms against the government. Most of the women belong to the dalit or Other Backward Classes (OBC) community. They are opposing the proposal as it would result in over a third of the land of Halakurki village being subsumed for the airport -- the government is eager to acquire 670 acres in eight villages spread across 3,000 acres.
NewsClick visited some villages that are likely to be affected. A majority residents said they did not want to move out of their ancestral land and homes, no matter how much money or alternative land the government provided as compensation.
Atul Nisad (50), a farmer from Gadanpur Chindan Patti ,who owns 5 bighas, said: "People are spreading lies and saying that villagers of Azamgarh are happy with the idea of an airport and are more than willing to give up their land. Does this (the march) look like we are ready to give away our plots?"
Echoing fellow villagers, he said: "No one from the government will be allowed in our villages to conduct any kind of survey. If we give our land, we will become beggars in our own village."
Yogesh Yadav (24), a college student from Lucknow, looked out of place among the protesters, in his dark blue dotted shirt and swanky sunglasses. He hails from Hasanpur and said: "I may look modern but I come from a farming family and know that land is nothing less than a mother to me. No one can understand our anxiety and tension. My land is my right and I will not let it go," he told NewsClick.
The villagers claimed that most of the land proposed to be acquired for airport expansion was fertile.
The government should look for arid land, said a group of villagers, reiterating that they would not allow the government to take over their land and were ready go to "any extent to save their source of livelihood."
Kisan Sangharsh Yatra Reaches Azamgarh
On November 30, a group of farmers, social activists from Unnao, Kanpur, Lucknow and Barabanki, led by Sandeep Pandey, Magsaysay award winning social activist, and general secretary, Socialist Party (India), reached Azamgarh to support protesting villagers against expansion of proposed dysfunctional airport in Manduri.
Next day, land owners of eight villages -- Hasanpur, Kadipur Harikesh, Jamua Hariram, Jamua Jolha, Gadanpur Chindan Patti, Manduri Jigina Karampur and Jehra Pipri -- took out foot march in Azamgarh to mobilise others. Around 500 villagers, mostly women, carrying placards, banners in their hands welcomed their counterparts at various places, including Phulpur, Sarai Meer, Sanjarpur, Fariha, Nandnagar, Nizamabad, Sherpur Tiraha, Sofipur, Tehbarpur, Nevada and Manduri.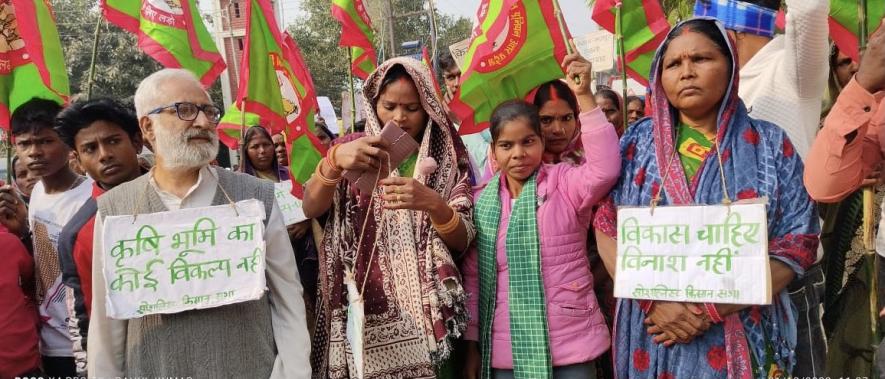 Pandey told Newsclick that there can be no alternative to agricultural land, nor can one's means of livelihood be changed easily. "Even under the Land Acquisition Act, land cannot be taken from farmers without their consent," he added.
Farmer leaders Rajeev Yadav and Virendra Yadav said that the people of Purvanchal had created history for their sit-in protest for 50 days at Khiriya Ka Bagh in a peaceful manner were in no mood to bow down until their demands were met.
"The ruling government was in illusion, thinking that these are poor labourers and the protest will end in a week or a month. They were under the impression that villagers will be scared or intimidated. We will not give an inch of our land to the government for the airport," they told NewsClick.
Recently, Bharatiya Janata Party (BJP) MP from Azamgarh, Dinesh Lal Yadav (Nirahua), allegedly threatened to "break the knees" of protesting farmers.
On November 19, during a public gathering in Mubarakpur area ,he said: "The lone reason Azamgarh remained backward is its people here who are out of hand. If the district has to progress, then first such a trend needs to be stopped. Those who are out of control, either send them to jail, break their knees or kill them."
The farmers collective, Samyukta Kisan Morcha (SKM) has also extended support to the protesting villagers. Ahead of 'Mazdoor-Kisan Mahapanchayat' held on November 27 at Eco Garden in Lucknow, SKM gave a call mark two years of the farmers' movement against the now-repealed three farm laws, but the Azamgarh district administration tried to prevent villagers from going to Lucknow to join protest, alleged Yadav.
Read Also: UP: Farmers Remind PM Modi of His Promises, Warn of Delhi-like Protest in Entire Country
The Airport Project
The project for expansion of the Azamgarh airstrip, under the UDAN scheme, requires a total of 600 acres -- 310.338 acres for phase-I and 264.360 acre for phase-II. In addition, 783 houses will also be affected in eight-nine villages. The project will also displace about 10,000 people from around eight villages, a district administration official told NewsClick.
Get the latest reports & analysis with people's perspective on Protests, movements & deep analytical videos, discussions of the current affairs in your Telegram app. Subscribe to NewsClick's Telegram channel & get Real-Time updates on stories, as they get published on our website.
Subscribe Newsclick On Telegram