UP: Farmers Remind PM Modi of His Promises, Warn of Delhi-like Protest in Entire Country
SKM, an umbrella body of farmers' unions, which spearheaded the one-year-long agitation against the farm laws, has also called a general body meeting on December 8 to decide the future course of the movement.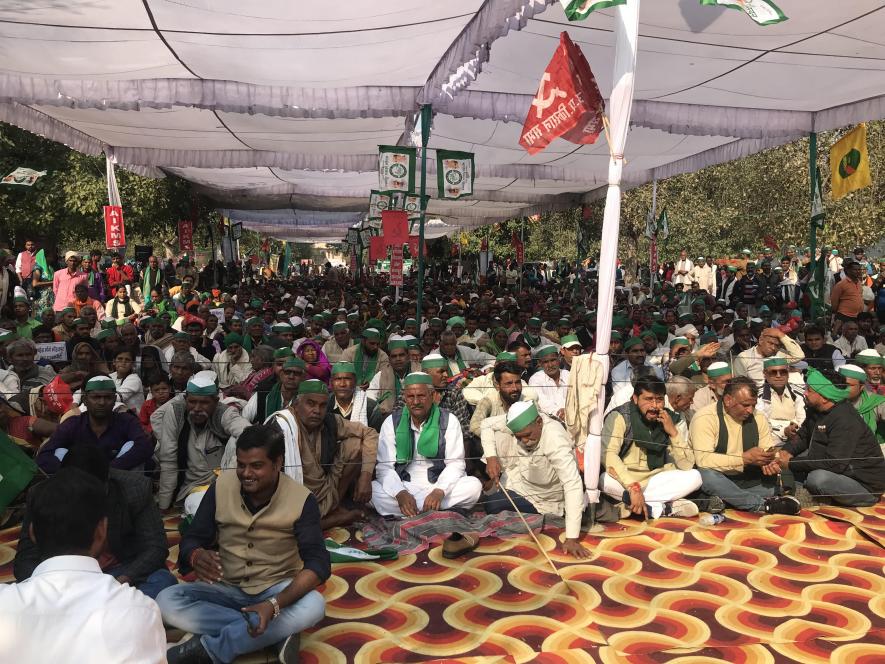 Photo by Abdul Alim Jafri
Lucknow: Meera and Shiv Baran from the Bamhna Kherda village in Uttar Pradesh's Hardoi district started their road trip towards the state capital Lucknow on November 25 with a torn blanket, a worn-out sweater and an unshaken resolve. "We will not tolerate the breach of promises anymore," they said.
After spending six hours in a cramped tempo with 17 others, Meera and her friends finally got the chance to stretch out their legs and wrap themselves in a thick blanket after landing in Lucknow.
"Ye sarkar apna wada bhi nahi nibhati hai. Sirf ghareebon ko jhootha sapna dikhati hai (The government does not fulfil its promises; it only gives false hopes to the poor)," distraught Meera told NewsClick.
Groups of farmers with their colourful flags, many of them on tractors, in buses and open pickups started reaching the Eco Garden in Lucknow at dawn on Saturday. They had come to join the 'Mazdoor-Kisan Mahapanchayat' to mark two years since they launched their agitation against the now-repealed three farm laws. By afternoon, the crowds swelled with farmers coming from Bahraich, Lakhimpur Kheri, Deoria, Ballia, Azamgarh, Hardoi, Faizabad, Shahjahanpur, Pilibhit, Meerut, Bijnor, and Muzaffarnagar. They alleged a breach of assurance given by the Centre on their pending demands.
A massive crowd gathered on Saturday for a farmers' Mahapanchayat or a meeting called by Samyukta Kisan Morch (SKM), where leaders including Hannan Mollah, Bharatiya Kisan Union (BKU) leader Rakesh Tikait, and Mukut Singh, state general secretary of All India Kisan Sabha (AIKS) were spotted on the stage. Apart from these, representatives of Kisan Sabha, Jai Kisan Andolan, Krantikari Kisan Union and Bhartiya Kisan Shramik Janshakti Union were among the speakers.
Accusing PM Narendra Modi-led NDA government of betraying farmers and not fulfilling most of their demands, SKM leader Hannan Mollah said that the Modi government is a "traitor". "The government has proved it is a traitor who has cheated the farmers. At the time of scrapping three agri laws, (they) had made a commitment to set up a committee to give legal shape to the minimum support price, withdraw all criminal cases registered against farmers, release tractors and other vehicles impounded during the agitation and take action against the guilty involved in the massacre of farmers at Lakhimpur Kheri. They are protecting the corporates. They have proved they have no intention of fulfilling our demands," the SKM leader told NewsClick.
"Unfortunately, none of these promises have been fulfilled. The government has refused to grant the status of martyrs to more than 700 farmers killed during the year-long agitation," he said, adding that this time, not only will Delhi be an epicentre of farmers' protest but the entire country will witness the agitation.
SKM, an umbrella body of farmers' unions, which spearheaded the one-year-long agitation against the farm laws, has also called a general body meeting on December 8 to decide the future course of the movement.
It was on November 26, 2020, that SKM had launched the one-year-long March to Delhi protest.
Other longstanding demands by the farmers include raising the sugarcane price to Rs 500 per quintal, prohibiting action against farmers for burning crop residue, providing free electricity to farmers, dismissing and arresting Union Minister of State for Home Ajay Mishra 'Teni' for his alleged involvement in the Lakhimpur violence, lifting the tractor-trolley ban, measures to control stray cattle menace. and compensating farmers for crop damage caused by unseasonal rains.
BKU leader Rakesh Tikait, while addressing the gathering, appealed to the peasants to learn to operate "Twitter and Tractor" as they both will help to fight the government.
Tikait further said, "Badshah (Modi) says that there will be development in 2047. But by then all the farmers will have lost our land. The freedom struggle lasted for 90 years; it was a more dangerous period than this. But if the farmers do not get alert, history will repeat as we are living under an undeclared emergency where both pen and camera are guarded by guns."
The BKU leader also pointed to the high-handedness of the police in Azamgarh, Jewar in the name of airport expansion.
"In 2005, the Bihar government by ending the mandis system (market yards regulated by the government) in the state, ruined the farmers there and the peasants are selling paddy at only Rs 800 per quintal. Similarly, the government destroyed the farmers of Jammu and Kashmir. Apple growers are in dire straits. Furthermore, whether it is Jewar Airport, Azamgarh or Lucknow, farmers' lands are being acquired without their consent," Tikait told NewsClick on the sideline of the Kisan Mahapanchayat.
Gunja Pati and Kausalya from Jigina Karampur in Azamgarh district along with hundreds of others under the banner of 'Makan Bachao Khet Bachao Sanyukta Morcha (Save houses and farms)', travelled to Lucknow in the fear of losing their houses, livelihood, and farmland after the announcement of a proposed expansion of Mandauri airstrip in Khiriya Ka Bagh, near Jamua Hariram.
Gunja, who owns eight biswa, and Kausalya, who is the owner of two, told NewsClick that they came to Lucknow hoping that their plight would be heard from a big plat platform. "My husband is a daily wage labourer and earns Rs 250 daily. Whatever we have is our one roof and the small patch of land to survive. But if this government snatches that from us, we will die. The fear of losing land brought us here," the duo told NewsClick.
Paryesh Nisad, a youth who claimed to have run away, hidden from the district administration, and taken a kutcha road to reach Lucknow, told NewsClick, "A day before yesterday, the district administration with cops barged into our houses so that we don't participate in the Lucknow protest. They (police) threatened us with dire consequences if we joined the protest," he told NewsClick, adding that police also took pictures of whoever came to Lucknow.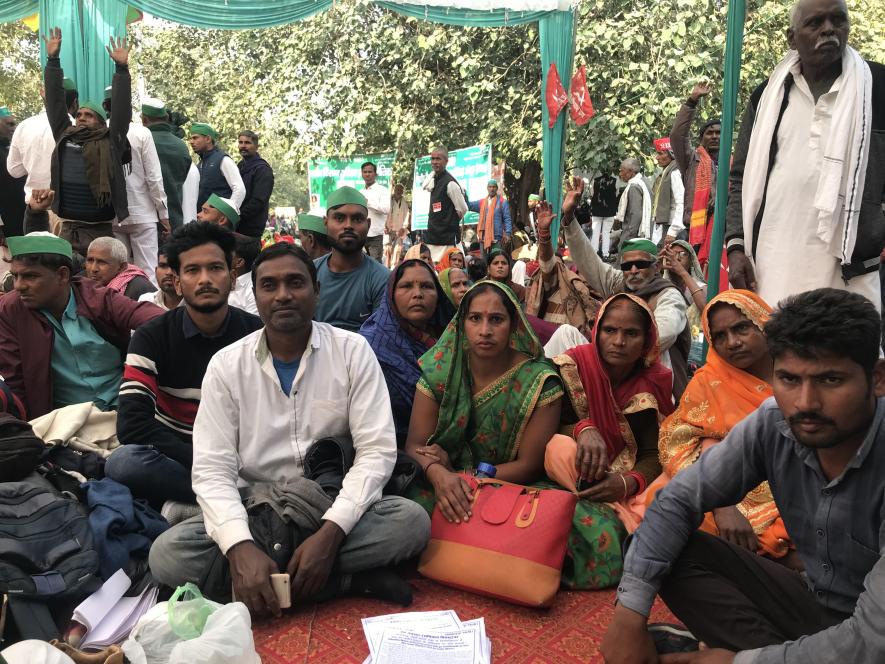 Photo by Abdul Alim Jafri
Radhe Shyam of Hasanpur village said, "We are poor people and we cannot fight with this powerful government. What we want is only our land and the government should shift the airport somewhere else."
The proposal aims to expand the Azamgarh airstrip to an international airport under the UDAN scheme. The project will displace about 10,000 people from around 600 acres covering eight villages: Hasanpur, Kadipur Harikesh, Jamua Hariram, Jamua Jolha, Gadanpur Chindan Patti, Manduri Jigina Karampur, and Jehra Pipri. The villagers are unwilling to give up their land and livelihoods tied to the land.
Get the latest reports & analysis with people's perspective on Protests, movements & deep analytical videos, discussions of the current affairs in your Telegram app. Subscribe to NewsClick's Telegram channel & get Real-Time updates on stories, as they get published on our website.
Subscribe Newsclick On Telegram