A Search For Gandhi in the Real World of Tomorrow
Lesser-known Urdu accounts of Gandhi's life from the late-colonial era imaginatively trace an arc from intolerance to connectedness.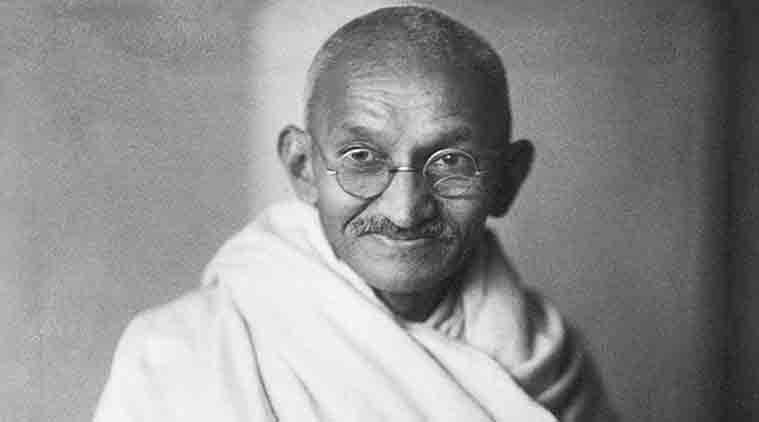 Image Courtesy: The Indian Express
The 1920s and 2020s have striking resemblances, especially the alarming rise of communal hatred in both eras. The difference in the 1920s was the new set of leaders who stood up to the challenge of communal strife, resisting it through mass mobilisations. Mahatma Gandhi and his companions emerged on the firmament of anti-colonial nationalism in this period, earning global repute for India's civilisational credentials. In the subsequent decades, a sentiment of hatred towards Gandhi arose. Today, the hate-filled ideology that resulted in his assassination is a hegemonic force in India. It has acquired state power and endorses social animosities, which reflects in electoral outcomes, too. One symptom of this animosity is the wide readership that contentious literature on Gandhi and first prime minister Jawaharlal Nehru.
Therefore, it is instructive to revisit a lesser-known literary category that took off between 1919-1932. Precisely a century ago, at least three authors wrote Gandhinamas or accounts of Gandhi's life in Urdu. The versified Gandhinama of Akbar Allahabadi (1846-1921), known as the master of wit and sarcasm in Urdu poetry, is notable. Composed over 1919-21, it was published posthumously in 1948. Prof. Iqbal Husain's "Akbar Allahabadi and National Politics" (1988) and Shamsur Rahman Faruqi's "The Power Politics of Culture: Akbar Ilahabadi and the Changing Order of Things" (2002) chronicle the poet and his Gandhinama.
The other two Urdu Gandhinamas are less known within and beyond the Urdu-reading public. It is, however, necessary to discuss them at the popular level. Amid the civil disobedience movement in the early 1930s, Urdu poet Mohammad Rafiq Khawar (1908-1990) published a 192-page versified Urdu biography, also titled Gandhinama. To the best of my knowledge, Khawar could never write the sequel to his first volume, a hagiographic account of Gandhi's early life until he left India to study law in Britain. Khawar's Gandhinama was published on the persuasion of Hansraj, an aristocratic figure from Jullundhar (now Jalandhar) in Punjab. The poet justified his exposition with a couplet that roughly translates as: "This [biographical account] has nothing to do with the religious identity of the character; those who uphold sound character and high morals deserve all appreciation in my faith."
Khawar explicates the precise objective of his tamseeli or allegorical biographical nazm (poem). He writes, "Unfortunately, just like the Zionists, each of the religious communities of India have begun to harbour the belief that their faith is superior to that of others, and all the rest are repugnant. And that all divine favours are reserved only for the followers of their faith. This chauvinistic parochialism has created hatred between the communities. I have therefore written this to let the various religious communities of India realise that the birth of great souls is not confined to a particular religious community." Khawar refers to Gandhi as God's chosen creation. A couplet loosely translates as "I begin this versified account with your holy name. From whose modest and mendicant lifestyle, radiates the power of royalty".
Then comes Delhi's Khwaja Hasan Nizami (1887-1955), a distinguished Urdu prose writer, famous for his outstanding and inimitable lucidity. His semi-fictional accounts of the aftermath of the uprising of 1857 are exceptional. He is particularly distinguished for his picturesque descriptions of people, personae, and places. Known to the Urdu world as Musavvir-e-Fitrat, or depicter of nature, his Gandhinama was published in two parts in 1922 and 1942. Of the three Urdu Gandhinamas, Nizami's is the only one in prose form.
Nizami sent his manuscript to press in October 1922, ahead of the Congress Session in Gaya in December 1922 and the Khilafat Committee meeting, also forthcoming in the same sacred city in the same month. Reverentially, Nizami refers to the town in Bihar as "Gaya Ji" and wrote in the preface that his risala or pamphlet, a 50-page booklet, is apt since significant sacred components of India begin with the Urdu letter gaaf, which very roughly corresponds to the English letter 'G'. So we have Gai (cow), Ganga (the river), Gita (the holy book), Gayatri (a revered mantra). Nizami added the fifth, "Gandhi", to create a group he calls "Gandhi's five gaafs". He adds the sixth gaaf, "Gaya Ji".
Nizami begins the pamphlet imaginatively seeking—and is granted—longevity of over 150 years so he could pursue the fate of Gandhi's Ahimsa or non-violence in future generations. He peeps into 2050 C.E. (the Common Era having spread across the globe by then) and takes a world tour on foot as, he surmises, modern rapid transport would have vanished by 2050. In Nizami's future Utopia, people have stopped eating meat and live on milk, which is abundant. No weapons of war are in use; there are no internecine fights.
Nizami gets to know Gandhi in the real world of tomorrow and imagines him walking in the footsteps of the Prophet Muhammad. However, Nizami does not cover India post-1942 days, its independence and Gandhi's assassination by a bigoted Hindu. He writes, "Europe has not got any ruhaani faateh—spiritual victor—who could reign over the hearts of the Asian people, though Europe has many victors who could rule over the European people politically." By heart, he means the democratic space within the human body. And, expressing his views on the political victors of Europe, he writes, "The great Asia-born souls such as Buddha, Christ, Muhammad, Krishna... have ruled spiritually over hearts and minds across the globe. Spiritual rule has precedence over and is superior to the political rule, for, political reign is ephemeral, whereas the spiritual hegemony endures."
The travelogue of Nizami's highly original Utopian tour finds Afghanistan, Russia, Turkey, Germany, France have all thrown off their arms. Everywhere, people ask him to deliver lectures on Gandhi. He sees women across the globe are free and independent; none wear a veil. Even European and American countries have begun to shift towards minimal meat consumption, alcohol and luxuries. As he makes his way back to India, still on foot, he recounts Iran's mushairas or poetic assemblies. In his Persian ghazals, the beloved is portrayed as gentle and slim (just like Gandhi), with the mien of a cow and light radiating from their eyes as milk flows from a bovine.
In Nizami's pamphlet, cow-rearing is mandatory in almost every household worldwide, yet the cow is no longer worshipped, not even in India. People laugh at Nizami in 2015, when they learn that in 20th-century India, people would consume cow dung and urine. The world no longer has a currency. People clean cowsheds and, in lieu, get food. It is how the author-narrator pays for his world tour.
"America may have produced an Edison who invented and patented worldly pleasures, but did not produce any Tolstoy and Gandhi whose thoughts liberate people spiritually," he writes, adding, "We Asians generously distribute spiritual commodities without charging any price. Regardless of what may have happened with Gandhian schemes, none can deny that Gandhism has conquered Europe and America, that too in a manner that he did not even touch war booty, nor shed a single drop of blood, nor need any treaty and conference either."
Interestingly, Nizami wrote a 192-page book, "Krishna Beeti", to inform India's Urdu-reading public—meaning Muslims—about Hindu gods and goddesses. In it, he aimed to foster interfaith understanding and mutual tolerance.
To zoom well into the post-independence period, in 1969, an essay on Gandhi appeared in the special issue of Bombay's formidable Urdu periodical, Shaayer with strong echoes of Nizami. Obviously taking his cue, Mohammad Kamaluddin wrote "A Letter: Come Back in an Incarnation, Bapu", an impassioned appeal to Gandhi. "In your times," his essay says, "There was only one [Nathu Ram] Godse, whereas now thousands of Godses hover over India. They have now given up killing with pistols. They have taken recourse to other weapons... You won freedom for us from the greedy plunderers among the countrymen as well as from the foreign. Once again, your India is crying having fallen into grips of those very powers."
Kamaluddin goes on and on, railing against growing poverty, war-mongering, and gender and caste issues prevailing in the 1960s. He prays to Gandhi to return on his birth anniversary. At the end of the article, he puts his name down as "Ram Mohammad Singh D'Souza", thus identifying with all religions, Hinduism, Islam, Sikhism and Christianity.
In recent years, hatred, intolerance, violence, subjugation and marginalisation have risen steeply in India. There have even been attempts to disenfranchise a segment of Indian people. We need to revisit such creative oeuvres to rebuild a plural India, whose blueprint authors have perfected in their works.
The author is a professor of Modern and Contemporary Indian History at Aligarh Muslim University. The views are personal.
Get the latest reports & analysis with people's perspective on Protests, movements & deep analytical videos, discussions of the current affairs in your Telegram app. Subscribe to NewsClick's Telegram channel & get Real-Time updates on stories, as they get published on our website.
Subscribe Newsclick On Telegram