Activists Oppose 10-day Public Consultations on Mining Reform, Seek Extension
Members of civil society and concerned activists have condemned a proposal for mining reforms issued by the Ministry of Mines. The notice that was made public on August 24 proposing substantive changes to mineral laws, rules, and regulations, is seeking public comments within a period of 10 days.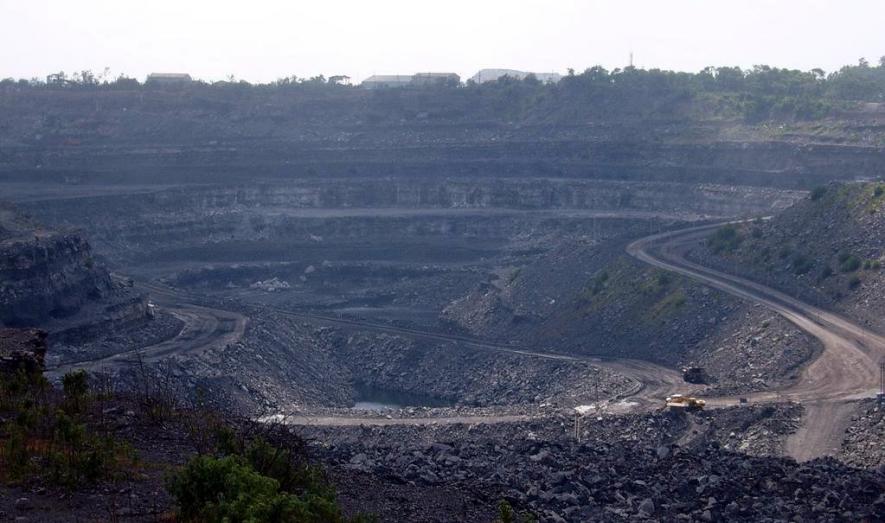 Representational image. | Image Courtesy: Wikipedia
Bengaluru: On August 24, the Union Ministry of Mines posted on its website a "note on proposal for Mining Reforms." The note detailing a series of policy changes in the mining sector states the "objective of the structural reforms proposed...are to accelerate growth and employment generation (sic)" and is described as a continuation of changes being brought in the mining sector under the Atmanirbhar Bharat (self-reliant India) scheme of the Union government. 
Comments and suggestions on the proposed changes have been invited from the public, as well as state governments and industry stakeholders, before September 3. This period of 10 days for public consultations on the proposal has drawn a sharp response from a coalition of civil society members and activists concerned with the mining sector.
A letter sent to the Ministry of Mines by Mineral Inheritors Rights Association (MIRA) – an association of several civil society groups in the country – has described the period of 10 days for public consultations a violation of government policy and has urged the ministry to address its concerns and follow a "robust democratic process."
The Proposed Changes
On May 16, Union Finance Minister Nirmala Sitharaman announced that the government was, under the Atmanirbhar Bharat scheme, seeking to enhance private investment in the mining sector and would bring enabling structural reforms for this purpose. The Ministry of Mines' proposal is the first the public has heard since then on the "structural changes" the government is intending to bring.
The proposed changes are significant in nature and would change the landscape of the mining sector in the country, which until recent years, has been a public sector monopoly and has been slowly moving towards a liberalised regime. Some of these changes are in line with recommendations of the Parliamentary Standing Committee on Mines.
Also read: Mine Lease Expiry in Offing, FIMI Suggests Skipping Auction Route
Some of the proposed structural changes with wide ranging implications include:
1. Creation of a prospecting license cum mining lease (PL cum ML) regime allowing private sector companies to undertake exploration and prospecting to identify mineral deposits, an activity so far limited to government agencies and public sector companies, to ensure a "seamless transition from exploration to production."
2. Resolving legacy issues pertaining to mineral blocks where prospecting had been completed, and the period for allocating mining licenses had lapsed, but cannot be re-auctioned due to ongoing litigations.
3. Removal of the distinction between captive and non-captive mines, with future blocks no longer ear-marked as "captive" mines for particular industrial units.
This provision seeks to bring all mineral blocks under a similar regime as that which exists for commercial coal mining. To this end, the government is also seeking to remove the right of first refusal given to companies that hold leases for captive mines. Under this system, if an already allocated captive mine was sought to be auctioned by the government under the amended Mines and Minerals (Development and Regulation) Act, following the expiry of the mining lease, the captive miner had the right of first refusal over making a bid in the auction.
This provision also raises the limit of how much of a mineral excavated at an existing captive mine can be sold commercially by the miner, beyond their specified captive use, from 25% to 50%.
4. Creation of a National Mineral Index to develop a comprehensive and broad-based system for determining levies and taxes to be charged for various different mining operations, on the lines of the recently launched National Coal Index. The proposal seeks to set up a committee to develop the Index.
5. Clarifying the definition of illegal mining in a prospective amendment to differentiate between mining done within legal mines but in contravention of regulations or laws, and mining done outside legally leased mining areas.
6. Rationalising stamp duty computation across states, to base it on the extent of mining area and the underlying land without any reference to the value of the mineral.
7. Amendments to ensure District Mineral Funds (DMFs) are utilised in mining affected areas for creation of tangible assets, and to ensure true autonomy of the National Mineral Exploration Trust. While DMFs were introduced to earmark funds for the benefit of persons affected by mining and for rebuilding of infrastructure in mining affected areas, the proposed amendment would emphasise the latter function.
8. Amendments to enable states to re-allocate through auction mineral blocks that are allocated to private companies but have not been made operational in three years since the allocation.
9. Amendments to the Mines and Minerals (Development and Regulation) Act to make the National Mineral Exploration Trust – set up as a trust to finance exploration in 2015 – a truly autonomous body.
Only 10 days for public consultations
A letter sent by the Mineral Inheritors' Rights Association to Dr. Veena Kumari Dermal, the director of the Ministry of Mines expresses "great concern" at the ministry's decision to only accept comments and suggestions on its proposal for 10 days.
The letter notes that while even in "local level public consultations" a 30-day period for public consultations is the norm, only 10 days have been provided for these wide-ranging reforms that would have implications across the country. "This is not even enough time to seek information under the Right to Information Act to evaluate the proposals meaningfully," the letter states, pointing out in addition that state governments are yet to be consulted on the matter, which it describes as "undermin[ing] the federal spirit of this nation."
Also read: Donimalai: Karnataka Readies Fight Strategy as NMDC Earns Relief in First Round
The letter further points to the Pre-Legislative Consultation Policy of the government, notified by the UPA-2 government in 2014, that requires that
The Department/Ministry concerned should publish/place in public domain, the draft legislation or at least the information that may inter alia include brief justification for such legislation, essential elements of the proposed legislation, its broad financial implications, and an estimated assessment of the impact of such legislation on environment, fundamental rights, lives and livelihoods of the concerned/affected people, etc. Such details may be kept in the public domain for a minimum period of 30 days for being proactively shared with the public in such manner as may be specified by the Department/Ministry concerned,
Pointing also to section 4 (1) (c) of the Right to Information Act, 2005, that provides that "every public authority shall publish all relevant facts while formulating policies or announcing decisions which affect the public," the MIRA stated in a press release that all the source data, calculations, and conclusions should have been made public prior to asking for comments. In addition, it states, it would have been appropriate for the notice to have been made available in regional languages, particularly those of the mineral resource-rich states.
In its letter the MIRA makes its demands specific, suggesting that the following data be provided to aid decision making by the public:
Status of employment in mining of major minerals, both by lease as well as over time.

Status of exploration: A detailed status of exploration at various levels, including classification of blocks into G1, G2, etc

Status of mineral inventory: A detailed mineral inventory must be published giving each ore body location and other details. Where these are within existing mining leases, this information should also be provided.

Current status of grant of major mineral leases, exploration status, approved production levels, actual production of minerals and actual employment from such leases.

A list of all "potential leases" that are "blocked in legacy cases" under Sections 10A(2)(b) and 10A(2)(c), exploration status, reserves, lessees and the litigation and status thereof.

List of all captive mines with full details that would be impacted by changes to the limits of production that can be sold. It is also important to provide a list of all non-captive mines since those will also be impacted by this change.

A list of illegal mining cases over the last decade that would fall under the two categories, i.e., illegal mining done outside leasehold areas and mining in violation of various clearances and approvals inside a mining area.

Stamp duty laws of various states, amounts collected by way of stamp duty, and the extent of change in state revenue from the proposed change.

On the DMF, the relevant section from the Parliamentary Committee should have been made available, along with analysis to what extent DMF monies have been used for tangible assets versus other uses. There should have also been some analysis why an amendment is required instead of a notification under Section 20A of the existing PMKKKY (Pradhan Mantri Khanij Kshetra Kalyan Yojana, or Prime Minister's Scheme for the Development of Mining Affected Areas).

A list of unused blocks along with the allottee and the time that it has been unused would be necessary to comment on the recommendations.

A list of the entities notified under Section 4(1) of the MMDR Act should have been made available. It is not clear if it is intended that any entity with a mineral lease would be eligible for using NMET funds, or just the entities named in the second proviso.
"

Deeply disturbing

and

Undemocratic; Making a mockery of cooperative federalism"
The MIRA's press release detailed comments made by prominent activists on the development.
Well-known RTI activist and founder member of Mazdoor Kisan Shakti Sangathan, Nikhil Dey said that "the recent move by the Government of India to amend critical laws governing minerals, in the midst of a pandemic, is deeply disturbing and undemocratic. It not only violates Section 4(1)(c) of the Right to Information Act which mandates that Government must disclose information before taking key policies, it also violates the Pre-Legislative Policy Order issued by the Ministry of Law that sets minimum norms of public consultation that ought to be followed by the Government before amending / passing laws."
Ramamurthy Sreedhar, a geologist and Managing Trustee of Environics Trust commented that, "The government is making a mockery of cooperative federalism and transparency when it seeks responses to far reaching changes in the mining sector in India in 10 days! More appalling is it's dismissive attitude towards the people who will be directly affected."
A questionnaire via an email has been sent to the Ministry of Mines seeking comment for this story. No response was received at the time of publication. This article will be updated with any response that is received.
The author is an independent journalist based in Bengaluru.
Get the latest reports & analysis with people's perspective on Protests, movements & deep analytical videos, discussions of the current affairs in your Telegram app. Subscribe to NewsClick's Telegram channel & get Real-Time updates on stories, as they get published on our website.
Subscribe Newsclick On Telegram