COVID-19 Lockdown: Migrant Workers in Gujarat Stare at Court Case, Activist Calls Violation of 'Human Rights'
The 35 arrested workers were among the many constructing the new campus of the Indian Institute of Management in Ahmedabad.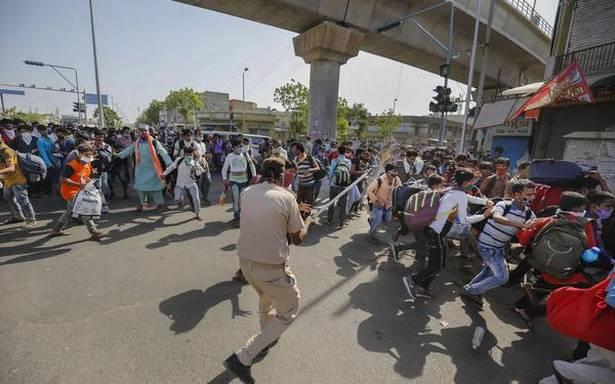 Image Courtesy: The Hindu
On May 18, 35 migrant workers in Gujarat's capital Ahmedabad were arrested for alleged rioting, stone-pelting and vandalism. Demanding to be sent back home, nearly 100 workers clashed with the police. Thirty-five of them were held for being in violation of the Epidemic Diseases Act and Disaster Management Act. After languishing in jail for a month, they got bail on June 23.
After being arrested, 33 of them were sent to Sabarmati Central Prison. The other two spent two weeks in a quarantine facility because they tested positive for novel coronavirus. After recovering, they were shifted to jail on June 1.
The bail order noted that migrant workers are "more victims and certainly not criminals". "In the lockdown, when the applicants were without any work, without any money and even without any food and under such circumstances, instead of arranging their going back home, they are sent to jail," it said. "They need not be continued in custody any further. They need to be set free immediately, on furnishing their personal bond, without any further condition."
On June 9, the Supreme Court had asked the states to "consider withdrawal of prosecution/complaints under Section 51 of Disaster Management Act and other related offences lodged against the migrant laborers who alleged to have violated measures of lockdown".
However, the Gujarat state has not withdrawn the cases, and it is something the workers will have to grapple with in the near future. Advocate Nirav Mishra, who secured their bail, said the workers may have been allowed to go back to their home state, but they would have to remain present in Ahmedabad when the trial begins. "It is okay if they come back to Ahmedabad for work," he said. "But what if they get work in Mumbai tomorrow? Or what if they decide to stay back in their village? These are the legal technicalities, which will cause a lot of problems if the state does not withdraw prosecutions."
Arvind Thakur, 28, younger brother of Manoj, who is among the 35, said the migrant workers took to the streets on May 18 because they were desperate to get home, but weren't being allowed to. "The company had not arranged for any kind of transport to get us back to our village in Jharkhand," he said. "They had not even paid any wages since after the lockdown started. My brother spent a month in jail. Our parents, his wife, we are all worried."
Like most migrant workers in India, Manoj is solely dependent on manual labour with no farmland back home. "We have always been on the road and made money working in cities," said Arvind. "We make Rs 10,000-12,000 per month. We keep some of it for ourselves, and send some home."
Manoj and Arvind both worked as labourers in Ahmedabad, but Arvind luckily went back home before the lockdown. "There was an emergency," Arvind said, not revealing why he had to go back. "I travelled back home, while Manoj continued to work. Then lockdown happened and he was stuck. We stay away from families for work for a major part of the year. With no work during the lockdown and bare minimum food to eat, he wanted to get back and see the family."
Arvind wonders how his brother would be able to shuttle between work and the court case. "Let us see," he said. "Right now, I am just glad he is out."
On March 24, Prime Minister Narendra Modi announced a nationwide shutdown to contain the spread of COVID-19. That rendered lakhs of migrant workers, daily wage labourers jobless. With no public transport, they could not even get back home to their families for several weeks. Following the lockdown, in several instances, angry, helpless workers thronged the streets and staged agitations demanding their return. The one in Ahmedabad on May 18 was one of such eruptions against the employers as well as the governments.
The 35 arrested workers were among the many constructing the new campus of the Indian Institute of Management in Ahmedabad (IIM-A). The IIM-A had given the contract of over Rs. 300 crores to build the campus to PSP Projects Ltd. Both of these well-known institutions/organisations bear the responsibility of the workers.
Among PSP's portfolio are works like the sprawling BJP headquarters in Delhi, development of Sabarmati Riverfront in Ahmedabad, and renovation of Gujarat Vidhansabha.
Anandvardhan Yagnik, a lawyer-activist based in Ahmedabad, said that both IIM-A and PSP Projects failed their workers, and that landed 35 of them in this situation. 
On May 19, a day after the clashes between migrant workers and police, Yagnik sent a legal notice to IIM-A as the principal employer of the workers, the Chief Secretary of Gujarat, and three other state functionaries for not making travel arrangements for the workers. He alleged that IIM-A and PSP Projects did not want the workers to go back home "so that as soon as the restrictions are eased out they can commence with the construction work again, which is the violation of the fundamental rights of migrant workers".
The legal Notice claims that IIM-A is in violation of Interstate Migrant Workmen Act, 1979, Minimum Wages Act, 1949 and human rights of the migrant labourers.
In the notice, Yagnik claimed that 500 workers, who hail from West Bengal and Jharkhand, while toiling to construct IIM-A's new campus, did not get minimum wages before lockdown. Post lockdown, the workers did not get any wages at all. 
According to Section 14 and 15 of Interstate Migrant Workmen Act, 1979, the notice said, there is "statutory obligation and liability upon the contractor first and principal employer to bear repatriation, displacement and journey allowance and send back the migrant workers to their parent state".
Section 13 of the same act says the workers should be paid according to the Minimum Wages Act, 1948. Yagnik's notice claims that IIM-A and PSP violated it, which does not only violate "the Minimum Wages Act but also violates the Inter-State Migrant Workmen Act, 1979 and hence the same is unconstitutional, being violative of Articles 14, 19, 21 and 23 of the Constitution of India."
All of these things that led to the humiliation of workers for days after the lockdown, Yagnik said, caused the commotion on May 18. "They wanted to meet IIM-A management," he said. "They weren't allowed inside the premises. Nobody paid attention to them for weeks."
Denying the charges, IIM-A, on May 22, said that PSP is "required to engage skilled, semi-skilled or unskilled workers" for the construction of the campus. "PSP has paid all due wages to the workers till the end of March 2020," the response read. "After lockdown, an ad hoc payment sufficient to cover food and miscellaneous expenses per worker, per week has been paid on a non-recovery basis by PSP to its workers."
In Yagnik's rejoinder submitted on June 18, he has said the ad hoc payment mentioned by IIM-A betrays the fact that they did not pay any wages after lockdown, which they should have according to the directive of the central government. "They are paid minimum Rs 200-300 per week towards food and other miscellaneous items and have not been paid their wages at all," the rejoinder read.
Interestingly, the bail order of the Gujarat High Court notes that Mishra, the lawyer hired by PSP, "has submitted that in the lockdown, the applicants were without any work, without any money and even without any food and under these circumstances, they wanted to go back to their home, which led to the alleged untoward incident" on May 18. This is precisely what Yagnik has alleged as well.    
In a telephonic interview, Yagnik called it "forced labour."
The May 22 response of IIM-A had said that PSP coordinated with local authorities "for arranging the workers engaged by or on behalf of them to go to their home states" via special shramik trains that the government had started. "While there were no special trains from Ahmedabad for Jharkhand and West Bengal", which "appears to have infuriated the workers from these two states".
They have further cited two emails PSP's manager wrote on May 4 and 5 to the government authorities requesting the transportation workers.
After the response, PSP even hired 15 luxury buses and sent 450 workers to Bihar and Jharkhand.
Yagnik said it was a move to "save face", after his notice on May 19. "Why did they not do it earlier?" he asked. "Why did they have to wait for special trains?"
However, Yagnik's rejoinder claims the journey back home on the bus was nothing short of torture. On May 22, the workers got two meals, But "on 23rd, 24th and 25th May, nothing was provided to them in the form of food or water, and by the time they reached their respective home in their parent state, they were dehydrated, hungry and humiliated."
Responding to a questionnaire sent by this reporter, IIM-A conveyed in an email response: "IIMA has not been contacted by the workers nor the contractors to voice any concerns. They erupted because they were idle and could not go home due to the non-availability of trains.  It is understood that some people instigated them (sic)." It also denied having any knowledge about the availability of food or water [ahead of the workers' protest].
A questionnaire was sent to PSP as well, but NewsClick has not received any response yet. 
Yagnik said if a prestigious institute like IIM-A gets away with this treatment of migrant workers, it would set a bad example in front of the entire country. "Sadly, violation of law is safer than the compliance of the law," he said.
The writer is an independent journalist.
[The copy has been updated to include IIM-A's response.]
Also read: Defeat of Pandemic Farther Due to Unplanned Urbanisation in Maharashtra
Get the latest reports & analysis with people's perspective on Protests, movements & deep analytical videos, discussions of the current affairs in your Telegram app. Subscribe to NewsClick's Telegram channel & get Real-Time updates on stories, as they get published on our website.
Subscribe Newsclick On Telegram