An Open Letter to Prez Murmu
I was benumbed by reading your interview to an Odiya video magazine in which you let it be known that the name by which the world knows you is not your original name.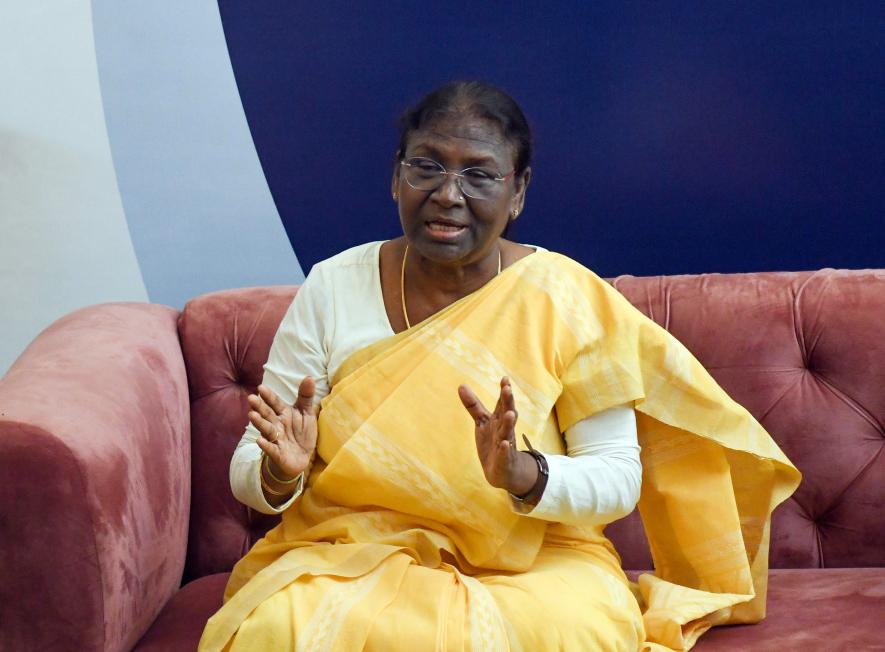 President Droupadi Murmu. Representational use only. Image Courtesy: ANI
Respected Rashtrapati, Droupadi Murmu Ji,
Although this may sound a trifle irrelevant after congratulatory messages have poured in from India and beyond, there is no way but to begin by extending my heartiest congratulations to you on assuming the office of the Indian President.
Your selection as the candidate of the ruling party and its allies and the preordained election, however, evoked an amalgam of sentiments. On the one hand, I considered your elevation undeniably momentous.
I cannot even for a moment contest your assertion in your assumption speech: "My election is proof of the fact that the poor in India can have dreams and fulfil them too."
On the other hand, however, being part of the profession whose job is to look at certain developments from a contrarian perspective, I cannot but say that your election left me desiring for more. Various statements, including by you, made since your election became a given, made me acutely aware of the inherent limitations of the entire process and possibly the years ahead.
I was benumbed by reading your interview to an Odiya video magazine in which you let it be known that the name by which the world knows you is not your original name. A name is the most personalised of all identities, and I can merely empathise with you at being stripped of what you were first known by.
Have you, at any point in your life, especially after it took a dramatic turn and catapulted you to the highest constitutional office, missed the Santhali girl, Puti?
Have you ever recalled her existence, even if in a very private space, as your alter ego or maybe an imaginary sibling or friend? Or maybe, you had a doll, and you called her Puti when no one was around.
How often do you dwell on what led to Puti being transformed into Droupadi, or the several other intervening names, foisted while you grew up?
From accounts available, it appears that a school teacher "did not like" your original name and possibly your identity. As a consequence, he bestowed on you a name borrowed from one of the two epic poems of ancient India, written in a language – Sanskrit – not yours by inheritance and culture.
The teacher not liking you was, however, not a decision of his own alone. Instead, he was conditioned into thinking that way and was part of a process wherein tribal people are seen as 'lowly' or 'uncultured' and requiring redemption by induction in the Hindu order.
This process, in his mind's recesses, could be done by first divesting you of a tribal name, one that, in his cultural framework, had no 'meaning.
Puti becoming Droupadi epitomises the sad story of assimilation of tribal people. In your acceptance speech, you exuded satisfaction that "those who have been deprived for centuries and those who have been denied the benefits of development, those poor, downtrodden, backwards and tribals are seeing their reflection in me."
You would be aware of multiple tribal communities asking for the inclusion of the Sarna code in the religion column in the next census. It is true that the government has declared that the census has been deferred until further orders.
But does this take away from the rising aspiration of tribal communities to define their identity on what they consider to be "their religion" and not that which came on the shoulders of Christian missionaries and Hindutva votaries?
Who will you stand when this demand is revived once the census process is re-started?
Possibly aware of the need to forge tribal bonding and mark out tribal distinctiveness, you began the acceptance speech with a 'Johar' greeting to the country.
But was this not at odds with a person who just days ago swept the floor of a Hindu temple in Mayurbhanj?
The reporter and the news desk person who cleared the report and editors who published it in a newspaper, among several, were decades-old mirror images of that teacher who labelled you Droupadi.
With this act, the newspaper stated, you "won hearts" and "endeared" to the people. Would you like your community to be embraced only after performing a similar act?
Would you want the future generation of tribal girls, and boys too, to lead lives divested of their primary identity and accept a faith that has been foisted on them by allurement, persuasion or coercion?
By the end of your tenure, would fewer tribal girls – will settle for a smaller number if not the entire community – be called all through their lives by original names given at birth?
You entered politics twenty-five years in 1997, by which time the Bharatiya Janata Party, the one you joined, had moved from the fringes to the centre stage. By that time, Prime Minister Narendra Modi had also emerged as one of the leaders of the future.
In the quarter of a century that you were active in public life, you saw him grow from strength to strength. As a result, you possibly went on to idolise him as countless in the BJP do.
Was this the reason for you to use numerous phrases in your acceptance speech that were coined by him?
It is one matter for members and leaders of the party to use words and phrases like Amritkaal, Sabka Prayas aur Sabka Kartavya and Ek Bharat - Shreshtha Bharat, and for the Indian President to also use these?
It may be argued that the prime minister may have introduced these words and phrases to the Indian political vocabulary but carry meanings which transcend the individual.
But is it necessary for the President to use the same vocabulary that trumpeters of the party ceaselessly use?
The prime minister was your leader till your election. History will judge you on the basis of you living up to the oath you took before assuming the highest office.
Let me remind you that you committed "to the best of my ability preserve, protect and defend the Constitution and the law".
In contrast, the prime minister is only committed to "bear true faith and allegiance to the Constitution of India."
You are also by oath, bound to "devote" yourself "to the service and well-being of the people of India."
The prime minister, on this issue too, pledges that she or he would "do right to all manner of people in accordance with the Constitution and the law, without fear or favour, affection or ill-will."
It is for you to decide how you wish to see your role while devoting yourself "to the service and well-being of the people of India."
You have assumed office at a critical time, not just because the country is entering the last quarter before the centenary of India's independence in 2047. This is also the time when there is a greater threat perception insofar as the rights of citizens are concerned.
You mentioned Sabka Kartavya, but I hope you do not overlook Sabka Haq, emphasise fundamental rights and make performing duties conditional to seeking rights.
Much has been made out of you being the first tribal and second woman President of the country. To be able to stand up for the community, you will have to harness the energy with which you questioned, as Governor of Jharkhand, the Jharkhand Land Acquisition Act 2017 that aimed at amending the Santhal Pargana Tenancy and Chotanagpur Tenancy Acts.
You stood for tribal rights then, although the legislation was piloted by your erstwhile political party's government. Will you demonstrate a similar spirit over the next five years whenever you see the interests and welfare of citizens being trampled upon?
History shows that the elevation of leaders from marginalised communities or groups does not necessarily empower or benefit the entire community or group. We did not see any quantitative and qualitative improvements in the lives of Dalits in the five years before your tenure.
You drew attention to the development that "many museums are being built across the country dedicated to the role of the tribal communities in our freedom struggle." History again demonstrates that although Birsa Munda is highly revered in India, tribals continue to be looked down upon by most.
Dear Rashtrapati Ji, you have an excellent opportunity to ensure that tribal people stop being cultural tropes on festival occasions, used as tokens. Political compulsions have also provided you with an opportunity to be assessed by historians of the future as a President whose tenure was well spent from the perspective of all Indian citizens.
Yours truly.
The writer is an NCR-based author and journalist. His latest book is The Demolition and the Verdict: Ayodhya and the Project to Reconfigure India. He has also written The RSS: Icons of the Indian Right and Narendra Modi: The Man, The Times. He tweets at @NilanjanUdwin.
Get the latest reports & analysis with people's perspective on Protests, movements & deep analytical videos, discussions of the current affairs in your Telegram app. Subscribe to NewsClick's Telegram channel & get Real-Time updates on stories, as they get published on our website.
Subscribe Newsclick On Telegram