Anti-CAA Movement Changed Muslim Women Forever
The protests did not have a benign fallout for many of the protesters yet intimidation apparently scares them no longer.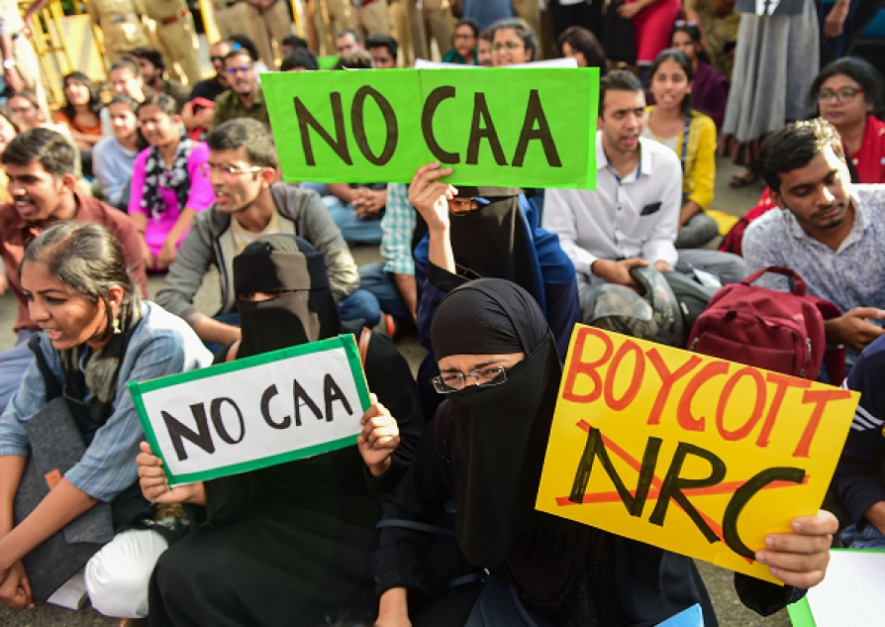 In the preface to his book, Post-emotional Society, the American sociologist Stjepan G. Mestrovic writes, "…contemporary Western societies are entering a new phase of development in which synthetic, quasi-emotions become the basis for widespread manipulation by self, others, and the culture industry as a whole. I agree with the modernists that the contemporary individual knows more than our ancestors did, but argue against modernist theorists that knowledge is not enough to result in action". Put simply, Mestrovic's argument is that a new form of bondage has been created in the West through carefully crafted emotions, which allow the experience of empathy, but do not enthuse one into action, even for a cause held dear.
If there is a counter to the changes Mestrovic observes, in Western society, it is the anti-CAA movement that spread across India, starting from 11 December and lasting until the lockdown was imposed on 24 March. This movement was unique for it was spearheaded by young Muslim women. Their participation not only defies Mestrovic's theory of inaction gripping a post-emotional Western society, but also surprised many Indians, who had never expected the biggest and most important of recent pro-Constitution movements to be led by women, Muslim at that.
Earlier, community leaders and the ulema or religious scholars would force Muslim women to participate in the occasional protest, but that was mostly to strengthen their own negotiating power with the government on issues like, say, the uniform civil code or triple talaq. In these protests, women generally remained silent spectators. However, in the anti-CAA movements they were the planners and executors as well, though many had never protested before.
Imtiaz Ahmad, the author of Caste and Social Stratification Among Muslims in India, tells me that Indian Muslims are not the sleepy community they once were. "Change has come about through internal processes, mostly from growing conscientisation and self-awareness of women. While the men remained mired in conservatism and remain tradition-bound, women are looking at the world outside from a forward looking perspective," he says.
He seems to be very right. A report by the All India Survey on Higher Education (AISHE) for 2017-18 suggests that in the last five years Muslim girls' enrolment in educational institutions increased by as much as 46%. This was almost double compared to the overall figure for all categories, in which the enrolment has risen by 24%. There has been a steady rise in number of Muslim women going for higher education. The same survey suggests that over the same period, 49% of Muslims who enrolled in higher education were women.
Therefore, the anti-CAA movement has changed the image of Muslim woman, but there is a real sociological change that underlies their transformation from docile, unassuming and submissive, to a permanent makeover as assertive, imaginative and proactive in demanding their rights.
It is the gradual social transformation, in fields like education as well, that has led to their not being cowed down despite intimidation and threats from the police and right wing organisations. Not even the Uttar Pradesh government, which browbeat them using a variety of means, could stop these women from raising their voice. That is how Shaheen Bagh, a poor neighbourhood in South Delhi, became a symbol of their defiance, as did hundreds of other protest sites.
The assumption that Muslim women are illiterate and backward is very far from the truth, reminds Shabnam Parveen, who holds a PhD in English literature from the prestigious Jawaharlal Nehru University. Even so, she says, the decision to leave the home turf was not easy for the anti-CAA protesters. After all, the CAA-NRC-NPR combination does infuse fear among Indian Muslims. On the surface it appears as if the NRC will check illegal migration and the CAA will provide citizenship to those Sikhs, Hindus, Christians, Parsis and Buddhists from Pakistan, Afghanistan and Bangladesh who had fled persecution before 2014. This makes them seem safe and legit. However, Parveen reminds of the Assam experience with NRC, in which many legal citizens were ousted and sent to detention centres, while many illegal migrants were counted as citizens. Parveen believes that the Muslims are being cornered by such tactics.
And there are more tactics. For example, the fallout of the anti-CAA protests was not benign for many of the women protesters, including the well-educated among them. They were arrested, several under the draconian UAPA; such as Safoora Zargar, the student of Jamia Millia Islamia. Several months pregnant, she spent weeks in Tihar Jail in Delhi before she was released on bail on humanitarian grounds late last week. Gulfisha, a 25-year-old who participated in the anti-CAA protests at Jaffarabad, Delhi, is still behind bars. Astonishingly, all these arrests were made during the worst pandemic India has seen in at least a century.
After the NRC in Assam, the BJP government at the Centre proposed the nationwide NRC, which, along with the CAA, would prove a deadly combo. It is this combination that had hit home with the Muslim community. "The CAA obviously goes against the secular code of the country, by excluding Muslims. To top it is the NRC, which asks for documents to prove citizenship. While the nature of these documents has still not been stated, it can lead to conditions where, with effect of the CAA, even legal Muslims citizens would be on the verge of losing citizenship," Shaheen says.
The fear that one could lose one's home is what triggered the anti-CAA protests. The women who participated in them revealed their shared consciousness. "Home, after all is what we all need," says Shaheen. "How can anybody illegally remove us from the homes we have built with so much pain and effort," she says. That is why even the most home-bound women literally left their homes to protect their homes.
The fact is that Indian women have transformed themselves more than Indian men have, Ahmad points out. Muslim women are not openly challenging patriarchy at the moment, though it has a strong hold over the community, for the sake of "family peace". "But women can see the need for change. They are articulate, self aware and open to speak out on matters concerning them and the community," he says. In this way as well, Muslim women's protests against the CAA reflect the changes that have been imperceptibly transforming the community.
As for their intimidation by law enforcement agencies, Ahmed, who is a well-known professor of sociology, says, "The standard rule is that when suppression increases resistance also increases. I do not think that arrests are going to dampen the spirit [of the women]. The most that would happen is that they would devise collective forms of protests where the chances of arrest are less likely."
At any rate, the perception of Muslim women has completely transformed in the aftermath of the protests against the divisive CAA and NRC. Nabeela Habib, a postgraduate in Journalism and Mass Communication from Aligarh Muslim University says, "The Indian Muslim woman has mostly been a subdued audience to the unfolding of political and social changes around her. This changed in 2019. The strength and determination shown by this burqa-clad mass has changed the fabric of our society."
The violent retaliation of the government in Jamia Millia triggered the protective instinct of the community. Mothers who had cared for their children at home and watched them flourish in the university saw them being attacked. "The sense of insecurity for their wards and their future was immense," Habib says. "They had not been threatened like this before; so the mothers stepped out and spoke." This sense of protectiveness soon transformed into a political consciousness, she adds.
It is also a fact that women would be the worst sufferers in the event that the CAA and NRC lead to the eviction of Muslims from their homes. "Whenever there is a man-made disaster, the worst of the sufferers are women and children, given that the patriarchal set up makes them dependent on men. And if something happens to men, most women are bound to end up helpless and suffer again. In such a scenario, it is absolutely necessary for women to protest to save themselves and that is what they did," she Habib says.
The anti-CAA movement also served as a learning platform for many Muslim women. "Shaheen Bagh allowed a large number of Muslim women to interact with liberal and progressive circles. It was a welcome scenario to see Muslim women coming out in response to the attack on the university students and not to save Islamic law. This is a secular fight for citizenship rights," says activist Shabnam Hashmi.
Indeed the movement has had a lasting term impact on the psyche of Muslim women. They have realised their inherent strengths, which they were completely unaware of before they walked the road less travelled by their peers. The way they stood up to police intimidation during the Ghanta Ghar protests at Lucknow or Shaheen Bagh, where right-wingers tried to scare them off repeatedly, shows how determined and fearless they are. Intimidation, apparently, scares them no longer.
Muslim women have defied the theory of a "post-emotional" society put forward by Stjepan G. Mestrovic, albeit in the Western context. They took unprecedented risks though no one really thought they are capable of intervening and leading very high risk protests that put them in confrontation with a government that was bent upon disenfranchising their community. In the process, they launched the biggest civil society movement in the history of Independent India that spread like wildfire throughout the nation.
The author is a writer and columnist. The views are personal.
Get the latest reports & analysis with people's perspective on Protests, movements & deep analytical videos, discussions of the current affairs in your Telegram app. Subscribe to NewsClick's Telegram channel & get Real-Time updates on stories, as they get published on our website.
Subscribe Newsclick On Telegram