Art 370: Centre Dishes Out Feudal Fare to Kashmiris
Kashmir wasn't lone special state; entire Union will be wary now.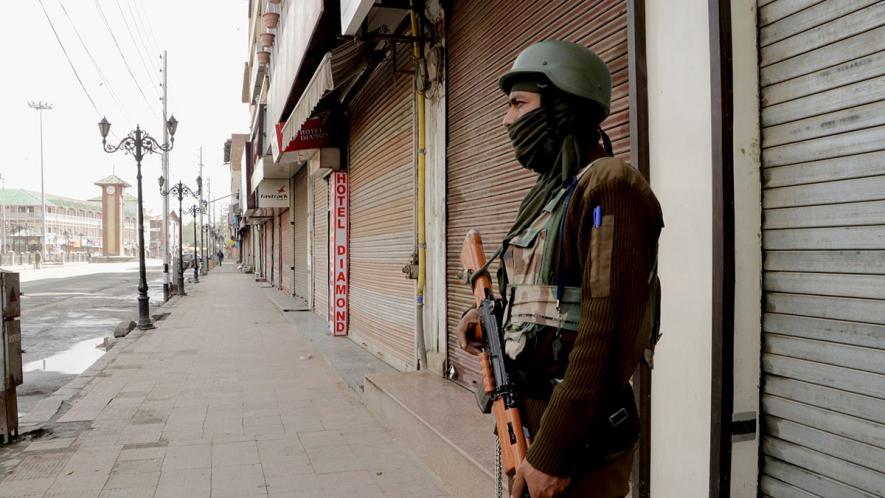 Image Courtesy : Kamran Yousuf
August 2019 began with a rude shock as the government of India spoke of a perceived threat of a Pakistan-backed terrorist attack on the Amarnath Yatra and cancelled the peaceful pilgrimage midway. Thereafter, it issued an unprecedented advisory that all outstation students, tourists, tourists etc, must leave the Valley. Such a strong decision was not taken even during the height of militancy in Kashmir in the 1980s. Around 35,000 armed troops were sent into Kashmir, in addition to the 50,000 army-men already there and another 8,000 were airlifted on August 5.
Thereafter, the most aggressive decision taken in Kashmir since Independence was imposed: The government issued a Presidential order that alters the position of Kashmir in the Union of India by amending Article 370. After Monday, Article 370 still exists as a statute but it has been used to withdraw the special status of J&K.
This move goes to demonstrate that the government was deceiving the public with regard to an immediate threat of an attack from Pakistan. Add to this the statements of the state Governor Satya Pal Malik. He actively dismissed all fears in preceding days that the special status of Jammu and Kashmir (J&K) and called such claims rumours.
As it happens, these were not mere rumours.
Article 370 of the Indian Constitution allows J&K to have its own Constitution and relative autonomy for its Assembly to legislate on any issue except defence, foreign affairs and communications. This Article was the basis on which J&K had acceded to India in 1947. Both Sheikh Abdullah, the most popular leader of Kashmiris at the time, and the last Hindu ruler, Hari Singh, are party to this accord, along with the Indian government led by Jawaharlal Nehru and Sardar Patel.
Article 370 can only be amended or abrogated through a constitutional amendment which needs the Kashmir Assembly to be a party, and that with a huge majority.
There is no Assembly in Kashmir today. Further, the current dispensation, in utmost secrecy, has divided a full-fledged state into two Union territories which are to be ruled by two Lieutenant Governors. Ladakh, which has a population of three lakh, has been placed at same level as J&K, which has a population of close to 1.5 crore.
Now, with the state bifurcated unilaterally by the Centre, Kashmiris are being denied the basis on which they decided not to be a part of Muslim-majority Pakistan but a secular India. And all this is being done merely through a Presidential decree.
Nehru, Patel and Iyyengar are on record saying in Parliament that a plebiscite shall be held to ensure people's support to the accession to India based on Article 370. This was mentioned in the United Nations also, but it was never conducted during the long years of Congress rule.
These steps are a betrayal of the contract with J&K and its people. Take, for example, Tripura, a state with a population of 40 lakh, or Goa, which has a population of less than half a crore. Similarly, consider Mizoram or Meghalaya or Arunachal Pradesh, all these are full-fledged states and none have a population ever 40 lakh each. Yet, a state with a special status has been reduced to a Union territory today, in spite of 1.5 crore residents. This is just like what is being done in Delhi, suffering as a Union territory although its population exceeds two crore.
Just as Article 370 accorded special status to J&K, the Indian Constitution thereafter included Articles 371 and 372 and their sub-sections, which have similarly given special status, to varied extents, to Nagaland, Mizoram, Meghalaya, Arunachal Pradesh, Himachal Pradesh and Uttaranchal. Today, Kashmir's protection from outsiders coming and settling and unsettling the indigenous people is gone, while these other states still get to keep these protections.
In this way, is the government not promoting second-class treatment and second-class citizenship for the Kashmiris? Or, is it that the other states also, on one fine morning, will lose their ecological, cultural and economic protections? Will the Army march in and impose a strict curfew to quell any protests by the residents in these other places too?
The question arises that to what extent is the will of the people still supreme in our democracy after August 5, 2019? The government has not only issued a Presidential decree, and that has permanently changed the fate of 1.5 crore Indians without following any democratic process.
In Jharkhand, Chhattisgarh, Telangana and elsewhere, people had to shed blood for decades in order to get the Centre to accept their demand for statehood. Here, Kashmir has lost its status as a state without even asking for it.
During the period from in 1946 to 1952, there were calls for Jammu province to be integrated with India separately. These demands were led by the feudal political force of erstwhile zamindars, or landlords, whose interests were combined in the Jammu Praja Parishad led by Prem Nath Dogra, who later became the president of the Bharatiya Jana Sangh, the precursor to the present-day Bharatiya Janata Party or BJP. The Praja was a movement to protect large farm holdings and it was opposed by the socialist policies followed by Sheikh Abdullah, the first chief minister of Kashmir.
The Kashmiris did their best to ensure peaceful development by electing the People's Democratic Party (PDP) and the BJP. The hopes of the Kashmiris were raised when the two parties combined forces and the Centre promised a Rs10,000 crore package, which none other than Prime Minister Narendra Modi announced after the alliance came to power. The then chief minister Mufti Mohammad was also present when this announcement was made, but nothing substantial came of it. In 2018, it is the BJP which unilaterally withdrew from the alliance.
Combating terrorism and the nefarious designs of Pakistan in Kashmir are in national interest and the government is justified in taking steps in this regard. Already, the Armed Forces Special Protection Act or AFSPA and a huge armed-military force has diluted to a large extent the special status of J&K and its people. But, in a major breach of a legally-binding promise to a state which integrated with India based on this understanding is undemocratic and anti-federal. It may not even stand to legal scrutiny as the Supreme Court, as recently as in April 2018, dwelled at length on the permanent nature of Article 370.
Finally, why was this issue taken up all of a sudden and in the middle of a roaring tourism season in Kashmir? Has this to do with the rapid decline in the Indian economy, which recently slowed down to 2% rate of growth while slipping two positions in global economic rankings? The auto sector has just announced that nearly a million jobs will be lost. It already has an idle inventory worth Rs.54,000 crore lying in wait for consumers whose ability to make such purchases has dwindled rapidly in recent quarters.
The real-estate sector is in a mess, and allegations of tax terrorism are being made by people who support the current government—for example Mohandas Pai. Furthermore, is the ruling party unable to face elections in Maharashtra, Haryana and Jharkhand in this poor economic scenario, because of which it is creating distractions and diversions at the cost of the people?
The author is an academic and a columnist and Pro Vice Chancellor of Kolkata-based Adamas University. The views are personal.
Get the latest reports & analysis with people's perspective on Protests, movements & deep analytical videos, discussions of the current affairs in your Telegram app. Subscribe to NewsClick's Telegram channel & get Real-Time updates on stories, as they get published on our website.
Subscribe Newsclick On Telegram