Assam Deluge: Tears Continue, Dangers Looming Large
Floods in the north-eastern state have taken up a chronic disposition. This has been compounded by climate change and lackadaisical planning. We look at the underlying factors causing recurring misery in Assam.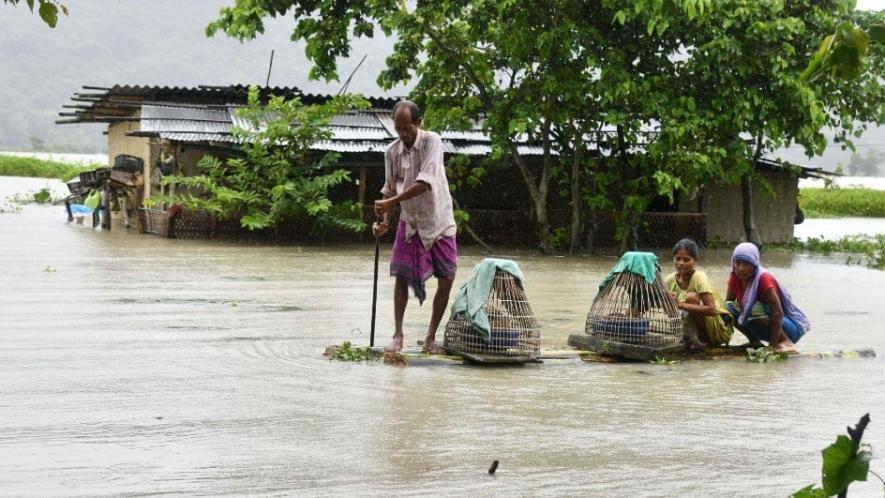 This year's pre-monsoon period has appeared to be a curse for lakhs of people in the north-eastern state of Assam. It has been almost a month now since the furious waves of floods have ravaged the state, and even after the fury has receded, people still struggle in shelter camps on roadsides after losing their belongings. Numerous tragic stories from the ground have apprised us of the losses in terms of numbers—number of people, numbers of houses, properties and so on.
However, the complicacy and chronic disposition of Assam's deluge, now compounded with climate change and lackadaisical planning, goes far beyond the numbers.
HAS THE FLOOD RENDERED PEOPLE LANDLESS AND HOMELESS?
Almost a month back, the Dima Hasao district of Assam was reeling under monstrous flood and landslides, which led the Haflong railway station to witness unprecedented destructions—mudslides, debris-filling up to the top of a standing train, and another getting derailed. We covered the worsening situation in the hill district with a depiction of climate change and policy faults.
Now, with rains still occurring, although at a lesser intensity than it was a month back, people here are unable to come out of fears, the fear of further damage and nature's fury. Many of them have returned back homes, albeit some are still in shelter camps. Alongside, some new problems have arisen which leave people in further distress. Many of the families have not only lost their homes but the geography of their plots of land also got changed to such an extent that they can't go back and rebuild their houses. Have these people become landless? They have become homeless already.
The Assam government made an announcement of providing Rs 2 lakh each to 590 affected families for the reconstruction of their houses and the mend their losses. Will that amount be sufficient for the families to start their lives afresh? What about those whose lands are no more suitable for reconstruction of their houses?
Daniel Langthasa, a youth activist and a Member of the Autonomous Council of Dima Hasao, raised the same question while speaking to NewsClick. "Although the State government has readily announced the sum of money, the question is will that be sufficient to mend the loss? Moreover, people are yet to receive it," Langthasa said. Regarding the fear of people whose lands are also destroyed, he reiterated, "This is unprecedented where not only houses are damaged, but also the plots of land. These people live amidst extreme uncertainty about their future."
Samarjit Haflongbar, an ex-MLA from Haflong, also raised the same apprehensions. About any decisions on providing lands to these people, Langthasa said that there is nothing much from the State government yet. However, as he said, the issue has been discussed in the district council, "but nothing can be said conclusively yet," Langthasa said.
The complete washing away of roads and railway tracks in Dima Hasao will take quite some time to be fully restored. It is still difficult to reach Haflong, the district headquarter by road. "The roads are partially functional, and this is a temporary arrangement. It's difficult to ply on the roads when it rains; it will take some more time to be in proper shape," Samarjit Haflongbar told NewsClick.
Railway recently sanctioned a final location survey of a new line from Lanka to Silchar through Dima Hasao. This line, if constructed, will bypass the landslide-prone areas of Dima Hasao. "The new line will pass via Umrangso, and the area has lesser habitation and private properties. However, it will be of lesser use for the people of Dima Hasao. So, we want that the existing route should also remain there, at least for the benefit of people," commented Samarjit Haflonbar. He further said that this to-be-surveyed route was there in the initial proposal, but political interferences and people's demands altered it.
"We should learn from our previous mistakes, where rail and road network expansion had a severe toll on nature, which amplified this year's devastations. The to-be-surveyed route should be properly surveyed, geologically and geographically. More so, it should involve local stakeholders and experts as well," Daniel Langthasa said.
PEOPLE STRUGGLE TO RETURN TO NORMALCY
After Dima Hasao, the districts of Nagaon, Hojai and Cachar were severely affected during the year's first spell of flood in the pre-monsoon period. Lakhs of people became homeless overnight and had to flee to shelter camps or highlands nearby. Their paddy fields, livestock, grain storage and other important belongings were denuded in the floods. Worth mentioning here that these are the districts that witnessed severe damages; there are more than 20 districts that were hit by the pre-monsoon flood.
Kampur and Raha were the hardest hit in the Nagaon district, and the primary source was the Kopili river which flows right through the middle of these areas. Originating from the Borail mountain range in Meghalaya, the 290-km long river flows through Assam into the Nagaon district before meeting the Brahmaputra.
People in Raha and Kampur recalling their horrific experience of the recent flood said that it was even more severe than the flood in 2004. Bharati Devi of Raha remembers what happened to her in May. She was attending a marriage ceremony at noon when there was no water even in the paddy fields, but as she got back home just after two hours, water came rushing to near her house, she and her family saw the water knocked their 'Poduli' (patio). Till morning the next day, they left all their belongings at their house and rushed away in search of highland or shelter camps around. So was the scenario for thousands of others. People did not get any time to prepare themselves to run away from the flood. Easily imaginable are the losses it did cause to them.
Mrinali Devi, an activist of CPI(ML) in Raha, said that even now, people are out of their homes. However, she said that 70% of them may have returned, but the rest still remain homeless. "Near the Chaparmukh railway station, people are still camping", Mrinali said. She also reiterated that the government had provided a few thousand rupees and some kilograms of rice to the affected people, which is grossly insufficient to meet their loss.
However, NGOs and other organisations were much more helpful in providing necessary stuff, especially for women. "Apparently, women are even worse sufferers in such scenarios as they are devoid of utmost needs like the sanitary napkins"—Mrinali said. Also, there will be wide-scale outbreaks of diseases post-flood. When asked about what caused the sudden surge of the water level in the river, she said that heavy rainfall in the catchment area and the release of water by NEEPCO (North East Electric Power Corporation Limited) from the dams upstream Kopili caused it. She affirmed that the release of water by NEEPCO appeared in local news, and they believe it to be true.
Molan Laskar of Kampur also said that there was the release of water by NEEPCO. Laskar also gave a share of the sudden flood to heavy rainfall both at the catchment area and also uphill, especially in Dima Hasao.
"The Diyung river from Dima Hasao meets Kopili at Diyungbra (Diyungmukh). The heavy rainfall at the hills moved down via Kopili and inundated Kampur and other areas," he added. Along with the rainwater coming down, the water from dams caused havoc, according to him.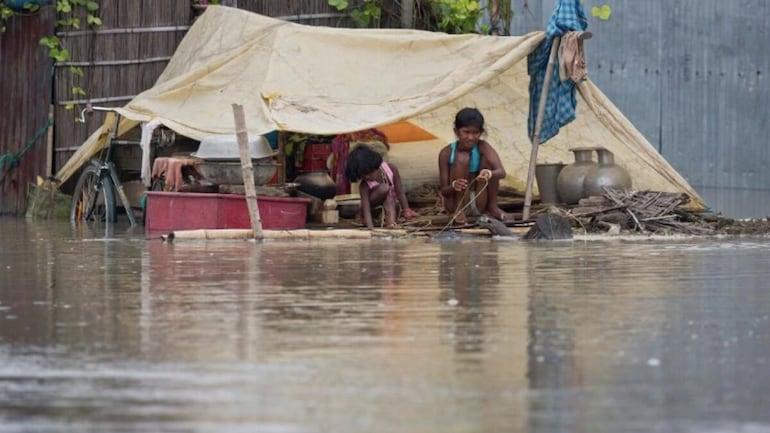 The Kopili Hydro Electric Project (HEP) is a 275 MW hydroelectric power project and has two dams. One of these dams is on the Kopili river, which is known as the Kahangdong dam, and the other is on the Umrong stream (a tributary of Kopili) known as the Umrong dam.
Molan Laskarsaid that water from the Khangdong dam was released this time, while the Umrong is non-functional. Not only Laskar and Mrinali Devi, many locales believe that water released from the dams was a compounding factor of the flood.
However, sources of NEEPCO told NewsClick that there was no extra water release as the gates of the dam had been open. One personnel also said that it has been non-operational for more than a year now. In an earlier report published in Scroll as well, the CMD of NEEPCO, VK Singh, opposed that the flood has to do something with water released from the dam. Singh was quoted as saying that all the plants in Kopili have been under maintenance for the last three months, ever since an accident took place there.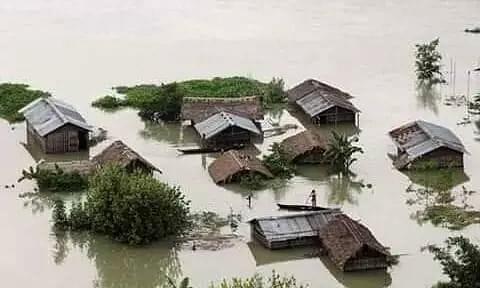 Himanshu Thakkar, coordinator of SANDRP (South East Asia Network on Dams, Rivers and People), while speaking to NewsClick, however, raised apprehensions about the role of NEEPCO in the recent floods. "Dams can still release water even if they are non-operational. Sometimes, to remove silts as well, water is released. So there are numbers of possibilities, which need to be pondered upon," he said.
Notably, just three months back, the Kopili dam witnessed a major accident. Three employees died in the so-called burst of the penstock pipe (which takes water at high speed from the Umrangso dam to the hydro powerhouse) on March 26 this year. There were several versions about the cause of the incident, with one saying that due to heavy rainfall upstream of Meghalaya, the Khangdong powerhouse was flooded, and the employees were moving up to the sluice gates when trees uprooted and crushed them. Himanshu Thakkar also referred to the incident and asked why were the employees going to the surge shaft if it at all is non-functional?
Interestingly, in an earlier event of such incident of NEEPCO pipeline burst, in 2019, a high power team constituted by the then CM of Assam Sarbananda Sonowal said that the menace could have been avoided and there was negligence on the part of NEEPCO.
All the contradictory views on the role of NEEPCO dams in Kopili make the question complicated—whether NEEPCO is free from all the allegations and apprehensions that people from various walks have raised about its role in the flood.
CHANGING CLIMATE, RAINFALL PATTERNS ADD TO WOES
Climate change ought to have its impact visible across the waves. North-east, with its delicate ecosystem, cannot escape from the global trend. People here have started feeling a gradual change in the weather pattern. However, there are only a few research facilities that are dedicated to studying the ecosystem dynamics and climate change in the region. A study by IITs and IISC reported that 24 of the 100 districts in India that are most vulnerable to climate change are in Assam itself.
During the May floods in Assam, the stationary Rossby waves, as explained by Rahul Mahanta, director of THE Interdisciplinary Climate Research Centre, Cotton University, Guwahati, had their impacts on India, for which it may be possible for northern, central and western regions of India to experience extreme heat while in the north-east, we are having incessant rains pouring heavily for several days.
Diganta Barman, a scientist and a senior hydrologist of the north-east, told NewsClick that one visibly observable fact is the change in rainfall pattern, which is not evenly distributed on a temporal scale. This means the same amount of rainfall takes place within a short period of time, and they are even localised, which puts immense pressure on the soil as well. "See what happened this year. Assam suffered devastations even in the pre-monsoon season, which is generally considered to be from May 15 to June 6. There were heavy downpours within a short period of time"—Barman told. He further said that agricultural droughts are also observed these days.
With the changing rainfall pattern, soil erosivity (the likelihood of erosion) is intricately related. Heavy rainfall and hence high kinetic energy disturb the soil. Manabendra Saharia, assistant professor of IIT Delhi, specialises in system development for monitoring and mitigating natural hazards like landslides, erosion and flood.
Saharia said—"Rain has intensified over time. This governs soil erosion. In our recent work, where we produced the first national-level erosivity map, we found that the highest erosivity is in Assam and Meghalaya. Also, it is important that rainfalls with the highest kinetic energy in the whole country takes place in Assam." He further said— "In another recent work, which is still not published, we found that the most landslide-prone regions are Assam-Meghalaya and the Uttarakhand region. But, the soil conservation strategies have not been specialised for these landslide-prone areas. Rather, it is uniform everywhere. These areas are landslide-prone and also have more energetic rainfalls, which make a toxic combo."
Saharia believes that future economic activities will have to be double cautious considering the fragile conditions of the region.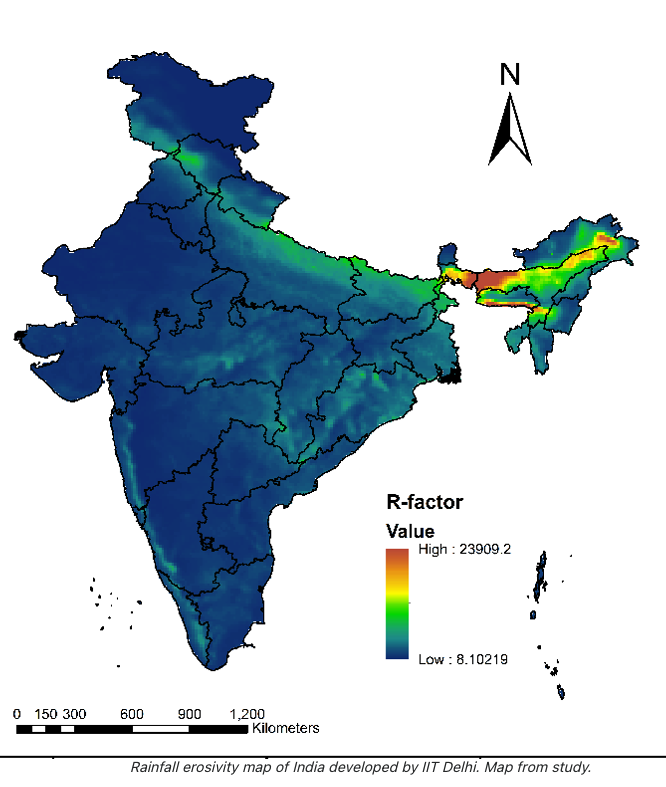 Erosivity map provided by Manabendra Saharia, IITD
On changing rainfall patterns, Rahul Mahanta and his team are engaged in mapping it. In one of the recent studies of the team titled Impact of Climate Change on North East India Summer Monsoon Rainfall, they analysed the trend over 90 years of daily rainfall data and found that the seasonal mean rainfall over north east is decreasing. On the other hand, the frequency of extreme rainfall events and their intensity have shown a significant increase over the region, which the team termed the "most robust impact of climate change".
The climatic and geographical location renders Assam to be a flood-prone region. Floods have been a reality and in fact, part of the culture and lives of people here. Tracing the history of floods in Assam, Monisankar Misra, assistant professor of history at Tripura University, explained the transitions in a nutshell. "Floods have been a recurrent phenomenon through Assam's history from pre-colonial to colonial and post-colonial times. But the intensity that is its impact on human societies has shown an upward trend from the colonial period. In fact, there are two contours of argument that developed from the Indian side during the heydays of colonial rule in Assam."
Misra continued: "First, in upper Assam, there was a lot of hue and cry, particularly in the late 19th and early 20th century that 'Bunds' (Small Embankments) built during the Ahom times in upper Assam, which was an effective system of flood management went into disuse in the 19th century and so the intensity of floods has increased. Secondly, for the Surma- Barak Valley, which was part of colonial Assam, Indian leaders raised the issue of insufficient openings/bridges in the railway lines in the PLAINS and not in the hills, which put an artificial barrier across floodplains, causing water accumulation and more devastating floods. Whereas the British blamed jhum cultivation for rapid down flow of water during heavy rains in the hills for devastating floods in plains," he told NewsClick via email.
Abani Bhagawaty, retired professor of geography from the Gauhati University, also believed that the foundation of the complicacy of floods in Assam was laid during the colonial regime. However, he emphasised that modern-day activities, often taken recklessly, are more dangerous. On top of that, the changing climate is going to wreak more havoc in the future, he said. "It is an urgent need to see Assam's flood from a historical perspective, understand its character and plan for the future," Bhagawaty said.
All photos were collected from Mohsin Khan.
Get the latest reports & analysis with people's perspective on Protests, movements & deep analytical videos, discussions of the current affairs in your Telegram app. Subscribe to NewsClick's Telegram channel & get Real-Time updates on stories, as they get published on our website.
Subscribe Newsclick On Telegram