Bengal Elections: In 'Swing' Region of Jangalmahal, Many Swear by Duare Sarkar, Some do not
TMC aims to wrest the region that goes to vote today from BJP, which still seems to be in the pole position here.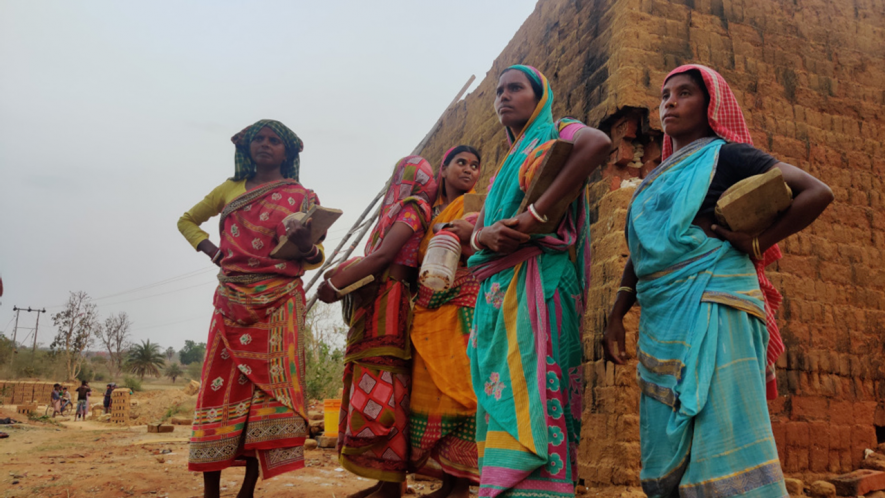 Jangalmahal: Two words keep getting reiterated during the interview with Lakshmi Rani Mahato: Duare Sarkar. Lakshmi, 60, a brick kiln worker in the village of Dabra in West Bengal's Purulia district, says the camps that the state government had set up ahead of the Assembly elections have ensured her vote. "I got my Swasthya Sathi Card issued," she says, referring to the state government scheme, which provides health cover for secondary and tertiary care up to Rs. 5 lakh per annum per family. "Many people got a lot of work done at their doorstep," she adds.
That is precisely what the programme was meant for. Duare Sarkar, or government at your doorstep, was a Trinamool Congress (TMC) government initiative to mitigate anti-incumbency at the local level bureaucracy. The villagers could walk in and get what they wanted to get done.
For Lakshmi, who makes Rs.1,000 a month as a labourer, the ease with which she got the Swasthya Sathi card has reinforced her faith in Mamata Banerjee as the chief minister of West Bengal. "I am 60," she says while balancing six bricks on her head. "The work I do is back-breaking, the card essentially ensures that I have something to fall back on."
According to the state government figures, more than 8.5 million Swasthya Sathi cards have been issued across the state via 32,830 camps. Nearly 1.8 crore people have benefitted from these camps. The services included caste certificates, Kanya Shree, Aikya Shree, MNREGA, among others, and its efficiency has been impressive. For example, the state government averaged five to six lakh caste certificates a year. During the two months of Duare Sarkar, the state claims to have issued more than 22 lakh cards.
Urmila Singh, 32, was one of the beneficiaries. She belongs to the Singh-Sardaar tribe and believes that the caste certificate would make her children's lives that much easier. "I have a son and a daughter," says Urmila, who is also a resident of Dabra and is a brick kiln labourer. "With the caste certificates it would be easier for my kids to get jobs and avail government schemes. I want Mamata Didi to retain power. Had it not been for the rice she provided during the lockdown, we would have starved."
The positive response to TMC is particularly important, for it comes from the residents of Jangalmahal – a region predominantly dominated by the tribal population. The region consists of districts of Purulia, West Bardhaman, Bankura, Birbhum, Jhargam and West Medinipur, and constitutes 60 Assembly constituencies. It used to be the bastion of the Left Front, which rode on land reforms in the late 70s, until the 2009 general elections, when they led in 43 of those 60 seats.
In the next three elections in 2011, 2014 and 2016, the TMC made inroads in the region and had their nose in front in 41, 49 and 45 seats, respectively. In the 2019 general elections, however, BJP managed to lead in 44 of these 60 Assembly segments, reducing TMC to only 16.
Writing about the importance of Jangalmahal, election analyst Ashish Ranjan described it as an "electoral swing region of the state". "Whoever gets the support of the voters here nets a massive advantage," he wrote. "Since 2009, in each and every assembly and general election, this region provides more than two-thirds of the seats to the leading party (or alliance) in that election," he adds.
This election, the TMC aims to wrest the region from the BJP, which still seems to be in the pole position here. While the TMC voters are candid about their preference, most of the people backing BJP remain reluctant to openly say so out of fear of backlash from TMC workers. 
Bibuthi Rohidas, 44, a dalit labourer in Bandwan, a small town in Purulia, is one of the few to disregard the fear. "The BJP has done good work for the country," he says. "The Centre is extending help, but Mamata is not accepting it. We have seen the TMC government for 10 years. There has been little progress. Scheduled Castes, especially, have not gotten anything. It is time to give someone else a chance."
Overhearing Rohidas' views at a tea stall, Biplab Bahadur, 34, a decorator in Bandwan, joins in. "Look at the condition of schools and hospitals here," he says. "There are not enough teachers and doctors. Drinking water is also a problem in nearby villages."
After spending 10 minutes on the issues, Rohidas and Bahadur say Mamata Banerjee is busy appeasing Muslims. "The BJP believes in 'sabka saath, sabka vikas'," says Rohidas. "TMC engages in communal politics. Ram Navami functions do not get permissions but there is never any problem with Eid," he adds.
To negate the advantage the BJP carries in the Jangalmahal region, TMC has inducted Chhatradhar Mahato – the face of the Maoist movement in Jhargram's Lalgarh between 2008-11, when the Left Front was in power. Maoists led by Mahato had blocked off access to Lalgarh area, which allowed them to attack Left workers, resulting in bloodshed. According to reports, the movement resulted in deaths of over 400 Left Front activists and several policemen.
In 2008, then West Bengal Chief Minister Buddhadeb Bhattacharjee had had a narrow escape in a landmine blast in West Medinipur. Mahato's brother, Sashadar, was the main accused in the assassination attempt. In September 2009, Mahato was charged under the Unlawful Activities Prevention Act or UAPA, and then imprisoned for life.
About 10 months ago, Mahato was released on parole after spending 11 years in jail, and was inducted into TMC. Observers say the move probably came after BJP dominated Jangalmahal in 2019, and TMC needed a face that could help them regain trust among people of the region.
While Mahato may help TMC in areas that were the epicentre of the Maoist movement, nearly 120 km from Jhargram, in the village of Jorgoria, Bedoni Mahato, 32, had not even heard of him. A labourer toiling at a brick kiln in Purulia, Bedoni does not need Mahato to vote for the TMC. "I voted for BJP in 2019 because of Modi," she says. "But I am grateful to Mamata Didi for what she did in the two years after that. She ensured everyone got rice during lockdown, and she brought the government to our doorstep." 
The writer is an independent journalist.
Get the latest reports & analysis with people's perspective on Protests, movements & deep analytical videos, discussions of the current affairs in your Telegram app. Subscribe to NewsClick's Telegram channel & get Real-Time updates on stories, as they get published on our website.
Subscribe Newsclick On Telegram