Bhagat Singh in Mind, Marching Workers, Farmers Pledge to Fight on
On March 23, a people's festival, where all renewed their vows to realise the dream of a land where hunger and destitution does not exist, unfolded at the entry gates to the national capital.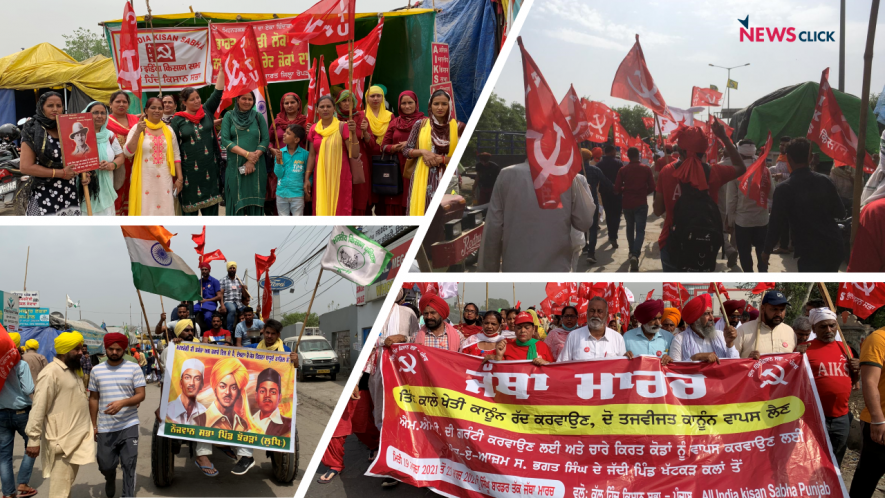 New Delhi: The march or padyatra that had begun from a town in Haryana five days ago, with both farmers and workers demanding their rights, culminated at the Tikri Border on Tuesday, March 23, the martyrdom day of revolutionary freedom fighters Bhagat Singh, Suhkdev and Rajguru.
In Palwal, the day was market by a padyatra that had started from Mathura on March 19 culminating in a gathering on Tuesday.  The march headed toward the Tikri border.
Similarly, in the national capital's North West border, Singhu, there was a sea of yellow turbans and dupattas, with slogans renting the air:  'We will defend your legacy with all our might'. Batches of women could be seen pouring in from neighbouring districts of Sonipat and Panipat in Haryana.
A common thread running through the padyatras was a people's festival -- drawing inspiration from Bhagat Singh and his comrades for a revolutionary struggle for rights -- where all could raise their voice and renew their vows to realise the dream of a land where hunger and destitution does not exist.
The significance of this 'people's festival' unfolding at the entry gates of the national capital, where farmers have been camping for over four months now demanding repeal of three farm laws, could not be missed.
March 23 is the 90th death anniversary of Sukhdev, Rajguru and Bhagat Singh, of whom the latter has a stockpile of essays under his authorship on the exploitation of farmers and workers. The call to commemorate Bhagat Singh at Delhi's borders was given by the Samyukt Kisan Morcha (SKM), the umbrella group spearheading the ongoing farmer's agitation
The padyatra was held under the aegis of All India Kisan Sabha (AIKS), the Centre of Indian Trade Unions and All India Agricultural Workers Union, who also appealed to people to bring economic activities to a halt for a day on March 26 in protest. However, it was the composition of those who marched that showed the widening of what began as a farmers' movement and has grown into a "mass movement", said some of leaders. There was noticeable participation of youths from different occupations.
Tikri: Joining Hands for a Better Future
A worker in his 30s, employed in a private company, a graduate student, and a former construction worker were the cases in point, standing out as examples of those who are linked with farming, but not entirely dependent on it. They were all there, driven by their respective fears, to participate in the protest.
Also read: Bhagat Singh Martyrdom Day: Kisan Padyatra From Mathura Reaches Palwal
"Bas kheti kar ke toh guzara karna namumkin ho gaya hai (It has become difficult to survive on farming alone)," was what Manoj said when asked why he was protesting.
A 31-year-old security guard in a private firm in Rohtak, Manoj has been marching with the caravan since three days. On Tuesday, while speaking to NewsClick, he said it was the lack of any stable income source that had led him to join the march.
"My father owns two kila of land, produce from which is not sufficient to sell in the market. I had completed Bachelor's in polytechnic, but failed to secure a job. Which is why I had to take up the guard's job," said Manoj, who makes around Rs. 8,000 per month, after toiling for over 10 hours a day.
Manoj said many people who had gathered at the borders of Delhi borders were fearing a similar fate. "The farmers will be left without their lands, their livelihood – forced to take up jobs in exchange of meagre salaries. Ask me, it is a life filled with hardships and without any stability," he added.
While low-paying jobs haunted some youth, many others were haunted by the spectre of growing unemployment.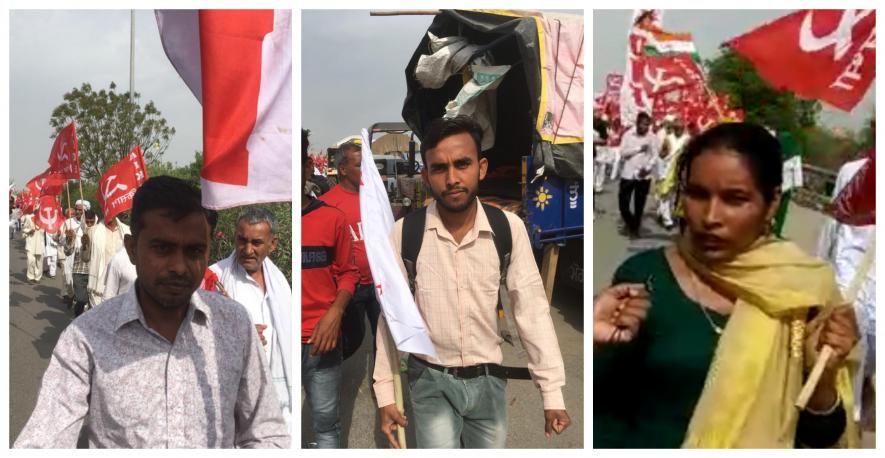 Manoj (Left); Sakib Bhatti (Centre); Kamlesh Lahli (Right). Image Credit: Ronak Chhabra
"On the one hand, the government is driving out people from the agriculture sector by making it less profitable, while on the other hand, there are no jobs in the market. Take the case of Haryana. There is corruption at each level of recruitment – one has to wait for years before being considered for a joining," said Sakib Bhatti, a first year graduate student at Rohtak's Maharishi Dayanand University.
Also read: Still Determined to Fight, Farmers Continue Padayatra Despite Blisters on Feet
Bhatti added: "My father is a farmer, who owns two kila of land. I can't join him since farming is no longer profitable. That's why, I am marching since four days to let this government know that there are many more young people like me."
Kamlesh Lahli, 38, a former construction worker, who is now a full-time activist with CITU, said: "The BJP government's policies are today being protested not just by farmers but by workers, government employees and others. However, the 'anti-people' government is still not paying any heed."
Lahli, who had also contested the 2019 Haryana Assembly election from Kalanaur town in Rohtak district on Communist Party of India (Marxist) (CPI-M) ticket - though she failed – argued that the condition of women is even worse in today's India. 
Meanwhile, at Tikri Border, the SKM stage was managed by the youth, where the farmers-workers were given a warm welcome. Remembering the martyrs, numerous slogans rent the air.
One among that, which summed up the protesters' resolve was, "Shaheedon tumhari soch ko manzil tak le jayenge (Martyrs, we will take your thoughts to their destination)."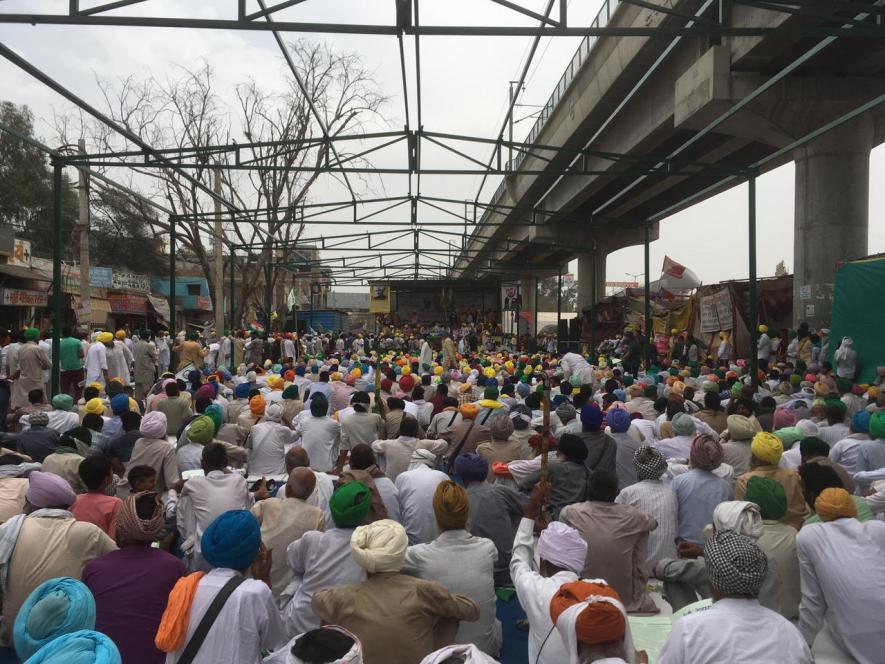 A public meeting at Tikri Border on Tuesday. Image Credit: Ronak Chhabra
Singhu: 'We are on right side of history'
The desire to be at the forefront of the struggle brought 102-years-old Ajit Singh from Naseerpur village in Gurdaspur, who said he had not seen anything like the ongoing movement even when he had participated in the national movement. "This is unparalleled. All I can do is to appeal to the people who have still not participated in it, to come to borders and serve. It's a matter of life and death."
Six-year-old Harjasneet Kaur has been participating in the daily dharnas on roundabouts in Chandigarh. Her poem, which she recites frequently, says that only those are remembered who challenged tyranny in their times.
Major Singh Punnawal, secretary of the Kul Hind Kisan Sabha, who led the massive march of farmers waving red flags from Bhagat Singh's ancestral village Khatkar Kalan in Punjab's Nawanshahar, said governments may have forgotten the freedom fighters and iconic heroes, remembering them only as a ritual, but the common people have not forgotten their real heroes.
Also Watch: Farmers-Workers Padayatra: Conspiracies Fail, Jatha Reaches Samalkha
"He (Bhagat Singh) is not a mere youth icon. He himself belonged to a farmers' family and his uncle Ajit Singh awakened people by saying 'Pagdi Sambhal Jatta (Take care of your turban)' when the British colonialists had introduced the Punjabi Land Colonisation Bill, Babri Doab Canal Act and Punjab Alienation Act. You are seeing farmers, labourers, agricultural workers in this march. Why would they march on foot for so long ? It is only because the dream of a land where discrimination does not exist, where farmers get just remuneration for their hard labour appeals to them," Punnawal said.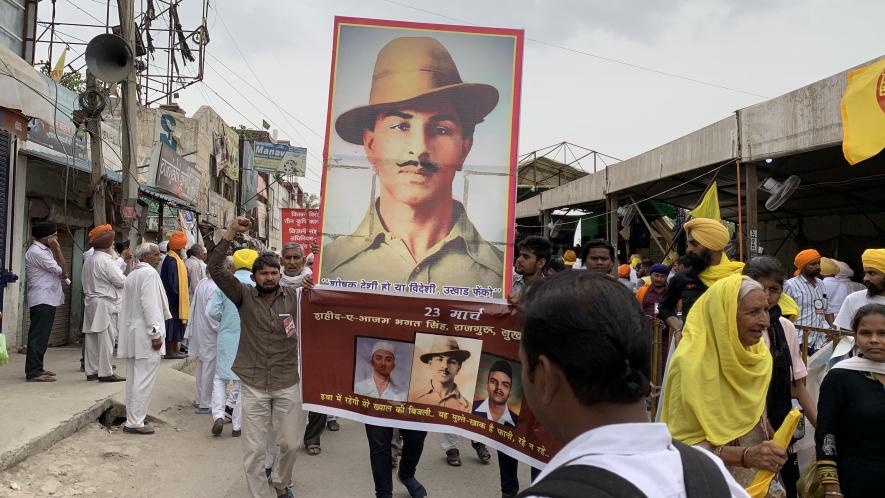 Image Credit: Ravi Kaushal
Amid slogans of Narendra Modi losing and victory of farmers, Savita who heads the All India Democratic Women's Association in Haryana, said the women are not merely raising slogans for the march. "We are convinced that we will win because we are on the right side of history. Dictators and despots enjoy unlimited power in every age but it is people who compelled tyrants like Hitler to commit suicide. We might be struggling now but for how long can they ignore our voices. Leaders of BJP and Jannayak Janata Party cannot enter their own villages. In the past, too, we saw victory because of our struggles. So, it is struggles that give us that hope," she said.
Holding a poster stating 'One needs conscience for struggle, not estates and manors', Mankeet Singh, who came from Fatehgarh Sahib in Punjab, expressed his wish to realise the democracy envisioned by Bhagat Singh.
Talking to NewsClick, he said: "The freedom fighters gave up their lives because they wanted a democratic India where citizens could express themselves without any fear and question their government. Sadly, we are slipping into a dictatorship where protests by farmers and workers do not perturb the government. It is so bad that the main Opposition party, too, has relinquished its primary job."
However, Singh is firm that the government cannot ignore the protest for long. "We will make them listen to us through our actions. Peaceful, but solid. The complete bandh of March 26 is one such action. We have started talking to traders, shopkeepers and people running small businesses. They have assured us that they will observe a complete bandh. We ourselves will be blocking the roads from morning to evening."
Get the latest reports & analysis with people's perspective on Protests, movements & deep analytical videos, discussions of the current affairs in your Telegram app. Subscribe to NewsClick's Telegram channel & get Real-Time updates on stories, as they get published on our website.
Subscribe Newsclick On Telegram