Bhima Koregaon: Jailed Activist Rona Wilson's Father Passes Away
Wilson was arrested by the Pune Police in 2018 under UAPA charges in the Bhima Koregaon case.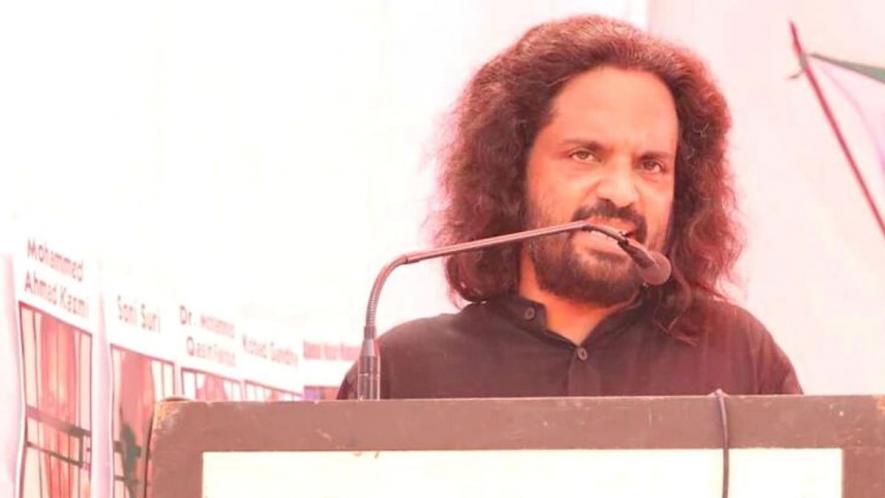 Image: Facebook/Rona Wilson
Jacob Wilson, father of Rona Wilson, breathed his last on August 18, in the absence of his son who is imprisoned in the Bhima Koregaon violence case since 2018. He was reportedly not keeping well, but refused hospitalisation.
Many other accused persons in the Bhima Koregaon case have experienced similar loss and grief. After spending a year in jail, co-accused and lawyer-activist Sudha Bharadwaj was granted interim bail in August 2019 to attend the post-funeral rituals following her father's death. Another accused and lawyer Surendra Gadling, who recently got interim bail to attend the first death anniversary of his mother, was refused bail when she died. Gadling's mother died in August 2020, but his plea for bail was denied then by the Special NIA court and the last rites and other rituals could not be conducted due to the Covid-19 pandemic. 
Not to mention, Father Stan, the last and the oldest person arrested in the case, died in custody on July 5, awaiting medical bail.
The families of the accused have also repeatedly spoken about the difficulty in getting in touch with them in jail. At a press conference in May, speaking on behalf of Sudha Bharadwaj's family, Smita Gupta said that Bharadwaj's daughter Maaysha still finds it difficult to contact jail authorities. In July, Rama Anand Teltumbde (wife of accused Anand Teltumbde) and Susan Abraham Gonsalves (wife of accused Vernon Gonsalves) moved the Bombay High Court seeking a direction from the court to the Superintendent of Taloja Prison to allow letter communication between them and their respective jailed husbands. They alleged that the prison authorities were withholding letters written by Anand Teltumbde and Vernon Gonsalves. (Rama Anand Teltumbde and Ors vs State of Maharashtra and Ors Crl. W.P No. 2327 of 2021).
Case against Rona Wilson
Wilson, who was one of the first to be arrested in the case on June 6, 2018, has been accused of being a member of the banned Communist Party of India (Maoist). He has been further accused of contacting accused Sudhir Dhavale, who was working through the medium of Kabir Kala Manch, a troup or folk artists who use music and drama to highlight social ills like caste and gender based discrimination. The Pune Police alleged that the members of the Kabir Kala Manch enacted short plays, performed dances and sang during a programme at Shaniwar Wada, Pune on December 31, 2017, organised by Elgar Parishad. These performances were allegedly provocative in nature and had the effect of creating communal disharmony.
It was also alleged that the members of Kabir Kala Manch spread hatred through their songs, plays and speeches causing enmity between different communities. As a result, there were incidents of violence, arson and stone pelting near Bhima Koregaon. Further, the prosecution alleged that Wilson absconded with CPI (M) member Milind Teltumbde and "conspired to mobilise masses and to spread hatred against the Government, through provocative speeches, songs, plays etc. They incited feelings of hatred among the communities resulting in widespread violence from 1.1.2018 onwards. The acts of the accused were not restricted to creating disharmony between the two communities, but they were actually indulging in activities which were against the Nation. The incidents at Bhima Koregaon were only a part of their larger conspiracy."
On October 24, 2018, the Bombay High Court had set aside a Pune court ruling that had granted more time to the police for filing a chargesheet against Wilson, lawyer Surendra Gadling and other activists who were arrested. Justice Mridula Bhatkar had held that the Pune court order granting the police an additional 90 days to file the chargesheet and consequently extending their custody was illegal. The verdict seemed to have been a ray of hope for them to apply for bail but she stayed her own order from becoming operational till November 1, following a request from the Maharashtra government, thus giving time to them to file an appeal before the Supreme Court. (Crl. W.P No. 4148 of 2018)
When the matter reached the Supreme Court, the then CJI Ranjan Gogoi led Bench overturned the Bombay High Court judgement on February 13, 2019. The consequence of this judgment was that Wilson along with other activists were not entitled to default bail under section 167 of the Code of Criminal Procedure, which lays down that the accused can apply for default bail if the investigation agency fails to file a chargesheet within the stipulated period of 90 or 180 days from the date of arrest. (Crl. Appeal No. 264 of 2019).
While hearing the bail plea of Wilson in November 2019, the Additional Sessions Judge, Pune, perused one letter that was seized from Wilson's computer which indicated his involvement in such a conspiracy. The judge said, "On bare perusal of the above said letter, the horizon of the banned organization and the role played by accused in activities of the organisation can easily be noted. What is more important to note is that there is clear reference of Bhima Koregaon incident and the addressee i.e., accused Rona Wilson was instructed to instigate and provoke the activists to aggravate agitations and processions."
The investigation further revealed that funds were provided by the banned organisation through their members. Accordingly, his bail plea was rejected on November 6, 2019 by the Pune Sessions court. Additional Sessions Judge S.R. Navandar said that the charge­sheet prime facie showed that Wilson, along with Sudhir Dhavale, Surendra Gadling, Shoma Sen. Mahesh Raut and Varavara Rao were part of the larger conspiracy under UAPA and IPC charges.
He ruled that all six persons were active members of the banned organisation and "they were managing affairs of funds, recruitments and deciding policies, which were anti-government or more particularly dangerous to the democracy of the country".
In February, 2021, Wilson approached the Bombay High Court seeking the formation of a Special Investigation Team (SIT) to inquire into the planting of fabricated documents in his computer over a course of around 22 months.
His petition was in pursuance of a report by Arsenal Consulting, an American digital forensics consulting company which revealed that Wilson's computer was infected with a malware, called NetWire, which was planted through an email on June 13, 2016, exactly two years before his arrest on June 6, 2018. Wilson had been accused, based on a letter he allegedly wrote to a Maoist group leader, discussing the need for guns and ammunition, and asking the group to assassinate Prime Minister Narendra Modi. According to a report by the Washington Post, Arsenal Consulting found that the letter — along with at least nine others — had been planted in a hidden folder on Wilson's computer by an unidentified attacker who used NetWire.
The findings also reveal that Wilson received emails that appeared to be from a fellow activist, urging him to click on a link to download an innocuous statement from a civil liberties group. But this link actually deployed NetWire, a malicious software that allowed a hacker to access Wilson's computer.
The matter is before the Bombay High Court currently and the next hearing is scheduled to happen on August 27, 2021. (W.P Crl. No. 1769 of 2021)
Wilson who hails from Kerala has done his M. Phil from Jawaharlal Nehru University, Delhi and was about to reportedly pursue his Ph.D at the University of Surrey or the University of Leicester, England. Wilson had also previously worked as the media secretary for an organisation called the Committee for the Release of Political Prisoners (CRPP). 
Get the latest reports & analysis with people's perspective on Protests, movements & deep analytical videos, discussions of the current affairs in your Telegram app. Subscribe to NewsClick's Telegram channel & get Real-Time updates on stories, as they get published on our website.
Subscribe Newsclick On Telegram