Bihar Elections: Except Left, Nobody Is Talking About Over 2 Crore Farm Labourers
Very low wages, seasonal work, backbreaking drudgery and social oppression defines the lives of this class.
In a state where over two thirds of the population depends on agriculture and 88% of the population stays in rural areas, the deafening silence about agricultural labourers in the otherwise noisy election campaign is strange. None of the major political parties refer to this largest, most exploited and most oppressed section of society. No promises are made to increase their wages or improve their living conditions. Analysts and talking heads, too, slice and dice Bihar's social composition endlessly, building this caste equation or that, but nobody cares to look at them or talk about their conditions. Only the Left parties – Communist Party of India, CPI (Marxist) and CPI (Marxist-Leninist) Liberation – talk about their conditions.
It is not as if the number of agricultural labourers is small – in fact, it is the largest economic class. According to Census 2011, Bihar had about 95.4 lakh main agricultural labourers. 'Main' means that their primary occupation was working in the fields of others. In addition, there were 88 lakh 'marginal' agricultural workers, that is, those who worked in others' fields for six months in a year or less. Many of these marginal labourers are marginal farmers with a tiny land holding, insufficient to provide for their family, forcing them to supplement their income by labouring in others' fields.
Putting both these types together gives a staggering total of about 1.8 crore agricultural workers in all. That was in 2011. Projecting this to 2020, on the basis of the growth rate in the previous decade (2001-2011), a conservative estimate of their current number is: 2.3 crore. [See chart below]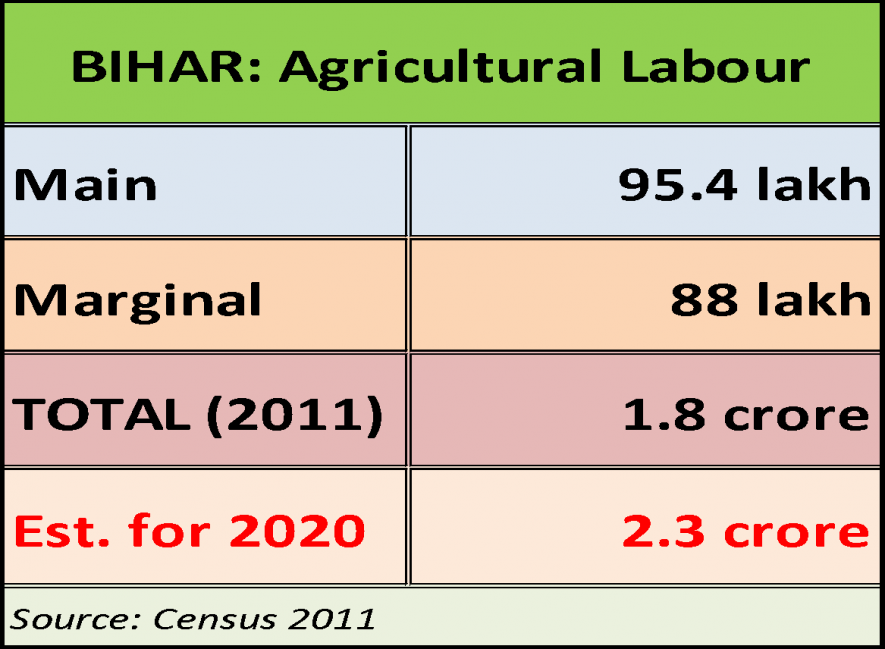 Almost a quarter of the agricultural labourers in Bihar are dalits and about 3% are adivasis. These sections bear a double yoke of exploitation and oppression as they face intense discrimination and violence in their day to day lives.
For the upcoming elections, about 7.29 crore voters are recorded on the electoral rolls of the state. So, agricultural labourers will make up at least a third of those. Yet, there is deafening silence!
Miserable Conditions of Existence
Average wage rate of male agricultural labourers in Bihar was Rs 264 per day in March 2020, much lower than the all India average of Rs 293, according to monthly wage data collected by the Labour Bureau and available with Reserve Bank of India database. Bihar's agri-labourers have always received wages lower than the country-wide average. [See chart below going back to 2000]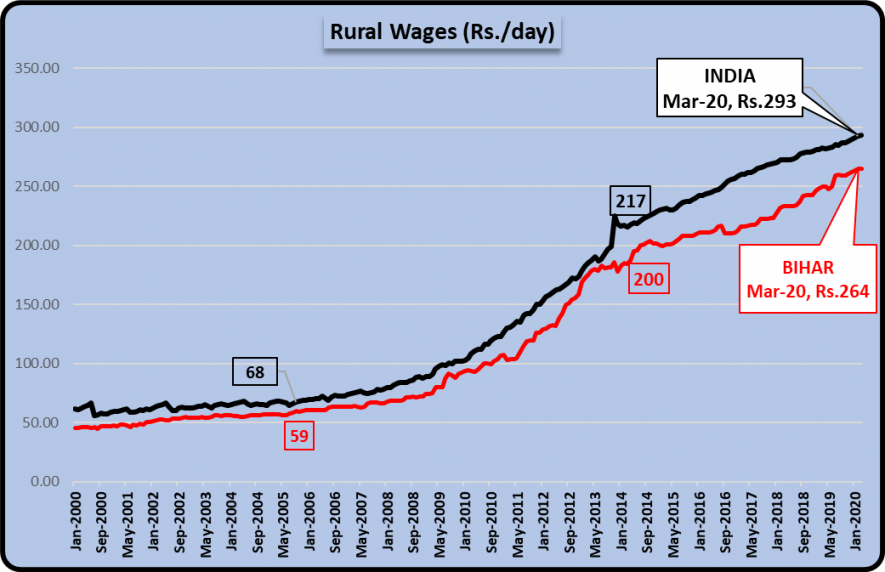 In 2005, when Nitish Kumar first became the chief minister, wages of labourers in Bihar were Rs 59 per day compared to Rs 68 for India. It continued below the country average all through. But since 2014, with the beginning of the Modi era at the Centre, conditions have worsened in Bihar – observe how the red line dips and diverges away from the black line since 2014. In June 2014, the country average (Rs 217) was 8.5% higher than Bihar (Rs 200). In March 2020, this gap has widened to about 10%.
The Modi regime has seen a decisive reversal of fortunes for the agricultural community, with agricultural labourers getting the worst of it. Their wages have barely increased if inflation adjustment is done. Note that agricultural work is seasonal and these wages are received only in the months of work. For the rest of the year – for four to six months – there is no income. Wages for female agri-workers are always much less than their male counterparts. Officially recorded wages are usually higher than what is actually paid.
Forced to Migrate
It is landlessness, low wages and lack of other non-farm employment that becomes the driving force for out-migration. Bihar state government had estimated that about 21 lakh migrants came back to their native villages during the recent lockdown. The actual numbers will be more. It is well known that labourers from Bihar migrate and occupy the lowest rungs of economy in rural and urban areas in many states, like Maharashtra, Punjab, Delhi, etc. They may work as agricultural labourers in fields of Punjab and Haryana, or work in industrial units in Delhi or Maharashtra, or perform casual labour jobs in construction sites or work as rickshaw pullers or domestic servants and other personal services in cities like Delhi, Mumbai, etc.
A study had found that 66% of migrants were either landless labourers or non-farm labourers in their places of origin. Most of the migrants were either illiterate or had studied only till primary level. Just 23% of them belonged to 'upper' castes while the rest were dalits, adivasis or OBCs.
Left Parties Fight for Them
Most other political parties use caste or religion to mobilise voters and sustain their support among them. It is for this reason that they do not want to identify the agricultural labourers as a class that is in dire need of empowerment and a radical change in conditions of life. Hence, the silence on the most burning issues of this vast section.
In several districts of Bihar, where the Left movement is strong, agricultural labourers often form the backbone of support. This is because the Left has consistently fought for land, wages and civic amenities, as well as standing in their support when facing violence at the hands of big landowners and other socially powerful sections. This support also breaks down the caste barriers and unites all exploited people against the economically powerful elite. 
In the Assembly elections, this will be seen in the likely emergence of a small but significant Left bloc in the new Assembly.
Also read:Bihar Shows What Happens if Agri-Trade is Left to 'Free Market'
Get the latest reports & analysis with people's perspective on Protests, movements & deep analytical videos, discussions of the current affairs in your Telegram app. Subscribe to NewsClick's Telegram channel & get Real-Time updates on stories, as they get published on our website.
Subscribe Newsclick On Telegram