Bihar Muharram Clashes: Muslims Suffer Double Victimisation Due to Half-truths
Communal clashes broke out at Jokaha of West Champaran following manoeuvred incitement by majoritarian antisocial elements. However, the arbitrary arrests, torture and indifference that followed the vicious cycle solely targeted minorities.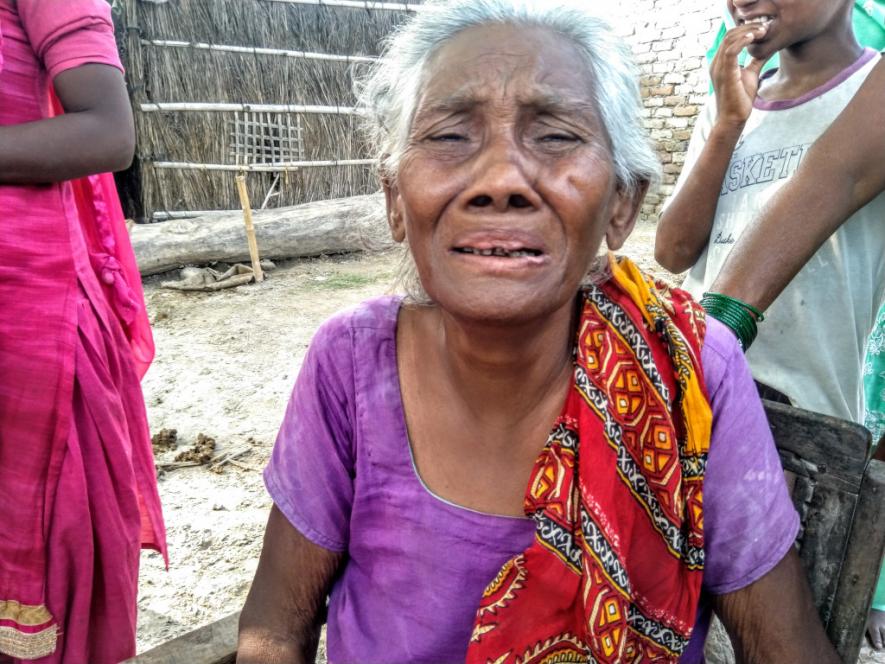 Sara Bano Khatun. | Images by Ujjawal Krishnam
Bettiah police slapped various sections of Indian Penal Code against 64 Muslims, 4 Non-Muslims and 15 unknowns for 'rioting' on the day of Muharram on September 11. According to the FIR accessed by NewsClick, the accused have been charged under IPC 147, 148, 149, 341, 323, 324, 307, 332, 333, 353, 427, 435, 436, 152, 153A, 195 A, 504, 506 and Prevention of Damage to Public Property Act.
Jayantkant, Superintendent of Police, Bettiah, was quoted as saying that, "The members of two communities came to blows during a 'Tajia' procession in Jokaha village under Manuapul police station area". He added that the mobs vandalised nearly half a dozen vehicles and when a police party reached the spot, it was attacked, and its jeep was set on fire. "Subsequently, District Magistrate Nilesh Ramchandra and I rushed to the site of the incident with a heavy police contingent which dispersed the mob. Fire brigade was called to douse the flames that had engulfed the jeep. Tough action will be taken against those who indulged in mischief," the SP told PTI on September 10.
NewsClick presents a ground report from the region.
"As our procession entered the Mazar (mausoleum ground), stones began to be hurled at us …we didn't know from where it was coming…the peaceful gathering turned into chaos…," recalls Zumdin Miyan, 60, who has been booked for 'rioting' and similar offences.
"The procession of Sheikhdhurwa was about to enter the ground when stone-pelting started," continues Zumdin, "I was really clueless about it."
Zumdin is a resident of Rajdhurwa village, under police station Chanpattia in West Champaran district. While he agrees that misguided youngsters of both the religions communities regularly engage in verbal spat, however, he says that he never saw anything as deadly as 'stone-pelting' and 'flames' which he experienced this Muharram.
Also read: One Killed as Clash Over Loud Music Takes Communal Hue in Deoria, 6 Held
"Pata na kahe Jokaha ke taraf se pathar gire lagal…(Don't know why stones were thrown at us by the villagers of Jokaha…)," says Usman Alam, a sexagenarian, who along with Zumdin had been leading the Muharram procession or akhada or julus of his village for many years.
Karbala is a Muslim congregation ground hosting a mausoleum. The multiacre campus also serves as the burial site for Muslims of nearby villages. Muharram fair is held here too, and the tradition dates to the days of Bettiah Raj when Maharani Janki Kunwar granted this broad stretch of land to Muslims for its use as a religious site.
Karbala is bordered by a railway link from one side while Jokaha – a village populated by majorly Hindus – is located on the opposite side, with an artery like road connecting both ends and dissecting the burial ground into two parts. Except for the entry-exit points, the campus is walled up to 3 feet. This is to ensure that the processions can appropriately find exit spots without inviting any precarious situations like stampede as processions from more than a dozen villages are expected to gather here to observe the mourning through passion plays.
However, religious and cultural syncretism has been challenged in the recent times as majoritarianism has expanded its arms in this region with expansion of right-wing political movement. As majoritarian elements eye this piece of land, the harmonious relations have been strained.
The last time Bettiah was engulfed in communal clashes was in 2013 when right-wing men during the Mahabiri Akhada in the town dressed like Muslim clerics and displayed placards of politico-religious nature accusing the then government of minority appeasement. While the administration has stepped up security in the town area since then, the rural areas remain prone to such clashes which, according to the villagers, could be obviated this time if there had been enough police force to handle the antisocial elements.
Also read: Bihar: Islamophobic Slogans, Aggressive Posturing Led to Communal Clashes in 7 Districts
An accused, in his late fifties, from Mahendiyabari village, who has also been named in the FIR told NewsClick on the condition of anonymity that they had requested administration to provide police protection for the procession, but their request was rejected. Mahendiyabari village runs parallel to the NH-727, and there are some 150 Muslim families living here. The accused alleges that the clashes were politically contrived. "Our procession was the last one. When we heard that some violence had erupted, we drove backwards. I do not even know what exactly happened," says the accused, adding that he was shocked to find his name in the FIR.
NewsClick found that all the processions which marched to Karabala had official licences. However, the participants have now been charged for unlawful assembly. "The biggest fault here is police negligence. The administration issued licences but did not care to provide police protection to processions in this particularly tensed space," Syed Monasir, a local activist, says while talking to NewsClick. Karbala had previously faced minor scuffles in 2002 and 2016. Sources say that police had inputs regarding the possibility of something as major as a bloody riot, but no seriousness was shown by the top officials.
People belonging to the minority community from nearby villages who had participated in the procession unanimously accused Block President Rajkishore Chaudhary and former village head Dinesh Thakur for peddling clashes. "These leaders work for the ruling party and support majoritarian agenda," the accused from Mahendiyabari said.
Mohammad Imtiyaz showed the scratches and bruises he received in the procession; his name is there in the FIR. "They [referring to violent mob] burnt our mini truck and looted our six wall speakers as well as eleven horn loudspeakers," says Mohammad. Basir Miyan, in his sixties, also came under the violent attack. One stone struck him on head.
Imtiyaz questions, "Who will pay for our damages?" "Also, there was a generator," adds Khuna Khatun, saying that it was bought for Rs. 40,000. Khuna also witnessed police verbally abusing women; she was also abused. Asked why they did not lodge any FIR, Khuna and her neighbours asserted in unison that they do not have money to eat, let alone for fighting cases. One of villagers asked, "Our sons are in the jail; we do not even know what was their crime. They were arrested just because they were Muslims?"
Some videos which went viral on social media have been accessed by NewsClick. In the first video which is 2.06 mins long, some early signs of chaos are evident. In the slightly longer second video (3.38 mins), several men emerging from Jokaha village can be seen with bamboo sticks inside the campus. Children with them are also collecting stones which would be thrown at the opposite group. Some can also be heard laughing and inciting the violent mob: "Let's put that vehicle on fire." While this mob takes control of the Mazar ground, the police present there seem to be unaffected by the violence. The video shows that the police don't even care to disperse the mob.
The police officials had said that further arrests would be made based on videos but, only the members of minority community have been primarily raided and ransacked. The police are yet to verify the videos and arrest the culprits. With several identifiable faces, why only four non-Muslims were booked with admissible names has raised the questions about trust and administrative integrity.
Neither senior police officials have acted against the police officials present at the site nor these videos have been used as corroborations.
It has also been found that there were allegedly only four or five police officials at the congregation ground when the stone-pelting started. The vehicles of Tazia observers were burnt. When the police van of Manuapul P.S. reached, it, too, faced the same fate. After the police van was set afire, top officials became serious about the situation. But, that was too late. Many huts had already been set ablaze by then.
Usman Alam's son Murtuza is also an accused in the case. He says that the railway staff at the level crossing had seen people collecting stones from railway track two days before Muharram.
"It was 10 PM," Sara Bano Khatun distinctly remembers how the police undemocratically raided her home. "Will you tell us where is your husband? We will teach you a lesson…," the policemen kept abusing the women as one twisted the hand of Sara's daughter Asmina, she recalls. "We were going to sleep and then they came as marauders," she says. Her husband who works in a foreign country was not even at home at the time.
Also read: Communal Violence: Police Raid on Muslims' Houses in 2 Separate Incidents in Gujarat
Rajdhurwa village, the nearest Muslim locality from Karbala ground, allegedly faced extreme police brutality following the clashes. Maximum arrests were made here. Around 60 policemen in nearly 18 vehicles arrived in the village in search of adults who participated in procession.
Shahzad was arrested and the gate of his house was dislodged. Shakira Khatun recounts the minutes of horror, "Four policemen ran to our house. They dragged my brother Navijan, also physically abused him." Now, the dislocated door frame in a Below Poverty Line (BPL) family stands as the testimony to the police excess.
Gulfan Miyan, 62, also shows the broken door. "Hurra se mar ke tod dele san. (They broke our door with the strokes of rod.)" Gulfan Miyan was so scared that he went to hide in a nearby field. "I knew that I was innocent, but I did not want to be mercilessly beaten. They too were in no mood to listen anything," he says.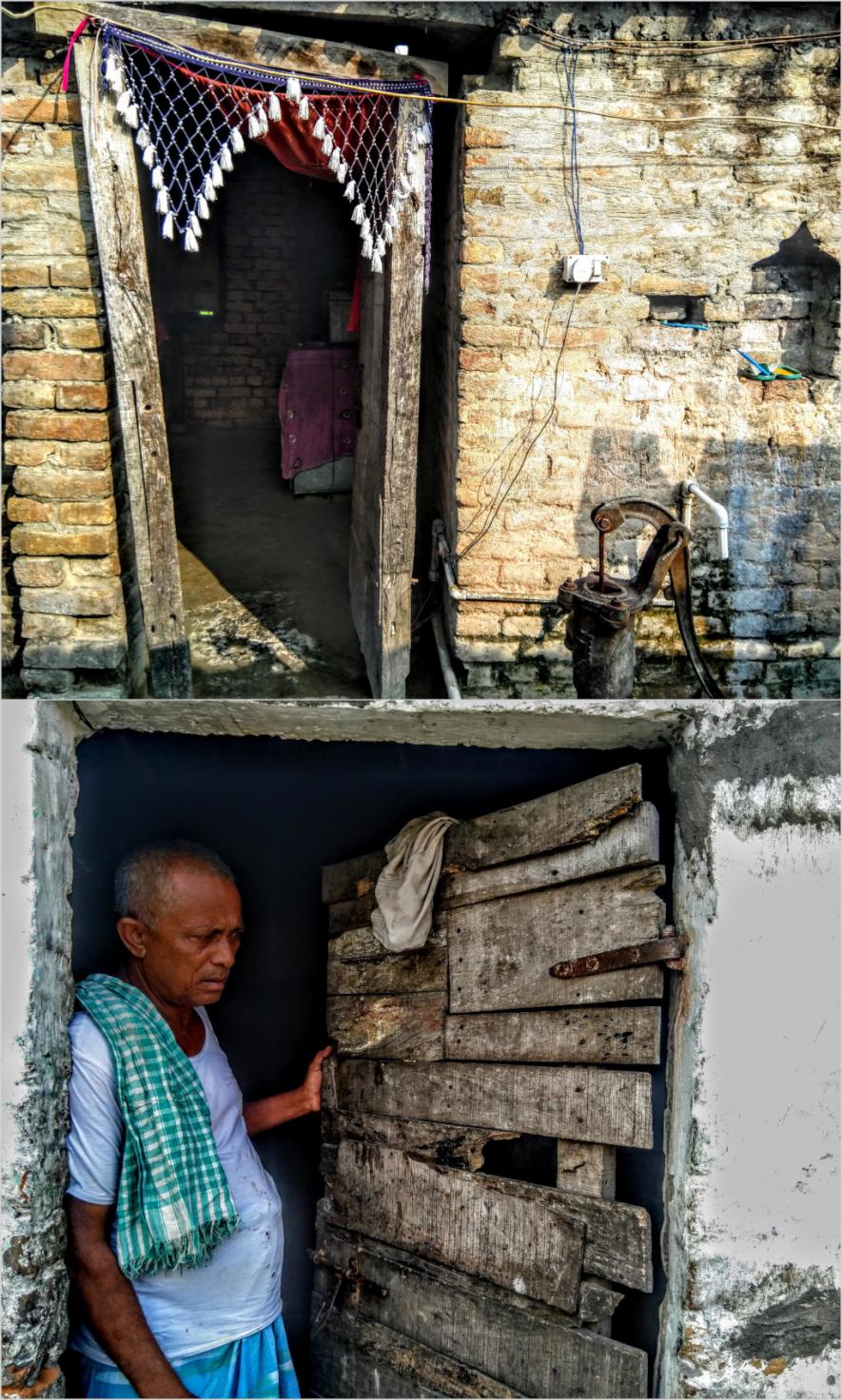 Gulfan Miyan showing his broken door.
Shiv Dayal Raut of Rajdhurwa, who is physically disabled, was also not left untouched. That Shiv Dayal Raut incited the Tazia mob could not be ruled out. "If it is difficult for me to move to my small shop which is just a few metres away from my hut, how could they even think of my involvement in a riot?," he asks.
"Power supply was disrupted as the raid began. It was pitch-black," says Kafya Khatun whose daughters Ruksana and Rehana were allegedly mishandled by the police during the raid.
The accused unanimously allege that many witnesses have been silenced after the local MP and Bihar BJP President Sanjay Jaiswal began to personally monitor the case. The accused believe that this was done to ensure the categorical elimination of real 'masterminds'. The accused claim that most of the charges are discriminatory, unfounded and based on institutional bias.
Vipin Rai, Vijay Rai and Manjay Rai of Rajdhurwa village who saved Zumdin from the mob are yet to be contacted by the police to be witnesses. Zumdin says that Vipin and his relatives also helped him smother the fire sparked by majoritarian elements. "Not all the people from majority community are same," added Zumdin. "We have faced something similar earlier, but we peacefully continue to remain in the same pod."
Muslims have been allegedly threatened by politicians that they will soon be evicted from the land they have acquired from Bettiah Raj. "Nuksan bharna padega…(You will have to pay the price for it…)," threatened a politician while addressing Muslims after clashes.
Police version says that the Muslim accused [while they do not officially use the religious tag, the FIR indirectly says so] have damaged most of public property, however, the huts which were burnt were closed toddy shops. No life was hurt. Also, it has been found that the dwelling huts of majority community on the periphery of Jokaha were not harmed. An alleged political version says that Tazia players quizzed random commuters about their religious affiliation and thrashed them. There is no official complaint as such.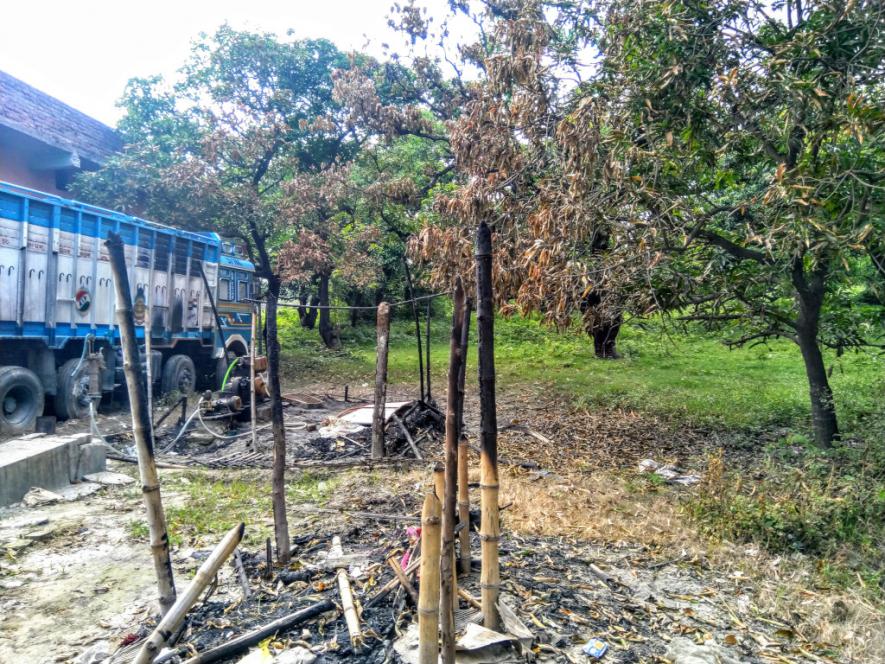 "Can't you see in the videos how fearless those antisocial elements were? These antisocial elements are politically protected," says an accused. He also alleges that the majoritarian elements are freely propagating hatred and inciting violence after Modi Government has come into power. "We fear to trade our cattle," he mumbled, hinting towards the cow-politics gaining traction in the region.
The landless Muslims of Rajdhurwa have built their homes on the land which belongs to the Chanpatia Sugar Mill, however, they say that they have received Indira Awas funds on the same documents. But, they are scared as they feel that the biased politicians may sacrifice them to appease majority community.
A police squad consisting of a Sub-Inspector Mohammad Mukhtar Khan, four police guards and one driver has been deployed to ensure calm in the Jokaha area. This area is not under the jurisdiction of Md. Khan, his duty has been temporarily assigned by the senior officials. On the day the clashes broke out, he was allotted duty to ensure safety of observers of Muharram in Nautan Block. "Nothing happened there as our team was ready to handle the situation." But, when asked about Jokaha incident, he does not answer.
A police official, who did not want to be named, said that the department does not have enough police force to look after densely populated regions. "If one talks about political apathy, we also feel the same…," he continues, "what will some four or five policemen do to control thousands of people armed with stones, sticks, rods and torches." Some eyewitnesses also told NewsClick that on the day riots broke, the policemen on duty did not have proper riot control agents. Fire truck was also not present at the location.
MP Sanjay Jaiswal has made a Facebook post coercing the committee members of Muharram processions to take responsibility for the clashes. So far, he has avoided to comment on the people who flagged the coordinated violence. "There was nothing spontaneous about the stone-pelting. It was well planned to trigger a riot. But their plan failed as we left the place," said Usman.
Azrunisha, in her sixties, asks, "Will Sanjay Jaiswal ever get the antisocial elements from Ojha tola or Jokaha arrested? Why were only Dilsher, Sainnulah, Anwar, Shahzad arrested?" Navijan Miyan's father, who is deaf, worked as a labourer throughout his life. He doesn't know how he will gather the money to bring his son out of jail.
Also watch: Manufactured Riots in Bihar - Survivors and Perpetrators
The accused Muslim persons also say that police do not have concrete proof against them. Since they do not have resources, they feel that they will not be able to even challenge a case supposedly built on hearsay.
When this reporter talked to the family members of those who have been arrested, it became clear that they are not aware of their rights. They think that the onus of proving innocence lies with the accused.
Those whose houses were searched or raided told NewsClick that police didn't show any papers. This worked same for the arrests. Moreover, the searches on the night of September 10 were made under CrPC Section 165, however, the FIR was written at 9.30 AM on September 11. According to the FIR, the information of 'rioting' was also received at 9.30 AM of September 11 which is 15 hours after the incident. This strictly alleviates the doubts on police functioning and ethics. As the accused are mostly poor, uneducated, marginalised and disconnected, they are not in a position to question the police about such arbitrary arrests.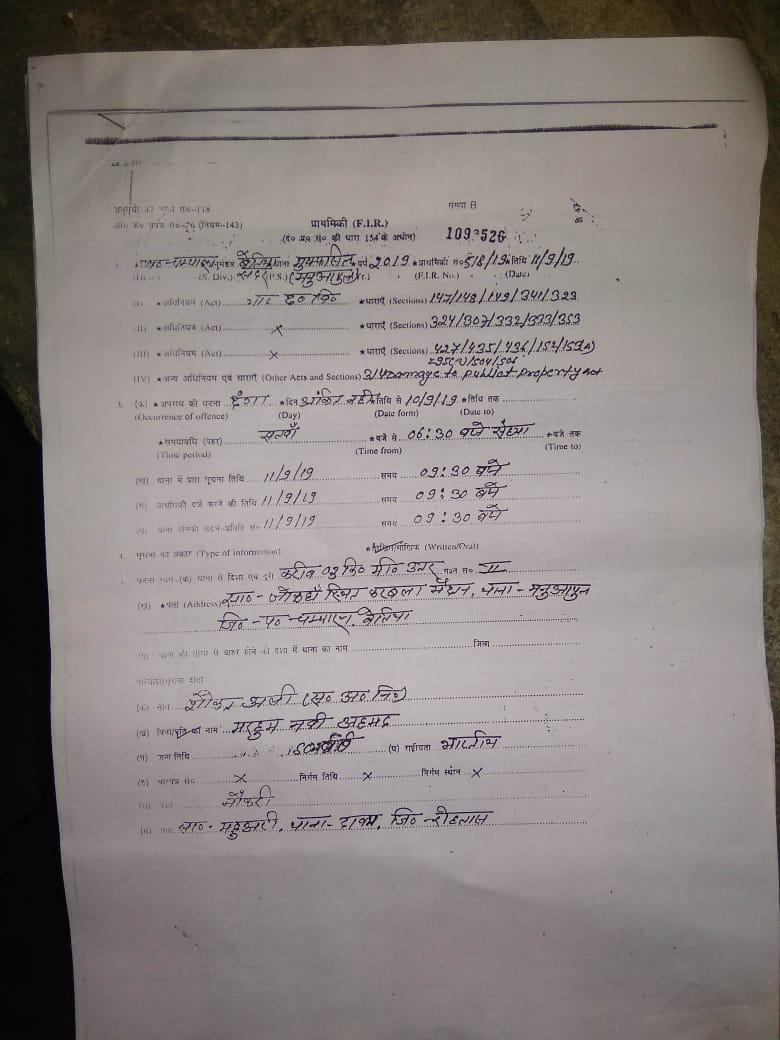 Local news media also projected one side of the story. None of the local newspapers has openly named the pre-planned incitement nor anyone has even given hint of the skirmishes which further took shape of deadly clashes, engulfing some twenty huts, some mango trees and a police van.
A national Hindi daily even published a controversial article polishing the official narrative that more than 2,000 traditional fire torches were discovered from the house of Md. Sheikh Ekramul of Sheikhdhurwa village. The article digresses and ends up naming him as a 'mastermind' in bold letters even though he is yet to be tried and proved guilty.
Furthermore, the members of Muslim community are saddened by the newspaper articles and police narratives which they call conspiracy theories. They have no legal knowledge of 'defamation', but, one says, "I heard that there is some RTI [Right to Information Act] which helps people denounce such baseless allegations. We shall find out how to go about it…"
Get the latest reports & analysis with people's perspective on Protests, movements & deep analytical videos, discussions of the current affairs in your Telegram app. Subscribe to NewsClick's Telegram channel & get Real-Time updates on stories, as they get published on our website.
Subscribe Newsclick On Telegram