Thirsty Bundelkhand Prepares for Another Summer
Villages in Banda, Chitrakut and other parts of Bundelkhand demonstrate how to protect and conserve water sources—and tackle the mafia. They must get government support now.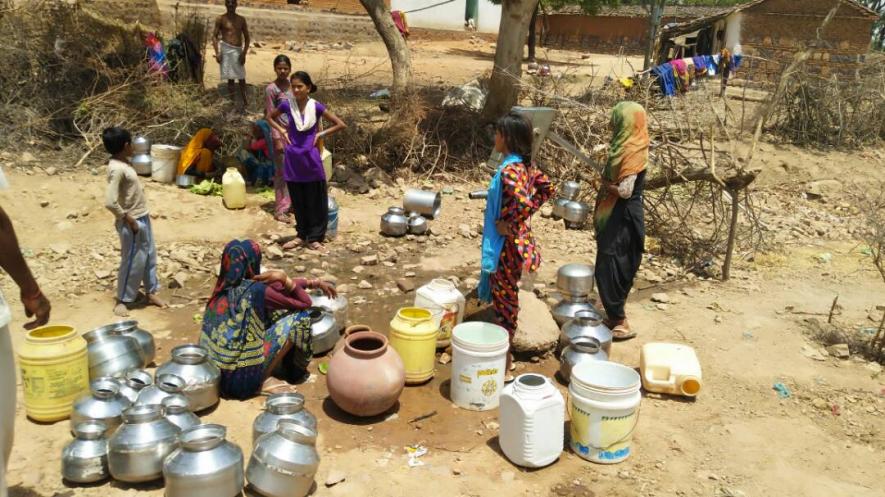 As summer advances, vast parts of the country preoccupied with the Covid-19 threat will also have to cope with the recurring problem of water scarcity. Rural India, especially farmers, face increasing water shortages despite huge investments in irrigation and drinking water schemes. The reason is that natural water sources—rivers, streams, springs, tanks and ponds—are getting depleted due to neglect, encroachment and indiscriminate mining, particularly of sand.
In this context, the success of some more recent efforts to protect the rivers and ponds in rural Bundelkhand has come as a ray of hope. The Bundelkhand region spread over 13 districts of Uttar Pradesh and Madhya Pradesh has been increasingly affected by water scarcity. This is all the more reason why the efforts of farmers and others in some villages is gratifying.
Ken river, the lifeline of Bundelkhand, is badly threatened by sand mining, which has been taking place at far beyond sustainable levels. Almost all the rules and precautions of relatively safer mining have been violated with ruthlessness in this region. Those who question or challenge the recklessness have been threatened with violence, or worse.
While small-scale mining carried out manually, while protecting the river bed, may not cause much harm, in reality very large scale and indiscriminate mining has been done in this belt, that too using heavy machinery. Instead of confining themselves to mining along the river bank or flood plain, heavy machinery is used to dig deep into the river bed. To do this, temporary bunding has to be done to check the flow of the flowing water. This can deplete the available water supply during the dry season, while increasing the threat of erosion and floods in the rainy season. The capacity of a river to absorb and retain water—and its links with groundwater aquifers, which it replenishes before they run dry—is adversely affected.
In the Bundelkhand region, the number of stray cattle is also very high. These animals are heavily dependent on river water to quench their thirst. If rivers are severely depleted in the summer months, it can prove disastrous for them. Low water levels pose immense difficulties for farm and dairy animals too. A large number of animals in the region die due to acute thirst. This is exacerbated by the earlier drought years.
Matters came to a head recently in a village called Kolawalpur Raipur (located in Mahuwa block of Banda district), which is along the Ken river and is one of the worst-affected regions in terms of water scarcity. The river was being damaged very badly by very large scale mining using heavy machines, while several workers were also not paid their wages, nor were compensatory payments made to farmers whose fields were converted into roads for the trucks carting away sand from the river site.
Villagers raised a number of demands that included curbs on destructive mining and payment of wages to workers and compensation to farmers. They opposed the heavy mechanisation and demanded that the method of mining be changed—both to protect the river and provide more employment to manual workers. Their demands were not accepted and the local police blatantly supported the mining mafia. Their peaceful movement was threatened, upon which the villagers gathered by the river bank. A leading role was played by women, several of whom waded into the river and stayed there for a long time shouting slogans and offering prayers, asserting their determination to protect the river.
As the protesters later moved towards the road, people from other nearby villages joined them. Fear of the protest growing led to action on part of the authorities, who accepted most of the demands raised during this jal satyagraha. However this is only one success at one mining site. Indiscriminate mining continues at several other sites and wider efforts are needed to save this river.
While huge sums are spent on lavishly-funded large canal-irrigation projects, the potential of smaller projects which are sustainable and yet bring significant benefits at far lower costs, has not been tapped adequately. This is particularly true of tank and pond irrigation which at one time provided very low-cost irrigation to very significant tracts of farmland. This was particularly true in those areas which are geographically and ecologically more suitable for such irrigation, and in the context of Bundelkhand it has repeatedly been emphasised that the traditional tanks need to be preserved and maintained. This is essential if the all-too-frequent water scarcity of the region has to be tackled.
Despite this, there is widespread neglect of traditional tanks and ponds and encroachments make the situation worse. Many villages have revived the traditional tanks to alleviate water distress significantly in recent years. Yet, it is very worrying that water scarcity is likely to increase in times of climate change and not enough is being done to tackle it.
One approach with significant promise is to raise the holding capacity of existing tanks by de-silting them. The silt can then be used to improve the fertility of the local farms, particularly of the smaller and poorer farmers. A recent pond de-silting project in Bundelkhand is being talked about precisely because it has admirably achieved both objectives. This project (initiated by Srijan and its partners) has had remarkable successes. For instance, in Mahoba district Arunodaya, a voluntary organisation, managed to revive nine ponds in two blocks Jaitpur and Panvadi.
Abhishek, the director of Arunodaya, says, "These ponds had served a very useful role until a few decades back but had depleted due to neglect. Some had been encroached upon. Either no de-silting had taken place the silt had drifted back into the pond during the rainy season, because it had not been removed."
Involving locals in the planning and to keep costs low is a challenge for voluntary organisations, for established contractors resent low cost but good quality work, and create obstacles. But the desisting projects did succeed in the end and enhanced the water carrying capacity of these ponds, preparing the villages for the rainy season and for droughts and water scarcity by raising the water levels in the nearby wells.
It is preparatory work and mobilisation of farmers that motivated them to ferry the silt into their fields from the cleared-up ponds. Arunodaya estimates that 593 farmers took away 33,927 trolleys filled with the fertile silt to 615 hectares of land. "This helped improve crop yields to a significant extent," says Abhishek.
Similarly, in Chitrakut district this project was implemented by ABSSS, a well-known voluntary organisation active in water conservation work in this region. Gaya Prasad Gopal, founder and mentor of ABSSS, says, "Completing the work in time was not difficult—the challenge was to ensure that the poorer, smaller farmers, including the Kol tribals, also benefit from the fertile silt."
Typically, the wealthy farmers are the ones who can afford to carry away the silt, not the less well-off or poorest. "Economic assistance was made available to the smallest farmers so that they also get their share of the fertility-enhancing silt,' Gopal says.
ABSSS is now trying to turn the farmers in the direction of organic and eco-friendly farming which produces healthy food. It had previously helped farmers access land-pattas in their name; now attempts are being made to motivate farmers to launch independent de-silting efforts.
It is this kind of initiative that the government must support, especially under under existing schemes for water conservation. Only with protected natural water sources, including springs, can the threat of water scarcity in these times of climate change be warded off.
It is important to check the highly destructive sand mining on Ken river, where powerful and corrupt mafias threaten locals and openly violate court directives against them. Mining activities invariably break sustainability norms: this is why the Ken river is badly threatened today, but these villagers are showing one way out.
The writer is a freelance journalist who has written extensively on ecological issues. He recently published his book, Vimla and Sunderlal Bahuguna-Chipko Movement and the Struggle Against Tehri Dam. The views are personal.
Get the latest reports & analysis with people's perspective on Protests, movements & deep analytical videos, discussions of the current affairs in your Telegram app. Subscribe to NewsClick's Telegram channel & get Real-Time updates on stories, as they get published on our website.
Subscribe Newsclick On Telegram