COVID-19 Reverse Migration: They are Leaving, But will They Return?
The very visible fallout of the COVID-19 pandemic is the reverse migration, which, experts say, could end up being hard to reconcile with, given the importance of migrant workers to the Indian economy.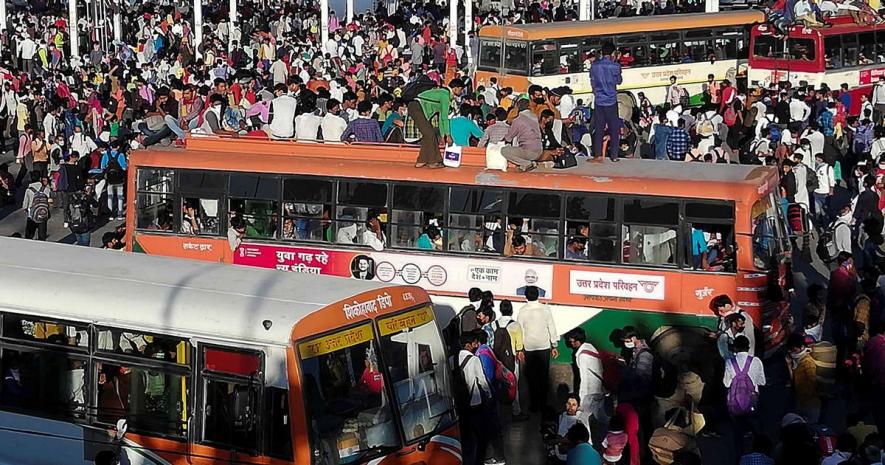 Representational image. | Image Courtesy: Scroll.in
Lucknow: Akhand Kumar, 32, has been on a foot march from Ludhiana in Punjab to Allahabad in Uttar Pradesh for the last 14 days along with his wife and two kids. They have been surviving on water, biscuits and the food they get due to the kindness of others.
Kumar worked at a textile factory, earning Rs 10,000 per month, and had been living in Ludhiana for the past 12 years.
"No matter what, I am not going to return. I have seen the worst. I have been walking for the last two weeks and there is no one to listen to the plight of people like us. I do not own anything in my village, not even farmland, and I will find a way to feed my family. But, I will not return to the city at any cost," said Kumar, who is adamant to stay back in his village.
There are thousands of migrant labourers like Kumar, who have been forced to take on unprecedented journeys after a lockdown was imposed in the country to contain the novel coronavirus pandemic. The stories of migrants on the road do not just end at the swollen feet of Akhand Kumar and his wife and kids; it will also have a direct impact on India's economy.
"In a recent note, Crisil estimates that India has a workforce of 46.5 crore individuals. Of this, around 41.5 crore individuals work in the informal sector of the economy, where no social security benefits are available. This is why the lockdown has been so difficult for a large section of the population," said economist and author Vivek Kaul.
Kaul added that the informal economy also includes regular wage workers who work on a contractual basis for the organised sector. "With many of these workers going back to their native places, even businesses operating in the organised sector may find it difficult to resume work, even if they want to. Other than contract workers, casual labourers also work for businesses in the organised sector. Construction and transport are two such sectors," he said.
Kaul mentioned that the past few weeks have been "mentally, physically, financially and emotionally" difficult for many migrant workers stuck in cities and in industrial belts. "News-reports suggest that many such individuals have been on the verge of running out of their savings," he added, mentioning that in this kind of scenario, it is "rather unlikely that these individuals will come back to cities and industrial belts in a hurry. Other than impacting sectors like construction and transport, this will impact many services businesses as well. Take the case of e-commerce companies, which depend on delivery-boys for their last mile deliveries. They are likely to face problems as well if they want to operate at a full-scale level," he said.
Brajesh Mishra, a senior journalist from Uttar Pradesh, who has been very vocal about the migrant crisis in the country said the first thing that needs to stop is the "Jumlebaazi" as it was not going to help the migrants who have been walking for more than 40 days in a row.
"These migrants are a voiceless community and there is no one to raise their voice for them. Now, accountability should be fixed for the reason behind this large scale exodus. The government should bring in a road-map of how they are going to employ such a large number of migrants who have returned to their hometowns. A database of all the returning migrants should be made and jobs should be provided to them on that basis," he said.
Mishra added that it was time to revamp schemes like MGNREGA and reallocate the Budget since the situation is very different now. "The government should consider making one block as a unit and generate employment block-wise as it will help many villages. It will be a Herculean but very much possible task for the officers as there are 800 blocks in the entire state of Uttar Pradesh," he added.
"Sectors like agriculture and industries based on agriculture should be given priority. There is a trust deficit in the minds of migrants at the moment and it will cost the country," he maintained.
Sanjay Singh, a social activist based in Bundelkhand said that this was an opportune moment for the government to revive the rural economy since the workforce has returned, but added that it would also have consequences for the society at large.
"There will be a struggle and a fight for establishment in the villages. The government should come up with livelihood programmes and asset creation but this will depend on the market and influx of the funds in rural areas," he said.
Dr. Shamim Modi, Assistant Professor, School of Law, Rights and Constitutional Governance at the Tata Institute of Social Sciences (TISS), Mumbai, said that there are two kinds of people who migrate to the cities. According to Modi, the first are those actually in need of work for sustenance while the others are those who go to cities to increase their income. He said the latter are never going to return from their villages now, and that it would take a lot of time for the others to return.
"The people who have returned or are returning are the ones who actually run the cities. There has to be a holistic approach for the labourers and stress should be given on the rural economy else the economy is going to sink. This is the time to understand that self-sufficiency is the key and agriculture is its base, so it is very important to return to roots and start working from there," she said.
The author is an independent journalist.
Get the latest reports & analysis with people's perspective on Protests, movements & deep analytical videos, discussions of the current affairs in your Telegram app. Subscribe to NewsClick's Telegram channel & get Real-Time updates on stories, as they get published on our website.
Subscribe Newsclick On Telegram