Pandemic vs Economy? Today's Protesters Have Answers That Modi Govt. Doesn't
Providing income support, subsidised food and other help – as demanded in today's protest - can protect people from the pandemic and also alleviate economic downturn.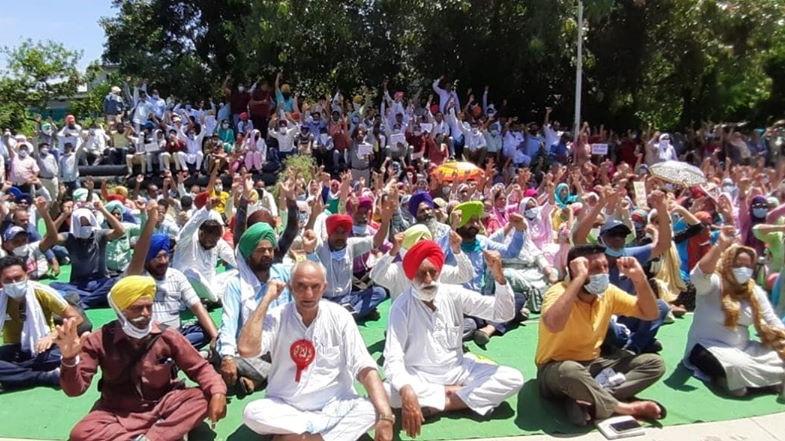 Representational image. | Image Courtesy: CITU facebook page
Designated as Save India Day, on August 9 (today), 11 central trade unions and numerous independent federations of employees along with a joint platform of over 300 farmers' and agricultural workers organisations have called for a jail bharo satyagraha (fill the jails movement) demanding: transfer Rs. 7,500 to the bank accounts of all non-income tax paying families for six months, provide financial aid to farmers, expand work under MGNREGA to 200 days in a year @Rs. 600 per day, start similar scheme in urban areas, provide financial support to MSMEs, stop retrenchments and closures, ensure payment of lockdown wages and reinstatement of workers thrown out during lockdown, provide all families with subsidised food grain and other food items, among others. 
Besides these immediate economic relief demands, the protesters are also demanding that all policies that seek to privatise natural resources, agricultural trade and public sector enterprises should be stopped since they will create more inequality and distress. They are also demanding that nullification of labour laws and raising of working day to 12 hours, be withdrawn. 
Economic Protection Helps Fight Pandemic
Today's protest is not the first one, though it is the biggest spanning all sections of working people. It was preceded by a series of protests and strikes that started back in April during the height of the lockdown itself. Throughout, the demand for economic protection has been raised as an essential prerequisite to fighting back the pandemic. If people don't have incomes, nor savings, then they cannot observe distancing norms, they will be forced to go out and earn something just to survive. In advanced countries, that is why hefty unemployment allowances were being given for the past several months, so that people can live without having to take the risk of getting infected.
But in India, the Modi government didn't do anything for two months, then adopted a stance of treating the pandemic as a law and order problem, to be dealt with by just forcing people to remain indoors. It never paid any heed to the exploding economic crisis that the people faced as starvation and misery engulfed the working people. It suffered from the delusion that individual resolve and discipline was all that was needed to defeat the pandemic, as we saw the Prime Minister repeatedly urging in his addresses to the country. It refused to spend any significant amount of money from its own treasury, relying instead on loans from banks to industrial units and corporate houses as a way out. Neither did this help revive the economy nor did the novel coronavirus get defeated.
Also read: Modi Government's Economic Stimulus: Only 10% from Government Funds, Only 4% in People's Hands
It is 191 days (six months and some days) since the first case of COVID-19 was reported in India. In this long agonising period, confirmed cases have risen to over 20 lakh and deaths to over 42,000. Far from getting it under control, cases are surging at over 60,000 new ones per day, and there doesn't appear to be any respite. A heartless lockdown that lasted two months has not helped, though it destroyed the economy and rendered crores of people jobless. So now, under this government's "muscular" leadership India has ended up with one of the highest number of COVID-19 cases in the world and also a shattered economy, high unemployment, falling incomes and all round decline in economic activity.
Its Not A Tough Choice
But surely this is a tough choice to make: should a government take tough restrictive measures to control the pandemic even if the economy suffers, or should it allow economic activity to resume with the risk of higher transmission? Actually, its not as much of a riddle as made out to be. You only need to change the way you look and the solution is clear: by protecting the people from economic distress, you will also reduce interaction and movement, thus reducing the spread of the disease. And only if you control the virus can you really open up the economy for usual activity. Otherwise it will be a series of lockdowns and 'unlocks' which are neither here nor there. This is what has been happening in country after country – the US, Spain, even Japan and now Germany and Australia, and many others thought they could quickly go back to normal only to be left with a renewed and even deadlier surge.
Had the Modi government done what the protesting workers and farmers have been demanding, then the money would have kept the large working population of the country afloat through the restrictive phase, and generated enough demand in the economy to keep it ticking instead of the crash it went through with unemployment hitting 27% in April, and then, agriculture saving the day by absorbing a large surplus workforce during kharif sowing.
This Is The Only Alternative
Will these measures help now? Yes, more than ever, because the pandemic is far from over. The surge in cases is continuing, it is spreading to newer areas, and as it rages in poorer, less equipped states, the likelihood of spiralling infections and even deaths is more than ever present. Also, the rainy season has brought its own characteristic threats – floods, landslides and vector borne diseases like malaria, dengue etc., that are endemic in large parts of the country. The troubles are only going to heighten in the coming days.
That is why, the protest on August 9 is so historically significant – it represents an alternative path, clearly defined and enunciated, standing in direct opposition to the muddled thinking of the Modi government which has only used the pandemic to further its political agenda, or favour the class it stands with, the big industrial sections.
The protest of August 9 is for the future which is better, more equitable and dignified, and it is the only way the raging pandemic can be defeated.
Also read: Lockdown Destroys Future as Workers Use Retirement Savings to Survive
Get the latest reports & analysis with people's perspective on Protests, movements & deep analytical videos, discussions of the current affairs in your Telegram app. Subscribe to NewsClick's Telegram channel & get Real-Time updates on stories, as they get published on our website.
Subscribe Newsclick On Telegram