Centre's Blue Revolution, SagarMala Projects Promote Only Corporate Giants: Sundarbans Fishermen
Small fishers are losing their livelihood and forced to relocate to Chennai or Thiruvananthapuram as daily wagers.
Hingalgunj: The Sundarbans fishers feel that the Narendra Modi government's 'Blue Revolution: Integrated Development and Management of Fisheries' and the SagarMala projects are harming the ecology of the massive mangrove area and hampering fishing.
Blue Revolution focuses mainly on increasing fisheries production and productivity from aquaculture and fisheries resources, both inland and marine. There are about 3 lakh fishermen in the Sundarbans with another 1.5 million residents who are dependent on fishing for livelihood. The SagarMala project aims to modernise ports and construct new ones and enhance their connectivity and promote coastal community development.
"The Centre is harming the ecology of the Sundarbans and hampering fishing in the area by allowing passage to ships," fisherman Abul Gazi (65) of Samsernagar Kalitala GP, tells Newsclick. More than 50 ships are anchored on the way from Hingalgunj to Samsernagar in waters where fishermen catch fish.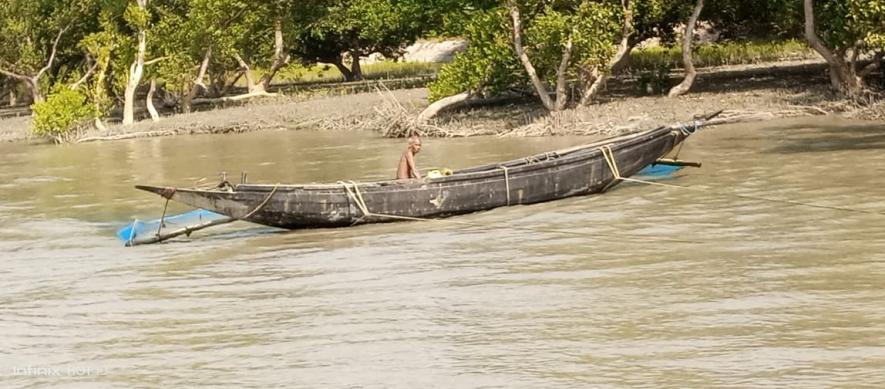 "The Blue Revolution is meant for big corporate entities. We will not benefit from it," says Debasish Barman of the Hingalgunj Fisherman Community and secretary of the West Bengal unit of the All India Fishers and Fisheries Workers Federation (AIFFWF). "The size of the trawlers fixed by the Central government is meant for big companies. Besides, small fishers cannot bear the huge cost of increasing the size of the present trawlers to 20 feet."
Barman tells Newsclick that "restricting small fishers to 10 nautical miles from 200 nautical miles is also hampering fishing in the state and in the country".  Big Indonesian trawlers allowed to fish in Indian waters under ASEAN Free Trade Agreement use modern solar searchlights to locate and net huge amounts of fish.
As a result, small fishermen are losing their livelihood and forced to relocate to Chennai or Thiruvananthapuram as daily wagers. In fact, in every household of the Sundarbans, several male members have left migrated to other states in search of work. Hariprasad Roy (57), who has a fishing licence, is happy that both his sons have given up fishing. One of them is a civic police volunteer and the other is a daily wager in Chennai.
Several fishermen said that the shores of West Bengal are open to corporate giants, like Reliance Industries, who are selling fish in the state's retail markets. Traditional fishers, for example, in Jambudwip, where about 10,000 families are engaged in drying up fish, have no option but to switch to other professions.
"Building export-oriented units along the coastline will hamper fishing in the 7,500 km coastline of the country out of which 158 km is in West Bengal. The SagarMala project is hampering the ecological balance of the area and is forcing fishers to quit the profession," Barman alleges.
Tiger attacks in the Sundarbans are very common with fishermen in constant danger of being devoured by the big cats. Madhabi Mondal, a resident of Hingalgunj, whose husband was eaten up by a tiger, now works as a maid. After her parents-in-law threw her out within seven days of his death, she shifted with her mother and brother in Hingalgunj. Her problems didn't end as her brother, who was a migrant labourer in Chennai died while working on a high-rise building project.  
Mondal's fellow resident Balram Halder (35) has a bloody past as well but he is lucky. After his father Pachkori Halder was killed by a tiger, he joined the family profession by using his licensed boat and obtaining a fishing permit.
Now, Halder has a team of fishers that catches crab and fish. At the end of the day, the catch is divided into 15 parts out of which 10 go to him. After incurring the logistical expenses, which are usually Rs 10,000, he earns about Rs 15,000-Rs 20,000 after a successful trip. But the trips are extremely risky as his fishers have no option but to fish in the tiger reserve "due to the increasing number of ships and fishermen".
The growth of brickkilns and brackish water bheris (shallow fish ponds) is another major problem in the area. Influential persons in the area take cultivable land on lease to make bheris, turning the owners into workers in their own lands.
Umarani Sarkar, secretary, Paschimbanga Matsyajibi Samity, North 24 Parganas unit, tells Newsclick that "the state government has stopped providing port landing certificates in the Sundarbans". "The Border Security Force does not allow to us to catch Bagda fish eggs. It only allows those fishermen who have identity cards to catch fish," she says.
According to Halder and his fellow fishermen Hariprasad Roy, the ID cards were issued by the Left Front government. "The Trinamool Congress government does not issue new ID cards," they say.
Barman says fishermen in West Bengal, which is the primary producer of inland water fish, are in dire straits.  "On one hand, the Centre is helping big companies to capture retail fishing, on the other, the West Bengal government has practically discontinued the pro-fisher policy of the earlier government and is siding with big influential ruling party people entering the business. Even the traditional fisher cooperatives have been captured by appointing non-fishermen as their heads," he alleges.
According to AIFFWF, the 27,67,000 people in the state who are dependent on fishing and related activities are on the verge of unemployment due to "the wrong policies" of the government.
Get the latest reports & analysis with people's perspective on Protests, movements & deep analytical videos, discussions of the current affairs in your Telegram app. Subscribe to NewsClick's Telegram channel & get Real-Time updates on stories, as they get published on our website.
Subscribe Newsclick On Telegram