Centre Must Learn, Kashmiri Pandits Can't be Forcibly Rehabilitated
Homecoming was dream for many, necessity for most Kashmiri Pandits. But, fears revived, they rebut the official assertion of normalcy.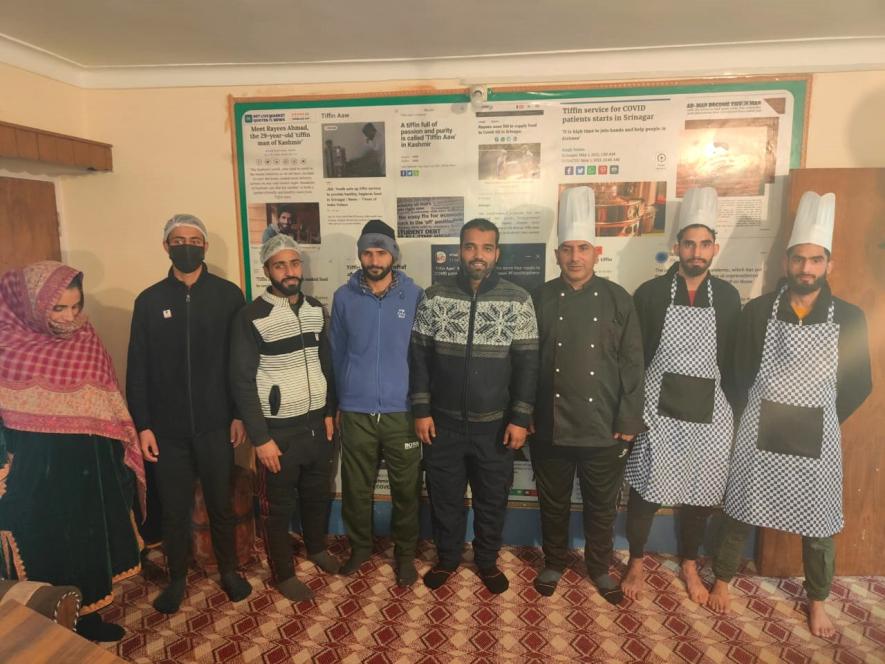 Ranjan, a Kashmiri Pandit living in the valley, got a government job under the Prime Minister's Packages for the Return and Rehabilitation of Kashmiri Migrants to the Kashmir Valley. It is a program the Manmohan Singh government started to rehabilitate Kashmiri Pandits displaced after the militancy in the nineties. Ranjan returned to his hometown after more than two decades, and obviously found the place vastly changed. But his neighbours welcomed him wholeheartedly as he started life afresh.
Since Ranjan could not find government accommodation, he settled into a private home rented from a local Muslim family. His job involves intensive travel into the remotest areas of the valley and regular interaction with locals in each place. After a long detachment from his roots, he found being back soothing and reassuring. He sometimes felt discriminated against but never threatened for his life or safety. Indeed, the return was made pleasant for an older generation of Muslim Valley residents has fond memories of 'Bhat' counterparts and feels guilty about the nineties.
A micro-minority and targeted killings
While working on my book, Kashmir Aur Kashmiri Pandits, I met numerous Kashmiri Pandit families living in and outside Srinagar. There are about 5,000 Pandits who never left the valley, and a similar number returned to take up government jobs under the PM's package. They either live in modest apartments in camps constructed by the government or rented homes. Living as an invisible micro-minority brings its own set of problems, but until recently and after the nineties, there was no sense of threat. Even after the killing of Rakesh Pandita and Ajay Pandita in 2021, the perception was that this was a part of terrorist attacks on elected representatives. Remember that many Muslim representatives were also targeted, and Pandits ordinarily ignored these incidents. But the killing of Rahul Bhat at his workplace this summer changed perceptions.
Rahul was an ordinary government employee who lived in the Sheikhpura camp near Badgam with his family. One fateful day, a few people came calling at his workplace, then shot him point blank. It was not an isolated case. The valley recorded several targeted killings in the summer, including off-duty police officers and civilians. Dalit teacher Rajni Bala, a bank branch manager from Rajasthan, two non-Muslim teachers in Srinagar and a migrant brick kiln worker were also killed. No doubt many of these killings were openly targeting the Pandit community.
Naturally, fear gripped Pandits in the valley, and when the administration remained apathetic, their only viable option was to migrate.
Disturbed narratives and inhuman directives
Summer 2022 saw a massive tourist inflow into the valley, and the government busily showcased it to build an all-is-well narrative. Targeted killings darkened this superficial claim, but instead of taking this threat seriously and accepting the reality, it made every attempt to underplay and conceal it. The agitating Pandits were ignored and locked inside their camps, preventing their attempts to migrate.
Ranjan claims government officials accepted it was impossible to provide security to every Pandit in the valley and it would take at least two to three years to understand and eliminate the new kind of militancy taking root there. When the government could not create any safe zone in the valley in the 30 years since militancy erupted in the nineties, how can Pandits expect to be safe in far-flung areas where there is no security presence? Citing a UN resolution on the right to life, Ranjan accuses the present dispensation of using his community as a pawn in their political games and taking advantage of their plight.
Most Pandits who applied for jobs under the PM's Package are from poor or lower-middle-class families who struggle for survival. They did not return voluntarily but grabbed an opportunity to feed their families in the package deal. Government jobs have always been a source of survival and pride for the community, whose traditions and the caste barrier prohibited them from physical work in agriculture and handicrafts. Noted Kashmiri historian PN Bazaz has written about a fascinating custom where older members of Kashmiri Pandit families would bless newborns with finding a government job as adults.
Hence, the returning Kashmiri Pandits lived peacefully in camps or rented homes, often working all week and returning to Jammu during weekends or holidays. However, after this summer, their sense of insecurity has them demanding transfers to Jammu or other places where they could feel safer.
An ignored plea
The beneficiaries of the PM's Package have been staging protests in the valley and Jammu since May, demanding transfers away from the valley. They presented a memorandum to the Union Ministry of Minority Affairs and the L-G of Jammu and Kashmir, but no avail. Ranjan says that instead of taking cognisance of their grievances, the government machinery tried to create all kinds of pressure on them. For instance, they were compelled to sign bonds that they would not leave their places of work. There was also pressure on them when their salaries were not sanctioned at the ground level, while the media blacklisted their protests.
The security threat they feel is real and multi-pronged. The government did not keep its promise to provide its returning migrant employees secure accommodations, of whom 70% live in rented homes. Terrorist organisations have threatened landlords, mainly from the majority community, making the situation grimmer.
In the meantime, a transfer list of Kashmiri Pandit employees got leaked, amplifying the risk to their lives and well-being. Recently, a biometric attendance system was introduced, and an order was issued to pay their salaries only based on recorded attendance at work. Ranjan claims this makes them more vulnerable, for terrorists can quickly identify them when they arrive at work and leave at fixed hours.
Another killing amidst claims of normalcy
Most beneficiaries of the PM Package have left the valley since July after Rahul Bhat was killed. Sandeep (name changed on request), who still lives in the Sheikhpura camp, says most people in rented homes have shifted to Jammu. Only 30% of camp inhabitants still live in Srinagar but are under tremendous pressure. They, too, want to leave after this academic session and plan to transfer their wards to schools in Jammu. Children's education was the foremost concern for the employees. Initially, some schools provided online learning facilities, but this has stopped, leaving their wards in a lurch.
Sandeep laments life in the camps as akin to bonded labour. Camp residents are not allowed to move around freely. The Army monitors their movements, and they sense a constant threat. He asks: If the threat perception is so apparent, why can the government not shift us to Jammu?
At the time of writing this, one more Kashmiri Pandit, Puran Krishan Bhat, was killed. At the time, he was close to his residence in the Chowdhary Gund area of South Kashmir. (Middle-aged Puran was confined to household chores.) In a widely circulated video, Puran's relative confirmed the claim that his family was disallowed from mourning the death and that they were pressurised to conduct Puran's last rites ASAP.
Just a couple of months ago, another Kashmiri Pandit, Sunil Kumar, was shot dead by terrorists at an apple orchard in Shopian. His brother Pintu was also injured in the firing. The attack was claimed by 'Kashmir Freedom Fighters', an offshoot of Al Badr. Its statement said the Pandit brothers had been targeted to encourage people to participate in "Tiranga rallies" during Independence Day celebrations.
Dark Diwali, darker future
A few days back, Union Home Minster Amit Shah visited the valley and claimed the situation in Kashmir is normal and that militancy has been neutralised. Time and again, Bharatiya Janata Party (BJP) leaders and officers of the Jammu and Kashmir administration have repeated this claim. The Sangh and BJP have always maintained the root cause of the Kashmir problem was Article 370, granting the region special status. Therefore, they argued, its removal would bring normalcy to the valley.
Now, more than three years after the abrogation of Article 370, when the erstwhile state was carved into two Union Territories, and its administration brought under central rule, the situation has worsened. Kashmiri Pandits who did not leave the valley even in the nineties are being killed and compelled to migrate. Many Pandits have shifted families to Jammu or elsewhere, and at least five families have permanently left Kashmir. The recent murder of Puran Kishan Bhat is bound to trigger this process all over again.
Sanjay Tiku, leader of the resident Pandit association, KPSS, who himself is living with the risk of life threats levelled, says if today's situation persists, most members of his community will leave the valley. Beneficiaries of the PM's Package must not be made sacrificial lambs for the sake of image management for the government. Blocking the salaries of migrant Pandit government employees and compelling them to remain in the valley is no solution to this problem. Until the situation normalises and security is assured, there is no point in pressuring them into forced rehabilitation. Even during the nineties, the Pandits who fled the valley were not denied salaries and compensated for their hardships and agony.
As for rehabilitation, Sanjay says, we have no problems with the Muslim residents of the valley. He says they have always welcomed the Pandits. But now the landlords and local residents themselves are under threat. Until this problem is handled with the larger context in mind, and a political solution to the Kashmir problem is reached—in which the Kashmiris participate in the process and outcome—tall claims are of no use. The government's current approach shall elevate the issue to a higher level, making it impossible for the Pandits to survive in Kashmir.
Ashok Kumar Pandey is the author of several books and a political commentator. The views are personal.
Get the latest reports & analysis with people's perspective on Protests, movements & deep analytical videos, discussions of the current affairs in your Telegram app. Subscribe to NewsClick's Telegram channel & get Real-Time updates on stories, as they get published on our website.
Subscribe Newsclick On Telegram