Are Pandemic Induced Child Marriages a Wakeup Call for India?
The Indian government has reportedly intervened to stop over 5,584 child marriages across the country during the lockdown.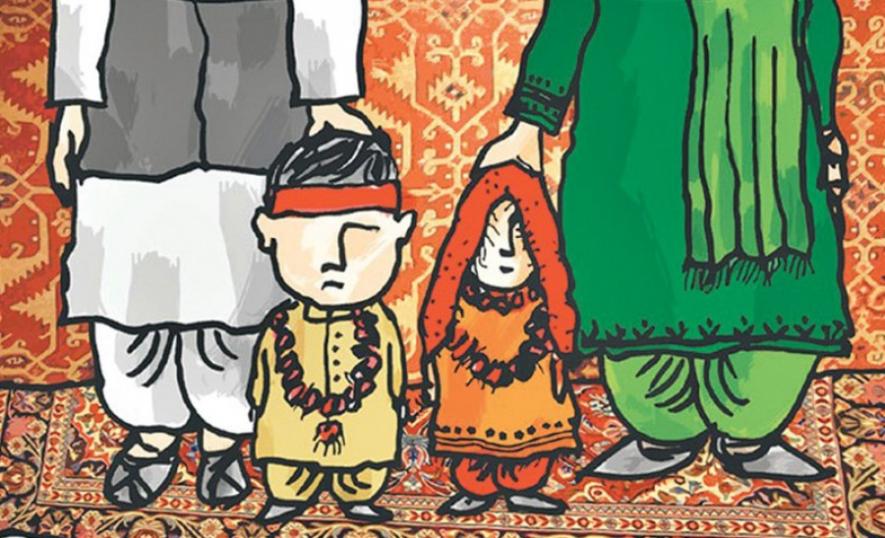 Despite a law banning child marriages, it continues in India. While the government machinery might have been able to prevent 5,584 child marriages during the COVID-19 lockdown, thousands of other cases must have escaped notice. The author argues that steps must be taken to stop this phenomena that is widely accepted in numerous states.
The Indian government has reportedly intervened to stop over 5,584 child marriages across the country during the lockdown. In April this year, the Women and Child Development Department in Karnataka cancelled as many as 118 child marriages.
The Telangana State Commission for Protection of Child Rights reported 204 cases in three months. Maharashtra reported 80 such cases. In Andhra Pradesh, the authorities prevented as many as 165 child marriages between March 25 and May 11.
Similar instances have been reported from other Indian states as well. It is a phenomenon that is worrying. According to the 2017 data of UNICEF, 27% of girls in India were married before their 18th birthday and 7% were married before the age of 15.
Child marriages were seen to be increasing especially during the lockdown possibly because parents who wanted to get their minor children married, thought they could escape the scrutiny of police busy with duties related to the pandemic. Low expense marriages and lesser dowry demands due to the Covid-19 lockdown were the other major reasons behind the increase in such marriages.
World Vision, an international children's charity warned, that this pandemic could put an extra four million girls at risk of early and forced marriage. The charity observed that the closure of school and health care facilities also left girls increasingly vulnerable.
The National Family Health Survey-4 (NFHS-4) conducted in 2015-16, showed a steady decline in instances of child marriage across Indian states, except for Himachal Pradesh and Manipur where a marginal rise was reported. It observed that fewer children who were 15 years old were getting married.
What is worrying is that this pandemic can reverse the achievements for the past many years.
Child Marriage and the Urban-Rural Divide
According to the NFHS-4, the instances of child marriages are far more in rural areas (14.1%) than in urban areas (6.9%). Education and family income is linked to improvement in urban statistics. But is this urban-rural divide the correct way to look at the child marriage debate?
Shehnaz, a 32 years old domestic help in New Delhi, had an early marriage at 13. She now has six children to take care along with an alcoholic and abusive husband. Subsequent pregnancies and miscarriages have had an immense impact on her health. She is not working for the past year. She has one daughter who takes care of her sons when she is at work. She sometimes accompanies Shehnaz to work when her brothers go to school. Shehnaz says it is in the best interest of her daughter to get married as soon as possible. Though she battled the reality of early marriage and then had to live in an abusive relationship, she refuses to educate her daughter like her sons. She says that her husband won't agree.
Meena, 37, hails from a small village in Bihar. She along with her 15-year-old daughter and husband came to Delhi as migrant labourers. When asked why didn't she educate her daughter she said, "My son goes to school in our village. He is living with our family there. I can't leave my daughter there, it's not safe for single girls to live in our village." Meena was not even 15 when she was married.
When Meena went back to her village to celebrate Diwali last year, she finalised the groom for her daughter. This year she is actively working to save the amount of dowry that has been promised so the marriage can happen soon.
Being illiterate, he daughter has been conditioned to believe that marriage is the best thing to happen to her. So, she is not going to rebel or even raise an alarm for being married off at an age that is not legal.
Meena says she is just conforming to her social identity and the grim realities around her. The more the age of the girl, the more dowry is expected. Also, the idea of "chastity of a girl" and fear that the children may marry someone from a different caste or religion are major factors leading to child marriages.
One thing the migrant crises have taught us is how those migrant workers are fundamental to our urban functioning. They are as much a part of urban India as they are to their village economy. They earn their livelihoods in urban India, but go back to their villages, to get married, celebrate festivals, and help out their families during the harvest seasons. How can we segregate them when we talk about child marriage in urban spaces. This sharp social divide between the rich and poor is all the more glaring.
Employers are aware of child marriages and the realities that push parents to do it. They just refuse to engage with the problem and are therefore equally complicit in the crime.
The mass exodus of migrant workers from cities during the lockdown was compared to the large-scale migration witnessed in India during partition. The fact that during partition, there were a number of forced and child marriages among the migrants should really concern the government and the Indian society right now. With an uncertain future and no source of daily income during the pandemic, the migrants walked to their villages with empty pockets. As many of them were under huge debts, this pandemic put many of them on survival mode.
According to NFHS-4, West Bengal topped the list of states with the most number of child marriages. Since mid-March, a  nationwide lockdown was imposed. In May 2020, Cyclone Amphan hit West Bengal. The loss of livelihood due to the pandemic induced lockdown and the destruction caused by the cyclone combined is likely to push many young girls into early marriages.
The yearly floods ravaging Assam and Bihar, the two leading states when it comes to child marriages across India are likely to result in similar consequences. What is worrying is that many cases might go unreported.
Complex Laws and Complacent Legislations
The Prohibition of Child Marriage (PCM) Act, 2006 despite, criminalising child marriage has been unable to completely eradicate the practice. Offenses under this Act are cognizable (arrest without warrant) and non-bailable, yet it is not successful in deterring people from indulging in child marriages. The laws relating to child marriage have been continuously evolving since the passage of the Act.
The PCM Act was passed in 2006. Yet until 2017, the act of sexual intercourse was not considered rape when it was done by a man with his wife who is not under fifteen years of age. It was only in 2017. In the Independent Thought v/s Union of India case, the Supreme Court increased the age of consent to 18 from 15 in this exception to Section 375 of IPC. In the same landmark judgment, the court also criticised the fact that the PCM Act only makes child marriage voidable and not void. It was only in 2017 that PMC Act got aligned with the POCSO Act making sexual intercourse with a minor girl an act of rape, irrespective of marriage.
The personal laws of different religions have also played a major role in further complicating the procedure when it comes to child marriage. For instance, under the Hindu Marriage Act "repudiation of marriage" is a valid ground of divorce in case the girl was below 15 and forced into marriage. Recognising it as a ground for divorce gives it a status of marriage in the first place.
The Muslim Personal Law says that a girl who has reached puberty can get married. According to a Supreme Court verdict in the Shafin Jahan vs Ashokan KM, a consensual marriage between individuals who professed Islam and had attained puberty was legal. In September 2019, citing this case, a 16-year-old girl from Uttar Pradesh approached the Supreme Court against the Allahabad High Court Judgement declaring her marriage to a 24-year-old as illegal.
Vague Laws and Lack of Uniformity
The laws are vague and open to interpretation. Different High Courts have given conflicting judgments over the past few years. There is no uniformity throughout the country on the way the cases of child marriages are dealt.
The fundamental problem here is the legal status of such marriages. The PCM Act prohibits child marriage and gives provision to makes it voidable. Child marriage is not void ab initio. (to be treated as invalid from the outset) It is null and void if an injunction is issued by the court before it is solemnised. Or a guardian or an adult close to the child files for annulment to the court on their behalf. Or in case it involves kidnapping or child trafficking.
It is up-to the child bride or the child groom to approach the court to get the marriage annulled on reaching majority. If the girl does not approach the court after attaining the age of 20, the marriage continues. Now, this point highlights the complacency of legislature and judiciary over the years. According to NHFS-4, almost one in three girls who get married off between 15 and 19 years of age, end up having babies while they are teenagers.
Given the social conditioning of girls from a young age in India, and lack of financial independence, what option does a child bride have? There are 23 million child brides in India. These are the cases that could be tracked down. It has now become paramount that India revisits its legislative approach to child marriage.
Effective Implementation
What more can be done then? Along with stringent laws what we need is a strong implementation with the help of data assimilation especially now. What we are witnessing today, is quite sufficient to prove that penalising and criminalising is not sufficient to stop this practice. Gender sensitisation is a process. This process can take generations to complete. What should be done until then?
Firstly, vigilance is the key to prevention. The 2006 Act provides for a Child Marriage Prohibition Officer (CMPO). The Act empowers the district administration with several powers. Yet, India is leading when it comes to the number of child marriages in the world. The law as of now defines the powers and responsibilities of the district administration.
It is now important that the devolution of power and functions be institutionalised when it comes to the third-tier of the local government, the gram panchayats.
Until these panchayats that are at the core of village life are engaged and made accountable for these marriages, the complicity will go on. The problem of child marriage roots from the social structure. And the gram panchayat belongs to the same social structure.
The typical mindset that the girl child belongs to her husband's family or the fear that children may marry outside their caste or religion makes the parents force their children into an early marriage.
Also, in India's village economy, where men are migrating to the cities for work, a young girls' role as a caretaker for the home and as well as the farm makes child marriage even more comfortable for families.
Along with training Child Marriage Prevention Officers for vigilance, special task forces must be set up and encouraged to work along with NGOs and schools to trace cases especially during 2020. Result-driven incentives to local governments and officers can help in increasing vigilance.
The Law Commission Report in 2017 recommended making marriage registration compulsory to tackle the problem of forced and early marriages. In 2006, the Supreme Court made marriage registration compulsory. But, if a couple fails to register the marriage, that marriage is still legal if it has been solemnised by religious rituals under the Hindu Marriage Act and the Special Marriage Act. Compulsory registration to make a marriage valid and compulsory registration at birth can go a long way in tracing and preventing unreported cases of child marriages.
Exceptional times call for exceptional measures. We are living through a pandemic that has the capability to undo our social achievements in the past few decades. The governments must take active steps to trace and rehabilitate all such cases.
(Names have been changed to protect their identity.)
Nupur Dogra is a New Delhi based freelance journalist. Views expressed are personal.
Get the latest reports & analysis with people's perspective on Protests, movements & deep analytical videos, discussions of the current affairs in your Telegram app. Subscribe to NewsClick's Telegram channel & get Real-Time updates on stories, as they get published on our website.
Subscribe Newsclick On Telegram