A Young Professional Fights Sexism During Covid-19 Lockdown
Behind closed doors, on a personal level, women are coming to terms with gender discrimination and demanding parity.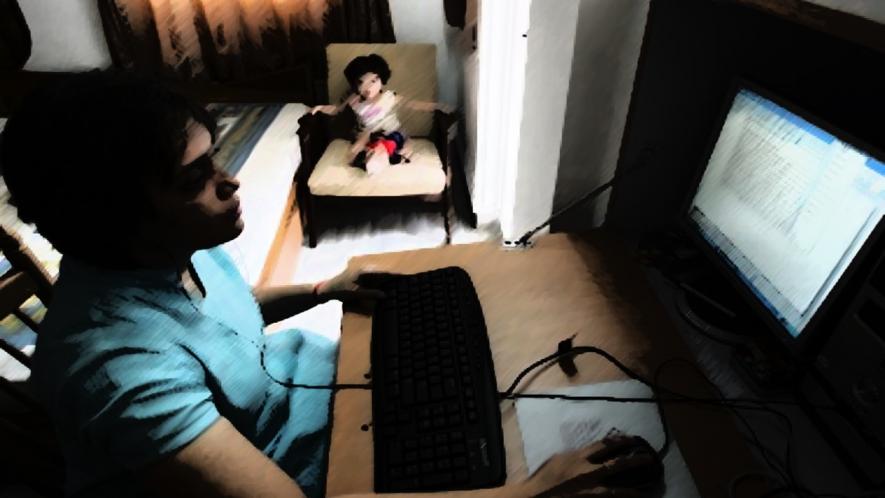 Representational image. | Image Courtesy: First Post
The Indian government's 21-day nationwide lockdown due to the Covid-19 pandemic is ongoing. After it was announced, all staff of my organisation's offices in Delhi and Hyderabad started working from home, including me. This is my personal account of how this situation has changed my routine activities, how I am managing work-from-home and how this lockdown revealed unspoken facets of Indian sexism.
I have always wondered how it would be to work from home. In my head, it meant sitting in your pyjamas with your pet next to you, while you sipped coffee from a mug and worked on your laptop in the comfort of your bed. I could hardly imagine how life would be to have work from home for a good solid 15-20 days!
Working from home means not having to travel to the office, no waking up early to the annoying ringing of alarm clocks, and no rushing to the office in stuffy metro compartments. With this 21-day lockdown in India because of the Coronavirus pandemic, what used to be only in my imagination has become—somewhat—true.
With the Covid-19 scare and rumours, along with an increasing number of diagnosed cases around my neighbourhood, and strict restrictions on movement and social-distancing norms in place, there are no household helpers, no household supplies and no grocery deliveries. So, the reality of my current work-from-home routine are not exactly what I had imagined previously, in my head.
The thing that is similar to what I had imagined is that my bed now doubles up as a workstation, with my husband and I having divided 'cubicles'. We both wear tee-shirts and pyjamas as office wear and have our coffee mugs ready so that we do not get too comfortable in our workstations (which is actually our bed!).
Far from my fanciful imagination about what work-from-home would be like is the following reality…
My day begins at 7 am where I start with cleaning, sweeping and mopping the house. By 8:30 am, I start preparing breakfast. My husband and I are done eating breakfast by 9:30 am. It takes about half an hour for us to get ready and organise our workstations. We both start working by 10 am and I take a break at around 1 pm to prepare lunch, which we usually consume by 3 pm.
We usually try to have a common time where we can sit together and have lunch, otherwise we eat while working on our laptops. By 3:30 pm, we both get back to work. I normally work until 6-6:30 pm, after which I do household chores such as washing the dishes, ironing our clothes and loading the washing machine.
By 7-7:30 pm, I start preparing dinner. This is a real task for me, as I have not practised cooking before. Prior to the lockdown, we used to rely on our house help to prepare food for us. Moreover, not having our daily kitchen supplies and groceries delivered amid the lockdown was another issue. YouTube and Google were my only go-to gurus as far as cooking was concerned.
So a typical long day in the lockdown would end by 11 pm, by when both of us are snoring in our beds (which turn into workstations by morning) while the Netflix movie still plays on our television screen.
Amidst all of this, I came to realise that the Covid-19 lockdown has drastically changed my daily routine. What this lockdown has actually resulted in has been a doubling of my work. Now I have to 'work from home' and also have the responsibility to 'work for home'!
As a newly-married woman, and due to the patriarchal notion of "woman of the house", the duty of having to keep the household up and running, which includes my husband and pet, now happens to fall on my shoulders. With no domestic help, all household chores—preparing three meals a day, washing dishes, dusting, cleaning, mopping, brooming et al—all have to be managed on top of my eight-hour work from home routine, which, trust me, is not only a physical burden but also a mental burden.
During video calls with my parents or in-laws, this household responsibility is re-stated and re-emphasised to me, sometimes directly and even indirectly.
What this lockdown has revealed is a very clear gender facet for me and the women I know. This gender facet being that most households in India do not have equally (or even proportionately) shared household work among men and women, and the pre-defined, deeply rooted gender roles in our society are becoming even more evident. Even though my husband and I are both working from home, giving almost equal number of hours to our office work, the load of household work is still disproportionately borne by me.
After realising this distilled form of sexism and the disproportionate and double burden of work that was on me, I took the decision to have a discussion to set things straight with my husband first and then my parents and in-laws. The discussion with my husband was easy and we arrived at an agreement to share our household chores so that it is not an unfair burden on either of us.
However, the same discussion with my parents and in-laws was not as easy.
Our parents are from a generation with a very different mindset and they still happen to live with that old mindset. This might not be evident by looking at my parents or where and how they live, think or talk but it is evident in minute things that this lockdown has happened to amplify.
This lockdown means many things, and for different people it means different things. I acknowledge that I am privileged even when home-bound. I read in the newspapers about the many hundreds of people who walked on foot for hundreds of kilometres to go to their homes without proper food, nutrition or sanitation facilities. That is a battle of a different kind. Me and many women like me have our own (different) battles to fight. We are fighting this fight behind closed doors, on a personal level, which is not so evident or visible.
Having said that, for me, this lockdown and work from home did come with revelations of regressive practices, but it also taught me how to identify and fight subtle forms of sexism in our society through discussions and by vocalising my thoughts.
The author is a communications officer with The George Institute for Global Health, India. The views are personal.
Get the latest reports & analysis with people's perspective on Protests, movements & deep analytical videos, discussions of the current affairs in your Telegram app. Subscribe to NewsClick's Telegram channel & get Real-Time updates on stories, as they get published on our website.
Subscribe Newsclick On Telegram