Cox & Kings Case: How Tourism Finance Corporation Enters the Picture
The second part of a three-part investigative series follows the maze of connections between the promoters of C&K, their families and a web of corporate entities and individuals across the globe.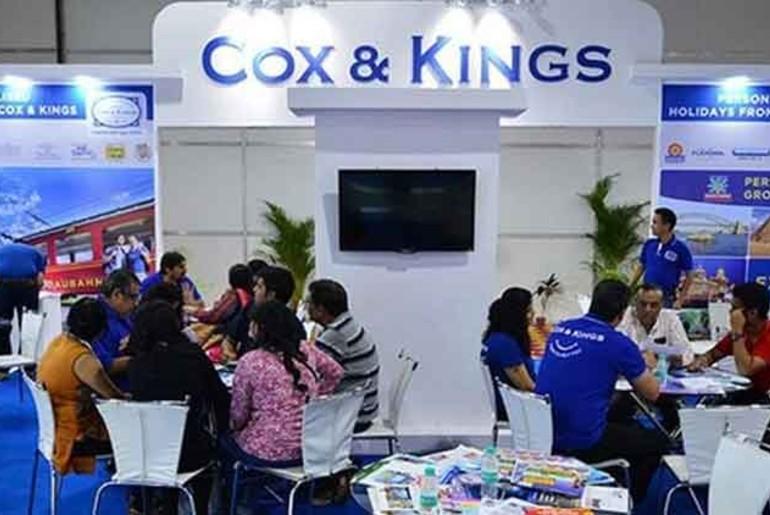 Representational image. | Image Courtesy: curly tales
A two-and-a-half-century-old travel agency is bankrupt. Its promoter Peter Kerkar is behind bars for allegedly defrauding banks. An accountant in his company has died under mysterious circumstances. Kerkar claims he was cheated by his one-time professional associates in India and abroad. His detractors and law-enforcing agencies claim he was complicit in illegal diversion of funds from his companies. Behind the story of the travails of the Cox & Kings group is a company that was once owned by the Indian government, which is now controlled by individuals and private firms. The complex web of connections also involves a slew of corporate entities and persons across the globe. In a three-part exclusive investigation for NewsClick, the writers look into the goings-on in this corporate conglomerate. This is the second article in the series. Read part one here.
The Tourism Finance Corporation of India (TFCI) is a financial institution set up in 1989 by a group of financial institutions and public sector banks, including the Industrial Finance Corporation of India (IFCI), the Life Insurance Corporation of India (LIC), the Oriental Insurance Corporation (OIC), State Bank of India, Bank of India and Canara Bank. According to TFCI's website, it has assisted in the establishment of "one third of the total capacity of branded hotels in India."
The stake of IFCI, the largest shareholder of TFCI, was divested through an open market operation in 2018. According to the company's website, the "primary" shareholders of TFCI currently are India Opportunities III Pte Limited, Tamaka Capital (Mauritius) Limited, LIC, OIC and Koppara Sajeeve Thomas, described as an "experienced career banker."
An investment analyst, Vaibhav Badjatya, founder, Honest and Integrity Investment, wrote on the social media platform LinkedIn on December 31, 2019, a detailed blog post with supporting documents annexed titled "True owners of Tourism Finance Corporation of India – Promoters of Cox and Kings?" The post pointed out that in the course of the three years between 2017 and 2019, Redkite Capital, a non-banking finance company (NBFC), completed acquiring shares of TFCI with the help of SSG Capital and Koppara Sajeeve Thomas. 
SSG Capital is a Hong Kong-based "alternative asset management" firm, founded by former executives of Lehman Brothers in 2009. As on March 2020, it had over $6 billion in assets under management. In July 2020, the US-based Ares Management announced the completion of the acquisition of a majority interest in SSG Capital. The newly acquired company currently works under the Ares-SSG brand.
Badjatya pointed out that the new promoters of TFCI acquired 45.81% stake in the company for Rs 570 crore: Rs 408 crore by Redkite Capital, Rs 100 crore by SSG Capital and Rs 62 crore by Sajeeve Thomas. According to TFCI's open offer documents, Redkite Capital would be in control of TFCI, while SSG Capital and Sajeeve Thomas will not be in operational control of the company. (More about this later.)
Significantly, the analyst wrote: "In order to avoid any risks associated with controversial research outcome, we will a) restrict the discussion to Redkite Capital and its ownership without discussing the affairs of SSG Capital and Sajeeve Thomas and b) restrict the note only to discuss ownership issues without making any accusation or allegations of any fraud."
Badjatya then asked his readers to do their own research, but what he highlighted with annexures was quite revealing. "Redkite Capital is a NBFC which nobody has even heard of before this announcement. What's surprising to me was its ability to muster (Rs) 408 (crore) for the acquisition. So I started looking at its sources of funds. Practically all the money for acquisition has come from loans (no additional equity at all) and now its debt to equity is more than 15 (times)…"
He pointed out that the bulk of the loans had come mainly from three sources: (a) 38% of the loans or Rs 150 crore came from Ezeego One Travels and Tours Limited, which is associated with the promoters of C&K; (b) 26% (Rs 108 crore) was provided by India Special Situation Scheme 1, managed by Griffin Partners "an entity of SSG Capital;" and (c) 21% (Rs 85.5 crore) of the loans was against shares of TFCI itself. The remaining 15% came in the form of loans against property and loans from directors/promoters.
Badjatya remarked that there was "very low skin in the game by Redkite Capital" and its promoters. "Moreover Redkite did not have any meaningful operations before this acquisition," he wrote, adding that while Ezeego provided a loan of Rs 150 crore, its associate Cox & Kings "defaulted on its loans in spite of having large cash balances on its books."
"What's more interesting is that TFCI is a lender to Cox and Kings with exposure of 4.5% of the loan book," the analyst stated. "It might be much more if we include all related parties and promoter entities of Cox and Kings. But we do not know for sure. Additionally there are few important facts which indicate relationship between Cox and Kings and Redkite Capital."
Badjatya pointed out that Redkite Capital is owned by Epitome Multitrade Private Limited, Aparajita Mercantile Private Limited, Monisha Financial Advisory Services Private Limited, Larissa Financial Advisory Services Private Limited and Om Prakash Khandelwal. These companies are owned by two families - the Jains (Namita Jain and Naresh Jain) and the Khandelwals  (Priti Anil Khandelwal, Omprakash Khandelwal and Uma Khandelwal.
"Coincidently the company secretary of Cox and Kings is Rashmi Jain and (its former Chief Financial Officer) is Anil Khandelwal," the analyst wrote, adding that "it's evident that (the) ultimate owner of Redkite Capital has some connection with Cox and Kings."
He provided more information about the links between the C&K group and the Redkite group in his LinkedIn post, including details of inter-corporate deposits. Badjatya stated towards the end of his post:
"Though each of the above instances individually might be a coincidence but all of the five, together with the financing provided by Ezeego, is highly unlikely to be a mere coincidence. Hence it's clear. Cox and Kings/promoters provide loans to Redkite/promoters, Redkite buys out TFCI, TFCI provides loans to Cox and Kings/promoters.
"So, the real question is who is the true owner of TFCI? Is it promoters of Cox and Kings? If yes, then, clearly a borrower is buying a lender through its shadows and it's a disaster to have financial services company in hands of a defaulting borrower. How can one explain defaulting on one's own debt but also investing through layers of companies to buyout one of the lenders? Also, if it's true then, it's unclear to me how RBI (the Reserve Bank of India) has provided its approval to such an acquisition?
"Future actions of all the entities are more interesting now because (insolvency proceedings have begun against) Cox and Kings…It would be interesting to watch the role of TFCI as a member of committee of creditors which decides lot of things in the (insolvency) process… (which) might also reveal the true exposure TFCI has to Cox and Kings/promoters (if it's more than the disclosed exposure)."
Then came Badjatya's parting shot. He wondered if the bankruptcy process might reveal the "true exposure" TFCI has to C&K and its promoters, adding that the fraud in the Punjab and Maharashtra Cooperative (PMC) Bank came to light only after HDIL (Housing Development and Infrastructure Limited) had to go through the bankruptcy process resulting in PMC Bank having to reveal its "true exposure" to HDIL. "I am eager to see how the story unfolds in future," he concludes.
An article based on the analyst's LinkedIn post was put out by the news agency Indo-Asian News Service. It had appeared on the website of Outlook on January 2, 2020. However, the story has since been taken down but can still be accessed on the website of the news-aggregating website, Dailyhunt.
Our own investigations confirmed that Ezeego, promoted by C&K, borrowed Rs 150 crore from YES Bank and invested it in Redkite Capital. The company is ostensibly owned by four firms controlled by Sulata Maheshwari, wife of Shyam Maheshwari, Anil Khandelwal, his father Om Prakash Khandelwal; Naresh Jain and other members of the Jain and Khandelwal family. In the documents relating to Redkite Capital's open offer of shares, Naresh Jain and his wife Namita are shown as persons in control of the acquirer, in which O P Khandelwal was a director.
What requires closer scrutiny is how the ownership patterns of Redkite Capital changed over the years. IFCI had put its stake on the block in May 2017 and a group of investors led by Redkite Capital emerged as interested parties, including SSG Capital and Sajeeve Thomas (see chart).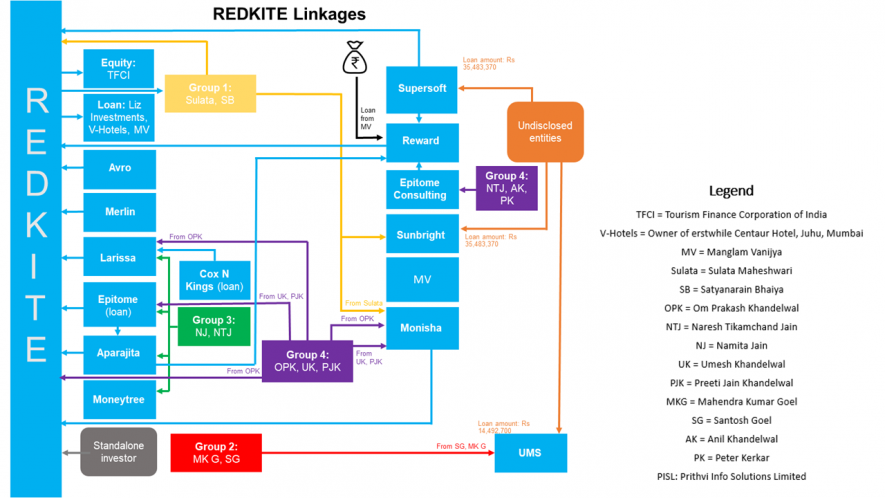 Incidentally, NewsClick had reported on March 21, 2020 on a ruling of the US District Court in Pennsylvania which had declared that it was within its jurisdiction to investigate allegations of a fraud worth $35 million (Rs 260 crore at current rates) involving Prithvi Information Solutions Limited (PISL), a Hyderabad-based information technology "consulting and solutions company" and SSG Capital Management, which had at that time not been taken over by Ares Management.
More than nine months later, on January 6, 2021, Kiran Kulkarni, CEO, Kyko Global Inc., which had filed a lawsuit in the US in a dispute related to SSG's investment interests in PISL sent an email to one of the two writers of the article. The email said that following SSG Capital counter-suing Kyko, "...the parties have clarified those issues to the mutual satisfaction of the parties with each party determining that no wrongdoing was committed by the other. As a result, Kyko has withdrawn its legal claims and past public statements and SSG Capital Hong Kong has rescinded its counter suit." He, therefore, requested NewsClick to "retract' the article or "update" it with "language of which I will be pleased to provide you."
An email to Kulkarni sent thereafter, seeking clarification on his request for "retraction" as well as for an "update," remains unanswered.  Now what all this has to do with Cox & Kings and the TFCI will soon become apparent.
SSG Capital's Links With Redkite
By the end of March 2018, Redkite Capital, SSG Capital and K S Thomas had together acquired 19.8% in TFCI. Two months later, on May 18, 2018, the three filed for a voluntary open offer to acquire an additional 26% in the erstwhile public sector financial institution. After the open offer, the trio became the new promoters of TFCI, raising their combined stake to 45.81% by the end of March 2019. While Redkite Capital got management control over TFCI, SSG Capital along with Thomas became part of the promoter group without operational control of the company.
Apart from being a co-investor with Redkite Capital, SSG Capital had also invested around Rs 108 crore in the company by subscribing to its debentures (debt instruments) during February 2019 and June that year. The articles of association of Redkite Capital filed with the registrar of companies (RoC), shows that the company had two shareholders during its incorporation — Ashok Gupta and Satya Narayan Bhaiya, father of the founding partner of SSG Capital — Shyam Maheshwari.
Urrshila Kerkar shared with us a "forensic" review of C&K by a firm called Lever Up Consultancy which notes that Gupta was the Director of Redkite from 2015 to 2018. The Lever Up report states that it had been appointed by Urrshila Kerkar to conduct a forensic review of C&K's affairs between April 1, 2012 and October 22, 2019. The report mentions that the consultancy firm was provided with "incomplete bank statements" of C&K that were shared by the resolution professional of the company with Urrshila Kerkar.
While Bhaiya has not been associated with the company as a shareholder or as a director since June 28, 2013, Gupta is still associated with the company as a director and chief financial officer (CFO) but no longer holds any stake in the company. After Bhaiya's exit from Redkite Capital, the four entities owned by Jain and Khandelwal family became the new owners of the entity.
As already stated, Redkite Capital is owned by four companies – Epitome Multitrade Private Limited, Aparajita Mercantile, Larissa Financial Advisory and Om Prakash Khandelwal. However, SSG Capital's connection with TFCI does not end here. The filings to the RoC by the two promoter companies of Redkite Capital further reveals that Sulata Maheshwari, wife of Shyam Maheshwari, is also a part-owner in these companies and owns more than 46% shares in Redkite through these entities.
Apart from that, Sulata Maheshwari is also the largest equity shareholder in Supersoft Advisory with an investment of around Rs 6 crore in December 2019. This investment was made indirectly through a British Virgin Islands-based company named Shirmont International Limited that had invested Rs 5.52 crore in Supersoft Advisory during November 2010 and these shares were later transferred in her name in November 2015.
We return here to C&K in which SSG Capital has been a long-term investor since 2014 and also owns stakes in other subsidiaries of the company as well as a promoter family-owned entity.
Parallel Connections Among Promoters of C&K and Redkite Capital?
SSG Capital and the promoters of Redkite Capital and C&K are linked through a Mumbai-based NBFC — Manglam Vanijya Private Limited. The NBFC was incorporated in June 2009, a year before the genesis of Redkite Capital.
The company is also classified as a "high-risk non-banking financial company" by the Financial Intelligence Unit (FIU). The FIU was set up in 2004 by Ministry of Finance as the central national agency responsible for receiving, processing, analysing and disseminating information relating to suspect financial transactions.
The current directors of Manglam Vanijya are Satya Narayan Bhaiya, Anuj Jagdish Jain (brother of Priti Khandelwal, wife of Anil Khandelwal) and Mahender Kumar Goel. While Bhaiya was inducted to the company's board of directors recently, Goel has been serving as the director of the company since January 2011.
Bhaiya directly owns a 37.4% stake in Manglam Vanijya and indirectly owns another 14% through a Kolkata-based entity named Sunbright Consulting Private Limited, a company owned by him and Shyam Maheshwari, who also served as a director in Manglam Vanijya for several months concurrently with Naresh Jain. The entity also received an investment from White Kite, which is associated with the SSG group of companies.
Goel holds nearly 20% of Mangalam Vanijya. Santosh Goel, mother of Dinesh Goel, who is a partner in SSG Capital, holds 30,000 additional shares. Both Goel and Bhaiya are relatives of executives of SSG Capital. As mentioned, Bhaiya is the father of Shyam Maheshwari while Mahender Goel is the father of Dinesh Goel.
Mangalam Vanijya also had common shareholders with Redkite Capital. According to the company's filings with the RoC, Priti Anil Khandelwal, wife of Anil Khandelwal was holding 7.5% in the entity, while Naresh Jain directly held 1.3%. Epitome Multitrade Private Limited, a Naresh Jain-controlled promoter company of Redkite Capital held 6.2% in Manglam Vanijya as on March 31, 2020 (see chart).
However, the recent RoC filings for Manglam Vanijya indicate that Khandelwal, Jain and Epitome Multitrade are no longer shareholders of the company. Naresh Tikamchand Jain, Priti Anil Khandelwal and Anuj Jagdish Jain (brother of Priti Anil Khandelwal) had earlier served as directors in the company. Anuj Jagdish Jain served as the director until recently and was replaced by Bhaiya on January 28, 2021.
Manglam Vanijya also happens to be a debt investor in C&K's promoter family-owned V Hotels Ltd, that is a subsidiary of Tulip Hotels in which SSG Capital is an investor. SSG Capital also stated that it was the co-investor along with Redkite Capital which triggered a voluntary open offer of TFCI shares, which was completed in February 2019 in full compliance with the law, including with respect to all disclosure and takeover obligations (see chart on Manglam Vanijya's links).
 If the account so far appears complicated, wait! The story gets even more complex and convoluted from here.
Sources of Funds for Redkite: No Equity Only Debt
Redkite Capital had no substantial business and assets before acquiring its stake in the erstwhile government-owned financial institution, TFCI. During 2016-17, Redkite Capital earned revenues worth Rs 10.3 crore and posted a net profit of Rs 2.8 crore. However, Redkite Capital spent Rs 410 crore to acquire a 32.81% stake in TFCI, all backed by debt with no substantial equity in the company.
The question is whether the debt was guaranteed by a third party and not disclosed in the balance sheet of Redkite Capital. Incidentally, Shapoorji Pallonji Finance also loaned funds to Redkite Capital at a time when Shyam Maheshwari was a director in the former company. The loans were subsequently repaid.
Redkite Capital got classified as the promoter of TFCI in March 2019. However, it started offloading its stake thereafter. Redkite had reduced its shareholding in TFCI to 0.17% as on June 2021 and offloaded its entire stake the following quarter. Redkite Capital has also reclassified itself as a public shareholder with effect from March 23, 2020, as per the formal announcement made to stock exchanges.
When Redkite Capital offloaded its stake, most of it was picked up by a Kolkata-based investor group led by Vivek Mundra. Interestingly, Redkite Capital sold these shares at less than half the price at which it had bought those shares a year earlier. It also had an existing business relationship with the investor group. It raised debt worth Rs 61.5 crore from the Vivek Mundra-owned Merlin Holdings and Avro Commercial Company in July 2019 by pledging TFCI shares, according to RoC filings. The Mundra family held 8.54% stake in TFCI at the end of December 2020. Merlin Commercial and Avro Commercial also extended loans to Redkite Capital that were secured by TFCI shares. Merlin had acquired shares in TFCI before the open offer was made.
Meanwhile, SSG Capital increased its stake in TFCI to 12.99%, the largest shareholder in TFCI as on December 31, 2020. While Redkite Capital is no longer a promoter of TFCI, SSG Capital remains a part of the promoter group along with Sajeeve Thomas. Redkite Capital's exit as a promoter would trigger a change in management and control and could lead to a fresh open offer of shares of TFCI.
In his complaint, Peter Kerkar has also highlighted the links which exist between SSG Capital and Redkite Capital.
(To be concluded)
Paranjoy Guha Thakurta and Sourodipto Sanyal are independent journalists based in Gurugram, Haryana. Jyotindra Dubey was an independent journalist based in Noida, Uttar Pradesh, at the time of reporting this article. He is now employed in a media company.   
Get the latest reports & analysis with people's perspective on Protests, movements & deep analytical videos, discussions of the current affairs in your Telegram app. Subscribe to NewsClick's Telegram channel & get Real-Time updates on stories, as they get published on our website.
Subscribe Newsclick On Telegram