Who Led Cox & Kings Into a Deep Pit?
The third and concluding part of this three-part series wonders who the masterminds behind bankruptcy of India's two-and-a half century old travel agency are? Even as the promoter is claiming innocence and blaming banks, will the truth come out and the guilty be held accountable?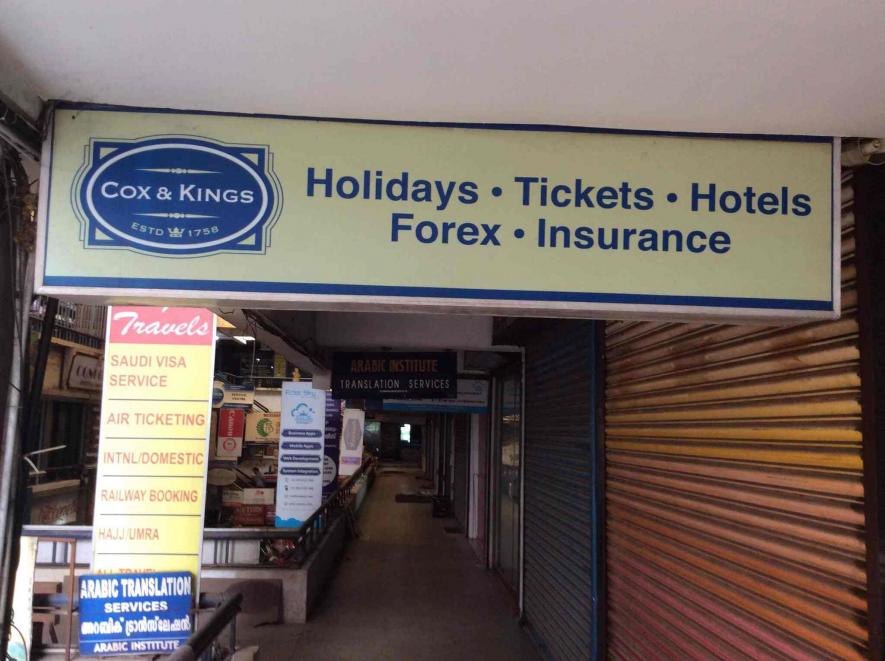 A two-and-a-half-century-old travel agency is bankrupt. Its promoter Peter Kerkar is behind bars for allegedly defrauding banks. An accountant in his company has died under mysterious circumstances. Kerkar claims he was cheated by his one-time professional associates in India and abroad. His detractors and law-enforcing agencies claim he was complicit in illegal diversion of funds from his companies. Behind the story of the travails of the Cox & Kings group is a company that was once owned by the Indian government, which is now controlled by individuals and private firms. The complex web of connections also involves a slew of corporate entities and persons across the globe. In a three-part exclusive investigation for NewsClick, the writers look into the goings-on in this corporate conglomerate.
Read the first part here
Read the second part here
In his complaint, Peter Kerkar also highlighted the links that exist between SSG Capital and Redkite Capital. He denies involvement in any fraudulent activity and claims that Ezeego's management began an internal investigation into its operations and finances by appointing the firm of chartered accountants, Desai Saxena and Associates, to carry out an audit of the company's finances. According to his complaint, he and his sister Urrshila own 41.26% of the shares in the company, Coad Management Mauritius Limited owns 47.1% and Cox and Kings owns a little less than 8%.
Kerkar claims that the investigation resulted in the discovery of siphoning off around Rs 256 crore between 2015 and 2019 to Redkite Capital. According to him, the internal investigation of Ezeego revealed the names of (the now-deceased auditor) Sagar Deshpande, Naresh Jain and Rashmi Jain. He has alleged that they all acted at the behest of Anil Khandelwal. Kerkar further alleges that an amount of Rs 80 crore remains unpaid. In his complaint, he denied knowing that Naresh Jain was a director of Redkite Capital and controlled the company's shares through Aparajita Mercantile and Epitome Multitrade.
Kerkar has also alleged in his first complaint that unauthorised transactions took place that resulted in the Indiabulls group and the bankrupt, scam-tainted DHFL (formerly Dewan Housing Finance Corporation) received Rs 1,600 crore and Rs 434 crore, respectively, from Ezeego. Incidentally, the scam-tainted DHFL is also reportedly connected with SSG.
Indiabulls is a business conglomerate that owns the country's third-largest housing company Indiabulls Housing Finance Limited. Its founder and non-executive director is one of the country's richest men, Sameer Gehlaut, whose name had come up in the Panama Papers, in the documents relating to Panama-based accountancy firm Mossack Fonseca that were leaked in April 2016.
DHFL is a Mumbai-based housing finance company and is currently undergoing insolvency proceedings. On February 22, 2021, it was reported that DHFL had reported a fraudulent transaction of Rs 6,182 crore in the company.
Kerkar's second complaint states: "We found out that during the period between 2015 and 2019, a considerable amount of money has been illegally siphoned off from the accounts of Ezeego… The amount of Rs 974 crore was transferred to Alok Industries, an amount of Rs 1,670 Crores was transferred to India Bulls Company, Rs 434 crore was transferred to DHFL without any approval from the board….These illegal transactions were carried out by KMP, by the knowledge of the Promoters and/or Directors of Ezeego or the Board of Directors of Cox and Kings Ltd."
In a recorded interview with two of the authors of this article before his arrest in December 2020, Kerkar said: "I think if this (episode) is properly researched, it is probably going to be a business school classic case study of one of the largest corporate scams which have been perpetrated where the promoters are not involved but a group of professionals who have basically plundered the company… the reason why I go with clean hands to the meetings (called by officials of) the ED, the EOW or the SFIO (Serious Fraud Investigation Office in the Union Ministry of Corporate Affairs) is that I always tell them, 'boss, I may be negligent, I may be stupid, I may be lazy, I may be indulgent but I am not a criminal...So show me where the money trail goes because that is the only thing that doesn't lie. And based on that, I have deposed before all these people including ED, where I have given them a lot of information which is why they have arrested Anil (Khandelwal) and Naresh (Jain) on my complaint… This is not public knowledge, but this is actually what has happened."
As already mentioned, Naresh Jain and Anil Khandelwal were arrested by the ED in the first week of October 2020.
Kerkar's Allegations Against Banks
Along with SSG Capital, Kerkar has accused various banks of being hand in glove in a 'scam' estimated to be over Rs 20,000 crore by PwC. He has accused Axis Bank and its former Deputy Chief Executive Officer (CEO) Anirban Chakraborty of having helped Shyam Maheshwari, Anil Khandelwal and Naresh Jain in acquiring TFCI or Tourism Finance Corporation of India. The complaint alleges that Maheshwari and Chakraborty hatched a conspiracy between them and "induced Anil Khandelwal and Naresh Jain to float several companies such as Redkite, Larissa Financial Advisory, Epitome Multitrade, Aparajita Mercantile, Monisha Financial Services, etc. to camouflage the buyout of Tourism Finance Corporation of India by Shyam Maheshwari and SSG Capital." Chakraborty is currently the CEO and Managing Director of TFCI.
It has been further alleged that in September 2016, a bank account was opened in the name of Ezeego in Axis Bank's Nariman Point Branch which was operated by the late Sagar Deshpande, despite him not holding any position in the company. The complaint further claimed that this account was used by Deshpande and Khandelwal to transfer Rs 215.29 crore from Ezeego to Redkite between 2017 and 2019. Kerkar has alleged that key management personnel of C&K defrauded the company of vast sums of money that had been loaned by a number of banks, including Indusind Bank, Kotak Mahindra Bank, RBL Bank and the State Bank of India (SBI). He refers to the interim PwC report which allegedly highlighted transactions of around Rs 26,000 crore between C&K and Ezeego between 2014 and 2019, the bulk of which were allegedly done through IndusInd Bank, Axis Bank and SBI. 
Kerkar's lawyer Akhilesh Dubey, in an email communication, also pointed out that he has alleged in his FIRs filed in the Nagpada Police Station, Mumbai, that Shyam Maheshwari of SSG was "in active collusion" with Anil Khandelwal and Naresh Jain of C&K together with Anirban Chakraborty who was then with Axis Bank in "diverting funds" borrowed by Ezeego to Redkite. He alleged that "Anil Khandelwal and his team… raised and routed the fund requirement for Redkite, using C&K and Ezeego" and that the "siphoning of funds out of Ezeego to Redkite… financially crippled Ezeego."    
Dubey further alleged that the "collusion is clear from the fact that Anirban Chakraborty of Axis Bank also played a significant role in diverting funds from C&K to Alok Industries." He claimed that Chakraborty was "rewarded" by appointing him Managing Director and Chief Executive Officer of TFCI after a majority of its shares were acquired by "Redkite, a company floated by Anil Khandelwal and Naresh Jain from the funds diverted from C&K group of companies." 
Dubey questioned the "intent and integrity" of the ED's investigation and claimed that it was "surprising" that Chakraborty, "despite being a direct beneficiary of the offence of concealment, layering and integration of funds diverted from C&K group of Companies to Redkite and (the) subsequent acquisition of TFCI is not an accused in the ECIR (Enforcement Case Information Report) lodged by the ED."
Backdated Transactions?
While investigating the alleged 'nexus' between SSG Capital and C&K, one of the writers of this article (Jyotindra) who was then working with a media company, had sent SSG Capital a detailed questionnaire. SSG Capital asked for time to respond to the queries, including details about Sulata Maheshwari's shareholdings in the promoter companies of Redkite. By the time, the responses were received from SSG Capital, filings made to the Ministry of Corporate Affairs (MCA) indicated changes in the shareholding pattern of the companies linked to her. There seemed to be "backdated" transactions to revise the shareholding of the three promoter companies of Redkite with new shareholding patterns filed with the MCA for the financial year 2018-19, on the very day SSG Capital sent its responses, that is, May 11, 2020.
The fresh filings of Epitome Multitrade and Monisha Financial Advisory state that the share transfer had taken place more than two years ago on April 18, 2018, the same day when Redkite Capital along with SSG Capital and Thomas filed the voluntary open offer to acquire the shares of TFCI.

The new shareholding filed by Supersoft Advisory also shows that Sulata Maheshwari has sold her stake to Namita Jain for a consideration of Rs 4 crore on September 27, 2019.
Even though the revised shareholding patterns have been filed, the three transactions mentioned in the chart have not been recorded in the respective annual reports of these companies for the year 2019-20. No revised annual reports have been filed by these companies till the time of publishing of this article. These transactions would have come under the category of "related party transactions" which need to be statutorily a part of the annual report of the respective financial years.
There were certain observations by the PMLA court in Mumbai while refusing Kerkar bail which does not show him in a favourable light. The order states: "Thus, it is un-digestable (sic) that, this applicant/accused No.1 Mr. Ajay Ajit Peter Kerkar got knowledge of (the) entire concealment of money and use by the other accused as alleged for their personal gain, particularly Mr. Anil Khandelwal and Mr. Naresh Jain for their personal gain to themselves and to their family members including Mr. Sunil Khandelwal, who is CEO of Alok Industries."
The order further states (which is being reproduced here verbatim without changes in grammar and syntax): "Therefore, when it is within their exclusive knowledge that, CKL (Cox and Kings Limited) group of companies is only meant for Tours and Tourism purpose, they have no business to deal with the financing other companies. Therefore, when CKL is obtaining a loan from Yes Bank, Axis Bank, IndusInd Bank, Kotak Mahindra Bank for promotion of their business and expansion of it in India and abroad, question clearly arise how they are diverting the funds to other companies under the head of loan."
The court also came down heavily on the alleged nature of the "crime" and described money laundering as nothing but an "act of financial terrorism that poses a serious threat not only to the financial system of the country, but also to the integrity and sovereignty of a Nation." 
Here's another portion of the court order: "The abuse of (the) financial system, like an instant case, has great potential to negatively impact a country's macro-economic performance and may also adversely impact its cross-border externalities. Further, such actions by the applicant/accused No.1 Mr. Ajay Ajit Peter Kerkar can inflict reputational damage (on) the country …. The act of money laundering is done in an exotic fashion encompassing a series of actions by the proverbial renting of credibility from the innocent investors. The offenders often target the unsuspecting, rural and economically distressed populations of our state who while hoping for a dreamy return, part with their hard-earned monies in the financial institution and such bigwigs got it swallowed by turning their borrowing into NPA (non-performing assets of banks)."
While the PMLA court considered it a risk to allow Kerkar to fly out of the country, his lawyer Dubey said: "Peter has undergone quadruple bypass in 2016 and is very vulnerable in jail, where he is susceptible to contracting Covid-19 infection, which will endanger his life."
We sent questionnaires by email to the following individuals and entities on Saturday, May 15, 2021:
Anirban Chakraborty, CEO and Managing Director of Tourism Finance Corporation of India and former Deputy CEO, Axis Bank

Bill Mendes, who handles communications on behalf of Ares Management Corporation, based in Los Angeles, USA

Dinesh Goel of Ares Management Corporation

Koppara Sajeeve Thomas of Tourism Finance Corporation of India

The authorised representative of Managalam Vanijya

Shyam Maheshwari of SSG Capital

Urrshila Kerkar, co-promoter of Cox & Kings

Vivek Mundra
We subsequently sent an email to Dubey, the lawyer representing the Kerkars.
As mentioned, besides a spokesman for Ares-SSG, Urrshila Kerkar and Dubey, the others did not respond to our emails till the time of publication. This article will be updated as and when their responses are received. 
C&K Story Still Inconclusive
The story of Cox & Kings and SSG Capital is far from over. Many loose ends remain to be tied up. A source who spoke to us on condition of anonymity said the four investors in Redkite – Aparajita, Epitome, Larissa and Monisha – possibly represent the tip of the proverbial iceberg. Further investigation would reveal more than half a dozen companies, each of which played a role in the maze of transactions that have been outlined. Shyam Maheshwari's wife Sulata was the probably the single largest shareholder in Redkite, albeit indirectly. One of the companies in this maze is named Reward Business Solutions whose activities have     reportedly been mentioned in documents prepared by the ED.
The role of Manglam Vanijya, Supersoft and other entities need to be investigated, our source added, including entities with similar names such as Epitome Consulting and Epitome Multitrade. This person said the law-enforcement authorities in India, such as the ED and the SFIO, should examine the relationships among the directors and myriad transactions, some of which could be questionable "related party transactions."    
Who was the mastermind behind the demise of Cox & Kings? Our source said the investigation could go beyond the shores of India. Public money worth $ 6.7 billion is involved, including funds raised by the general partner (GP) of an investor from the US and European pension funds, university endowments and other investors using a portfolio company as a vehicle to collect bank loans and its own funds from limited partners (LPs). Our source wondered: "Was some of the money diverted for personal gain in violation of Indian and US laws and in breach of trust by a fiduciary?"
He explained that GPs and LPs are the two essential parts of a private equity fund. A GP is the entity that manages the pool of money that he has collected from the LPs who are the investors.  He takes the investment decisions, manages the portfolio of investments, and decides on all matters concerning the investment till it is divested or goes bust. This is apparently what happened in the case of C&K. The GP charges a fee to the LPs which in most cases has two components - an annual fee and a carry fee.
Were particular players responsible for "front running," in other words, did a GP either buy into a proposed portfolio investment ahead of the LP or exited ahead of an LP? Most GP-LP agreements prohibit such transactions and the Securities and Exchange Commission (SEC) of the US has explicit laws against front running.  Front running cannot be established if it has been disclosed to the LPs and they have consented to it. But, were such disclosures made, our source asked.
A spokesman for Ares SSG stated in an email communication: "The allegations raised in this article against SSG and our employees are untrue, and are nothing more than attempts by the (currently jailed) promoter of Cox & Kings to deflect blame onto external parties. In fact, the article contains multiple factual inaccuracies and wilful conjecture such as the assertion that SSG (or persons linked to it) were in control of Redkite in recent years. To the contrary, the Enforcement Directorate, after its own investigations, has identified the real promoters of Redkite, none of which are SSG persons or entities. We take allegations of fraud very seriously. For this reason, we continue to fully cooperate with official investigations into fraud at Cox & Kings and related borrowers which are currently in default. SSG funds, as lender and investor, have separately been pursuing enforcement and recovery actions against these and other debtors."
Urrshila Kerkar said over the phone from Mumbai that Shyam Maheshwari had met her and her brother in Mumbai on three occasions between July and October 2020. "Shyam Maheshwari told us categorically that it was he and not Naresh Jain or Anil Khandelwal who was controlling Redkite."
Clearly the Kerkars' claims about the "real" persons behind Redkite will not be accepted by the SSG (now Ares-SSG) group led by Maheshwari. The courts and the law-enforcement authorities will have to adjudge on the allegations and counter-allegations and determine who is correct and who is not, who is telling the truth and who is not.
The response from a spokesman of Ares-SSG came after several iterations (and reminders) between the lead writer of this article (Paranjoy) and two individuals from two separate public relations firms, both representing Ares-SSG. These are documented. Whereas the spokesperson of Ares-SSG has claimed that the note we emailed to Shyam Maheshwari "contains multiple factual inaccuracies and wilful conjecture," what these inaccuracies and conjectures are, have not been specified. We waited several weeks for responses and are willing to correct any inaccuracies if these are pointed out.
Conclusion
A travel company that used to be the first choice of Indians has now fallen down a deep pit. Even as its promoter languishes behind bars, it seems unlikely that the company, its promoters, and its associates will be able to get out of the legal hassles they are currently embroiled in, in a hurry. It is not clear what kind of a "hit" or a "hair-cut" various banks will have to take after the bankruptcy process is over. Who were the masterminds of this elaborate 'scam'? Will the truth come out and the guilty be held accountable? Time alone will provide answers to these questions.
(Concluded)
 Paranjoy Guha Thakurta and Sourodipto Sanyal are independent journalists based in Gurugram, Haryana. Jyotindra Dubey was an independent journalist based in Noida, Uttar Pradesh, at the time of reporting this article. He is now employed in a media company.   
Get the latest reports & analysis with people's perspective on Protests, movements & deep analytical videos, discussions of the current affairs in your Telegram app. Subscribe to NewsClick's Telegram channel & get Real-Time updates on stories, as they get published on our website.
Subscribe Newsclick On Telegram