Credit Scheme Excludes Majority of Street Vendors; Unions Warn of Soaring Social Tension
The total strength of street vendors is close to four crore in the country, estimates by vendors' bodies say. However, the Centre has targeted only 50 lakh for their scheme.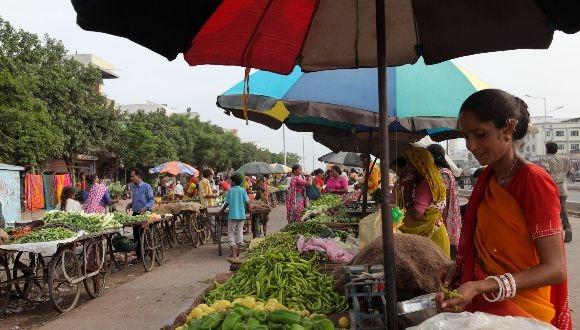 A substantially large section of street vendors will be left out of the coverage provided by the recently-announced micro credit facility, fear vendors' bodies, as the Centre repeats the mistake of underestimating their numbers from across the country.
The exclusion from the Centre's 'relief' package will inevitably stoke social tensions among hawkers, peddlers and those to push carts; glimpses of which are already being witnessed in poor settlements, vendors' organisations add.
In the wake of COVID-19 and the subsequent lockdowns, on June 1, the Ministry of Housing and Urban Affairs (MoHUA) launched a scheme titled PM SVANIDHI, short for Pradhan Mantri Street Vendor's Atmanirbhar Nidhi – which provides a working capital loan of up to Rs. 10,000 to street vendors. Under the scheme, which commences from July, no collateral will be required for the loan.
On May 14, Finance Minister Nirmala Sitharaman announced a Rs 5,000 crore economic package for the same. The package intended to provide relief to about 50 lakh street vendors.
However, raising concerns that the scheme hardly covers the vendors, Dharmendra Kumar of the Hawkers Joint Action Committee, New Delhi, roughly estimated that there were around four crore street vendors across the country, citing records maintained by different municipal bodies which regulate the use of pavements and trade.
"The majority of these are unregistered, and are without any vending license," Kumar told NewsClick, adding that these vendors "will simply find themselves not eligible for the credit facility." The lack of data on street vendors has always marred the vending economy, leading to exclusion of many from government schemes, he added.
To address similar issues, The Street Vendors Act was passed in 2014, which mandated the identification and registration of street vendors in the city through surveys conducted by Town Vending Committees. The Act is yet to be implemented and subsequent surveys are pending in all the major cities including Delhi, Mumbai, and Chandigarh, among others.
"In the absence of any identification of street vendors in the cities, it is evident that the Centre targets only a small percentage of total vendors; the majority will be left out and thus will continue to struggle," Kumar said.
Moreover, additional difficulties await the street vendors, who may be ineligible to secure the credit facility, owing to their limited engagement with formal financial institutions.
In a survey of 1,000 food vendors and small-scale establishments in Bengaluru, conducted in 2018, the Indian Institute for Human Settlements (IIHS) found that less than one per cent of food enterprises surveyed had accessed any government financial support schemes for starting or operating their businesses.
Keerthana Jagadeesh, an associate with IIHS, told NewsClick that formal financial institutions are usually not part of the financial plans of most vendors, suggesting that many of the vendors are unlikely to access the recently announced credit facility.
"Many have never applied for a loan in the past and loans from either a government scheme or a micro finance institution," she said, adding that many do not have the ID cards required to apply for this loan.
To make things worse, the MoHUA, in its guidelines, mentioned that to apply for the loan, an application has to be filled online and the relevant documents must be uploaded onto the portal.
Shakeel Ahmed, General Secretary of Delhi's Rehri-Patri Hawkers' Union, noted that their already unpredictable scenario of street vending has been left more vulnerable due to rising competition. Many have been pushed to hawking as other means of livelihood have been affected.
"Over the lockdown period, we have witnessed growing desperate attempts by rickshaw drivers and others, who are trying their hands in street vending, since they had no other choice to make ends meet," he said.
Kumar has witnessed the same. "With an increase in retrenchments within the formal economy, street vending has become the last resort for many. Many of these people have low skills and low capital," he said. "This leads to a rise in social tension, especially in the poor settlements, where new entrants to the vending business will not be welcomed," he added.
One cannot expect healthy competition when the market is under strain; this mantra also applies to street vendors, Kumar said.
Given the situation, both Ahmed and Shakeel stressed that it was of utmost importance to have a separate policy for the street vendors, keeping their vulnerabilities in mind.
From June 8, services, including hotels, restaurants, and malls have resumed in parts of the country. Standard Operating Procedures (SOPs) issued by the governments for 'unlocking' activity, however, did not address street vending and hawking – in spite of its significance in the daily lives of all individuals in urban areas.
The situation is particularly difficult for vendors who are already in a precarious situation. First, they are exposed to extreme market vulnerabilities with no support; adding to that is the absence of proper guidelines, which have left them at the mercy of local police, resulting in illegal gratification in the form of bribes.
"Majority of the street vendors find it difficult to assess the buyers' capacity in the market and that of the regulatory authorities. Both of these lead to losses," Kumar said. "This has precisely been the reason why the government was asked for interim relief in the form of cash transfers rather than loans."
Another reason for providing cash transfers, rather than credit, are the diminishing savings of the vendors during the lockdown, noted Jagadeesh of IIHS. "Most vendors have used their savings to sustain themselves and their families over the past two and a half months, so they do not have any savings to rely on. And while a loan might help re-start some vending business, many vendors also need money to feed themselves and their families in these uncertain months," she said.
A direct relief is an "urgent necessity" for the most marginalised vendors, including migrants, women and those from lower castes who find themselves at the receiving end of the worst of "customer's distrust and hostility" after the lockdown period, when customers return with some hesitation, Jagadeesh added.
Get the latest reports & analysis with people's perspective on Protests, movements & deep analytical videos, discussions of the current affairs in your Telegram app. Subscribe to NewsClick's Telegram channel & get Real-Time updates on stories, as they get published on our website.
Subscribe Newsclick On Telegram