DU Students, Teachers Slam Professor's Arrest Over 'Shivling' Comment
The protesters said that the arrest is a signal to silence critics, including professors, by the Modi government.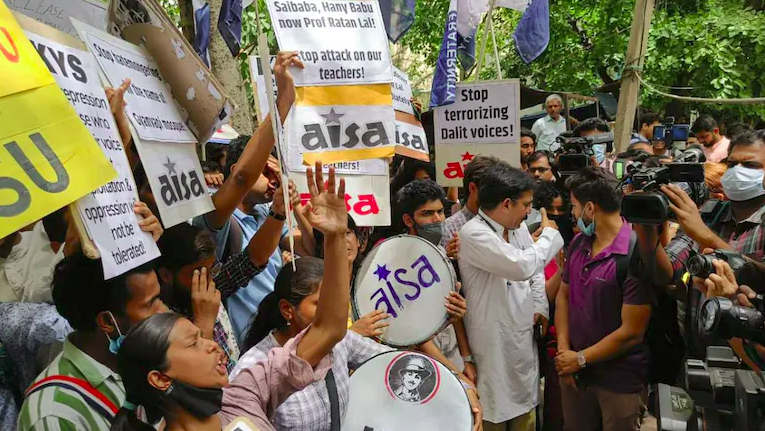 Image Courtesy:  India Today
Hundreds of students and teachers of Delhi University (DU) assembled outside the Arts Faculty, on North Campus, on Saturday to protest the midnight arrest of Dalit associate professor Ratan Lal from his residence at Hindu College in the national capital for posting an allegedly objectionable comment on social media on the 'Shivling' found inside the Gyanvapi Mosque in Varanasi.
Lal, who was arrested by north Delhi's Cyber Police Station, for allegedly promoting enmity between groups on grounds of religion and committing acts prejudicial to the maintenance of harmony, got bail on Saturday.
Granting bail to Lal, the Tis Hazari Courts said: "The feeling of hurt felt by an individual cannot represent the entire group or community and any such complaint regarding hurt feelings has to be seen in its context considering the entire spectrum of facts/circumstances,". It also ordered him to "strictly refrain from posting any social media posts or interviews" regarding the controversy.
Lal had been arrested under Sections 153A (promoting enmity between different groups on grounds of religion, race, place of birth, residence, language, etc., and doing acts prejudicial to the maintenance of harmony) and 295A (deliberate and malicious acts intended to outrage feelings of any class by insulting its religion or religious beliefs) of the Indian Penal Code.
Calling it the killing of discourse in academics, the students and teachers alleged that the arrest should be seen as a signal to silence critics, including professors, by the Narendra Modi government.
DU assistant professor Laxman Yadav, who had rushed to the Maurice Nagar Police Station, to locate Lal after his arrest said that the police personnel tried to mislead them.
"We were told that he was arrested by the Cyber Cell of the Delhi Police. When we rushed to the station, we were not told about his exact location. Throughout the night, we were in dark about his location," Yadav told Newsclick.
When asked about the charge of hurting religious sentiments, Yadav alleged, "Only feelings of the dominant class get hurt in this country. Muslims were abused in front of their mosques and there are explicit details of who all were involved. Yet no action was taken. Rohith Vemula and Jitendra Meghwal were murdered but no action was taken. Hate assemblies calling for massacres were held across the country. Even those in power are protecting them. The whole episode is to frighten people."
Rajeev Kunwar, associate professor of Hindi at Dyal Singh College, told Newsclick that the arrest was unfortunate given the assurances given by Lal that he would cooperate with the Delhi Police in the investigation. "The real intention is to sensationalise communal issues to stoke further divisions in society. First, Muslim symbols like mosques and Hijab were attacked. Then vocal Dalits who express opinions against the government are being targeted," he said referring to the FIR lodged against Hindi professor Ravi Kant Chandan, of Lucknow University, for commenting on the Kashi Vishwanath Temple issue. The Uttar Pradesh Police registered a similar FIR against Kant.
When asked about charges of hurting religious sentiments, Kunwar said that "literature, particularly Hindi literature, is full of instances where leading poets like Kabir and Tulsidas offended the majoritarian sentiments of their times".
"Kabir had already hurt the religious sentiments of his times. Ambedkar and Periyar too did it through their writing. Anybody who opposed the Sati system too hurt the religious sentiments. Hurt sentiments have no place in academia. You cannot reach any logic with hurt sentiments. If we are to base our argument on the basis of sentiments, it would no longer possible to teach students," Kunwar added.
Uma Raag, assistant professor at Indraprastha College, termed the arrest a "bulldozer tool to crush the voices" of marginalised communities. Even if Lal posted objectionable content on Facebook, she said, one could argue and criticise him.
"Arresting a professor who is a known Dalit intellectual and has been criticising the caste system is entirely unjustified. The government is using FIRs as bulldozers against the teaching community. We often see the news of bulldozers crushing homes and the livelihood of a particular community in Delhi. The action is a signal in itself to the community. Likewise, the arrest is also a signal to all intellectuals and people associated with democratic movements," Raag added.
Abha Dev Habib, associate professor of physics at Miranda House, said that Lal's arrest is not new given the "intimidation tactics deployed by the Centre in the last eight years and Lal was particularly targeted because he remains a popular opinion builder with a massive following on social media platforms".
"Lal runs a YouTube channel Ambedkarnama and produces shows ranging from caste discrimination to the new education policy. Bootlickers of this government do not like it. As far as language is concerned, he used sarcasm to raise a question about the 'Shivling'. Hindutva leaders are inciting people to rape women and kill 'infidels'. Does not it hurt someone else's sentiments?" Habib asked.
"People get lynched on mere suspicion. Who is getting justice? After he posted content on Facebook, he and his family were threatened with violence. This disproportionate action in terms of lodging an FIR and arrest is not acceptable to us and he must be immediately released," Habib added.
The students alleged that the police took no action against persons who were threatening to lynch Lal. Noel, a student of Zakir Hussain College, said that there were open calls to raze down mosques and nobody ever said that it was akin to hurting religious sentiments.
"He [Lal] did not ask anyone to attack a religious community in his post. How does it lead to criminal conduct? It is inexplicable. People like Anurag Thakur (I&B and sports minister) may say things but courts would not term their conduct criminal. He was hospitalised after the arrest because he was not feeling well. We are here to protest the Brahminical state," Noel added.
Lal's students at the Arts Faculty shared stories of how he motivated them to pursue studies. Hima Sam, a third-year student of history honours, recalled how he motivated students, particularly from marginalised communities.
"He would often tell us about his struggles and asked us to not give up under any circumstances. He would go beyond his capacity to help students. In one case, he arranged Rs 30 lakh for a student named Raja Chaudhary who got admission to a prestigious university in London. He is fire and the government is trying to extinguish him," Sam added.
Another student requesting anonymity said that he decided to drop out in the first semester itself owing to financial difficulties but Lal motivated him to not lose hope and even offered financial help. "Hailing from a Muslim family, I did not have resources to support my studies. I decided to drop out and on my last day in the first semester, I went to meet him. He said that education is not only for the privileged and I should continue."
Get the latest reports & analysis with people's perspective on Protests, movements & deep analytical videos, discussions of the current affairs in your Telegram app. Subscribe to NewsClick's Telegram channel & get Real-Time updates on stories, as they get published on our website.
Subscribe Newsclick On Telegram