'Deepak Nitrite Releasing Hazardous Industrial Waste Under Gujarat Govt's Nose'
Activists have alleged that the chemical firm prints fake bills addressed to physically non-existing consignees, then consigned truckers dump hazardous liquid waste into rivers like Sabarmati.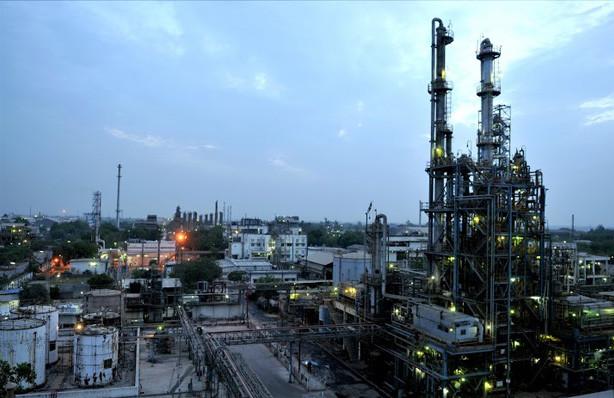 Vadodara-based human rights activists have accused chemical manufacturer, Deepak Nitrite, of illegally discharging hazardous effluents in mainstream water bodies and air.
Documents highlighting major fault lines have been exclusively provided to NewsClick by Antarrashtriya Manavadhikar Sanrakshan Bureau (Bharat), the NGO behind the collective action against the company.
In the complaint, filed on December 28, 2018, addressed to the GST Division-Vadodara, Vadodara Collector, Gujarat Pollution Control Board (GPCB), Central Pollution Control Board, Chief Minister and Environment Minister of Gujarat Government; Deepaksinh Solanki, state president of the NGO wrote, "Deepak Nitrite's Tanker no. GJ06XX8662 at 10:30 am on 26th December, 2018 was found releasing hazardous liquid into the water body of Nandesari… Our team talked to the driver and found this fake bill [inset]…The shipment address was somewhere in Kalol but the truck was found discharging acidic liquid near the GACL (Gujarat Alkalies and Chemicals Limited) Company. We instantly informed Mr Gupta of GPCB-Vadodara and Mr K V Mistry of GPCB-Gandhinagar and sent a copy of the bill on their WhatsApp numbers." The complainant has further demanded strict action against Deepak Nitrite.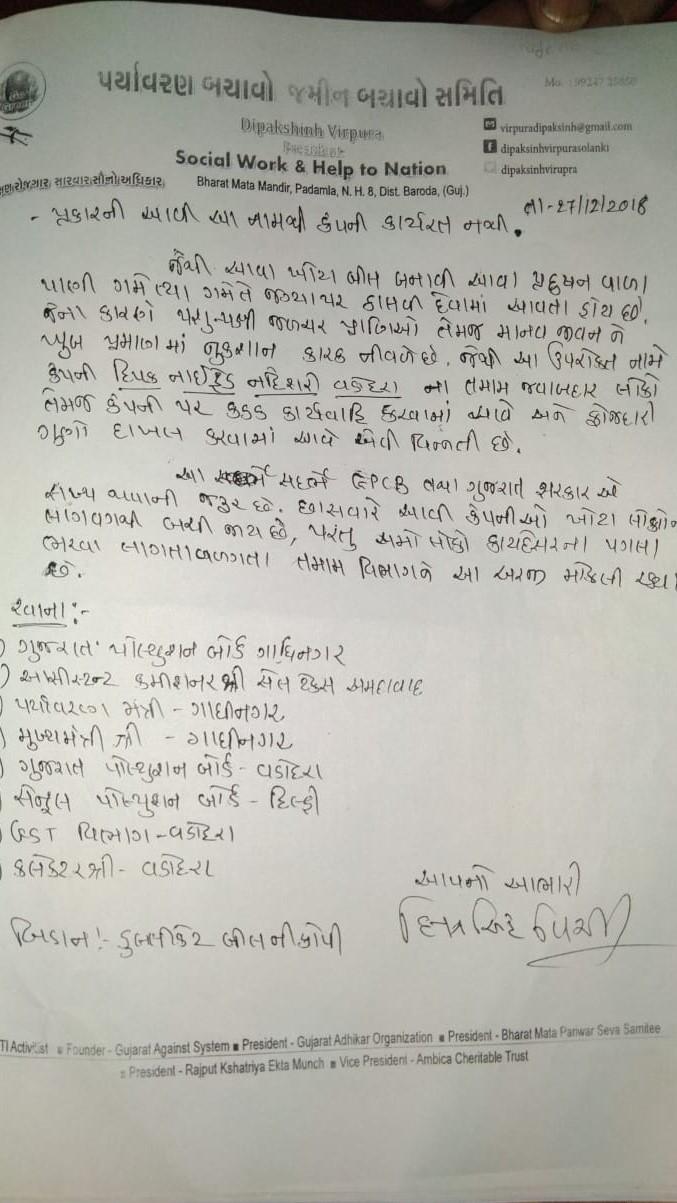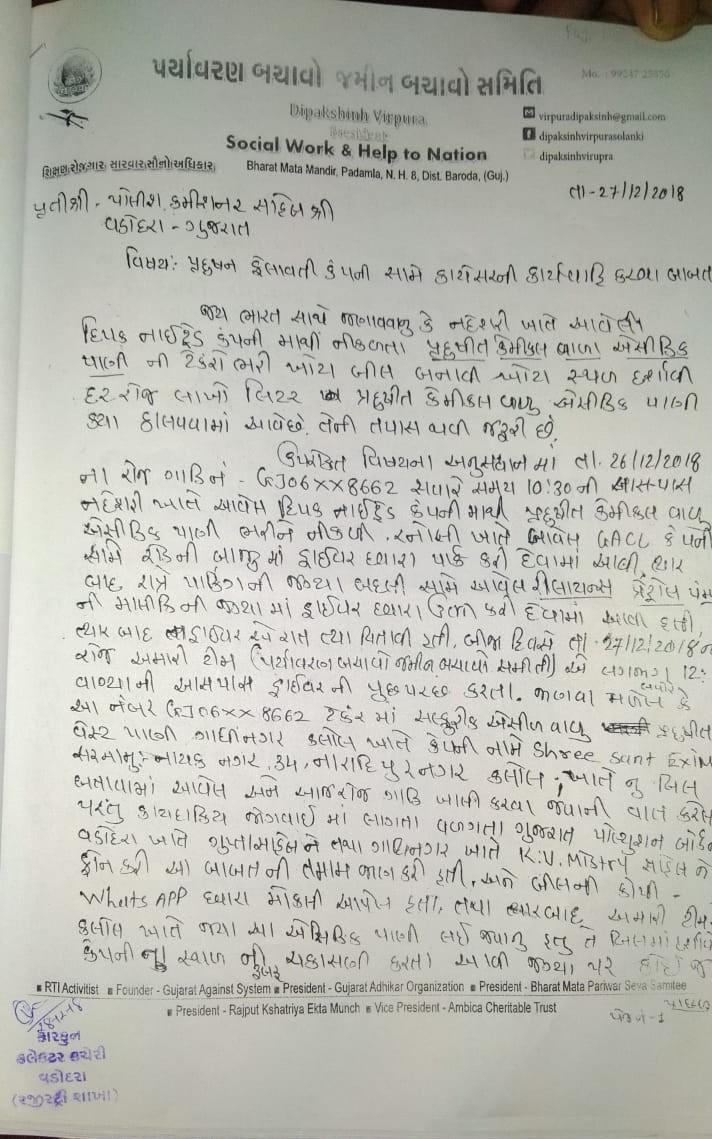 Solanki told NewsClick, "We wrote to all the appellant authorities but no action has been initiated against the company yet."
A purported bill accessed and reviewed by NewsClick has fraudulent details. There is no such company at the shipment address. It was found that Naradipur Nagar, the shipment address, is a residential area.
NewsClick also accessed the details of the company through the GSTIN number printed on the accessed bill. It was found that KAUSAL NARESHBHAI NAYAK is the real name of the registered business but the bill mentions SHREE SANT EXIM as the consignee corresponding to the GSTIN.
The costing, as mentioned in the said bill, is questionable. One tonne of sodium sulphate liquid (SSL) is priced at Rs 10, thus, 22.585 tonne of SSL is tabled at Rs 226.85. The bill shows that one tanker transports the goods priced at Rs 266, including GST. It is to be noted here that the distance between the sender and receiver's end is 140 km for which the transportation cost would be much higher and any company wouldn't favour a loss.
The NGO has alleged that this imply means that Deepak Nitrite is selling one tonne (equivalent to 1,370 litres) of the commodity at Rs 10, i.e. Rs 0.0074/litre which is generally sold at the market value of Rs 5-Rs 7/litre.
Looking at the figures, Alpesh Seth, an activist with Paryavaran Bachao Jamin Bacho Samiti  wondered, "Why would a company suffer this huge loss? Why will any company dump some commercial chemical?"
Alleging a conspiracy, Solanki said, "The company prints any chemical's name on the bill and asks the truckers to go and dispose the hazardous wastes in water bodies at secluded channels, sometimes in Sabarmati, sometimes outside."
Deepak Nitrite had total assets of Rs 125,868.57 lakh and Rs. 112,355.36 lakh in 2016 and 2015, respectively. In 2017, it had total assets of Rs 1,78,748.46 lakh, which jumped to Rs 2,59,056.00 lakh in 2018 showing significant profiteering. According to a report published by BloombergQuint, shares of Deepak Nitrite have risen more than 16% in 2019, outpacing peers, as analysts expect the chemical maker's new phenol-acetone plant to boost its earnings. The report added that Deepak Nitrite is yet to respond to BloombergQuint's queries on its growth.
A search for the old records of Deepak Nitrite revealed that the chemical company is a serial violator in pollution cases. In a Supreme Court of India judgement [Deepak Nitrite Ltd vs State Of Gujarat & Ors on May 5, 2004] delivered by the CJI bench, the apex court found Deepak Nitrite guilty of extensive environmental degradation as a result of pollution and imposed a heavy fine. CJI agreed with National Environmental Engineering Research Institute (NEERI) and Amicus Curiae T R Andhyarujina that the industrial units of Deepak Nitrite at the Gujarat Industrial Development Corporation (GIDC) Industrial Estate at Nandesari had not conformed with the norms prescribed by GPCB and each of the units were discharging effluents into the effluent channel project constructed by GIDC. The channel project in turn discharged the effluents into the Mahi river, which ultimately reached the sea.
Also Read: How Gujarat's 'Model Govt' is Handling Industrial Pollution - With PM Modi's Help
According to a Bombay Stock Exchange document accessed by NewsClick, Deepak Nitrite has five manufacturing facilities in India, out of which three manufacturing facilities are located at Hyderabad. One of the manufacturing facilities situated in Hyderabad was engaged in the manufacture of Di-Nitro Stillbene Disulphonic Acid. The Telangana State Pollution Control Board (TSPCB) had issued a show-cause notice for certain non-compliances and thereafter, issued a closure order dated October 1, 2016, of the said unit for non-compliance of the directions of TSPCB and causing air pollution in the area. Following which the power supply to the industry was disconnected and the company was directed to stop all industrial activities with effect from the date of the Closure Order. However, Deepak Nitrite somehow managed to get a successful permanent revocation of the aforesaid Closure Order vide an order dated March 13, 2017.
NewsClick talked to some locals about the water contamination in Vadodara. Vivek Anand, a BSc student at MS University of Baroda, said, "Look at Vishwamitri, how filthy that is. It passes through our university campus and the local zoo. The level of chemical froth on the water surface indicates how dangerous it is."
Sachin Yadav, 20, a resident of Sama area of Vadodara told NewsClick that many a times he saw truckers dumping plastic waste along the Mangal Pandey road behind Ratri Bazar. He further explained, "This region is actually in the outskirts of the city. As it is on the bank of Vishwamitri River, it allows them to dispose their liquid or solid waste quickly without any issue. The solid and liquid waste flows with the water while degrading the water table. Administration is aware of it but there has been no action on their part."
Paryavaran Bachao Jamin Bacho Samiti, an association formed by Deepaksinh Solanki to protect environmental rights, shared a video of Deepak Nitrite's Nandesari unit releasing yellow coloured gas into air. The video was authenticated by locals. Dharmendrabhai Gohil, 25, who lives in Damapura, a village some 500 meters away from the plant on being asked if he felt any burning sensation because of these chemicals being released into air, he said, "Eye burning and itching are common here. What can we do?"
NewsClick then visited Rupapura, a village within a 1 km radius of the plant. Udaysinh Gohil, 70, a resident of the village talking about the plant said, "The situation is scary. They release some harmful gas in the night, which has an awful and pungent smell making it difficult for me to breathe. It doesn't let me sleep." He added, "Earlier this place was full of life, some 30 years ago. But now there are no birds chirping around. The life span of cows have reduced and they die without any sign of chronic illness."
Also Read: 'Earth Champion' Irony: High Praise, Low Performance
"We had protested against this but nothing happened. We had even approached the panchayat, local police and magistrate but all efforts went in vain," added Ajitbhai Rathode, a resident of Raika village which is near to the plant.
NewsClick had e-mailed Deepak Nitrite on May 8, 2019, seeking comments regarding the revelations on the irregularities. Despite sending regular reminders, the company hasn't replied yet.
Author is an independent journalist and serves as an editor at Academia.edu. He writes on social inequality and rights in India.
Get the latest reports & analysis with people's perspective on Protests, movements & deep analytical videos, discussions of the current affairs in your Telegram app. Subscribe to NewsClick's Telegram channel & get Real-Time updates on stories, as they get published on our website.
Subscribe Newsclick On Telegram