Delhi Elections: BJP Made This Into Referendum on Modi & RSS Ideology
What the BJP campaign has been drumming into Delhi-ites heads is the RSS vision of India and how Modi Sarkar has implemented it.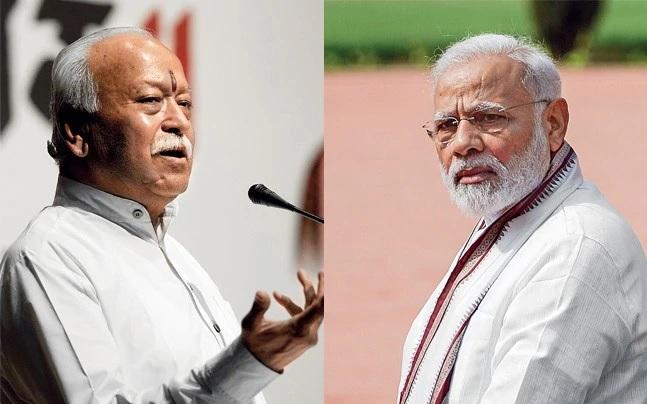 On the last day of campaigning in Delhi's bitter and inflamed Assembly elections, homes in several parts of Delhi got the daily newspaper with a pamphlet inside showing Kejriwal wearing a Muslim cap and offering namaz, purportedly issued by "A Muslim", according to reports. That's a typical slice of the ground campaign by the BJP vilifying not just Kejriwal for standing with "traitors" but also labelling the whole community as rapists and thugs. At the other end of the spectrum, in Lok Sabha, a young rising star of BJP said that if patriotic Indians don't stand up against Shaheen Bagh, "the days of Mughal Raj coming back to Delhi are not far away". And another minister, Giriraj Singh, was reported to have said that Shaheen Bagh is "creating batches of suicide bombers".
Incredible and macabre as all this may seem, this and much more has been the staple for Delhi's increasingly bemused residents for the past two weeks. Much has been written about why the invincible BJP with its magnificent election strategists would have had to stoop so low to conquer one Union Territory, even if it is the Capital. But, there is another aspect, going beyond election strategies.
Battle Between Two Ideas
BJP's second most powerful man and Home Minister Amit Shah had himself raised the stakes by repeatedly framing the electoral battle as one between two ideologies. He, of course, framed it as a battle between those who beat/attacked Pakistan right in their own den, and those who are today standing with Shaheen Bagh.
What he means is this: BJP stands for aggressive militaristic Hinduism best expressed by attacking its enemy Pakistan, while the AAP and Congress are supporting the anti-CAA/NRC protest at Shaheen Bagh which has variously been described as a den of traitors (its mostly Muslim women), run by those who are going to enter "your homes and rape your daughters, kill you" (Parvesh Verma, an MP from Delhi), and a school for suicide bombers. According to him, BJP is the Hindu spirit, AAP is the enemy (Muslim) soul.
This is RSS thinking, pure and unalloyed. They see India as a land of Hindus, and minorities as traitors. They believe that assertion of Hindu strength and unity is the way forward. And the Modi govt., especially in its second term is RSS on steroids. A series of far going changes – all inspired by RSS – were brought in: Art.370, triple talaq, CAA and proposed NRC. They thought the mandate was for the Hindu Rashtra!
Also read: Delhi Elections: 'Kejriwal vs Who?'
In the Delhi elections, the BJP/RSS has been confronted with a challenge they had not anticipated. There is a govt. that, with limited powers, is very popular due to its diverse welfare measures. It also appears as honest and clean, largely speaking. It is seen as aligned with the people and not with super-rich cronies.
The BJP/RSS thought that their obscurantist appeal based on militant Hindutva will wash away all this populism because – in their thinking – these medieval ideas are superior to any humdrum preoccupation with economic distress and prices of vegetables. They had been dealing with the country's economic crisis in the same way, they thought it would work in Delhi too.
It has neither worked in the rest of the country, nor is it working in Delhi. The BJP has lost several states governments starting December 2018. It has lost allies. It has faced vociferous and sustained protests across the country for these RSS inspired policies. It has faced a huge strike by workers and farmers. Yet it thinks that some "traitors" are "misleading" the people. Otherwise, everything is hunky dory!
It's a Referendum on RSS Ideas
The Delhi election has thus been turned into a double referendum. On the one hand, it is the RSS ideology as implemented by Modi and his govt. On the other is an opposing idea of welfare of people. This opposing idea is not a full fledged ideology nor is it in any way the best that can be done. But that's how it goes.
With this, the Delhi election becomes a key event in the history of elections. A defeat of BJP, which looks imminent, will have to be seen as a rejection of the idea that Hindu-Muslim dichotomy and Pakistan are the topmost issues before the country. It will also be a rejection of incendiary attempts to create strife and violence in society. It will be an assertion of not just harmony between communities but also supremacy of people's welfare in any vision of the future.
Amit Shah has raised the stakes and framed the questions that will be answered on February 11 when the votes are counted. The whole country awaits the result.
Also read: Delhi Elections: BJP's Last Throw of Dice
Get the latest reports & analysis with people's perspective on Protests, movements & deep analytical videos, discussions of the current affairs in your Telegram app. Subscribe to NewsClick's Telegram channel & get Real-Time updates on stories, as they get published on our website.
Subscribe Newsclick On Telegram