Delhi Violence: The Curious Case of Complaints Attached With a Single FIR
Over a dozen complaints filed in Karawal Nagar police station have reportedly been clubbed, restricting the scope for detailed probe into the communal violence that killed 53 people.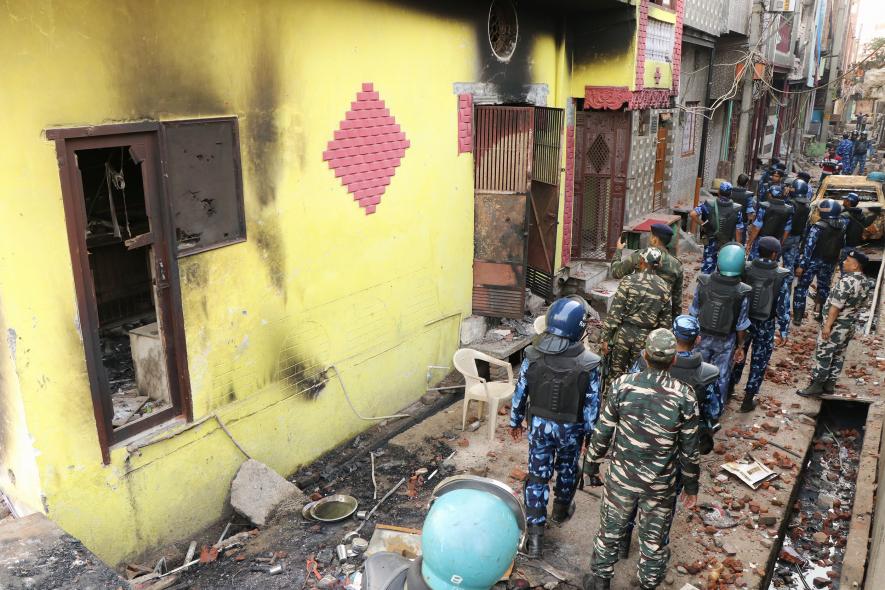 More than a dozen complaints filed at the Karawal Nagar police station by residents of Shiv Vihar in North East Delhi have been clubbed with another FIR (first information report), avoiding any scope for detailed investigation into the role of a mob behind the February riots that claimed 53 lives, out of which 38 were Muslims.
NewsClick has gone through 10 such complaints filed in March 2020, where individual complaints have not been converted into separate FIRs till date. A common feature in all such complaints is a hand-written note at the bottom stating the Daily Diary number, referring to the complaint number in police records, as registered by the duty officer. The hand-written note, then, ends with the line 'attached with case FIR no.', as it refers to another case with which the complainant's case has been clubbed.
At least five such complaints have been attached with FIR no. 55/20, FIR no. 56/20 and FIR no. 57/20, filed on behalf of ASI (Assistant Sub-Inspector) Hari Om Singh, alleging the violence during February in Delhi to be the handiwork of anti-CAA (Citizenship Amendment Act) protesters.
Incidentally, among these five complainants, two have specifically mentioned that they saw crowds chanting 'Jai Shri Ram' slogans just before the violence. But in the absence of a separate FIR for every individual case, such details are missing in the clubbed FIR with which these complaints have been attached.
Details of Attack Finds No Mention
On March 16, 2020, Nadeem* (name changed), a resident of Shiv Vihar, submitted a hand-written complaint at the Karawal Nagar police station. In his complaint, he stated that he had been living in Shiv Vihar for the past eight months. Recalling the chain of events, as on February 25, 2020, Nadeem's complaint says "at 11:30 p.m rioters had entered inside his house and set it on fire…. I jumped on to my neighbour's roof and managed to reach a safe spot". The complaint urged the authorities concerned to clear compensation for the loss incurred, estimated to be between Rs 15-16 lakh.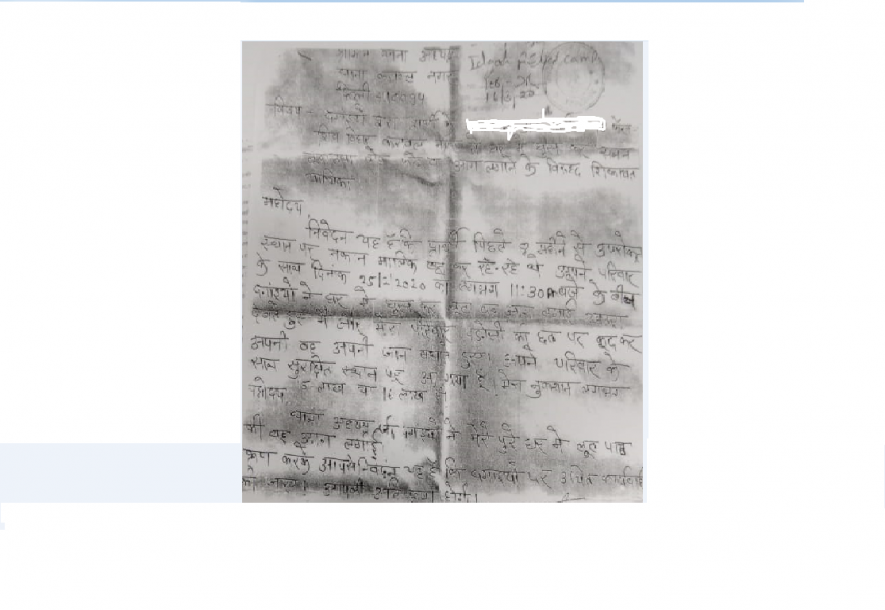 Hand written complaint submitted by Nadeem dated 16 March 2020.
A common feature in such complaints, which have been clubbed with ASI Hari Om Singh's FIR, is that after the initial one-page hand-written complaint, the police haven't filed a detailed complaint yet that could have been the further basis of probe in such cases.
In a detailed complaint, filed by his lawyer, recalling the fateful day's event again, Nadeem has mentioned: "At about 2 p.m on 25.02.2020 stone pelting started at the small bridge (pulia) over Shiv Vihar. This continued till about 5 p.m where a riotous mob started setting houses on fire. There were about a 100 people in this mob, all wearing helmets and masks, armed with sticks, swords, petrol bombs etc., and shouting 'Jai Shri Ram…k**uon…s**lo k**ton …kahan chupe ho…bahar niklo…Hindu bhaiyon bahar niklo…tumhe kuch nahi karenge."
According to Nadeem's complaint, "the mob started setting fire to houses." He says he and his family managed to save themselves by climbing on to the roof of their neighbour's house, only to be rescued by paramilitary personnel later. Three days after the violence, on February 28, when Nadeem returned, his entire house had been gutted.
The final FIR registered on behalf of Nadeem states "this is certified that complaint dated 16/3/20 has been attached with case FIR no 55/20 u/s 336 for all legal purposes."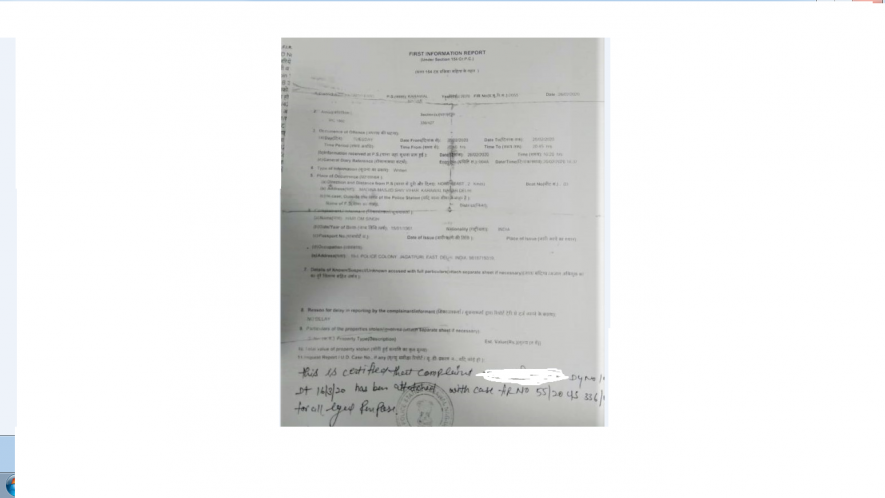 Nadeem's FIR attached with FIR No 55
What Does FIR Filed on Behalf of ASI Say?
The chain of events, as stated in FIR no. 55, 56 and 57, filed on behalf of the ASI centres around anti-CAA protests in the area. For instance, in FIR no. 56/20, complainant ASI Hari Om Singh has been quoted as saying that "on 25 February 2020, at 9 p.m, when the police personnel reached Shiv Vihar tiraha, some anti CAA protesters who had already gathered there in large numbers were shouting slogans; stones and bricks were being hurled from both sides."
The FIR further states that "after a warning via loudspeaker, protesters were told to calm down else action will be taken yet the stone pelting continued." It's this premise of protests that lays ground in the FIR for the chain of events that resulted in "firing followed by shops and vehicles being set on fire".
FIR Filed by ASI Hari Om Singh
'Cylinders Used to Set House on Fire': No Separate FIR
In a complaint letter, dated March1, 2020, addressed to the Chief Justice of India, another resident of Shiv Vihar, Imtiaz, has narrated his ordeal of escaping from a mob which had barged in his house. The letter, which has been accepted by the Karawal Nagar police station as a formal complaint and attached yet again with FIR no. 142/20, states that "on 25.02.2020 at around 9:45 pm, 50-60 people who were chanting Jai Shri Ram slogans, gathered outside my house. They then broke open the door and came inside. We were on the second floor of the house then and rushed to the top floor." Imtiaz had further stated in his complaint that "the cylinders kept inside his house were used to set the house on fire".
In a detailed complaint compiled by Imtiaz's lawyer, he has recounted, "Our house is of three storeys. I along with my family reside on the first floor, front room. After seeing the rioters enter our building, I took mine and other relatives' children and others to the terrace. The rioters entered the house, set fire to the cylinder and threw it towards the Masjid. They then took another cylinder and burnt it outside our house. The cylinder on the ground floor was burnt inside the house."
Recalling his interaction with the paramilitary personnel later, Imtiaz has also said in his complaint, "Once they saw me shouting for help from the terrace, the RAF personnel requested us to come down and then they escorted us out to Chaman Park. During that time, one of the RAF personnel told us, 'Aap log Shaheen Bagh me protest kare the, chahiye Azadi? (You guys were protesting at Shaheen Bagh, do you want freedom?')".
Imtiaz's complaint has also been attached with another FIR no. 142/20 filed by another local resident. "There hasn't been any further response", he informed this reporter while speaking over phone.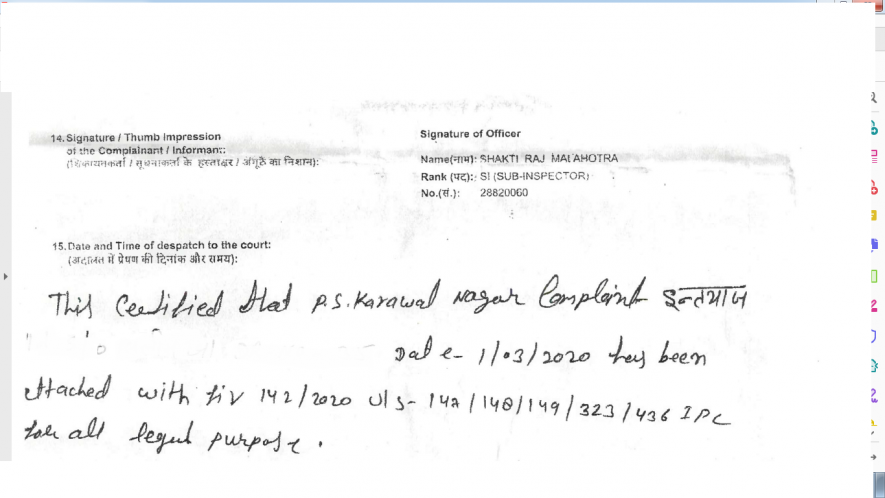 Complaint Against Arson & Loot: Clubbed With Another
On March 8, 2020, Ashraf* (name changed), a resident of Shiv Vihar, filed a complaint at the Karawal Nagar police station. Narrating the chain of events as they unfolded on February 25, 2020, Ashraf told the police in his letter that "at night a mob with bamboo sticks, iron rods and other weapons began moving towards my house…. They looted the house and set it on fire". The complaint urged the authorities concerned to give security cover for the house and take appropriate action against the culprits.
In a detailed complaint compiled by his lawyer, Ashraf's wife, Sakina* (name changed), has claimed that on February 25, 2020, "People who were wearing helmets and carrying sticks said – Aur jao protest mein. Azadi chahiye tumhe? Azadi denge hum tumhe. (You will participate in protests? You want freedom? We will give you freedom.') Around 3 p.m as the situation was getting worse, we were calling the police at 100. In the beginning they did not pick up our call. We would have called them around 300 times (30 of us included). After a long time they picked the call and when we apprised them of the situation, they kept on beating around the bush by telling us to call this person and that person but didn't provide us any help." Sakina, too, mentions in her complaint that the mob was "chanting Jai Shri Ram slogans while they were trying to break open the gate.'
However, this complaint too, was clubbed with another FIR, which had a hand-written scribbled note stating at the bottom: 'This complaint has been attached case FIR No. 133/20 u/s 147/148/149/323/436 IPC for all legal purposes."
Legal Provisions Regarding Filing of Complaint
In the context of the powers of officials concerned in as far as registering FIR is concerned, Section 154 in the CrPC (Criminal Procedure Code) states that "every information relating to the commission of a cognizable offence, if given orally to an officer in charge of a police station, shall be reduced to writing by him or under his direction, and be read over to the informant…."
Moreover, Section 156(1) CrPC, while elaborating on the investigating powers of police official, clearly states that "any officer in charge of a police station may, without the order of a Magistrate, investigate any cognizable case…."
Supreme Court lawyer, Choudhary Ali Zia Kabir, says: 'The police have violated both the Sections under CrPC. The cases of these people are practically finished. They have not been included as witnesses or co-complainants till date."
Citing the 2013 Lalita Kumari judgment by the Supreme Court, Kabir adds: "Even as complaints have been clubbed with another FIR, detailed events are not mentioned in the FIR. FIRs must have gist and relevant facts."
This reporter reached out to the PRO Delhi Police, Eish Singhal, and was told to contact DCP North East Delhi. A questionnaire has been mailed to the office of DCP concerned regarding the clubbing of complaints. Newsclick will update the story as and when there is a response.
The writer is a Delhi-based freelance journalist.
Get the latest reports & analysis with people's perspective on Protests, movements & deep analytical videos, discussions of the current affairs in your Telegram app. Subscribe to NewsClick's Telegram channel & get Real-Time updates on stories, as they get published on our website.
Subscribe Newsclick On Telegram