Dr. GN Saibaba Hospitalised After His Health Deteriorates Due to Hunger Strike
The former Delhi University who is 90 percent disabled had demanded removal of CCTV cameras from toilet and bathing area.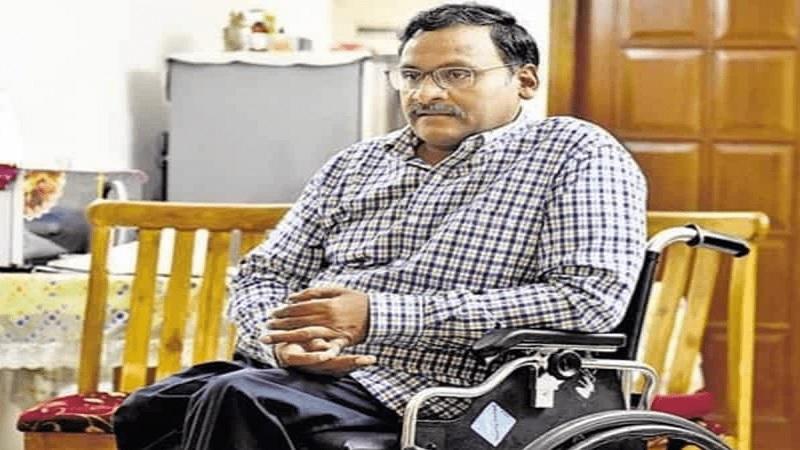 Image Courtesy:siasat.com
Dr. GN Saibaba who has been on a hunger strike since May 21, 2022 was sent to prison hospital yesterday. The former Delhi University professor is a human rights activist and political dissenter and has been behind bars after being convicted in a case related to his alleged involvement with left-wing extremist groups. He is currently under the care of the prison's Chief Medical Officer (CMO) and the Superintendent who have agreed to extend the medical treatment.
In a press release dated May 26, 2022, the Committee for the Defense and Release of Dr. GN Saibaba has said that the former DU Professor is suffering through serious health problems due to four days of hunger strike. They say that from the third day of the strike, Prof. Saibaba started passing blood motions spilling all over the bed. Moreover, the Committee states how his skin has loosened and is now hanging from the muscles.
This is not the first time that Dr. Saibaba has gone on a hunger strike for the sake of upholding his fundamental rights. Previously, during the pandemic, he had gone on a strike demanding the immediate handover of medicines supplied by his family members and advocates, as well as supply of books, letters, etc.
As for this hunger strike, he is fighting for his fundamental right to privacy, life, liberty and bodily integrity. The jail authorities installed a CCTV camera in front of his Anda Cell without providing any valid reason which records everything 24X7 including use of toilet, bathing, and all his bodily activities. The letter claims that this is against the basic human rights and that the rights, even of a convicted person, should be upheld. In a letter dated May 14, 2022, Saibaba's wife Vasantha Kumari and his brother G. Ramadevudu wrote to the Maharashtra Home Minister, Shri Dilip Walse Patil urging him to intervene in the matter and to protect his rights.
In the letter, his family reportedly pleaded, "How can Dr G N Saibaba live in these circumstances? The helpers are also intimidated by the closely watching camera since their bodies are constantly exposed to the eye of the camera. This is clearly to intimidate and insult him."
Two weeks ago, it was reported that the Nagpur Jail authorities have been denying Prof GN Saibaba a plastic water bottle for three weeks. The former Delhi University professor, who is ninety per cent physically disabled and wheelchair-bound, has been finding it difficult to lift the small pot kept in his cell or even a glass bottle, and has reportedly been unable to hydrate himself adequately amidst soaring temperatures due to this.
The Committee lists out the following demands:
Removal of CCTV camera's focus on his Anda Cell that keeps his privacy, dignity and body integrity at risk.

Grant parole and enable him to get proper medical treatment for all his health issues. [His family members submitted applications several times to release him on parole.]

Immediately shift him out of Anda Cell as he is unable to withstand heat/cold waves and unable to move on his wheelchair as the cell is very small and compact.

Prison Transfer: He and his family members submitted letters to Jail Authorities and Maharashtra Home minister to transfer him from Nagpur Central Prison to Cherlapally Central Prison, Hyderabad.

Implementation of all other demands of his earlier hunger strike that were not so far addressed.
Advocate Aakash Sorde informed the Committee that the jail authorities are now ready to give him a water bottle and they have claimed that they will accept all other demands one by one in due course of time.
As reported by the Wire, Dr. GN Saibaba suffers from ailments like hypertrophic cardiomyopathy, hypertension, paraplegia, kyphoscoliosis of the spine, anterior horn cell disease, acute pancreatitis and a cyst in the brain. It is also reported that Prof. Saibaba's left hand is on the verge of failure and there is acute pain spreading in both his hands.
Brief background of the case
The Sessions Court at Gadchiroli on May 7, 2017 sentenced Prof. Saibaba to life imprisonment under the Unlawful Prevention (Activities) Act (UAPA), for alleged links with banned organisation Communist Party of India (Maoist). He had appealed against the Judgment of the Sessions Court before the Nagpur Bench of Bombay High Court, but his appeal has been pending for the last five years.
Dr. Saibaba, who has been a long-time defender of the rights of India's minorities, especially Dalits, Adivasis and forest dwelling communities, against vested corporate interests, was first arrested in in May 2014, and eventually sentenced to life imprisonment in March 2017, for "waging war against the state".
As an activist and rights defender, Dr. Saibaba has campaigned against a push to end reservations for lower castes, as well as against "encounter killings" of innocent people in Andhra Pradesh. He launched the Forum Against War on People, in response to the Indian government's Operation Green Hunt in India's tribal belt, which allegedly cracked down on Adivasis in the region. He organised a national campaign against the operation that reportedly led to investors pulling out. In July 2015, he told The Hindu that the authorities felt "the best way to stop me was to throw me in jail."
Get the latest reports & analysis with people's perspective on Protests, movements & deep analytical videos, discussions of the current affairs in your Telegram app. Subscribe to NewsClick's Telegram channel & get Real-Time updates on stories, as they get published on our website.
Subscribe Newsclick On Telegram