EXCLUSIVE: Doctors Unable to Comprehend the Variant of Deadly Fever in UP, Multi-Organ Failures Occurring in 3 Days!
Incomplete figures of dengue, malaria and chikungunya patients are being shown, but UP government doesn't have any data on scrub typhus and leptospirosis. Most doctors, too, seem unaware of the danger of these diseases.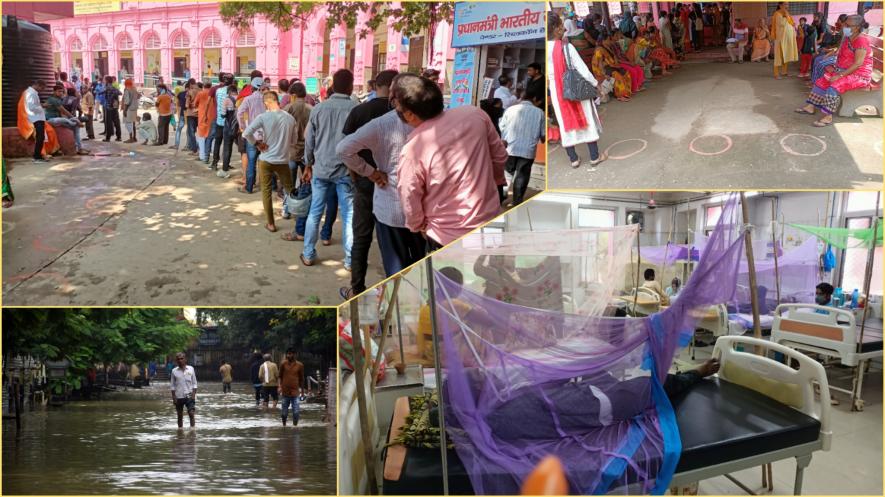 The platelet count of a 66-year-old patient who admitted in Ganesh Shankar Vidyarthi Memorial (GSVM ) Medical College, Kanpur, is 22,000. He is facing liver and kidney failure, and his pancreas is also not functioning properly. Along with this, he has haemorrhagic gastritis and lung infection. It is a case of multi-organ failure. All test results for diseases like corona, dengue, malaria etc. are negative.
Many are questioning how several patients are ending up with multi-organ failure within just three to four days of a fever? Doctors in government hospitals in Uttar Pradesh are unable to understand what this deadly virus variant is. 
"The surprising thing is that after the fever comes, the patients soon get seriously ill. All the internal organs start getting affected, and within three to four days, the patient dies", says Dr. Santosh Kumar, former chairman of the Department of Medicine, UP. He says has seen half a dozen cases with such symptoms so far.
Dr J S Kushwaha, Professor, Department of Medicine, GSVM Medical College, says: "Patients with fever are being brought in a very critical condition. They are being admitted in the emergency ward. Some are being immediately put on ventilators. The tests are negative for corona and dengue. This is unusual. This viral fever variant can be known only through a virology test."
Government stuck in solving 'mystery'
This deadly fever has sent the Yogi Adityanath government, in a tizzy. The crowds gathering outside government hospitals are show that the fever outbreak is very high, which the health department is failing to control.
Incomplete figures of dengue, malaria and chikungunya patients are being shown, and the UP government does not have any data on scrub typhus and leptospirosis. Surprisingly, most doctors, too, seem unaware of the danger of these diseases.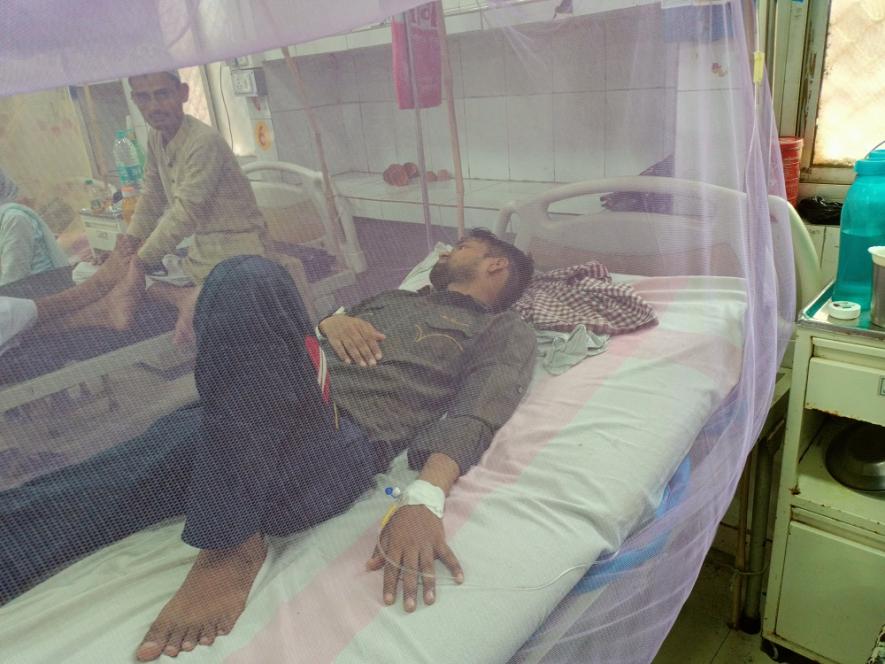 Firozabad has seen the highest number of deaths due to the 'mystery' fever, and the count is going up. On instructions of Union Health Secretary Rajesh Bhushan, a central team that visited UP and found that most of the deaths in many districts, including Firozabad and Agra, were caused by dengue. Meanwhile, scrub typhus and leptospirosis cases also have cropped up. Many cases of both these diseases have been reported several districts.
Dengue and viral fever have so far claimed 175 lives in Firozabad. Although, as per the government sources, not more than 62 deaths have occurred.
"So far, 62 people have died of dengue including 51 children and 11 adults in Firozabad" says Dr A K Singh, additional director (health). Sangeeta Aneja, principal of Firozabad Medical College, adds: "More than 500 children are hospitalised due to dengue fever."
The situation in Prime Minister Narendra Modi's parliamentary constituency, Varanasi, is no better. Over 300 patients are coming daily with cases of fever in Shivprasad Gupta Divisional Hospital.
Dr. OP Tiwari, senior consultant at the hospital, says: "Only eight to 10 of patients suffering from high fever are dengue positive. No patient of scrub typhus and leptospirosis has been identified so far."
Dr. Sharad Chand Pandey, District Malaria Officer, Varanasi, says: "Since July, more than 50,000 fever patients were treated in government hospitals in Banaras, out of which the number of dengue patients was only 124. There has been no dengue-related death."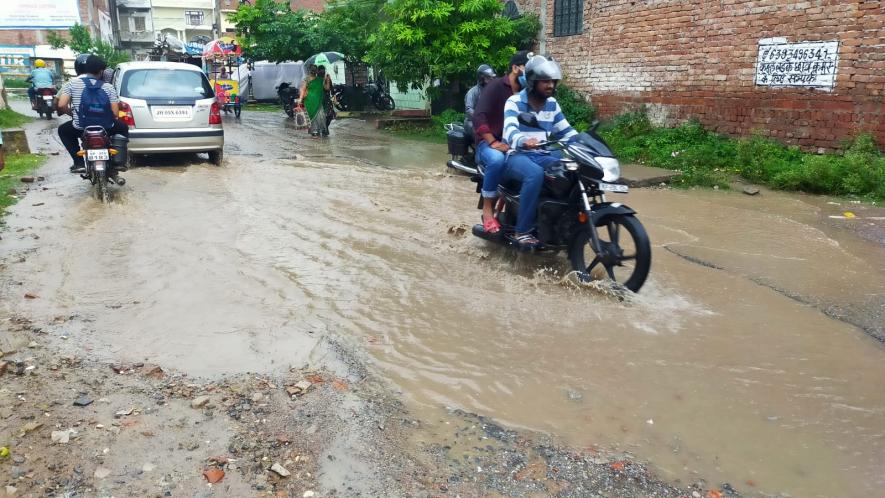 Apart from the claims made by the District Malaria Officer, the fever has claimed many lives in Varanasi, out of which four-five people are from Phulwaria area. Dengue patients, such as Vishal Maurya of Lakhraon (Bajardiha), Shamsul Afreen of Qazi Shahudullahpur, Shahnaz of Ramnagar and others, are in a critical condition. Ashish Rai (16), a Bhabua (Bihar) studying in a coaching institute in Varanasi , have been battling with life since the last nine days.
Fever scare 
According to media reports, those suffering from fever in Firozabad, Agra and Mathura of Uttar Pradesh are quite critical. Many people have sold jewellery to get their families treated. Like corona, dengue has also taken some lives here.
Rinki Baghel, who lost her two young children – Pari (3) and Anshu (2) – in Mahadevinagar, Agra, cannot stop her tears. Her three other children, Shalu (8), Rashi (6), and Chirag (7), are undergoing treatment at two different hospitals in Agra and are fighting for their lives.
Rinki's husband Vipin Baghel says: "Two of my children have died of dengue, but we are yet to receive the report stating the cause of death." Rinki and Vipin, who have already lost two children, hope their other children will come home alive.
12-year-old Shivani of Kaushalya Nagar, passed away in Firozabad, where Sanjay also lost his six-year-old son to fever. There is hardly any house in the area where fever has not been reported.
In Western UP, too, many families have lost their children to dengue. At least 62 people, mostly children, have died of 'fever' in Firozabad. Locals claim that the actual death toll is much higher.
In Mathura, so far, 16 people have lost their lives due to 'fever', including 13 children. According to reports, 52 cases of dengue have been registered in Agra, of which 20 are of children below 15 years of age.
Many patients suffering from 'fever' in Firozabad have been referred to Agra for treatment, including some with scrub typhus and leptospirosis.
In Western Uttar Pradesh, the 'fever; is spreading rapidly not only in Firozabad and Agra but also in Meerut, Ghaziabad, Mathura, Mainpuri, Saharanpur, Etah, Etawa, Kanpur and Farrukhabad. The number of patients whose platelet count is declining is quite high, say sources.
In Firozabad, District Magistrate Chandravijay Singh suspended three doctors for negligence. At the same time, an 11-member team of the Indian Council of Medical Research (ICMR) has returned after investigating the causes of the 'deadly fever'.
The head of the probe team, Dr Awadhesh Yadav, says:  "It is almost clear that dengue is the cause of illness. It should not be called a mysterious fever. Most of the fever cases are coming from urban slums but now have started coming from rural areas, too. Leptospirosis and scrub typhus fever has also been confirmed in some patients."
Govt Schemes Questioned
Dr. Om Shankar, a well-known doctor of Banaras Hindu University, says: "If a large number of children's lives in UP have been lost due to dengue, then the big question is what steps has the government taken to control mosquito breeding. Dengue is not just affecting children but adults as well. There is a need to gather figures of diseases like  Japanese Encephalitis or Acute Encephalitis Syndrome occurring in Purvanchal. Instead of hiding the figures, the government itself should tell us that apart from dengue, how many people have died due to leptospirosis and scrub typhus fever and what arrangements have been made to control these diseases?"
Apart from Mathura, about 40 patients of scrub typhus have been identified in Meerut district and 29 in Ghaziabad.
Dr. Rajkumar, Additional Director (Health), Meerut Division, says: "Not only Ghaziabad and Meerut, two cases of scrub typhus have also been reported in Hapur, three in Gautam Budh Nagar and one in Baghpat. Another case is from Bulandshahr. But, there is no need to panic over the disease."
Symptoms of Scrub Typhus
Patients with scrub typhus have high fever (102-103 degrees Fahrenheit). Headache, cough, muscle pain and weakness in the body begin. Insect bite marks are usually seen in 40-50% patients. Round black marks are another indication.
In typhus, a patient suffers joint pain with fever and there are spots on the body. As the disease progresses, the infected patient may have problems ranging from confusion to even coma.
According to the Centre for Disease Control and Prevention (CDC), organ failure and bleeding can occur in critically ill patients, proving fatal. Scrub typhus occurs in the rainy season and usually get cured in seven to eight days.
According to the US National Library of Medicine: "This bacterium is found in shrubs and small plants found in rural and urban areas. Due to which the name of this disease is 'scrub'. Whereas 'typhus' is a Greek word , which means 'fever with fainting' . More than 100 million people worldwide are at risk of scrub typhus, and there are about one million cases each year."
According to CDC, "Scrub typhus is a serious disease caused by bacteria called orientia tsutsugamushi. It is transmitted to humans when bitten by infected larvae mites. The disease is known as bush typhus. Rural areas of Southeast Asia, Indonesia, China, Japan, India and Northern Australia have seen higher disease cases. The disease can be fatal if not brought to medical attention in time.
Insects, Squirrels, Rats, can be carriers
Scrub typhus is spread by the bites of squirrels and rats, in addition to small insects, such as mites. This disease can progress if not treated on time. The infection can also spread rapidly due to insects that interact with animal excreta and spoiled food items. If not treated on time, the infected can also die.
Meerut's Divisional Surveillance Officer Dr Ashok Talian says: "A woman in Meerut, after getting symptoms of scrub typhus, got it tested in Ghaziabad and the presence of the disease was detected."
According to the National Library of Medicine, scrub typhus became an epidemic in some parts of the world during World War II. During this period, it emerged as a dreadful disease among the soldiers of the Far East and spread like an epidemic in Assam and West Bengal, India. Gradually, it spread to many parts of India.
This disease has origins in Persia, between Northern Japan and Northern Australia in the imaginary
Tsutsugamushi Triangle. According to experts, this disease is spread over an area of about 13 million square kilometres. Its influence extends to Japan, China, the Philippines, Australia, India, Pakistan and Afghanistan.
How is typhus identified?
According to the CDC, the symptoms of scrub typhus are similar to those of many other diseases, making it difficult to diagnose. Blood tests are done to detect the presence of bacteria. In severe cases, the patient may have to be hospitalised. In most cases, the symptoms of the disease disappear without treatment within two weeks.
The antibiotic doxycycline is usually given to patients infected with scrub typhus. Antibiotics are most effective when given soon after symptoms appear. Patients treated with doxycycline early on usually recover quickly.
Health agencies and experts agree that people should avoid visiting places with shrubs and small plants where chiggers are likely to be found. In such sites, insects infected with this bacterial disease can bite. Children should be made to wear clothes that completely cover their hands and feet. Mosquito nets and insect repellent cream application are highly recommended.
According to the National Health Portal: "Scrub typhus has spread to many parts of Uttar Pradesh. There has been an outbreak of this disease in the sub-Himalayan belt, from Jammu to Nagaland. Many cases have also been reported from Rajasthan and Himachal Pradesh. There are reports of a scrub typhus outbreak in Sikkim and Darjeeling in West Bengal.
What is leptospirosis?
This is also a bacterial infection found in animals and humans. Antibiotic therapy is not necessary to treat mild leptospirosis. Symptoms include high fever, chills and severe pain in the head and muscles.
After the confirmation of leptospirosis fever in many patients of Firozabad, UP, the health department has lost its sleep, with doctors identifying the 'mystery fever' as this.
Leptospirosis also spreads through animal urine, primarily dogs, rats and farm animals. Serum tests, liver and kidney function tests are done to diagnose the disease.
48 patients of Leptospirosis in Mathura
DG Health Dr Vedvrat Singh has expressed apprehension that the 'fever' spreading in many districts, including Firozabad, Mathura could be leptospirosis instead of dengue. He says: "Symptomatic leptospirosis has been found in 48 patients in Mathura. Its symptoms are similar to those of flu. It is spread through the urine of infected dogs, rats and farm animals."
Dr. Seema Yadav, Physiotherapist at Care Institute of Life Sciences, Lucknow, says, "The risk of leptospirosis increases significantly during rainy days. In the last few years, leptospirosis has been found in the coastal parts of India like Gujarat, Maharashtra, West Bengal, Orissa, Kerala, Tamil Nadu, Karnataka and Andaman Islands. This disease has made an appearance in Uttar Pradesh for the first time. There are about 5,000 cases of leptospirosis every year, in which the death toll is 10-15%."
Dr. VN Mishra, a medical doctor in BHU says: "Leptospirosis should be treated immediately if symptoms are seen, otherwise bleeding, jaundice and kidney-related diseases can occur if the condition worsens. If you have rats in your house, then get them exterminated from that place, otherwise you are prone to infection."
Dengue's new variant 'D2'
When children started dying of fever in Firozabad in mid-August, the deaths were attributed to a 'mystery fever'. However, after investigating the disease, the ICMR revealed that most of the deaths in UP were due to the 'D2' variant of dengue.
ICMR Director General Balram Bhargava told the media recently: "Most of the deaths in Firozabad, Agra and Mathura were caused by the D2 strain of dengue virus. The virus responsible for causing dengue is called dengue virus and is referred to as DENV. There are four DENV serotypes and one infection by each of these ensures lifelong immunity against that particular serotype. This also means that it is possible to be infected with the virus four times. The four serotypes (called variants or strains) are also known as: DENV 1, DENV 2, DENV 3 and DENV 4. Of these, DENV 2 is considered the most lethal."
How is UP dealing with fever?
There are thousands of 'fever' patients in Uttar Pradesh. The health department does not have the exact details of these patients.
Meanwhile, Congress leader Priyanka Gandhi has targeted the Adityanath government over the rapidly spreading fever in UP and alleged no concrete steps have been taken to improve the health system. "The news of the death of a large number of children due to fever in Firozabad, Mathura, Agra and many other places in UP is worrisome. No concrete steps have been taken," she tweeted.
Samjwadi Party leader and Former Chief Minister Akhilesh Yadav has alleged that many children are dying of deadly fever and dengue and CMAdityanath has been making false claims that everything is fine. "Look at the condition of hospitals in UP. Many children and ordinary people are dying of fever. Is this the 'number-one facility' of treatment in UP?" he said.
Former minister Ajay Rai, who contested against PM Narendra Modi, has asked, "Why did the UP government not learn a lesson from the horrific consequences of its disastrous Covid management in the second wave? After all for the people who are dying due to dengue. Who is responsible - the fate of the public or the Yogi government which has failed on every front?"
The writer is as senior journalist based in Varanasi. The views are personal.
(Translated and edited version of the original Hindi article.)
Get the latest reports & analysis with people's perspective on Protests, movements & deep analytical videos, discussions of the current affairs in your Telegram app. Subscribe to NewsClick's Telegram channel & get Real-Time updates on stories, as they get published on our website.
Subscribe Newsclick On Telegram