Families of 5 Killed in Meerut Allege 'Target Killing' by UP Police
Fear has gripped the Muslim community after city walls have been plastered with posters of "wanted men", some of whom do not even stay in the city, allege local residents.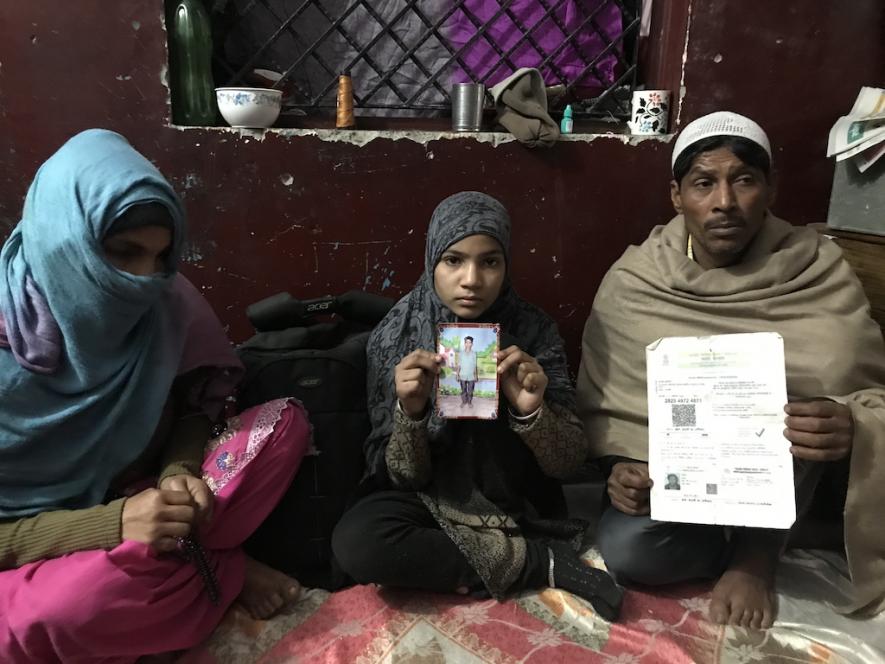 Meerut (Uttar Pradesh):  Meerut, a district in Western Uttar Pradesh that is barely 80 km from New Delhi, has been known for its sprawling sugarcane fields and sports industry. Today, this sugarcane district is left with a bitter aftertaste as protests against the Citizenship (Amendment) Act, 2019, have left at least five dead, scores injured and a community, that is used to take pride in its harmony, scarred and ravaged.
After a week of complete breakdown, roads wear a deserted look, with few vehicles seen plying in Meerut. The alleged targeted killings of Muslims have rekindled memories of the Hashimpura massacre on May 22, 1987, when 42 Muslims were rounded up by PAC (Provincial Armed Constabulary) and shot during communal riots in the area. 
Till December 26, Meerut had reported a total of six deaths in the police crackdown — the highest number of casualties in Uttar Pradesh after the December 20 crackdown. NewsClick met the families of five of those killed — Mohammad Aasif, Aleem Ansari, Zahir Ahmed, Asif and Mohsin. 
The chilling accounts of the families reveal that all the five persons were allegedly hit by bullets above their waist — three among them were found with bullet shots on their chests and two on their foreheads. Most of the five who were killed were labourers, so poor that they could not think about protesting, said the families.
Like any other day, Mohd Aasif (20) on Friday (December 20) went to drive his e-rickshaw but did not return home as he died of alleged bullet injuries during police action. Asif's father, Idul Hasan, said he came to know about his son's death from a video and photos being circulated on mobile phones. He later received a confirmation call from the police station. 
"Before we could utter a single word against the police, they declared my son a "mastermind" of the violence who brought 20-25 men for committing riots. There is not a single case of petty crime against anyone in our family," said Hasan.
When questioned why the police declared his son as a "mastermind", he said that was because they found his Aadhaar card that had a Delhi address. Hasan, who works as an occasional caterer, said: "Until 2015, we used to live in Dilshad Garden, Delhi. I worked a labourer there, but we settled in Meerut a few years ago. The police allegation is totally baseless. Just because of our Delhi's identity cards, the police didn't even allow me to see my son. We got his dead body after waiting for eight hours."
Mohammad Aasif was not even allowed to be buried in nearby graveyard, as the police denied permission, said an emotional Hasan.
"The police threatened us not to bury Aasif in our local graveyard, arguing that it could escalate the tension as two persons from same area had been killed. The police forced us to bury the dead body immediately, secretly, away from their neighbourhood. Hardly anyone from our family was around when he was buried", he added.
Nasreen, Aasif's mother, who was sitting in a corner holding the tasbih (a string of beads) in one hand, said, "My son Aasif was the breadwinner in our family and they (police) killed him. We are poor, so we cannot afford any legal assistance, but God will sure teach them a lesson for snatching a son from a mother."
Aasif's family alleged that they had been running from pillar to post to get a copy of post-mortem report, but police instead was only giving them dates. "The post-mortem was done in our absence. Since five days, we have been asking for the post-mortem report, but they are giving us only dates." 
Mohammad Asif was shot in the left side of his chest, the family said.
'Target' Killings of Muslims 
Ahmed Nagar resident Salauddin, a physically challenged person, was at work when he learned that a bullet took his younger brother Aleem Ansari's life. Salauddin recalls the day that changed their life forever. 
Aleem Ansari (24) was allegedly succumbed to a bullet shot in his head while returning from the hotel where he used to bake tandoori rotis in a dhaba on Hapur Road, where violent protests were reported on Friday. He is survived by his wife and father, who is 83 year-old.  
"My brother Aleem used to bake tandoori rotis at a dhaba and was sole breadwinner in our family as I am physically handicapped. He was not even aware of CAA/NRC all about then how could he be part of any protest and violence," Salauddin, who also bakes tandoori at a hotel told NewsClick.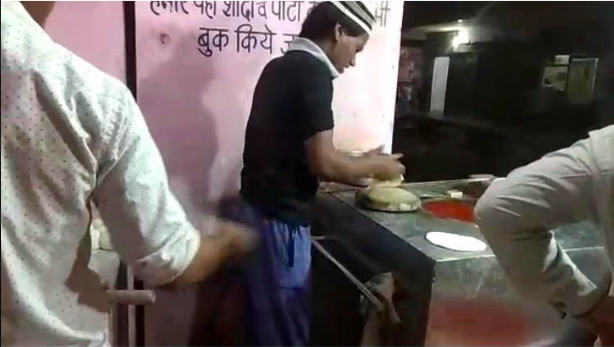 Aleem was allegedly shot in the head while returning from the eatery he worked in
When asked about the incident, Salauddin said: "I was in the hotel in Dawai Nagar nala. My in-laws told me that Aleem had sustained bullet injuries. A person showed us a video of my brother shot dead with bullet injuries in his head. We reached medical centre in the morning at 6 a.m. We had to run from one section to another to find the dead body of our brother. After much struggle and multiple inquiries with the police, we finally got Aleem's body. His post-mortem was conducted in the night. My brother sustained one bullet. He was targeted and shot at his head."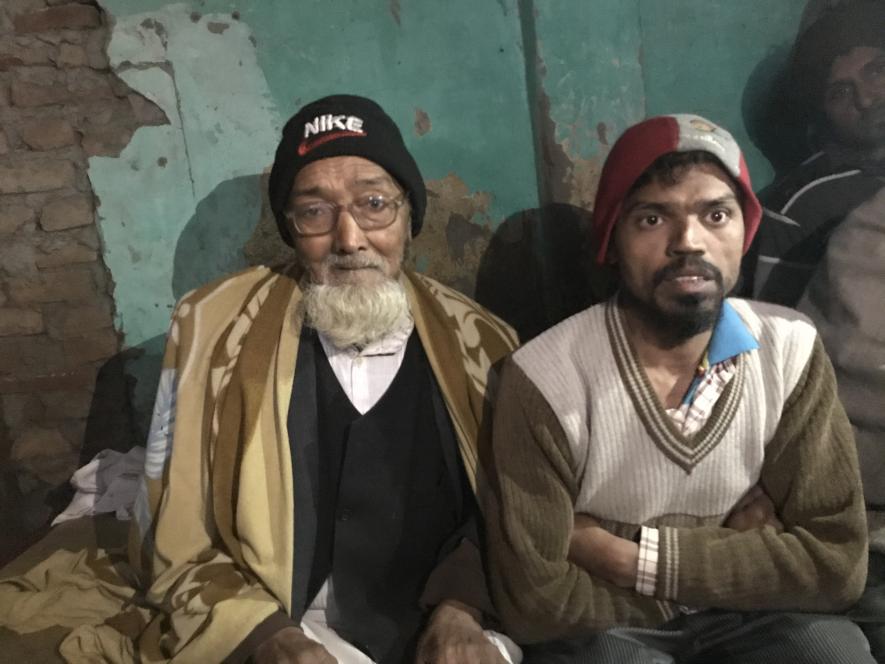 Aleem's old father and brother
Aleem's wife and father Habib were not in a position to speak and kept crying incessantly. 
Meanwhile, autopsies on the bodies of Mohammad Aasif and Aleem Ansari were conducted late Saturday afternoon (December 21), a day after incident in the absence of their families. The bodies were then handed over to the families at 4 p.m next day and the burial was done by 7p.m within three hours. "Hardly anyone from our family was around when he was buried," said Salauddin.
Meerut Police's Role Under Scanner 
The Meerut police's role has come under the scanner, with several families, including those of the five deceased, alleging that the cops had gone all out to provoke people as they entered in small pockets of Muslim localities, took positions from 30 to 100 meters, and opened fire.
Two more deaths were reported in two adjacent streets near the main road of Rasheed Nagar. 
According to some residents, everything was normal in the Lisadi Gate area in Meerut city until 3.30 pm. 
Zaheer Ahmed (45), a labourer who works at a cattle fodder unit, stepped out of his home on December 20 to buy beedis from a shop which barely 10 metres from his home.
"Zaheer took a bundle of beedis. When the shop owner Gulshan was getting ready to close her shop, Zaheer stopped her, took a matchbox and lit up the beedi while sitting beside my shop. He would have taken just two puffs, when a bullet hit him in his head and he fell down. The police had fired tear gas at the same time as they had fired bullets, without warning. It was targeted killing. If not Zaheer, the bullet may have pierced somebody else," said Imran, an eyewitness and Zaheer's neighbour, adding that "Everyone who was in the lane can confirm that the bullet came from the main road and police's direction."  
Imran said as he saw Zaheer fall, he rushed to pick him up, but his eyes began to hurt because of teargas. Zaheer could have been saved if taken him to hospital on time, he said.
"It seems the police had 'shoot at sight' orders as they entered our mohalla (neighbourhood) blindly and opened fire, which is why we could not take Zaheer to hospital. When he collapsed, we dialed 108 (ambulance service) but there was no response. Then we got written permission froma  lawyer to take him to hospital. When we reached there, they (police) said, 'police par goli chalate ho, khud hi maar kar yahan late ho (you people opened fired at police, you only killed him and brought him here), Shahid, Zaheer's elder brother, alleged. 
Shahid said he refused to speak to the local media as he was very upset about the coverage and police's behaviour. "Zaheer's family along with his 22-year old daughter Shahana went to Bulandshahr last week to attend a wedding. He even got his hair coloured on Friday for the wedding but who knew with those coloured hair he would be buried," said Shahid.  He said local media has termed his brother "a rioter". 
"We face police attack, our people are killed and we are the ones being labelled as rioters. Hasn't Uttar Pradesh becaome a brutal authoritarian state under Yogi Adityanath?" he asked.
Residents of Lisadi Gate area, Rasheed Nagar, where the majority of Muslims are labourers also asked that if the protesters had fired at the forces, why wasn't any officer killed in Meerut?  
They also alleged that local newspaper published news that a forensic team had visited homes of all five killed persons, but in reality not a single person from any forensic team, nor any cop, has visited their lane. 
"Zaheer was a labourer. He didn't even know about CAA and NRC," said Munshi, father of Zaheer told NewsClick. 
Yogi Adityanath's Revenge? 
In the aftermath of riots that rocked Uttar Pradesh, Chief Minister Yogi Adityanath said that he would take revenge on the protesters.
Asif (33) an orphan and a street vendor was also killed in the violence. His three children, aged 10, 6 and 3, and his pregnant wife are shocked and not ready to accept that Asif is not alive anymore. 
"Asif was an orphan who worked as a labourer in a tyre shop 4km away from home, Like every day, he was returning from work. Before he could know the reason behind police firing, he was shot in his back," said Imran, his brother-in-law.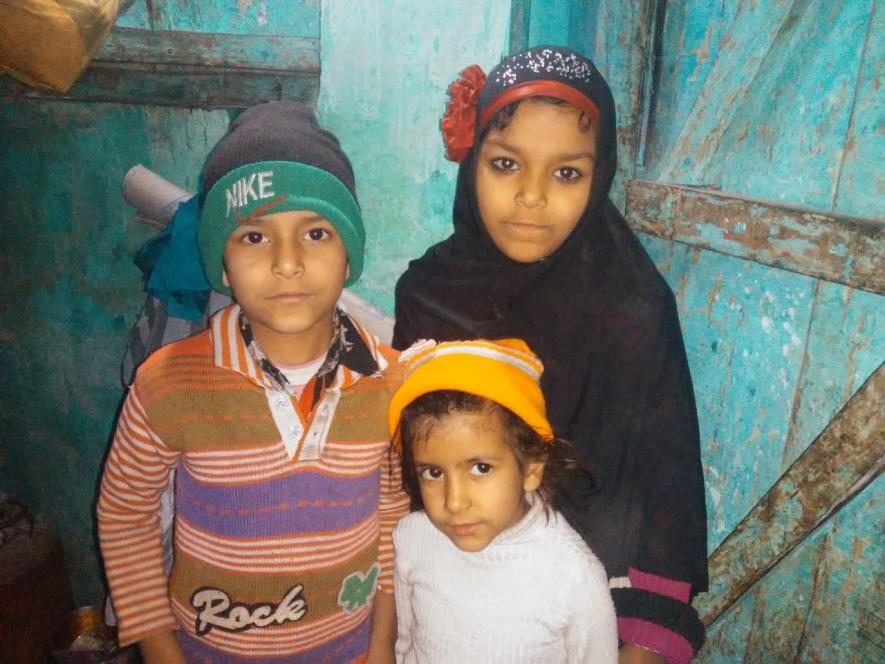 Asif's three little children are left fatherless
"Wherever people were killed in police firing, you will find the CCTV cameras broken so that their brutality could not be recorded", added Imran. 
Meanwhile, Meerut district president of Bhim Army, Vikas Harit, was also present at Asif's home to express solidarity. He told NewsClick, "This is a clear-cut revenge by Yogi (Adityanath) on poor Muslims. If they do not get justice and action is not taken against policemen responsible for this, Bhim Army will organise a massive protest against UP police." 
Mohsin (28) the fifth person who died in police firing, was shot dead around 4 o'clock when he left home to get fodder for his two buffaloes. "After the prayers at a nearby mosque, he left home to buy fodder. Within minutes, we heard gunshots and a few neighbours brought Mohsin's dead body home," said Imran, Mohsin's elder brother,who works as a scrap dealer in Karnataka. 
"Police fired teargas shells and minutes after that they started firing bullets.They did not come to disperse the crowd or control them but with clear intention to kill Muslims," he alleged.  
He claimed private hospitals were probably instructed not to not admit any 'rioter' for treatment. "We took Mohsin to Santosh Hospital, but the doctor refused to admit him saying that there was an order by the District Magistrate not to admit any rioter. Then we rushed to a government medical hospital where a doctor declared him dead," Imran told NewsClick. 
Mohsin's family also alleged that the post-mortem was conducted in their absence. "Police kept the dead body in their possession and asked us to leave the premises. Next day we got a call from the police and they handed over the body,"  added Imran.
Meerut Dotted with Posters of "Wanted Men"
Nearly after a week after five men were killed in Meerut in the violence that erupted in the wake of the protests against the Citizenship Amendment Act (CAA) and National Register of Citizens (NRC), city walls are plastered with posters of "wanted men".
The informers have been assured an appropriate reward, as per the posters.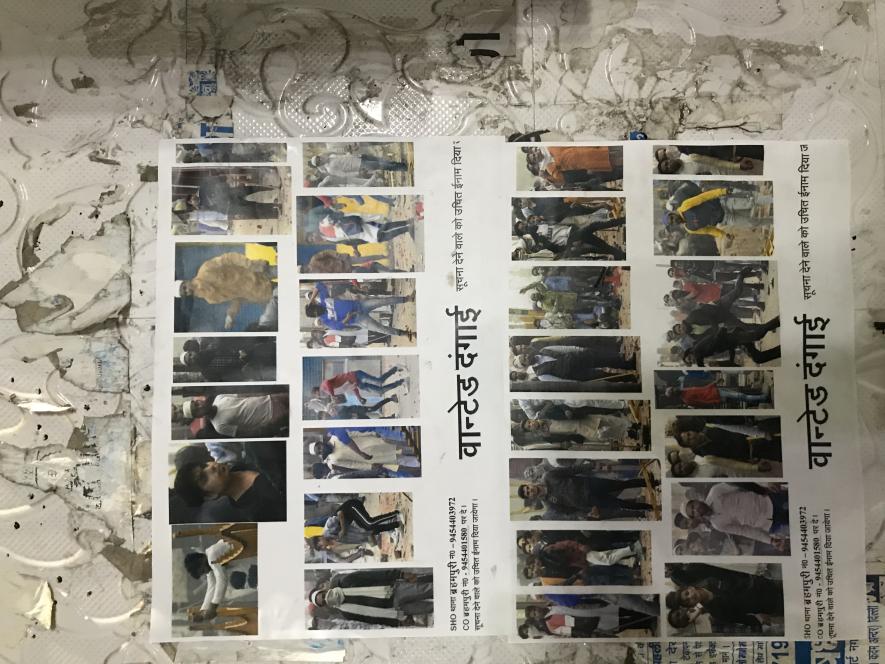 Hashim, who runs a biryani shop from where police allegedly opened fire, said: "Cops broke my CCTV camera. Two bullets pierced into my shop's shutter and damaged. People are living in fear as posters of wanted men are posted everywhere."
Commenting on the posters everywhere in the city, Nahid Fatma, a Meerut-based journalist told NewsClick, " Most of the people killed on December 20 hailed from a very poor class. They hhad ardly heard about CAA and NRC. The police killed them just because of communal polarisation and now they have pasted pictures of some innocent Muslims who were not even in Meerut, leave alone participating in any protest against CCA."
According to Meerut police, as many as 14 FIRs have already been filed, naming 253 persons. As many as 50 of them have been arrested so far, a police official told NewsClick. 
Meanwhile, anxiety has gripped most Muslim-populated area. Ahmed Nagar, Rasheed Nagar, Firoz Nagar and Dhumiya Ka Poll continue to wear a deserted look, with many people, especially the young ones, living in fear of getting arrested.   
Uttar Pradesh is the worst affected during the ongoing CCA/NRC protesst across the state. According to UP police, at least 18 people, including an eight-year-old boy, have lost their lives in the BJP-ruled state since December 20. 
Get the latest reports & analysis with people's perspective on Protests, movements & deep analytical videos, discussions of the current affairs in your Telegram app. Subscribe to NewsClick's Telegram channel & get Real-Time updates on stories, as they get published on our website.
Subscribe Newsclick On Telegram