Justice After 31 Years in Hashimpura, But Endless Wait For Families of 72 Muslims Killed in Maliyana
Two survivors of Hashimpura's cold-blooded massacre recount the horror of May 22, 1987.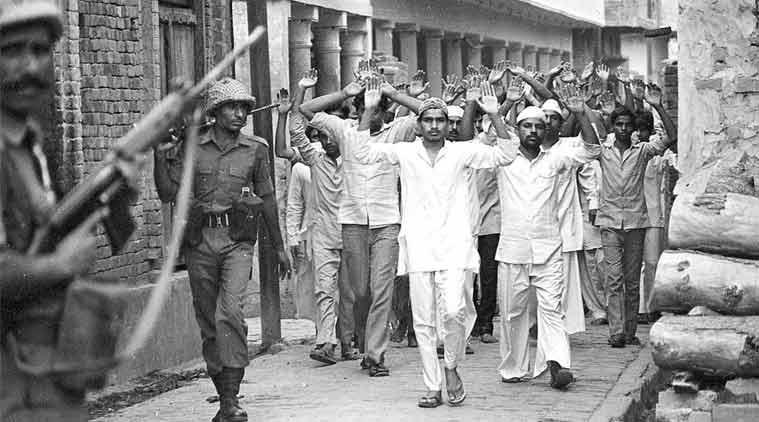 Image Courtesy: Indian Express
It has been an endless wait of over three decades for families of Muslim youth killed in cold blood in Hashimpura to reach some kind of closure for there anger and struggle for justice. On October 31, 2018, after 31 years, the Delhi High Court convicted 16 police personnel for targeted killing of Muslims in Hashimpura. All the convicted have been directed to surrender on or before November 22.  However, families of 72 Muslims killed in Maliyana the next day still await justice.
Mujhe khushi tab hoti jab in logon ko fansi ki saza hoti, umar qaid hui inhe, inke umar me bache hi kitne din hain akhir (I would have been if these people were hanged. They have been sentenced to life imprisonment, but how many years do they have anyway? They are old enough).But we are happy that finally justice has been served, Zulfiqar Nasir, a survivor of the May 22, 1987 Hashimpura massacre, told Newsclick. 
Recalling the horrifying events of that day, Nasir said, "Many innocent people were picked up in a military truck by a battalion of the Provincial Armed Constabulary (PAC) on May 22, 1987. Near Moradnagar, Ganga Canal, they started firing bullets on us and we were thrown into canal. A bullet hit me in my armpit. We were fasting (Ramzan) when we were picked up. Whenever I still can't sleep. When we were picked up, we were told that there will be talks on peace, but it (the massacre) was pre-planned. It has been 31 years, but it impossible for me to forget."
Another survivor, Babuddin, who was then 17 years old, and had lodged an FIR against the PAC personnel of Uttar Pradesh, told Newsclick, "It was May 22, 1987 and it was month of Ramzan. I was sitting with my father inside our house when suddenly police forces knocked the door and asked the male members of the family to come out. The police officials asked us to keep our hands on our heads and move towards the main road where already around 100-200 people had been rounded up. When I reached the main road, I saw them asking some youth and a few old people to board a truck. Soon they sarted firing one by one and throwing bodies in Gangnahar canal. Before firing at me, one man shot five people. I was shot at near Hindon river."
Describing his injuries, Babuddin said, "I was shot in two places, the right side of my chest and rib. They also flashed lights into my eyes after throwing me in, but I hid myself. I knew swimming so I saved my life. Then the Ghaziabad SSP, VN Rai, helped me."
Also Watch: Hashimpura a Blot and Shame, The Importance of Memory: Vibhuti Narain Rai
Maliyana Killings
However, the victims of the Maliyana Massacre, which took place the very next day (May 23), are still awaiting justice. On the outskirts of Meerut,  72 Muslims were killed by PAC personnel and no action was taken against them till now. 
According to a report by BBC Hindi, all 72 Muslims who were massacred were buried on the spot. It is said that this was done under the leadership of a commandant of PAC. Instead of taking action against him, he got promotion. 
Senior journalist Saleem Akhtar Siddiqui, who hails from Maliyana and covered the incident then, told Newsclick, "It was April 14 1987 when communal riots started from Imlyan, Hapur Road, but peace was restored. After one month, on night of May 18-19, a heated argument took place between youth of Imlyan and a shopkeeper and unfortunately, the boy who was a Hindu was killed. This led to communal violence in the city. Meanwhile, I received information that the police would search Muslim houses in Imlyan. Many youth fled away in fear."
According to Akhtar, the next day, a group of people robbed a liquor shop and attacked Muslims who were returning from namaz, and looted them with the help of PAC personal. "At that time PAC fired on them. They targeted them to kill as they were shot on the head. The most horrific incident was that 11 members of one family were killed and their bodies thrown in well. Another six persons of a family were burnt alive while senior officers of the district were mute spectators." 
Discussing about the tardy progress  in the Maliyana case, Akhtar said,"Hundred people are accused in the case and same number are witnesses, but it is very unfortunate that only five statements out of 100 have been recorded. Many of the accused have died and many victims have left the village. Ironically, the original copy of FIR is missing from 'case diary'."
A committee was formed under the supervision of Gur Saran Lal Srivastva who was then retired judge in the Allahabad High Court and he had submitted the report after one year but it is shocking no government brought this report in public domain, he added
According to a report in 
Times of India,
 villagers alleged that the Maliyana Massacre case had been deliberately weakened.
"Unlike in Hashimpura, where the then Ghaziabad SP V N Raimade sure that a just FIR was lodged against the PAC men....the law enforement agencies were careful in registering a weak case in the Maliyana incident", which is why no one has been brought to book even after 31 years.
Also Read: Hashimpura Massacre Was a Case of Targeted Killing of Muslims, says Court
Get the latest reports & analysis with people's perspective on Protests, movements & deep analytical videos, discussions of the current affairs in your Telegram app. Subscribe to NewsClick's Telegram channel & get Real-Time updates on stories, as they get published on our website.
Subscribe Newsclick On Telegram