Festival Diary: What Gandhi Would Have Told Asifa
Bharat Rang Mahotsav 2020 gets real with plays themed on mob-lynching, gender, caste and some street theatre.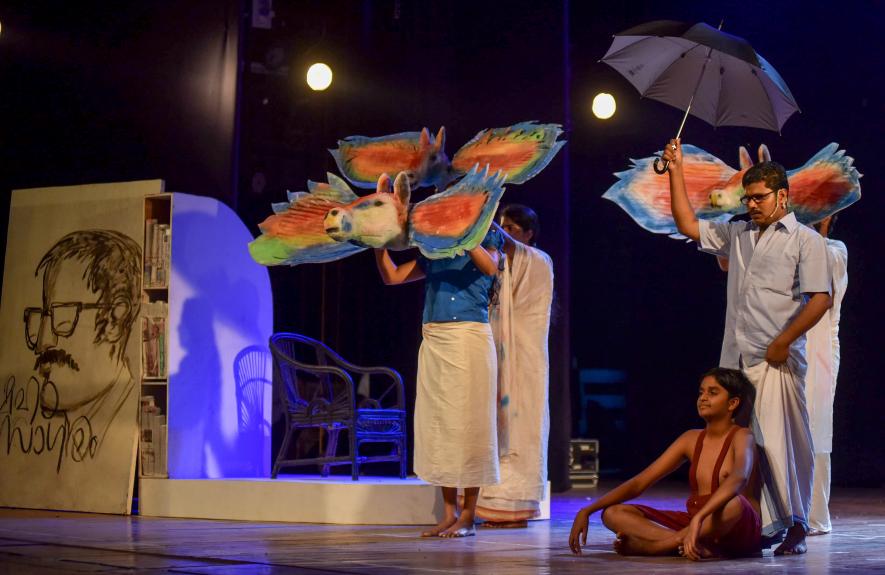 Image for representational use only.Image Courtesy : Deccan Herald
The second week at Bharat Rang Mahotsav (BRM) was particularly interesting because of the street play competition held every afternoon at the National School of Drama (NSD) lawns. Sadly, though students requested people to come and watch, only thirty-odd gathered. That did not deter them as they performed spiritedly on topics as varied as financial literacy and the higher education system. NSD must consider publicising street theatre along with the regular evening plays.
An hour-and-a-half of watching a foreign language play was a new experience. Matrena Kornilova's Djyrybyna, the Warrior Woman, had no subtitles, unlike other foreign plays at BRM. I considered leaving, but gladly did not. When words could not communicate, imagery and design did the job. We are all acquainted with the trope of brave warriors from folk tales. Such tales jump civilisations and cultures easily, as did this one staged by far-off Russia's Yakut people. This play resolved my pet peeve in theatre, an over-constructed and under-used set. A clever revolving screen at stage centre is where immortal characters emerge from, and where they undertake long journeys. It worked perfectly. Twelve ropes hanging from the roof became a thick forest, sea waves or a prison at the director's will. Lena Olenova excelled as Djyrybyna, the warrior woman, and showed amazing physical prowess in battle scenes.
The dialogue was sung in impressively strong and melodious voices by all the actors. Nyurguyaana Markova and Valeri Savvinov played the warrior's horses, which actively participate in battle. They were clearly the audience's favourites. Spoiler alert: Djyrybyna defeats the demon. But Delhi audiences weren't very understanding. Half the auditorium was empty.
An enjoyable experience is young director Jainendra Dost's Bhikharinama, the story of a relatively unknown theatre artiste. The play begins with folk musicians and background singers at stage centre. The director kept audience lights on throughout, which created an intimate personal relationship with the actors. This important work brings folk 'naach' to the Delhi stage. Dost is both storyteller and plays Bhikhari Thakur. He laments that at every folk music festival in Delhi, West Bengal and Uttar Pradesh are fairly representation, but Bihar is only represented by popular film songs such as jab lagawle tu lipistick. The rich and meaningful songs of artists such as Bhikhari Thakur are ignored.
Especially heart-warming was that senior actors and musicians who have worked with Bhikhari Thakur joined the stage to sing his compositions: a sweet reminder that art does not die with an artist. Dost's play intelligently delves into how caste influenced Bhikhari Thakur's life and plagues our society till today. Thakur was born in the nai or barber caste and to a life of unpaid labour until he found his voice through naach. The audience was introduced to titbits of his plays including Bidesiya, Gobar Ghichor and beti bechwa, which deal with gender, discrimination and alcoholism.
Maya Rao's plays usually evoke extreme reactions. Many find her performance style hyped and unusually difficult to grasp. Others consider her a creative genius for the stage. I doubt the audience will ever fully understand every bit of a Maya Rao production, but through poignant images and Rao's plays push our imaginations. They make us rethink our circumstances and reflect on our surroundings afresh.
Loose woman, is Rao's fever dream on contemporary politics. Backed by a single musician on the electric guitar, percussionists and two stage managers who control lighting and screen-projection, Rao keeps audiences engaged with a highly experimental non-linear piece. The backdrop displays myriad images; a puppet-woman in a busy city; women protesting at Shaheen Bagh—which got loud cheers and applause—and other vignettes.
A married working woman, who dances mechanically to her morning chores, suddenly realises that she does not really have to do what she is doing. The character sentimentally dwells on her mother for a while. Then Rao asks the audience to think about walking—placing one foot before the other—to show women are different, for they must "side-step". This moment, I am sure, many women in the audience could laugh at and identify with. At this point there is a hard-hitting invocation of mob lynchings. Rao cried out the names of victims—Pehlu Khan, Tabrez Ansari, Mohd Akhlaq, Junaid and others. The conversation returns to the mother whose "saree she cannot return as it is stained". This is a metaphor is for the blood of these innocent men staining the fabric of our country.
Rao imagines a conversation with a nine-year old girl from Assam who is worried that half her family will soon be declared illegal by the Indian state via the draconian CAA. She imagines Mahatma Gandhi visiting cities affected by religious riots, and finally meeting Asifa, the rape and murder victim from Kathua.
Gandhi tells Asifa: 'Yeh zameen tumhari hai—this land is yours'. This is an especially intelligent play in how it ties an earlier politics of peace and humanity with today's gender and religious violence and disenfranchisement of citizens.
The festival ends later this week. Don't miss any more plays! Here are some of the recommended performances.
Mahishasur Mardini (Purulia Chhau)
February 18, 6:00 PM
Open Lawns, National School of Drama
Director: Paresh Prasad Parit
Group: Purulia Chhau Dance Academy, Jharkhand
Language: Bengali
If you are not familiar with Chhau, you absolutely must go. Different from the Seraikella and Mayurbhanj styles, Purulia Chhau is defined by huge beautiful masks and elaborate costume. Watch the dancers perform amazing acrobatics looking fabulous.
Thoothukudi Massacre 13
February 18, 8:30 PM
Abhimanch Auditorium
Dramaturge and director: Balasubramanian G Group: NSD Diploma Production, New Delhi Language: Hindi
The play is about the Tuticorin massacre of 2018 in Tamil Nadu and highlights police and military excess. Especially relevant in our time.
February 19, 5:30 PM
Shri Ram Centre
Playwright: August Strindberg Adapter and director: Ishita Mukhopadhyay Group: Ushneek, Kolkata Language: Bengali
This play is an adaptation of August Strindberg's The Father. Always exciting to see how contemporary theatre-makers adapt and re-imagine classics.
A Case Of Clairvoyance Or Executing Miss K
February 20, 8:30 PM Abhimanch Auditorium Dramaturge: Godavar and Shruti Director: Shruti Group: NSD Student Diploma Production, New Delhi
Language: Hindi
An NSD student diploma production, this play claims to be inspired by Martin McDonagh's The Pillowman, Franz Kafka's The Trial, the works of Jorge Luis Borges and colloquial folk narratives and life. One of the few performances at this festival with a queer character at its centre makes it promising.
The author is a freelance journalist and activist. The views are personal.
Get the latest reports & analysis with people's perspective on Protests, movements & deep analytical videos, discussions of the current affairs in your Telegram app. Subscribe to NewsClick's Telegram channel & get Real-Time updates on stories, as they get published on our website.
Subscribe Newsclick On Telegram