Fidel, Raegan and a Game of Table Tennis In Guwahati
Fidel Rafeeque Snehit Suravajjula, the Khelo India Youth Games U21 table tennis champion, would have demanded attention with or without his first ever gold medal.There is a symbolism in this name that calls out to an India under duress. It reaffirms hope in the face of a wantonly intolerant New India.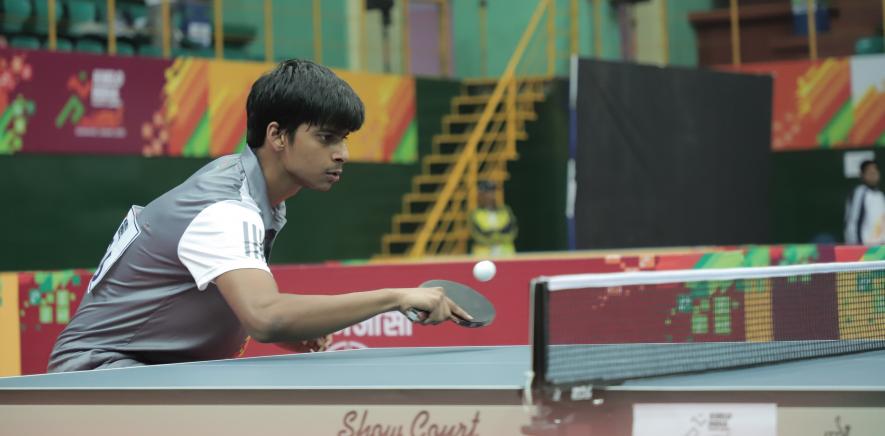 Fidel Rafeeque Snehit Suravajjula of Telangana (in pic) beat Raegan Alburquque of Maharashtra to win gold in the table tennis event at Khelo India Youth Games in Guwahati.
Before you talk about anything else — the gold medal, that he comes from a state that isn't accustomed to winning medals in his sport, or even the simple fact that it is his first gold too — you have to ask him about his name. 
Fidel. Rafeeque. Snehit. Three names and one.
Except you don't because this is India and these are the Khelo India Youth Games and these kids are the post-millennials. Absurd is the new black. At just these Games in Guwahati there is a generous bouquet of names behind which lie deeply human stories. There is a Nicobarian David Beckham, a Haryanvi Coffee and an Assamese Denim Boro. Fidel, then, seems pretty normal.  
So you don't. And then his coach brings it up. In a roundabout manner. He says that the kid's name is his father's tribute to the diverse country we live in. "Ask him about it. He tells the story well," Shivanand Goud says. 
Also Read | Khelo India: Why PM Modi Decided not to Show up to His Own Games
It starts with Ramu Suravajjula in Nalgonda, Telangana. A man who played badminton every evening with a close friend and could, perhaps, see the direction in which the country he believed to be secular, socialist and free, was headed. 
When his wife and he had a son, they decided to name him after that friend, Rafeeque. That could have been the end of that. Rafeeque Survajjula. A mixed culture name. Unidentifiable  and confusing. But also easily identifiable and sincere. But for Ramu, it wasn't enough. 
"My father was a fan of the Cuban leader Castro, you know him?" Fidel asks. "He was a revolutionary, an inspiration…" It takes a lot of self control to not smack this young puck Fidel on the back of the head as he says this. Rafeeque, sure. But now Fidel Rafeeque. Suffixed with the Telugu word for friendship — snehit. "The idea was also to keep my name secular, or so my father told me." That was 20 years ago. 
The mind boggles at the possibilities, the symbolism that this name could unearth. Imagine this name representing India. This India. An intolerant India but also a belligerent India. The enough-is-enough India. The memes write themselves, the commentators go comatose. What's in a name? Shakespeare knew nothing. Ramu did.
Also Read | Hum Khelenge: Football Becomes a Medium of Protest Against CAA-NRC and State Brutality
And the fact that he took his son to that stadium with him when he played badminton was inspiration in itself. "At that stadium there used to be these two TT tables," Fidel says. He has forgotten what the stadium is called. What's in a name after all. 
"My first coach there was Anand Baba. He saw some potential and we shifted to Hyderabad. And then in Hyderabad I went to several academies, before settling in at the MLR Academy."
The head coach of the academy, Somnath Ghosh hasn't travelled to Guwahati. And so, Fidel's coach at the Khelo India Games is Goud, a former national player. The duo have worked with each other at multiple tournaments and here on the day of the finals, that rapport is clear for all to see.
Fidel races into a five point lead straight out of the gate. And then he falters. His opponent roars back and closes out the first game 11-9. 
"We took stock after that game. Obviously I was a bit flustered," says Fidel. "I told him to slow it down, adds Goud "To play at his pace and not at the opponent's. He was rushed, being forced to play quickly. There was no need.".
Revolutions take time. Slowly, Fidel worked his way back. He took the next two games 12-10, but then  dropped the fourth.. Dangling hope, before storming the Bastille, he wrapped up the final two games 11-6, 11-6 
Also Read | A Quick Reminder on the Realities of Life: You Never Walk Alone, So Don't Try
"This has been my life for the past three-four years now," he says, "TT practice, then conditioning, then rest, then back to TT. It wasn't like this earlier. But this is necessary." says the 2nd year undergraduate of St Joseph's College in Osmania University. Multiculturalism seems a deeply-rooted philosophy. 
Oh, and a word on his opponent, Raegan Alburquque.That's right. The U21 Boys Table Tennis final at the Khelo India Youth Games in Guwahati was Fidel vs Raegan.
And to think some people are trying to call India a Hindu nation.
Get the latest reports & analysis with people's perspective on Protests, movements & deep analytical videos, discussions of the current affairs in your Telegram app. Subscribe to NewsClick's Telegram channel & get Real-Time updates on stories, as they get published on our website.
Subscribe Newsclick On Telegram