Third Year of Delhi Riots: Lives Turned Upside Down, Families Prepare for Long Battle
The lives of two families changed soon after the riots hit Delhi in 2020 and the men of the households were arrested.
Editor's Note: On the third anniversary of the February 2020 riots in Northeast Delhi, NewsClick is publishing a series of stories. This is the second of our five-part series. Read the first piece here.
New Delhi: The path to their freedom is uncertain, but courage has transformed the families of anti-CAA protesters languishing in jails for nearly three years. They are accused of masterminding the riots in Northeast Delhi in February 2020 and facing the stringent anti-terror law — Unlawful Activities (Prevention) Act or UAPA.
The Trans-Yamuna region of the national capital witnessed multiple waves of bloodshed, property destruction and rioting from February 23 to 27, 2020. Of the 53 people killed, two-thirds were Muslims who were shot, slashed with repeated blows or set on fire.
Also among the victims were a policeman, Head Constable Ratan Lal, and Intelligence Bureau (IB) staffer Ankit Sharma. Over a dozen Hindus were also shot or assaulted.
The riots began after a sit-in protest by women at Jaffrabad against the controversial Citizenship (Amendment) Act, 2019, or CAA, was attacked following a provocative speech by Kapil Mishra — a leader of the ruling Bharatiya Janata Party (BJP). Flanked by a senior police officer, Mishra called for the Delhi Police to clear the roads, failing which he threatened, saying he would "hit the streets".
Rioters wearing helmets and carrying sticks, stones, swords and pistols entered Muslim neighbourhoods as the police reportedly stood by. Chants of "Jai Shri Ram" (Victory to Lord Rama) were also heard.
As per submissions by the Delhi Police at a trial court, a total of 758 FIRs were registered, and 2,456 arrests were made, of which 1,053 were released on bail; 1,356 people still continue to be in judicial custody. Chargesheets have been filed against 1,610 accused, and cognisance was taken in 338 cases. Among the total chargesheet filed, charges have been framed in 100 cases. The trial has started, and so far, two have been convicted.
SALEEM KHAN'S LIFE TURNED UPSIDE DOWN
Saima Khan, 27, was attending her classes for dental surgery on February 25, 2020, when her phone began frantically ringing. It was her father's call asking her to stay a little longer in the college as violence had erupted at Chand Bagh.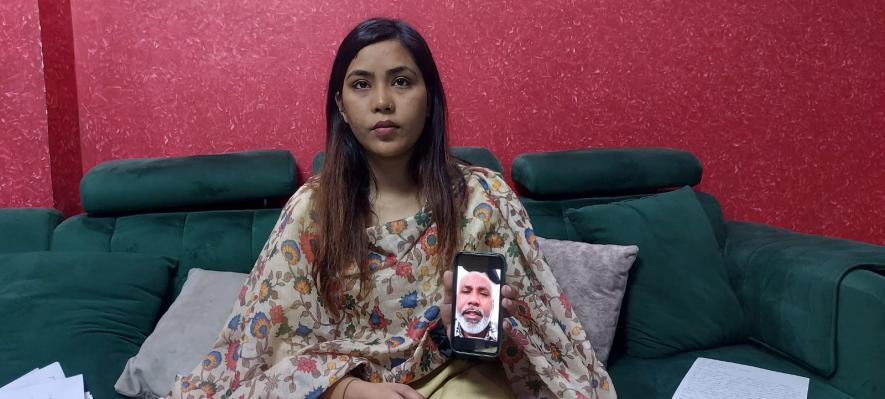 "I too asked him to stay safe," said the eldest daughter of Mohammad Saleem Khan,
50, who was arrested on March 13, 2020, on charges of violence. He was later named an accused under the UAPA for allegedly plotting the riots.
"My father owns a company — Link Overseas, which exports handicraft items. He has been operating out of an office-cum-workshop at Chand Bagh's street number 3. The anti-CAA protest site was close to the office. On February 24, 2020, he was in his office when the riots broke out. As the commotion erupted, he called my mother and said that there was a ruckus there. She told him that he should not come home because there was only one way to come home, and he might get stuck. So, he remained there. Suddenly, news flashed that Ratan Lal ji (a head constable with the Delhi Police) had been shot dead. After my father ensured that all his staff went home safely, he brought down the shutter and went to one of our relative's houses at Mustafabad. He returned home to Yamuna Vihar at night when the tension eased a bit," she narrated to NewsClick.
He was summoned for questioning six-seven times. "He always cooperated in the investigation. Once, he was detained for around 24 hours at the Special Cell office in Lodhi Colony in the name of interrogation. After he returned the next morning, he was once again called by the police who finally arrested him," Saima added.
The next three months were not less than a nightmare for the family as the Covid-19 induced lockdown was imposed, and they had no information regarding his whereabouts. "The police did not find it necessary to formally inform us about his arrest and the charges against him," she alleged.
"We later learnt through our lawyers that he has been apprehended in connection with the murder of Ratan Lal ji. He was framed in two more cases," she said. 
Two of these FIRs carry punitive charges, including criminal conspiracy, culpable homicide not amounting to murder and voluntarily causing hurt, as well as charges under the Arms Act.
"After three months, we got a call from the police, who informed us that my father had also been arrested in FIR No. 59, registered under the UAPA. We had no idea what this law stood for. His arrest was made even though the FIR does not mention his name or his role in the matter. We finally met him three months after his arrest in Lodhi Colony, where he was made to sit on the floor along with the other co-accused. He looked weak and frail. He did not look like before. Even I could not recognise him at first sight. When he called me by my name, only then could I realise he was sitting on the floor," she narrated.
Months after Saleem Khan's arrest, a financial crisis hit the once well-off family. Saima, who was about to complete her bachelor's in dental surgery (BDS), had to drop the plan of pursuing a master's (MDS). Her younger and only brother had completed BBA the same year. He, too, had to postpone the plan of securing admission to MBA (master of business administration) to earn a living for the family.
At the time, for months, the family could not pay the fees of the private school where the youngest daughter was studying in ninth grade.
The family's finances became slightly stable after Saima and her brother took up jobs in private sector organisations — dropping the idea of higher studies. She works as a medical officer with a private insurance company, besides looking after her father's business, and her brother works with a private firm.
"We are struggling against all odds and trying our best to settle us," she said.
"After police failed to apprehend real culprits who shot dead Ratan Lal ji or in a bid to protect the perpetrators, so to say, they made my father and several others scapegoats," she alleged.
She also alleged that the police are highly hostile to them and treated them "badly" in the name of investigation.
"When we go to court to meet our dad, they do not let us get close to him. When we object, they argue that they are doing so for my father's safety. Isn't it bizarre? They are the threat to my father's life and well-being, not us," Saima added.
The frequency of telephone calling from jail has been reduced to three days. "We now only see him barely once in a month on video call," she said, alleging that "they (the police) wanted to make my father approver against a few protesters and when he declined, he was framed and sent behind bars".
"The prison police often indulge in physical violence in his cell, but he never shared anything about the same. Once he apprised the judge about the police behaviour, he was told it is the family that gives moral teachings," she claimed, with her voice choking.
"You (the police) did whatever you wanted — you harassed, tortured and put him behind bars under grave charges. Now, let him live there in peace. Let the court decide whether he was involved in the so-called conspiracy," she said.
Titled "Meri 48 Saal Ki Zindagi" (Forty-eight years of my life), Saleem Khan has written a letter addressed to the judiciary and the media — describing his journey in life, how he established his business, set up a company, his future plans and how he landed in jail.
Addressing the judge, he wrote, "Sir, I am not a lawyer. Nor have I read the A-B-C-D of law, but I have seen in movies that the law listens to everyone. I have heard a saying that to save an innocent, 10 criminals may survive, but one innocent should not be punished. I am innocent, but I have been in jail for many months."
He said that after 2004, when he visited Paris in France, he undertook many international tours. In 2015, he wrote, he got a chance to shift to the United Kingdom and settle there. But he preferred living in India. "Today when I revisit my decision in jail, I laugh as well as cry," reads the letter.
He wanted to set up a hospital where the poor and needy could get treatment free of cost, and send his son to the United Kingdom for MBA. But these dreams got shattered after his incarceration, he wrote.
Describing the sequence of violence at Chand Bagh on February 24, he wrote in the letter that he reached his office at around 9:30-10:00 am as usual. He then went to street number 7 for some work. When he was coming back to his office, he sensed some commotion at a 25-feet road at Chand Bagh, he wrote. Trying to figure out what was happening, he said he went closer to the road and found a huge gathering there.
He soon rushed to his office. "Meanwhile, a young man named Parth came close to my office. He was injured. People were extremely infuriated at him. I pacified the crowd. He was given first aid. His mother, Sunita Devi, also came there, searching for him. She was assured after seeing him safe. We ensured their safe return. When the violence intensified further, I closed the office and went to one of my relatives at Mustafabad. I returned to my house at Yamuna Vihar at night when the tension eased a bit," he wrote.
He said he was then called for questioning several times by the Crime Branch. He was finally arrested on March 13. Following a two-day police custody, he was sent to jail, where he has been languishing since then.
Named in the "larger conspiracy" case on June 25, 2020, he was booked under sections 13, 16, 17, 18 of the UAPA for allegedly conspiring the riots and instigating people; Sections 25 and 27 of the Arms Act for "possessing" weapons; section 3 and 4 of the Prevention of Damage to Public Property Act,1984 for "destroying" the closed-circuit television camera footage of the violence. In addition, he is also charged under various offences of the Indian Penal Code.
While he was granted bail in two FIRs, a special court in March 2020 rejected his bail plea in a case about a "conspiracy to defame the government".
His bail application is pending before the Delhi High Court and is expected to come up for hearing soon.
MOTHER OF THREE HOLDS THE FORT
Maryam (8), Taha (12), and Yasa (13), three children of Khalid Saifi, were sharing light moments in a room at the third-floor apartment at Khureji Khas in East Delhi.
Khalid, one of the founders of the United Against Hate group, has been languishing in the national capital's Mandoli Jail since February 26, 2020. He was picked up after the police launched a brutal crackdown on the Khureji Khas sit-in protest site.
His wife Nargis was heartbroken when she saw him at Mandoli Jail in a wheelchair, with both legs plastered, two fingers broken, and tufts from his beard plucked out, she claimed.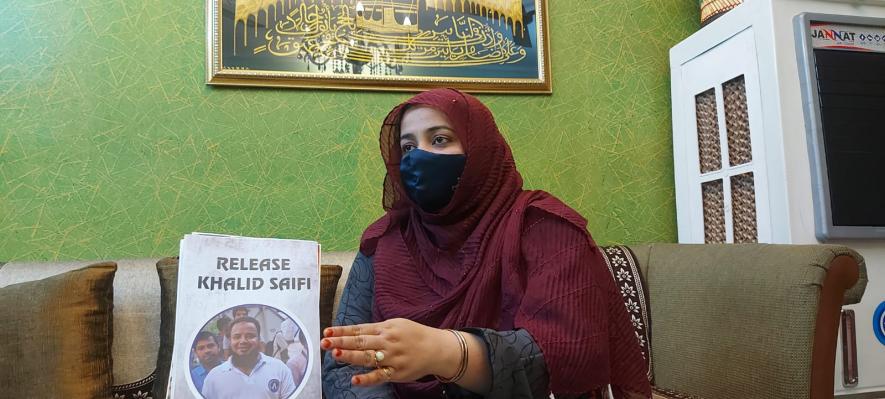 After a few weeks, he, too, was slapped with the UAPA. But the sufferings of three years have made Nargis stronger. She is ready for a long battle, she said.
"I have come to terms with the fact that it is a long battle, which I need to fight with courage and patience," she said, promptly saying that she has organised her life without him.
"I no longer cry before anyone. Allah has given me courage. My children are my priority, and it is a challenge not to let them feel the absence of their father," she said with a smile.
Nargis has, of late, acquired new skills. Once oblivious of online transactions and how to pay utility bills, the woman in her mid-30s — keeping in with the practice of her husband — now routinely goes to a mall or restaurant with her children once a week.
She has stopped attending marriage ceremonies to avoid people's inquisitive gazes. She wants to feel proud of being Khalid's wife and not be pitied, she told NewsClick. 
Those Khalid had befriended are pillars of her support. They ensure the family's monthly needs are delivered to their doorstep without any reminder. While some take cake of her children's love for chips, chocolates, etc. monthly, others bring toys, take them to weekly outings and spend hours playing with them. They ensured Mariyam's admission to a convent school last year and that Taha and Yasa's tuition fees were paid on time.
The people helping Nargis and her family include both Hindus and Muslims.
"The children miss Khalid, who was more their friend than a father. Mariyam cried for Abbu on Eid. Like Khalid, I was the first who gave her Eidi. But she was expecting him to be with us," said Nargis.
She has a lot of complaints with the police, who she alleges are "extremely biased". She stopped going to prison to meet Khalid because of the "highly rude behaviour of the jail security".
Her emotions overpowered her when she recalled one of her meetings with Khalid in court.
"From his facial expression, I sensed he was in pain. I went to him to enquire about his well-being, but the police officers escorting him did not let me get closer. I accidentally lifted his shirt from behind, and to my utter shock, his skin was peeling off. He was suffering from a serious skin infection. During our conversation on the phone, he told me he was even unable to lie down because of the infection. When the matter was brought to the court's notice, he was provided with medical treatment," she said.
On December 13, 2022, the Delhi High Court reserved its judgment on Khalid's bail application in the "larger conspiracy" case. His plea was earlier dismissed by the Karkardooma court.
Of the three cases registered against him, Khalid has already been granted bail in two.
Get the latest reports & analysis with people's perspective on Protests, movements & deep analytical videos, discussions of the current affairs in your Telegram app. Subscribe to NewsClick's Telegram channel & get Real-Time updates on stories, as they get published on our website.
Subscribe Newsclick On Telegram