Filthy Isolation Camps, Insufficient Testing: India Unprepared to Deal with Coronavirus
Public health experts maintain that the dismal state of affairs is rooted in consistent underspending by the government in the health sector over the years.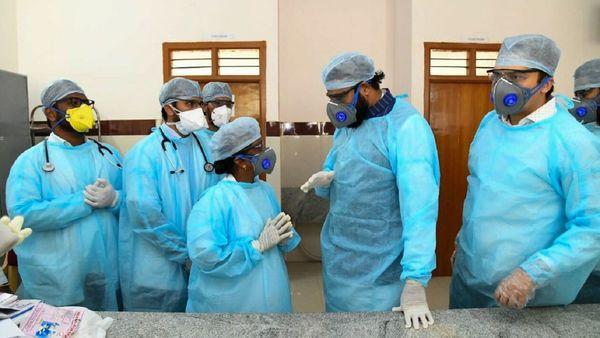 Majority of the isolation camps designated to quarantine suspected patients of global pandemic coronavirus in the country are ill-prepared to help the patients recover, said the people who have returned from Spain, while speaking to NewsClick.
Mann Sharma is among the 25 suspects who arrived from Spain on Monday and landed at Indira Gandhi International Airport. He said, "Around 60 passengers landed with our Qatar Airways flight at the airport in the morning. Out of these 60 passengers, 25 suspects were isolated without thermal checking and asked to sit in a room. After waiting for three to four hours, we were taken to a facility in Narela. When we reached the site, we saw that the rooms were pathetic. Since it was an under-construction building, we had no water to drink or wash our hands. The toilets were filthy to the extent that we could be infected from other viruses. In the meantime, they did not bother to offer any food to us."
Sharma said that the suspects were let go after getting a self-declaration form from them which said that they will self-isolate for the next 14 days. When asked about any samples being taken, Sharma denied said, "They took our temperatures and let us free. I do not think with this approach, we can expect to control it."
Similar incidents were reported from another isolation camp near the Police Training Academy in Dwarka. A passenger who shared her experience said that the suspects were hoarded in a bus without preventive measures and taken to the camp. The passengers have now shifted to hotels for self-isolation. "The facilities were poor at the quarantine centre. How could they put up eight people in one room and recommend isolation? Even the washrooms were unhygienic," a student was quoted by The New Indian Express as saying.
Public health experts maintain that the dismal state of affairs is rooted in consistent underspending by the government in the health sector over the years. Jan Swasthya Abhiyan, an organisation dedicated to public health, said in a statement, "We do not know whether community transmission has been established, nor the actual level of spread of the disease because our current scope of testing for the virus is far too limited. In the absence of such testing, clusters of the disease- spread can develop and reach dangerous levels before they are noticed."
It added, "Once community transmission is established there would be a sharp increase in the number of cases, and this would be more so if there are many asymptomatic disease-spreaders or a very high susceptibility in the population. This disease could potentially infect 30 to 50% of the current adult population in the country. Even with a lower case fatality rate of 1% to critical care requirement of 4% the weakened public health systems would be overwhelmed and this would lead to millions of excess deaths in the coming year."
This underspending has seriously compromised the research and manufacturing capacity of diagnostic test kits and vaccines. Satyajit Rath, former scientist at National Institute of Immunology, told NewsClick that the present public health infrastructure is grappling with severe issues restricting its capacity to deal with the crises. He said, "Given the intensity with which SARS CoV 2 (coronavirus) is spreading across the world, we must revisit our preparedness. Given the rate of magnitude, even if it infects one percent of the population, we will have one crore patients. Since 80 to 90 percent patients get cured, we are still left with around 10 lakh people. Now, to accommodate these patients, we need Intensive Care Units commonly known as ICUs. But what's our capacity? We have currently 70,000 ICUs in the country. These units also need different kind of nurses and paramedic personnel who are well-versed with operating ventilators."
"The second aspect of this underspending is related to research. The research already gets a very small pie of funds in the health budget. So, scientists are forced to prioritise and research is dedicated to prominent diseases only. The third problem is associated with the diagnostic tests. We saw a very efficient method of detecting the virus in South Korea where the authorities did random checking to ascertain the numbers as well as the impact. Do we have this capacity? With Indian Council of Medical Research's approach, I do not think it is going to be possible. If we are conducting tests, how would we ascertain the magnitude of the problem? The situation could have been different had we not abandoned the public sector manufacturing of diagnostic tests and vaccines. Apparently, ICMR, as far as I am informed, had not given regulatory clearances to government laboratories too to test the vaccines and for their clinical trial. So, the problem is multi-layered and government must act responsibly if it is serious about dealing with the crisis."
Also read: Which Country Is Spending How Much to Fight Coronavirus (COVID-19)?
Get the latest reports & analysis with people's perspective on Protests, movements & deep analytical videos, discussions of the current affairs in your Telegram app. Subscribe to NewsClick's Telegram channel & get Real-Time updates on stories, as they get published on our website.
Subscribe Newsclick On Telegram