Firing Spree Continues: In 3rd Shooting, Anti-CAA Protesters at Jamia Face Bullets for 2nd Time
The gunmen — said eyewitnesses — were riding on a red scooter and one of them was wearing red jacket.
New Delhi: Two unidentified gunmen fired two rounds of bullets at protesting students and locals at Jamia Millia Islamia near the university's gate number 5 on February 2 night. Even as no one suffered injuries following this incident, it is worrisome that the string of incidents of gunfire is not ending. This is the third incident — two at the varsity and one at Shaheen Bagh — in the past four days in Jamia Nagar locality in South East district of the national capital.
The gunmen — said eyewitnesses — were riding on a red scooter and one of them was wearing red jacket. The incident took place at around 11:30 pm last night. As the protesters heard gun shots, they chased the shooters, but they sped away.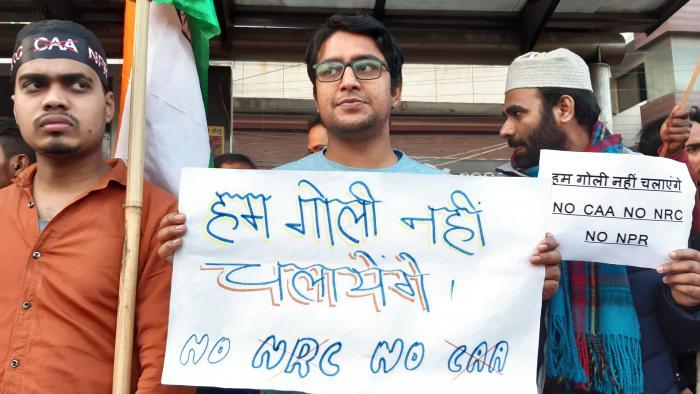 "When I was going towards gate number 8 from gate number 7, where we have been protesting for the past 50 days against the CAA, NPR and the NRIC, I heard two gunshots. Before I could understood anything, I saw people chasing a scooty, but they could not catch the riders. We informed the police who came nearly 30 minutes after the incident. Assuring us that they would take actions, they left," an eyewitness, Aisha, a student of the university, told NewsClick soon after the incident.
She broke down as she said, "Peaceful protest is our right. Now, it is also being snatched away. We are no longer safe in our own country, on roads and in university campuses. If they can attempt to shoot us in our campuses today, then can come to our homes tomorrow. What is this government up to? What kind of nation are we making? Why are people being filled with so much hatred to curb the voice of dissent? Why are those leaders who are inciting violence not behind bars?"
Another student of the university, who is also an eye witness, said, "Our peaceful march to Raj Ghat on January 30 to commemorate the martyrdom of Mahatma Gandhi was fired at in full public view and heavy police presence. One of our fellow students received a bullet in his left hand. But we maintained restrain. They are provoking us so that we resort to violence. But they are mistaken. We are not going to indulge in any violent reactions. We are protesting in a Gandhian way and will continue to do the same, no matter they fire bullets and kill us. Our peaceful protest will continue."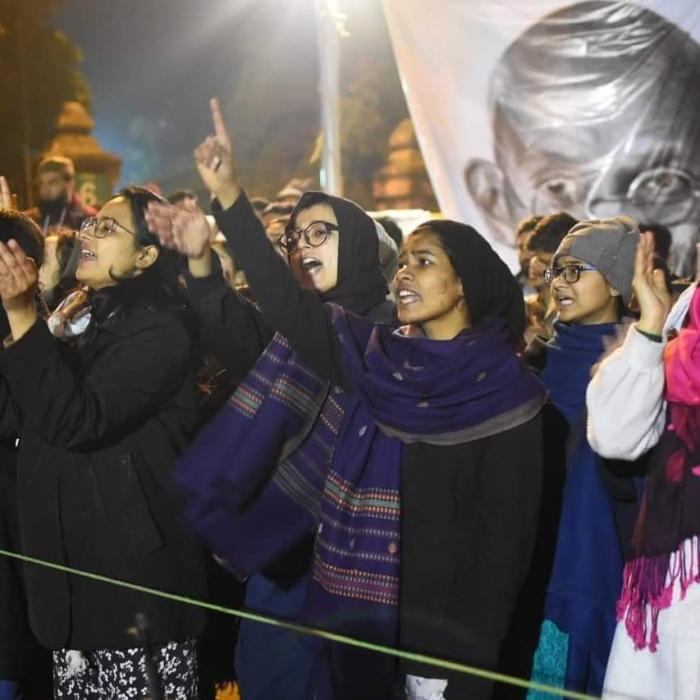 He blamed the ruling Bharatiya Janata Party (BJP) at the Centre, adding that it is trying its best to polarise the February 8 Delhi Assembly elections. "Our protest has nothing to do with any election. It is meant to save the Constitution, the idea of India and secular fabric of this great nation. The BJP can go to any extent to win an election and it's shameful," he alleged.
The police have registered a first information report (FIR) wherein it has been alleged by the complainant that when he was returning with his wife after having dinner outside, he saw two men approaching the protest site at Jamia Millia Islamia riding a two-wheeler. According to the 31-year-old complainant, who is a fashion designer, the vehicle-borne men slowed down their scooty and the man sitting behind the rider opened fire following which both sped away brandishing the firearm.
Assistant Commissioner of Police Jagdish Yadav said a case under Section 307/34 of the Indian Penal Code (IPC) and Section 27 of the Arms Act has been registered against two unknown men and investigations are on. "We are collecting CCTV footage from between gate number 5-7. Probe is on and the culprits will be brought to book soon. We are committed to maintaining law and order situation. Security in the entire area has been beefed up," he added.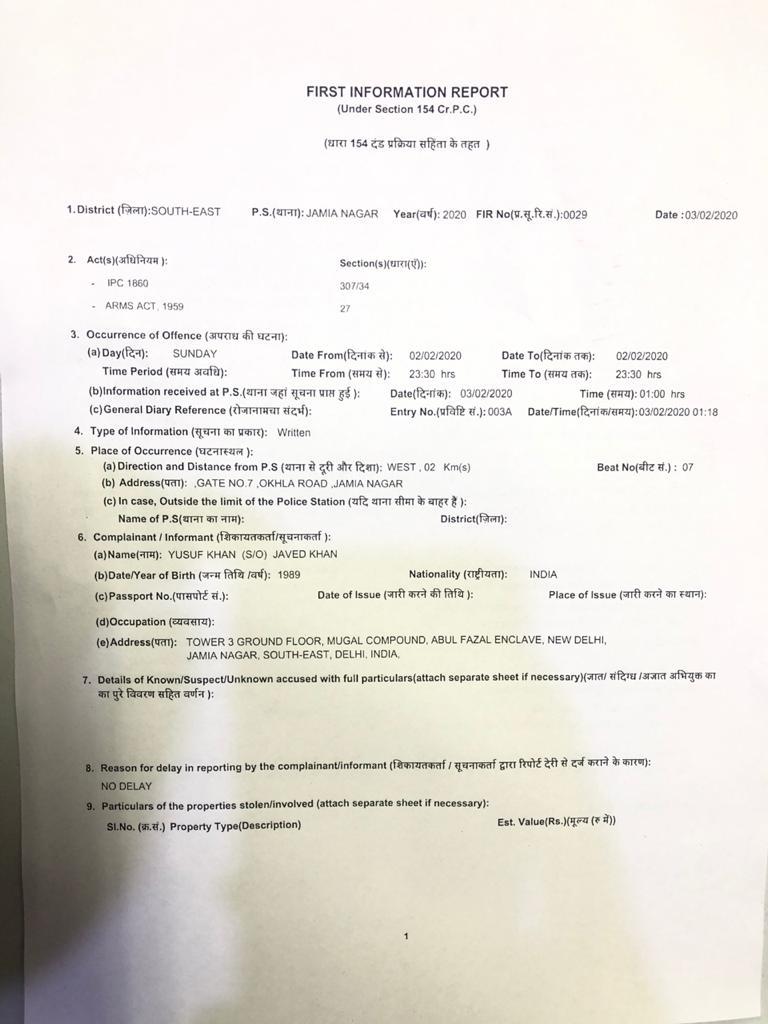 The police have been severely criticised for failing to control the incidents of gunfires. Men in uniform were caught on camera acting as mute spectators when a minor boy, who has now been sent to 14-day protective custody, opened fire on Jamia students on January 30. They intervened and apprehended the gunman only after he fired a bullet.
A day after this incident, a 23-year-old man crossed police pickets and fired two bullets in the air near the Shaheen Bagh protest site. He was caught by the protesters and handed over to the police.
BJP leader and Minister of State for Finance Anurag Thakur, addressing a poll rally on January 27, was caught on camera making inflammatory comments in Rithala. He was seen clapping and chanting, "Desh ke ghaddaron ko (traitors of the country)...", as the crowd responded, "Goli maaro saalon ko (shoot them all)".
The first incident of shooting came just two days after Thakur made an inflammatory speech, giving a call to "shoot the traitors".
Uttar Pradesh Chief Minister Yogi Adityanath, too, on February 1 spoke in the favour of using bullets to deal with dissenters. Speaking at a rally on the first day of his campaign in Delhi, he said, "We don't obstruct anyone's festival or faith. Let everyone celebrate festivals within the framework of the law. Lekin Shiv bhakto par goli chalayega koi vyakti, danga karayega, boli se nahi manega, toh goli se toh maan hi jayega (If anyone opens fire at devotees of Lord Shiva, causes riots and if they don't listen to talks, they will surely listen to bullets)."
His remarks came on a day when a man fired two rounds in the air at Shaheen Bagh, the epicentre of protests against the controversial CAA, the NPR and the proposed NRIC.
Addressing a series of rallies in the national capital, he said referring to the protestors at Shaheen Bagh that "their ancestors divided India", so they have a grouse against this emerging 'Ek Bharat, Shrestha Bharat (One India, Great India)', and slammed the Aam Aadmi Party (AAP) government, saying it "supplies biryani" to protesters in Shaheen Bagh.
Parvesh Verma, the son of late Delhi Chief Minister Sahib Singh Verma, is among another several BJP leaders who has sought to make the Shaheen Bagh protest against the Citizenship Amendment Act (CAA), the National Population Register (NPR) and the National Register of Indian Citizens (NRIC) the central plank for the upcoming polls in the city.
Addressing a rally, he told the electors, "The protesters of Shaheen Bagh will barge into your houses and rape mothers and sisters. Neither (Prime Minister) Narendra Modi ji nor (Union Home Minister) Amit Shah ji will come to your rescue then."
Giriraj Singh and Union Home Minister Amit Shah have also joined the list of the BJP leaders who have made the pre-poll campaign in Delhi all about bullets.
Meanwhile, following the repeated shootings, the Election Commission has relieved South East District DCP Chinmoy Biswal and has directed him to report to the Ministry of Home Affairs, which controls the Delhi Police. Additional DCP Kumar Gyanesh has taken charge of the DCP South-East district.
Also read: Women Write to PM, Question BJP Leaders' Rape Remarks
Get the latest reports & analysis with people's perspective on Protests, movements & deep analytical videos, discussions of the current affairs in your Telegram app. Subscribe to NewsClick's Telegram channel & get Real-Time updates on stories, as they get published on our website.
Subscribe Newsclick On Telegram