Environmental Hazards from Fly Ash Loom Large as Thermal Plants Flout Rules
With exponential accumulation of toxic slurry in most fly ash ponds, and governments turning a blind eye towards its total utilisation, more instances of dyke breaches are expected in the near future.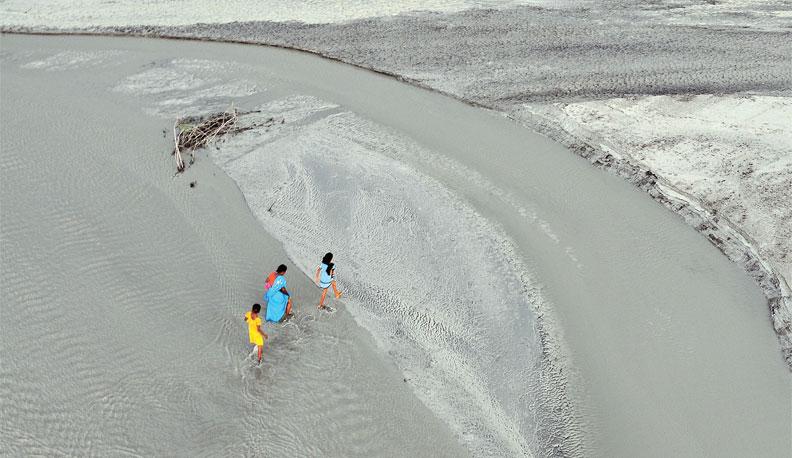 Image Courtesy: Down to Earth
New Delhi: Populations residing in areas surrounding thermal power plants face imminent environmental hazards due to large quantities of fly ash that have accumulated within their premises. A sizeable number of thermal power projects had missed the December 2017 deadline for the complete utilisation of fly ash, set by the Union Government of India. 
Fly ash is the toxic waste that is generated after the burning of coal or lignite. In January 2016, the Union Ministry of Environment, Forests and Climate Change had issued a notification (amending an earlier notification) and set a deadline for the exercise. It has also reiterated a set of constructive measures, already notified earlier, for the utilisation of accumulated fly ash.
However, as per an annual report published by the Central Electricity Authority (CEA) in April this year, about 78.19% per cent of fly ash generated by 194 thermal power plants in the first half of 2019-20, was put to utilisation. The CEA's Report on Fly Ash Generation at Coal/Lignite based Thermal Power Stations and its Utilization in the Country for First Half of the Year 2019-20 further states that 29 thermal power plants failed to utilise less than 50% of fly ash generated by them in the six months between April 2019 and September 2019.
The report highlights the fact that the proportion of fly ash utilised during the first six months of 2019-20 has increased, as compared to the corresponding period in the previous year, when it stood at 68.72%. However, for the first six months of 2018-19, data had been collected only for 156 thermal power plants, as compared to 194 plants for the latest report. The total amount of coal consumed by the 156 plants in the first half of 2018-19 was 295.42 million tons as compared to 406.91 million tons consumed by the 194 plants during the corresponding period of 2019-20. Even the percentage of average ash content in coal used was higher (31.73%) in the first half of the year 2019-20 as compared to 31.57% in the corresponding period in 2018-19. Furthermore, the figure of 194 plants in the latest report also includes 16 power plants that are non-operational at present.
In November 2009, the Union Ministry of Environment and Forests, as it was called during the previous Congress-led United Progressive Alliance government, had issued the first notification regarding fly ash utilisation. The notification had set a five year time period with a stage-wise time format for thermal power plants to utilise fly ash. For existing plants, a maximum period of five years was set for 100% utilisation of fly ash from November 2009. For new plants, the ministry has set a deadline of four years for 100% utilisation within a period of four years from the date of commissioning.
"The un-utilised fly ash in relation to the target during a year, if any, shall be utilised within the next two years in addition to the targets stipulated for those years and the balance un-utilised fly ash accumulated during first five years (the difference between the generation and the utilization target) shall be utilized progressively over next five years in addition to 100% utilization of current generation of fly ash," the notification stated. 
Most thermal power plants for which data was collected by the CEA for its latest report have, however, struggled to achieve the target of 100% utilisation of fly ash. Only 76 plants have achieved the said target. In terms of states, Haryana utilised a maximum of 133.53% of fly ash. This indicates that thermal power plants in the state managed to dispose of 33.53% of additional fly ash after utilising the entire quantum of waste generated during the six months. Madhya Pradesh and Uttar Pradesh, which are home to a large number of thermal power plants, particularly in the Singrauli-Sonebhadra region that straddles inter-state boundaries, struggled at 49.58% and 57.38%, respectively.
"Only if all thermal power plants consistently utilise 100% of fly ash generated after exhausting the waste accumulated in the form of slurry in ponds over the years, can we talk about safety from environmental hazards. Over the course of time, operational thermal power plants have been allowed to increase their installed capacities of electricity generation. This means increase in the utilisation of coal and the resultant increase in generation of fly ash. However, additional measures are rarely taken to dispose of fly ash in accordance with norms," said Delhi-based environmental lawyer Rahul Chaudhary.
The environment ministry has prescribed, through its notifications, utilisation of fly ash for various purposes including in the cement manufacturing industry, for filling up of open pit mines, reclamation of low-lying areas, in the construction of roads and flyovers and in units manufacturing bricks and tiles. The ministry has also set certain limits, in terms of geographical area, within which fly ash is to be compulsorily used for manufacturing bricks or for the construction of roads.
The latest CEA report highlights that out of the 129.09 million tons of fly ash generated during the first six months of 2019-20, as much as 100.94 million tons have been disposed. However, a fairly sizeable proportion of the disposed amount, about 22%, still remained un-utilised. 
It is noteworthy that most thermal power plants have been functioning during the lockdown period despite ancillary industries, which use fly ash as raw material, remaining shut down for operations. This has led to further compilation of fly ash inside premises of various thermal power projects.
Fly ash is collected in the form of slurry in ponds spread over several hectares of area within the premises of thermal power plants. However, there are no specific guidelines in place for setting up dykes and dams of these huge artificial water bodies holding millions of litres of toxic slurry. The Central Water Commission, which is the only expert agency in the country regarding construction of dams, has no role whatsoever in the operation of thermal power plants.
"Environmental clearances granted to thermal power plants set up after the year 2006, when the central government issued an amended Environment Impact Assessment notification, make it mandatory for ash ponds to have impervious or plastic linings at the bottom. This is necessary to avoid leaching, which results in the contamination of underground water. But there has been no agency to ensure whether project proponents put impervious linings in place before disposing slurry into the ponds. In several instances, dykes and retention walls of fly ash ponds are under stress due to accumulation beyond their capacities. It has resulted in breaches of dykes leading to flooding of nearby areas with toxic slurry," said environmental activist Dr R.K. Singh.
Instances of fly ash dyke breaches, resulting in loss of lives and livelihoods, have been reported frequently in the recent past. In August 2019, a breach was reported in Essar's thermal power plant at Singrauli in Madhya Pradesh. Another instance of dam dyke breach was reported in October 2019 in the thermal power project of National Thermal Power Corporation in Singrauli. Last month, on April 10, a dyke breach in the 3,960-MW Sasan Ultra Mega Power Plant in Singrauli had resulted in fly ash slurry flood that claimed two lives. As per the CEA report, the Sasan thermal power plant had utilised only 46.99% of the fly ash generated by it within the first six months of 2019-20.
"The slurry from the breach in ash pond dyke of Sasan power plant spread over several kilometres of agricultural land. In the hot weather, the slurry dried up. Ash has been flying around in the air making breathing difficult for local inhabitants. When the monsoon strikes in a few weeks, the fly ash will convert into slurry again and spread across more areas. The power plant created space for storing fly ash following the dam breach. This might suffice its needs for several years, but livelihoods were lost," said K.C. Sharma, convener of Udvasit Kisan Mazdoor Parishad, an organisation fighting for the rights of local population in the Singrauli-Sonebhadra area.
With exponential accumulation of toxic slurry in most fly ash ponds, and governments turning a blind eye towards its total utilisation, more instances of dyke breaches are expected in the near future. It could result in further loss of lives and livelihoods.
Even state-owned thermal power plants have been doing very little for disposing fly ash. On May 10, the National Green Tribunal commissioned a three-member expert panel headed by the Jharkhand State Pollution Control Board to study the extent of environmental pollution caused by the Bokaro Thermal Power Station which is operated by the Central Government's Damodar Valley Corporation. A breach had occurred in the dyke of the Bokaro power plant's ash pond in September 2019 that resulted in slurry flooding over agricultural lands and in water bodies, before it drained into the Damodar river, contaminating the source of potable water for millions of people. A petition in the green court alleged that the corporation took no steps to clear the agricultural fields of the toxic slurry.
The writer is an independent journalist.
Get the latest reports & analysis with people's perspective on Protests, movements & deep analytical videos, discussions of the current affairs in your Telegram app. Subscribe to NewsClick's Telegram channel & get Real-Time updates on stories, as they get published on our website.
Subscribe Newsclick On Telegram