Gujarat Elections: Govt Vacancies, Paper Leaks, Delayed Recruitment Plague State
The state government started addressing concerns of qualified candidates only a few months before the Assembly elections.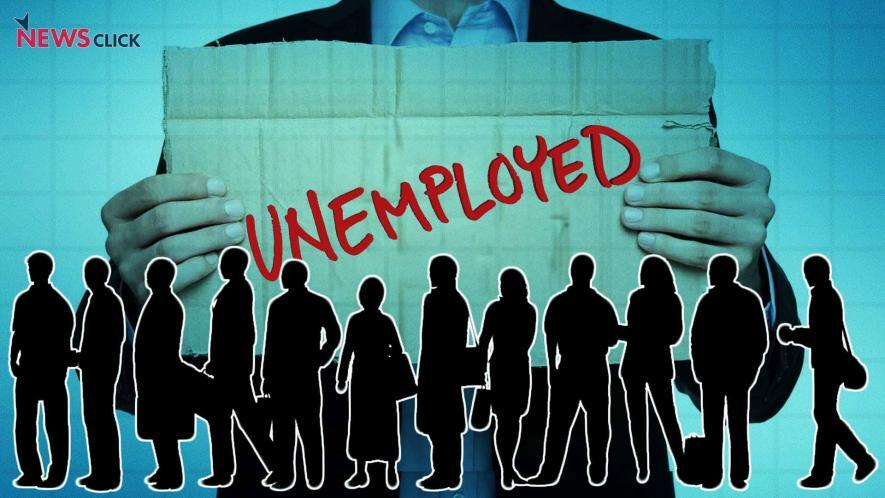 Hitendra Choudhary's life is a story of dreams crushed by the Gujarat government's apathy and the daily struggle to support his family. As the 28-year-old police aspirant's autorickshaw plies by the Sabarmati Riverfront at night, he recalls how his family lost its source of livelihood following their father's sudden death during the first wave of COVID-19.
The BCom graduate from Gujarat University had no choice but to immediately start driving an autorickshaw to support his family. Despite the sudden jolt, Choudhary's joviality is intact. "I have always been a jolly guy. I love telling stories and have learned to be happy. Life did not give me a lot of choices," he says adding that how his comments either make his "passengers smile in pity or burst into laughter". 
Being an avid athlete, Choudhary was desperate to join the police force. More than 8.75 lakh vacancies for Lok Rakshak Dal (Gujarat Police constable) were announced on August 15, 2018. Four months later, while Choudhary and thousands of other aspirants were taking the written exam, one of the examinees shouted, "The paper has been leaked; it's cancelled." The shattered candidates rushed out of the exam hall only to find that the news was true. Vikas Sahay, the recruitment board's president and additional director general of police, admitted the leak in front of the media. 
While Choudhary and other candidates from financially marginalised backgrounds were appalled and agitated, others weren't shocked considering the regular paper leaks in the state. A panicked Choudhary had no option but to rush back home to start ferrying passengers to earn daily bread.
The exam was rescheduled for January 6, 2019. Bad luck continued to stalk Choudhary as he couldn't make it past the cut-off.
Meanwhile, candidates who cleared the exam awaited a rough ride. Several candidates were selected after the physical test. Meanwhile, despite 33% reservation for women, the selection committee did not fill the vacancies and called another group of women from the general category for the physical test. However, 1,578 vacancies still remained.
As per the rules, if the selection committee is unable to fill vacancies with candidates of a particular gender and category, candidates from another gender of the same category are called for the physical test. Subsequently, a bunch of male candidates from the general category were called for the physical test.
Livid women candidates from reserved categories launched a protest asking how women from the general category qualified despite scoring less. As then-American President Donald Trump was about to visit Gujarat in February 2020, the state government went on the back foot to end the 73-day-long protest by increasing the number of vacancies to 2,485, which increased women's reservation to 46%.
Now, male candidates launched a protest demanding to know how they weren't being selected despite scoring more than 85%. Sagar Patil was one of these protestors with a percentile of 87.5. Patil, who was detained during the protest for a short time, and other male candidates continued to demonstrate until Gujarat home minister Harsh Sanghavi agreed to meet them.
In April, Sanghavi accepted their demand for a 20% waiting list. However, 1,200 posts still remain vacant with hundreds of candidates like Patil awaiting results while doing menial jobs. 
Thousands of primary school teacher vacancies
At least, 12,000 posts of Vidyasahayak (primary school teachers) have been vacant since 2017. The state government released a notification for 2,600 vacancies in October. As per the rules, the state government is supposed to annually recruit 3,300 temporary Vidyasahayaks who will be regularised after five years. 
Candidates who cracked the exam for the recruitment of Vidyasahayaks have been protesting for months and visiting the office of chief minister Bhupendrabhai Patel. "Either the situation for us has partly paid off or we have been handed a lollipop right before elections," says Kinjalben, one of the candidates.
Varsha (32), from Kutch, recently received the joining letter. However, she is not sure about joining because her family is pressuring her to marry. "As a woman, going against the family is not easy. Even if I rebel, my parents will ultimately decide for me," she says.
Seven-year wait for lectureship
The notification for recruiting lecturers was issued way back in 2015. Dahod resident Nirav had cleared the exam for BTech engineer candidates in 2019 but never received the joining letter. However, just before the elections, the 60 qualified candidates started receiving joining letters this month.
"There are so many candidates who study day and night to crack these Class 1 and 2 exams. The wait is long enough for us to give up," says Nirav, who joined as a clerk in the district court four years ago despite obtaining a master's degree.
Besides the seven-year delay, the number of posts for electrical and mechanical engineering candidates was reduced from 68 and 111, respectively, to 36 and 24 in 2019. "Why did the government take this decision after delaying the selection process," asks Nirav. 
Meanwhile, even the contracts of lecturers hired on contractual basis wasn't renewed after every 11 months, as legally required, for several years. The state government saved a lot of money by hiring contractual lecturers, whose monthly salary is around Rs 25, 000 as against Rs 75,000-Rs 80,000 paid to permanent ones.
Sanghavi's office didn't answer calls made regarding the vacancies.
The writer is a freelance journalist based in Delhi and is travelling to Gujarat to report on the Assembly elections.
Get the latest reports & analysis with people's perspective on Protests, movements & deep analytical videos, discussions of the current affairs in your Telegram app. Subscribe to NewsClick's Telegram channel & get Real-Time updates on stories, as they get published on our website.
Subscribe Newsclick On Telegram