Gujarat Elections: 'Abandoned' & 'Sidelined', Muslims are Striving, Some Are Thriving
Going by population percentage, the Muslim community remains grossly under-represented in the 182-member Assembly.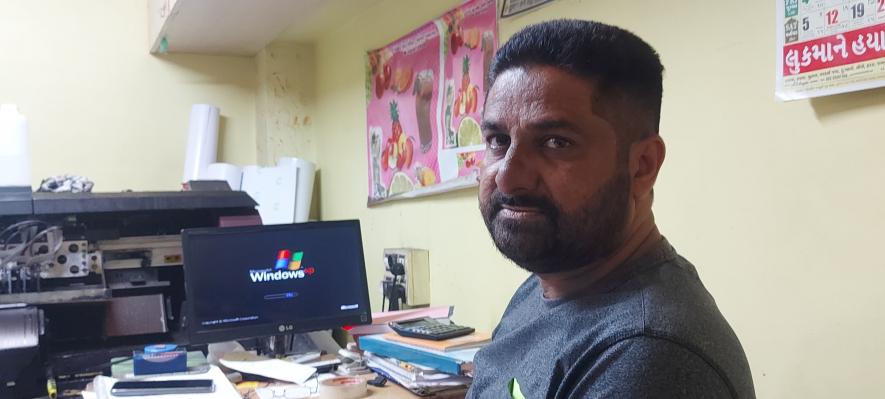 Imtiyaz Ahmad Hussain Qureshi, 50, who fought all odds to excel economically.
Ahmedabad: Amid the ongoing Assembly election campaign, Union Home Minister Amit Shah brought up the 2002 Gujarat riots issue, triggering sharp reactions from different quarters. But, Muslims, the victims of the violence, have largely maintained a studied silence. They seem to have reconciled with 'New India's political lexicon even as bitter experiences of communal violence over the years, or say decades, have scarred them, but have made them realise their "politically subdued position" in the state.
They are socially discarded, politically abandoned and economically sidelined, observed Advocate Oves Malik, who has represented many victims in their legal battle.
"The Muslims have apparently reconciled with the fact that they have been left politically insignificant in the majoritarian set-up of the polity, but they cannot simply ignore their basic needs. So they are striving, and some of them are also thriving," he told NewsClick.
One such person is Imtiyaz Ahmad Hussain Qureshi, 50, who fought all odds to excel economically. The quinquagenarian, whose business reduced to rubble in the 1993 violence following the demolition of Babri Masjid, and then in 2002 communal riots, has shown remarkable courage and conviction to bounce back again and again.
It is not that Qureshi has moved on and forgotten all the trauma that he and his near and dear ones went through, but he says he cannot afford to keep living with the "riots hangover". Fighting all odds, he rose from the ruins to make his, what he calls, fortune, again and again.
Walking down memory lane, Qureshi narrated his story.
"My father had a manual textile printing factory at Narol — 12 kilometre from Narodagam (our native place). On January 13, 1992, curfew was imposed in our area as tension simmered after Babri Masjid's demolition (mosque) in Ayodhya (Uttar Pradesh). It was around 7:30-8:00 p.m. The police was patrolling the area. As they left, a mob gathered in our area and began pelting stones at a mosque. Before it could snowball, six policemen reached there and controlled the situation. The miscreants were chased away," he told NewsClick.
Amid the frenzy, his father, who was in his early 70s then, panicked and suffered an asthmatic attack, which was so severe that his inhaler too failed to provide any relief. Since the area was under curfew, it was difficult to rush him to a hospital.
Qureshi said he somehow took his father to his family doctor nearby, but that served no purpose as he needed hospitalisation to be put on life support system.
"We called an ambulance at 11:30 p.m, but it reached in the morning at around 4 a.m. By the time he was admitted, it was too late. He had already slipped into coma and was declared dead on January 16 (three days after hospitalisation)," he said.
A family of six, thereby, lost its only bread winner. Qureshi at that time was a second year BA student. His elder brother was in the final year of graduation. Their two younger brothers and a sister were in Class 10 and 12.
"The curfew was in place because the situation continued to be tense. It was examination season, but I could not write the papers as my mother did not let me go the examination centre at Kankaria — 17 km from Narodagam," he said.
He quit studies and took the challenge to re-establish the family. But neither he not his brother knew the ABC of fabric printing. Following deliberations, he set up a modern day cutting edge stationary printing plant. In two years, his business flourished.
"But the success was short-lived. The 2002 riots hit us harder — my factory was turned into ashes and our house into debris," he said with uneasy calm.
A SAGA OF HORROR, HELPLESSNESS
Narrating the sequence in which the violence had spread, Qureshi said he had returned home from work and was having dinner with his wife and two children.
"My daughter was six years old and the son was four. They told me to take them to their maternal grandfather's place as a call for complete closure (bandh) was given for the next day. I had no idea about it, but I assured them that I would do so. After dinner, I went out to enquire about the bandh call. It was given by the VHP (Vishwa Hindu Parishad)," he said.
Posters and banners could be seen everywhere, asking people to keep their business establishments shut for a day in protest against the Godhra train burning incident.
On February 27, 2002 morning, 59 Hindu pilgrims and karsevaks (volunteers) returning from Ayodhya were killed in a fire inside the Sabarmati Express train near the Godhra railway station.
A special court in Ahmedabad on March 1, 2011 convicted 31 Muslims for murdering and hatching a conspiracy for the crime, while acquitting 63, including the key accused, Maulvi Umarji.
The Gujarat High Court upheld the conviction, but commuted the death sentence awarded to 11 of them into life imprisonment on October 9, 2017.
The Godhra incident is perceived as the trigger for the subsequent Gujarat communal riots, which resulted in widespread loss of life, destruction of property and homelessness. Estimates of casualties range from the official figures of 790 Muslims and 254 Hindus, to upwards of 2,000 casualties.
Virtually picturising the turn of events that unfolded the next day, Qureshi said: "I went out in the morning to take a stock of the situation. To my utter shock, a crowd had gathered outside our mohalla (Muslim Mohalla of Naroda Gam) as if they were waiting for a go ahead to attack us."
"There was chaos everywhere", he said, adding that men and women along with their children were searching for a safer place.
At around 10 a.m, he said, the crowd had swelled and then turned hostile and resorted to stone-pelting. "Youth were blocking all entrance of the area to not let the rioters enter. They also responded to the brick batting in self-defence," he said.
Then the arson and a killing spree began.
"The goons, who had no fear, had by now started entering houses belonging to Muslims on the periphery of the locality and setting those ablaze. Those found inside were killed, hacked and charred to death," alleged Qureshi.
"I was scared and started looking for an alternate route for people to escape as the main entrances of the area were in their control. Women of Muslim Mohalla had taken refuge in a house at Kumbhar Vas, which is in the middle of the locality. I had no idea that my wife and children were also in that house," he added.
THE ESCAPE
Searching for a safer escape route that could lead them to Naroda police station, which was not far away, Qureshi said he managed to reach the house where the women were hiding.
"I spotted a group of 70-80 people marching toward us, we (he and three others) hid ourselves. When they stopped near the house where women had taken refuge, I blocked their way," he said, asking: "Guess, who was leading them?"
It was none other than his childhood friend (Bakul Vyas), who had a can full of petrol in one hand and a sword in the other, he claimed.
"Not believing my eyes, I asked, 'Bakul yaar, tu su kare che (Bakul, my friend, what are you doing)?'"
"Koi miya ni chhorwana nathi (no Muslim will be spared)" was his reply, Qureshi alleged.
"I stood before him with folded hands, pleading to spare us. I fell on his feet. My aim was to distract them from the house (where the women were hiding in). My tears perhaps worked for me at least, as Bakul asked his men to move away, and they all entered another street. Taking advantage of the situation, I asked the women to come out and accompany me to a secret escape route. Once the women confirmed my identity, they came out and we all reached the police station from where we were sent to Shah Alam relief camp (which is now known as Citizen Nagar) in Ahmedabad city," he said while describing the horror.
While they were rushing toward the police station, Qureshi said he spotted a young woman (Madina) who had gone upstairs after the rioters barged into her house and killed everyone (her husband, his two brothers and their ailing mother) in her family and set her house on flames.
"While being chased by three men, she was escaping by jumping from one terrace to another. She was caught when she jumped on the terrace of a house with a metal roofing sheet. They stabbed her thrice. We rescued her and took her to the police station from where she was sent to hospital," he alleged, adding that she is now married to another man.
He said he he spotted many burning bodies scattered here and them. Two of the them were a father-son duo who were bundled in a truck's rubber tube and burned, he alleged.
FROM RELIEF CAMP TO BUSINESS EMPIRE
Qureshi said when got reunited with his family at the relief camp, he cried like a child. His wife consoled him and asked him not to lose hope, which he did not.
Today, Qureshi owns a big printing house in the heart of Ahmedabad where the family has their own residential and commercial spaces. He is a leading businessman — with his clients belonging to all political parties.
How did this happen? Qureshi said had got financial aid of Rs 10,000 from an NGO to begin some work to earn livelihood. He set up a paan shop close to the relief camp and multiplied the total capital to Rs 70,000 in a few months.
He wrapped up the business after three years and began searching for a job.
"The market crashed for two years after the riots. There were no jobs. In addition, there was animosity between the two communities. I somehow got a job with a printing press. I used to take out coloured photocopies from a photostat shop owned by Mahendrabhai Suryavalli Raghuvanshi — who is my business partner today. We planned something bigger and finally decided to establish a printing press on a larger scale," he said.
Qureshi invested around Rs 1.5 lakh. The rest of the total Rs 7 lakh investment was done by his partner. They put in the seed money and got a bank loan. This is how the printing press was established in 2008. Today, he is one of the leading businessmen in the city.
During the entire narration, Qureshi was trying to look calm and not let the emotions take him over. But when he talked about Rubina, a little girl, who was brought to the relief camp along with her parents from Patiya, he failed to control his emotions and burst into tears.
"When I was in the relief camp, I used to counsel children as they had suffered the worst nightmare of their lives. I used to teach them and make them to do some extra-curricular activities like painting, drawing and singing, etc. Inspired by my work, an NGO approached me and provided me books, notebooks, colours, etc. for the children. One day, I asked the group of children to make some paintings. Using varied shapes, deft lines and perfect strokes mingled with riots of colour, Rubina produce a pretty painting — depicting the massacre she had witnessed," he said, adding that her artwork moved him deeply.
Qureshi is a witness against 17 of the total 84 accused in the case. The matter has been pending for four years at a special SIT court in Ahmedabad for final judgment.
Asked if he has forgotten everything and moved on, he said no one can forget the trauma during the pogrom.
"But, it is also true that an entire life cannot be spent with unpleasant memories. We were left with no option but to move ahead. And that's what many riot victims are doing," he added.
POLITICAL MARGINALISATION
While survival issues do make people move on in life, there is no denying that Muslim voices are muted and unrepresented in the state.
Patidars form 14% of Gujarat's total population, but both the Bharatiya Janata Party (BJP) and the Congress each have fielded at least 40 candidates from the community. On the other side, Muslims, who constitute 9.6 % of the state's population, have six candidates – all fielded by the Congress.
The ruling BJP has fielded none. The saffron party had last given a ticket to the community in 1995 when Abdul Ghani Quraishi took on Iqbal Patel of the Congress from Muslim-concentrated Vagara constituency in Bharuch district. He lost by 26,439 votes.
Going by their population percentage, the Muslim community should have more than 16 MLAs in the 182-member Assembly in the state.
While three Muslims were elected as MLAs in the 2017 Assembly polls, an addition of one legislator from the 2012 tally. It was down from five in 2007 and three in 2002.
Muslims make for 25% of the total over one-million population in Sarkhej — the largest constituency in the state on the outskirts of Ahmedabad. Despite having the largest concentration of Muslims in the Assembly segment, it has been electing a BJP candidate for the last three elections or more.
By mere population size, Muslims can influence Assembly election results in 36 seats, after delimitation in 2012, where they comprise around 13-14% of registered voters. In 34 Assembly constituencies, Muslim voters comprise over 15% of the population.
There are 20 Assembly constituencies in Gujarat where Muslim voters are over 20% of the population. Of these 20 seats, four are in Ahmedabad district, while three each in Bharuch and Kutch districts.
The community has been systematically made politically insignificant by delimitation and reserving the constituencies for Scheduled Caste and Scheduled Tribes, say political observers.
"Violating all conditions of delimitation, Muslim-majority areas were split and added to Hindu-concentrated areas so that their votes (even if these go en bloc) don't make any difference," advocate KR Koshti, who is also an activist, told NewsClick.
He said constituencies that had thick minority population and cannot be divided through delimitation, were declared reserved for the SCs.
Historically speaking, Muslim representation in the politics of Gujarat has always been low. When Congress had won its highest 149 seats in 1985, the number of Muslim MLAs was just seven. This, when the Congress had registered a thumping victory on the KHAM (Khastriya, Harijan, Adivasi and Muslim) equation.
Gujarat has never had more than two Muslim MPs at one time, except in 1977 when Ahmed Patel was elected from Bharuch and Ehsan Jafri, who was brutally killed in the 2002 riots, from Ahmedabad.
Get the latest reports & analysis with people's perspective on Protests, movements & deep analytical videos, discussions of the current affairs in your Telegram app. Subscribe to NewsClick's Telegram channel & get Real-Time updates on stories, as they get published on our website.
Subscribe Newsclick On Telegram