Gujarat: Land Rising Near Bhavnagar Mine; Villagers, Environmentalist Raise Alarm
Around Bhavnagar mining site, cracks in land, patches of elevated land and mild tremors scare villagers, all of which are result of lignite mining, says environmentalist.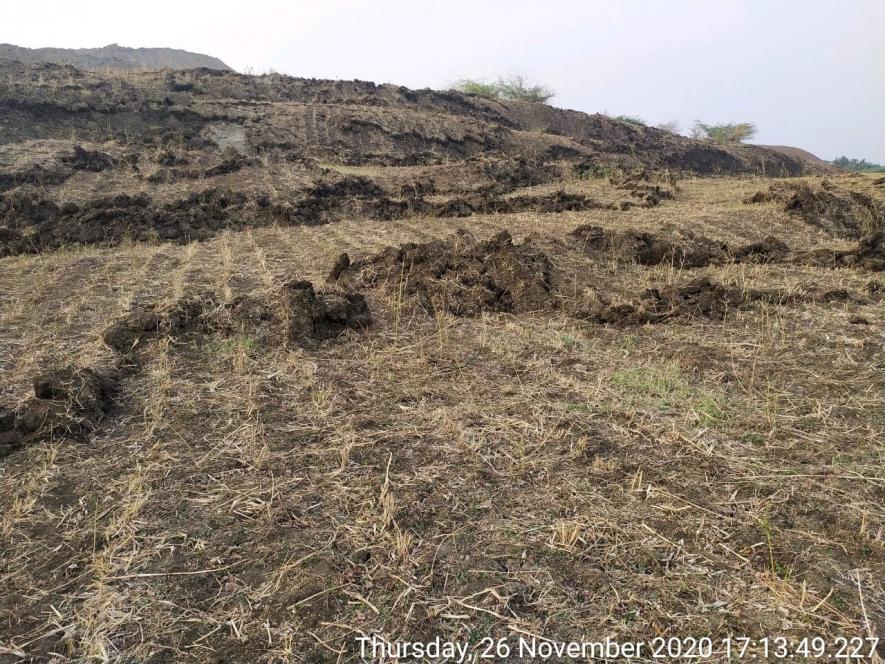 Six farmers from different villages in Bhavnagar district, Gujarat, were on their way to a friend's home on November 16 this year when they witnessed a massive patch of raised land in Hoidad village.
The farmers--Jaywantsinh Gohil, Naranbhai Jambucha, Himmatbhai Kantaria, Narendrasinh Gohil, Kanaksinh Gohil and Pravinsinh Gohil--from Hoidad, Surkha, Badi and Khadsaliya villages panicked and informed local activists and subsequently the district authorities.
Villagers claim that similar incident has happened before in December 2019 when an agrarian land owned by local farmer Vittalbhai Lovejibhai, was elevated by at least 100 metres at Thordi village in Ghogha taluka, Bhavnagar.
Noticeably, the incidents of patches of land being elevated has been happening around the lignite mining site at Ghogha taluka in Bhavnagar district. More than 3000 acres of land in 12 villages of Ghogha taluka was acquired by the state government in the year 1997 on which the Gujarat Power Corporation Limited (GPCL) is mining lignite since 2017. Adding to that a thermal power plant, a colony and an ash dumping area is planned on the land.
"In December 2019, a patch of land of about 250 metres went up by 100 metres and in November 2020, another patch of land 800 metres long and 300 metres wide was elevated by about 50 feet that includes both gauchar and agrarian land. Usually, elevation of land happens around a site of open cast mining as a side effect of the mining," Vadodara-based environmentalist Rohit Prajapati told the NewsClick. "Land rising near a site of open cast mining is an unfamiliar phenomenon, and hence could be more dangerous. The mining in the area should be stopped immediately and extensive inspection should be carried out to explain the elevation in land, which seems like a major tectonic activity," he added.
Prajapati said the area in question is part of the earthquake fault line that starts about three kilometres away from the area at Khambat. There are also 12 villages around the mining site that is home to about 30,000 villages while the Bhavnagar city is just 18 kilometres from the mining site. "If the mining activity continues and an incident of earthquake occurs, the chances of casualty and damage is extremely high," he claimed.
"The authorities of GPCL hold that the elevation has happened due to pressure of water that is in the upper strata of land in the region. But we checked for the same and found no signs of water," said Prajapati who is associated with Gujarat-based environment rights organisation Paryavaran Suraksha Manch.
"In November we felt tremors early in the morning. We didn't think of it much until we saw the patches of land rising in our villages," said Vasudevsinh Gohil, a resident of Badi village--one of the 12 villages of Ghogha taluka affected by the lignite mining.
"Later, cracks appeared in the land around the mining site," added Gohil.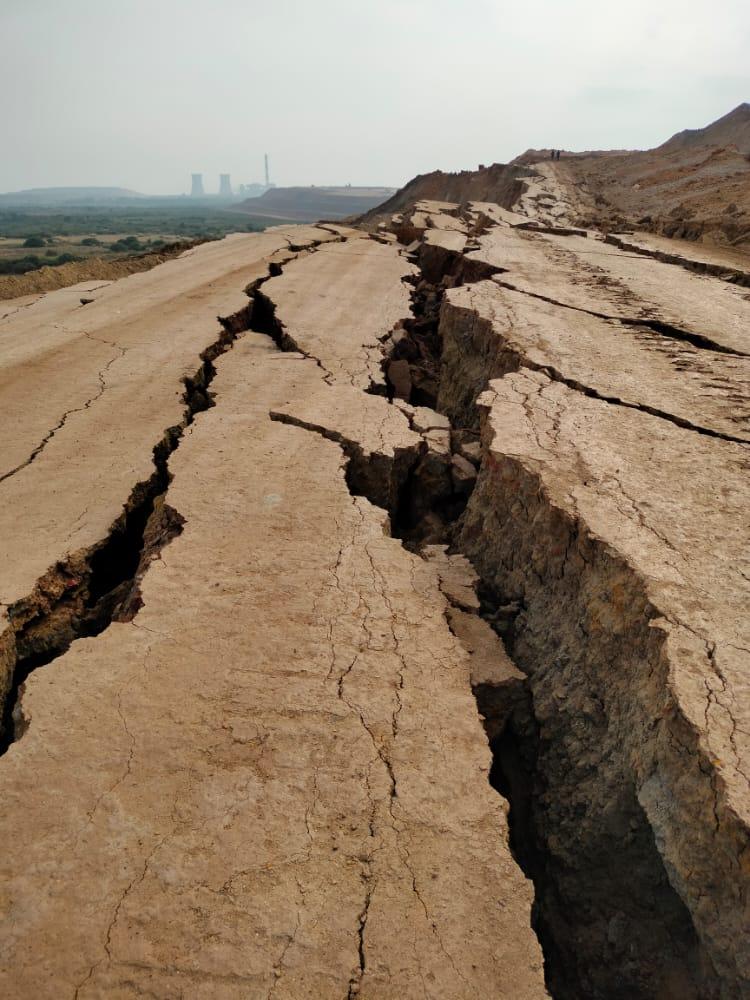 Noticeably, as per the records of the Seismological Survey of India, an earthquake of 2 Richter scale had occurred between 4 am and lasted till 4.02 am in the area.
On November 25, Pushpa Lata, Assistant Collector of Bhavnagar, AR Gadvi, Taluka Mamlatdar of Ghogha, AG Oza, Regional Officer of Gujarat Pollution Control Board (GPCB), and officials of GPCL along with Rohit Prajapati, and Bharat Jambucha, an activist working on water and organic farming in Bhavnagar, and the villagers of affected villages visited the affected areas. The phenomenon had taken place in Hoidad where the gauchar land was elevated, Thordi where agrarian land of a farmer and gauchar land was elevated and the mining site at Badi village.
"The officials didn't seem to take the matter seriously and told us that it is a non-serious incident. We are concerned with the changes that we are witnessing since mining has begun in the area," said Gohil, a farmer from Badi village.
Land Struggle of Farmers against GPCL
Between 1993 and 1994, as much as 3377 acres of land from the 12 villages of Ghogha taluka was acquired by the Bharatiya Janata Party-led Gujarat government. The land included farm land, grazing land and wasteland. The aim was to establish a thermal power plant, a colony, mine lignite and have an area for ash dumping. The lignite from the land would be used as raw material for the thermal power plant.
In 1997, consent was taken from the villages but no attempts were made to take possession of the said land until December 2017. Reportedly, the thermal power plant in the area was commissioned only in 2017 and not as planned in 2000.
"We did not want to give away our land. This is our means of livelihood," says Laxmanbhai of Surkha village, one of the 12 affected villages.
"Villagers were offered Rs 48,000 per hectare for non-irrigated land and we had to accept. Then the collector told us if we did not accept what was being offered, we get nothing," added the 65-year-old farmer.
Noticeably, farmers of the 12 villages decided to protest the possession of their land both on the ground and legally when officials of GPCL, collector of Bhavnagar and about 100 police personnel came to Badi to proceed with the physical possession of land in December 2017.
Subsequently, about 5,000 villagers staged a massive dharna in Surkha village protesting the land acquisition. Following this, the local police was sent to camp for months on agrarian land of farmers to prevent them from farming and FIRs were filed against 10 farmers at two police stations.
"Following the first protest, about 10 to 12 police vehicles with about 1,000 to 1,200 police personnel did rounds of the 12 villages," said Kanaksinh, a local farmer.
In April 2018, villagers clashed with local police while protesting and were lobbed with tear gas and lathi-charged, leading to more than 10 farmers being injured. Same month, 5,229 farmers along with their families sought permission for mass euthanasia if their lands are taken away.
However, the land was acquired despite protest and mining commenced even as farmers have filed a legal case challenging the acquisition and possession of the land.
Get the latest reports & analysis with people's perspective on Protests, movements & deep analytical videos, discussions of the current affairs in your Telegram app. Subscribe to NewsClick's Telegram channel & get Real-Time updates on stories, as they get published on our website.
Subscribe Newsclick On Telegram