After Hiatus, Over 1,000 Progressive Literature Stalls Dot Bengal's Landscape This Festival Season
Books on NRC, on combatting RSS, on Kashmir, Shyamaprasad Mookerji's divisive role, and historian Sukumari Bhattacharya's Revisiting the Myth of Ram, are top of the charts, say the organisers belonging to Left parties.
Kolkata: As the autumn festival season, coinciding with Durga Puja festivities, kicks off in West Bengal, over 1,000 stalls displaying progressive literature and 'NRC Help' booklets, set up by various Left parties, are set to dot the state's landscape from Friday.
Leading the initiative is the Communist Party of India (Marxist) or CPI(M), which is setting up over 90% of these Marxist literature stalls, and has decided to use these to offer help to innumerable poor people who are fearful of the hype being whipped up by the Bharatiya Janata Party (BJP) on the National Register of Citizens (NRC).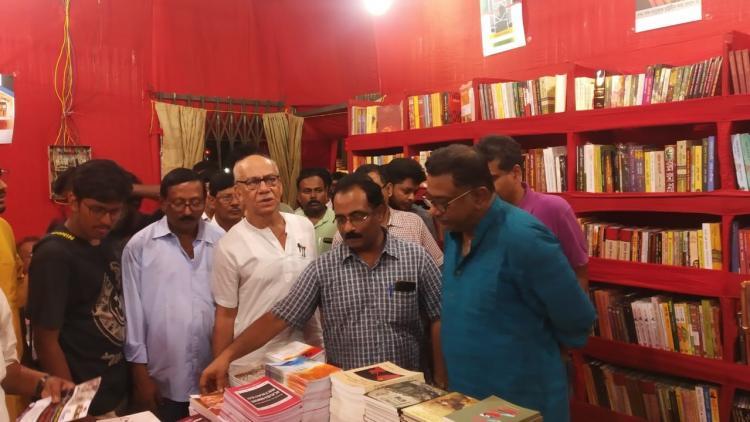 In the capital city of Kolkata, over 200 book stalls will be set up, of which over 109 will be in the heart of Kolkata and the rest in the CMC (Calcutta Municipal Corporation) area. If the Kolkata Metropolitan area is taken into account, the number of stalls will be nearly 400, say sources. Apart from CPI(M), the other Left parties that are setting up these stalls are CPI(ML)Liberation, Socialist Unity Centre of India, Revolutionary Socialist Party, Forward Bloc and Communist Party of India.
There is panic in the state after Union Home Minister Amit Shah's recent remarks on NRC in Bengal, followed by statements of state BJP president, Dilip Ghosh, and some Rashtriya Swayamasevak Sangh (RSS) functionaries, with poor families queuing up local corporation offices to get hold of copies land deeds or pre-1971 documents to prove their Indian citizenship.
Following the culture of setting up progressive literature stalls during the festival season, initiated by the Left parties in West Bengal, even centrist parties, such as Congress and Trinamool Congress (TMC) and the Right wing BJP are now following suit and setting up book stalls, mainly in urban areas.
"While the book stalls started by TMC are displaying over 40 books written by party supremo Mamata Banerjee and her paintings and drawings, the BJP's stalls have books on Modi and Shyamaprasad Mookerji, while the Congress has books on Gandhian philosophy and Nehru. However, the progressive book stalls boast of a wide range of topics, starting from ideological books to classics to childrens' books as also on science and technology, making these makeshift progressive knowledge hobs the favoued destination of people during festival," said Sabiruddin Ahmad, CPI(M)'s Ballygunge Area Committee Secretary, one of the main organisers of the oldest progressive literature stalls at Park Circus in Kolkata, which started in 1952.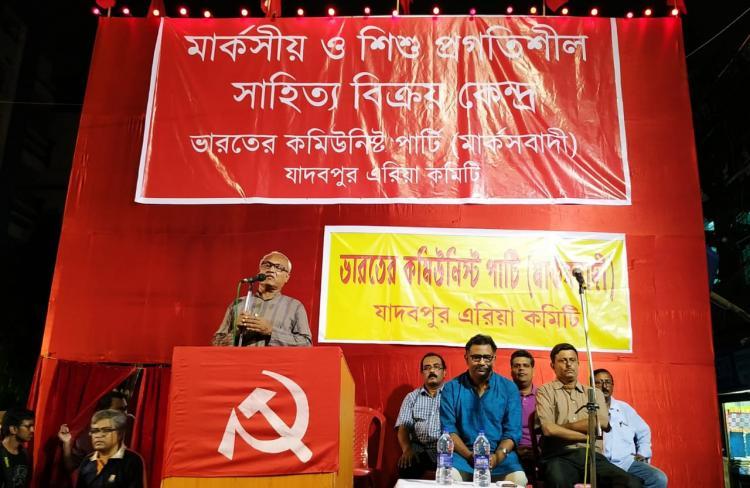 Ahmad said an added responsibility this time was spreading the message of communal harmony and amity and counter propaganda against any religion- or language-based identity violence in the state. "All of us will be keeping guard against any untoward incident in our respective localities during the festival days," he added.
NRC Help
Interestingly, this year, all the progressive literature stalls will also double up as facilitation centres for the ongoing voter verification drive that has started in West Bengal on directions from the Central Election Commission, and which is being touted as the first step towards invocation of NRC.
Three of the oldest book stalls in Park Street, Park Circus and Jadavpore, are the key attractions this year too.
Even before the festival season took off, the Jadavpore book stall has recorded brisk business within the first two hours of its opening, logging sales worth over Rs 25,000. The stall was opened by noted film director Kamleshwar Mukherjee.
Sudip Sengupta, CPI(M) Kolkata District Secretariat Member and one of the key organisers, said: "Last year, we notched sales of over Rs 2,80,000 during the autumn festival".
Sengupta said despite the economic slowdown, the response this year was good, and attributed this to a "slight change" in their policy of focusing more on informative books of lower denomination. Books on NRC, on combatting RSS, on Kashmir, and on Shyamaprasad Mookerji's divisive role, as well as eminent historian Sukumari Bhattacharya's book, Revisiting the Myth of Ram, are selling like hot cakes, he added
The Jadavpore 8 B stall, too, is seeing a "huge response", said Sengupta, adding it too is being used as a facilitation centre for voter verification and has an informative kiosk about the proposed NRC and its divisiveness.
It may be recalled that before 2011, over 2,000 progressive book stalls used to be set up during festival season. In 2013, the number of stalls had dwindled to about 600 attributed to an atmosphere of "terror" unleashed by the ruling TMC, which went on till 2018. There were reports of many book stalls being vandalized.
Commenting on the progressive literature stalls, senior journalist Aniruddha Chakraborty, Director of National Book Agency, the largest progressive book house in the state , which was conceived by communist doyen "Kakababu" of Muzaffar Ahmed, told Newsclick that "this year, even Leftist activists belonging to terror stricken Goghat, Khanakul, Purshura, Arambag, Naranghat of Hooghly district will be setting up Marxist literature stalls".
He said among the star attractions this year was former Chief Minister Buddhadeb Bhattacharjee's Bangla book, Swarger Niche Mahabishringkhala (Pandamonium Under the Heaven ), rewritten from a write-up by him that appeared in CPI(M)'s mouthpiece, Desh Hitoishee, in 1983, as well as books on climate change, traditional philosophy by eminent philosopher Debiprasad Chattopadhya, on Bhagat Singhand the translation of communist leader EMS Namboodiripad's's book on Adi Sankaracharya, he added.
Chakraborty noted that the "huge" "response to progressive literature this year "was directly proportional to the deepening of crisis in the state and in the country."
He expected that despite the economic slowdown, sales of progressive books are likely to rise manifold this year, including writings by Russian authors Gorky, Tolstoy and Turgenev to Bengali literary doyen, Rabindranath Tagore, among others.
Despite the religious hue of the festive season, the Left parties have since 1952 been in the forefront of setting up Marxist literature stalls in the vicinity of various pandals across the state, where large gatherings take place.
However, this year, with rising communal polarisation in the state, and the BJP hype on implementing NRC in Bengal, has unleashed an atmosphere of mistrust that is palpable, unlike earlier times when everyone buried their hatchets during the festival season.
Get the latest reports & analysis with people's perspective on Protests, movements & deep analytical videos, discussions of the current affairs in your Telegram app. Subscribe to NewsClick's Telegram channel & get Real-Time updates on stories, as they get published on our website.
Subscribe Newsclick On Telegram