West Bengal: Over 1,100 Stalls to Sell Progressive, Marxist Literature During Festive Season
After COVID hiatus, the book stalls are drawing huge numbers, especially the younger generation, say some CPI (M) organisers.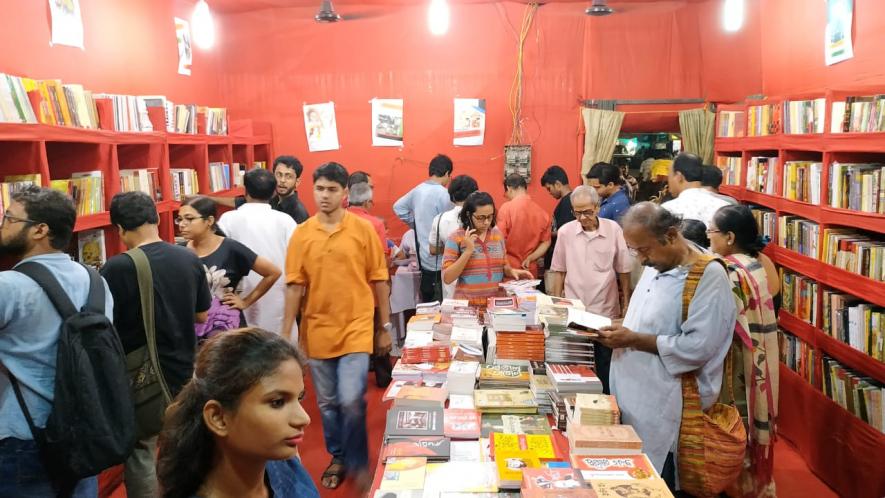 Kolkata: Over 1,100 Marxist study stalls are set to dot the landscape in West Bengal during the ongoing autumn festival in the state, including Durga Puja.
The Communist Party of India (Marxist) or CPI(M), which will run over 90% of these Marxist literature stalls, has decided to use the stalls as outposts not only to sell progressive literature but also to support the poor during the ongoing festivities.
Apart from CPI(M), other Left parties like the Communist Party of India (Marxist-Leninist) Liberation (CPI(ML) Liberation), the Socialist Unity Centre of India (Communist) (SUCI), Revolutionary Socialist Party, Forward Bloc and the Communist Party of India (CPI) too, will set up about 10% of such progressive literature stalls in various areas of the state.
In the capital city of Kolkata, over 200 book stalls will be set up, out of which over 109 stalls will be in the centre of the city while the rest will be in the KMC (Kolkata Municipal Corporation) area. If the Kolkata Metropolitan area is taken into account, the number will be nearly 400, according to preliminary estimates made by the party sources.
Following the Left-induced culture of setting up progressive literature stalls during the autumn festival, even the parties like Congress, Trinamool Congress (TMC) and Bharatiya Janata Party (BJP) have started setting up book stalls, mainly concentrated in some urban areas.
"While the book stalls started by TMC are packed with over 40 books written by party supremo Mamata Banerjee and her drawings, the BJPs's book stall focuses on Modi and Shyama Prasad Mookerjee, and Congress sells books on Gandhian philosophy and Nehru's writings. However, the progressive book stalls boast of a wide range of titles, starting from ideological books, to classics to childrens' books and science and technology. It is this positioning as a rationality-based knowledge centre that makes these makeshift progressive stalls the most favoured destination even during the autumn festival," Sudip Sengupta of Jadavpore Book Stall, the largest book stall in the state, told NewsClick.
Sengupta said this year thousands of progressive books are also serving as an outpost for spreading communal harmony and amity in the state. "This is an added responsibility for all of us, to keep guard against any untoward incident in our respective localities during the festival days," he added.
The Jadavpore book stall, even before the start of the festival, has begun brisk sales by generating business worth Rs 25,000 within two hours of its inauguration by Left Front chairman Biman Basu, said Sengupta, who is also CPI(M) West Bengal State Committee Member and one of the prime organisers of book stalls for the past two decades. "Last year we had notched sales of over Rs 2,80,000 during the autumn festival," he added.
"This year, despite of economic depression, we are getting a good response, as we have slightly changed our policy of keeping books of high denomination, and have instead focused on the keeping of lower denomination and informative books. Book on Rashtriya Swayamsevak Sangh or RSS, Kashmir and on S P Mookerjee's divisive role, as also books by eminent historian Sukumari Bhattacharya's, such as "Revisiting the Myth of Ram" are selling like hot cakes," he added.
It may be recalled that over 2,000 progressive book stalls used to be set up during autumn festival season before 2011 when the Left Front was in power. During TMC rule, during 2013, the number of such stalls had dwindled to nearly 600 owing to large-scale terror by the ruling party. Many book stalls were vandalised. This went on till 2018.
Senior journalist Aniruddha Chakraborty, Director of National Book Agency, the largest progressive book house in the state, which was conceptualised by communist leader "Kakababu" or Muzaffar Ahmed, told NewsClick that "this year, even Left activists belonging to terror-stricken Goghat, Khanakul, Purshura, Arambag, Naranghat of Hooghly district, will be setting up Marxist literature stalls."
Chakraborty said: "The star attraction this year is the Bengali translation of Safdar Hashmi's life named 'Halla Bol' written by Sudhanva Despande and translated in Bengali by noted singer Shubhaprasad Nandi Majumdar. Another book on 75 years of Indian independence by Sitaram Yechury is also selling like hot cakes. The other prime titles include former minister Debesh Das's book on state surveillance and books on the 100 armed revolts of the Indian freedom struggle by Dipak Majhi. Another book in demand is a basic reading on Marxism-Leninism prepared by the CPI(M) politburo in 1969 and republished this year with a preface by Yechury."
Chakraborty said the "huge response that progressive literature is getting in the state is directly proportional to the deepening of the crisis in the state and in the country," adding that approximately crores of progressive books had already been sold last year during the autumn festival.
"Despite the recession, going by the interest in setting up of these stalls, it can be easily said that progressive book sales might see a multifold increase. In this age of the internet, too, progressive books ranging from Russian authors Maxim Gorky and Ivan Turgenev to Leo Tolstoy and Bengal's Rabindranath Tagore have been selling like hot cakes, which itself shows that millions of people are hungry to gather knowledge and study resources, that they find using progressive books as good reference material to deal with the difficult situation in the state," he said.
Though the religious hue of the autumn festival rests in gods and goddess, since 1952, the Communist Party has been at the forefront of setting up Marxist literature stalls in the vicinity of the different places where large gatherings take place, such as puja pandals, and this has served as an opportunity for spreading rationalist, progressive ideas.
"This year, with an increase in communal tension in the state, there is an atmosphere of mistrust, even during the autumn festival, unlike earlier times when all used to bury their hatchets during festivals. After two years of a near lull due to COVID, the response to Marxist study stalls is good. The price of paper has increased by 30% and the 18% GST on paper has killed the publishing industry, which are struggling to keep afloat," Chakraborty told NewsClick.
Dispelling the notion that the younger generation is not 'book oriented' and is more an Internet-savvy generation, he said the NBA's experience has been different, as suave packaging, perfect binding, and good standards of printing, had made the younger generation a large reader base of progressive books in the state.
Get the latest reports & analysis with people's perspective on Protests, movements & deep analytical videos, discussions of the current affairs in your Telegram app. Subscribe to NewsClick's Telegram channel & get Real-Time updates on stories, as they get published on our website.
Subscribe Newsclick On Telegram