Honda Protest and How it Ended: A Sneak Peek into Dismal Labour Practices in India
In a sinking economy that is championing contractualisation of labour to save itself from drowning, workers are required to be meek and pliable.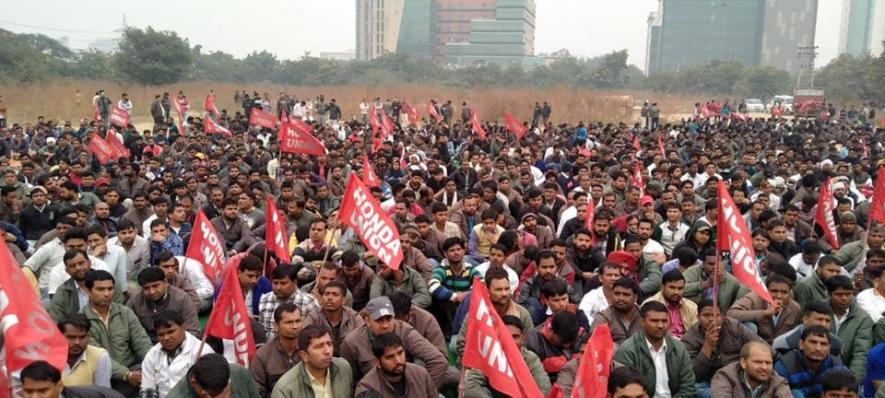 Protesting contractual staff of Honda attending a public meeting in Manesar. Image Courtesy - Facebook
New Delhi: At the Gurugram-Manesar industrial belt, an automotive hub that is no stranger to protests by workers, not often has a workers' strike left such a dent on the spirit of workers as the recently 'settled' labour unrest at Honda Motorcycle and Scooter India (HMSI) did, further underlining why how collective bargaining through unions is vital for getting workers a better deal.
Since the past four months, the protest led by HMSI's contract staff – majority of whom identify themselves as "first-time" protesters – stood as an inspiration for others, even to many employee unions in the industrial belt. Bringing production to halt, these contract workers 'occupied' the company premises for 18 days, followed by an indefinite protest demonstration at a public ground. At least two other instances were reported where workers in the belt, borrowing a leaf out of Honda worker's books, staged a dharna inside the plant facilities.
However, things took a queer turn when the agitation ended on March 4 after a 'settlement' between contracting agencies and the 2,458 protesting contract workers, as the language used in the agreement suggests. The HMSI management was nowhere in the picture.
The manner in which the protest ended provides a sneak peek into the abysmal working conditions and labour practices being followed in the country. In a sinking economy that is championing contractualisation of labour to save itself from drowning, workers are increasingly required to be meek and pliable.
The writing on the wall is clear to the workforce, especially in the Gurugram-Manesar industrial belt which houses several multinational companies across sectors, such as automobiles and components.
Sanjay, 30, knows this only too well. A graduate from Bhiwani's Industrial Training Institute (ITI), he started working as a contract worker at Honda Manesar's facility in 2012. "I joined Honda, hoping I would secure a permanent job in the same company. I have given my youth, my life's most productive days, to this company," he said.
However, on March 3, when the protesting contract workers reportedly agreed "to submit their resignation to the contractors," after reaching a 'settlement', Sanjay was one of them. He will now be collecting his dues and looking for another job.
"The experience, learning at Honda for years holds no significance now. At the age of 30, wherever I go now, I will be considered a fresher," Sanjay told NewsClick. To be considered a 'fresher', according to him, means that he will be back to square one -- facing abysmal working conditions that a contract worker faces, something that he protested against.
Another in the list of workers to collect their dues is Naveen, 37, who broke down while talking about similar issues. "The protest was never for money. It was a fight for our rights as workers," he said, adding that, "it seems we are getting punished for protesting, for raising our voice."
Both, Naveen and Sanjay, are now looking for jobs and both seemed to have lost hope of securing a permanent job, one that brings job security and ensures better labour standards, at least as per the law.
"This is what is disturbing all of us," Naveen said, adding "that a permanent job is now a distant dream. We will remain contract workers all our lives."
Sanjay, on the other side, thinks even getting a contract job will be difficult. "Contract workers are not the cheapest option available in the industry as before. We will have to compete with young labour entering the market as trainees, who are cheap and work longer hours without questioning much," he said, referring to state-backed skilling schemes, namely, National Employability Enhancement Scheme and National Apprenticeship Promotion Scheme, among others.
He told NewsClick that no company in Manesar's Industrial Model Town (IMT) was willing to employ contract workers, who bring with them a history of the Honda protest. "They fear that we will organise contract workers and incite agitations within their workforce," he said.
Couldn't Yield Desired Results, But Raised Many Questions
As the slumping Indian economy continues to flounder leaving the Narendra Modi government huffing and puffing, it is the workers across the country who are feeling the heat. They are facing stagnant wages and a raft of measures that hit at their basic rights, all in the garb of 'ease of doing business' aimed at helping industrialists save their declining profits.
The crisis hasn't left, among others, even country's second largest two-wheeler maker HMSI untouched – which warned of a prolonged slowdown as early as in September 2019. Naveen Sharma, Manesar division head of general affairs at HMSI, told NewsClick that "the slowdown continues to affect the production at the Honda's Manesar unit." He said, referring to Supreme Court's last year October's order that banned sale vehicles conforming to Bharat Stage (BS) – IV emission norms in the country: "Only one BS-VI model vehicle is being currently manufactured here, at Manesar, which will also not see large production – given the slowdown."
In a bid to adjust to these conditions, as many as 700 contract workers were retrenched in August 2019 by HMSI, who make for more than 50% of total workforce which is reportedly largely becoming contractual based. In another round of retrenchment, 200 contract workers were "relieved from work" in November last – forcing Honda's contract staff to launch a protest against the Honda management.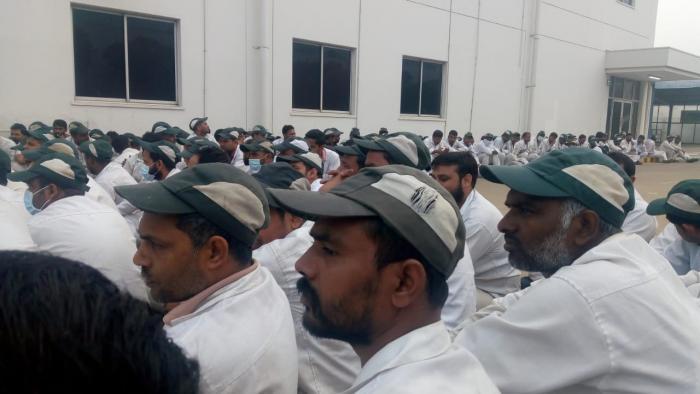 Honda workers can be seen in their uniform protesting inside the company premises. Image Courtesy - Twitter
In this scenario, the agitation by Honda workers by contractual employees – arguably the worst hit by the ongoing economic crisis – was one of the longest (since November 5) and largest auto workers' agitation in the belt in recent times. At the heart of the protest was their demand to regularise their jobs.
The protest, which started as a tool down strike by the contract staff, witnessed participation of the permanent staff as well, who are around 1,900 in strength, led by HMSI's Employees Union. They had their own sets of demands against the Honda management, which primarily included, a wage revision, which was due in August 2018.
In a move that can be seen as a break from the tradition, the permanent and the contract staff stood shoulder to shoulder against the Honda management. As a result, the Manesar unit of HMSI observed no production for as many as 18 days.
The workers' pressure, however, subsided with the permanent staff returning to work, following the HMSI management's decision to suspend six union leaders, a move which many union members termed as "retributive in nature."
A familiar script was followed, something that's not new for establishments in Manesar's industrial belt – workers return to work in batches, the protesting ones are replaced, the collective bargaining power of workers gets weakened and production resumes.
Looking back, some contract workers confessed to NewsClick that this end to the HMSI strike marked "the end of the protest." "We knew we had to stand for those who bore the brunt of the crisis. That's why we continued with our protest. Our demands included regular jobs for all," Radheshyam, a Honda contract worker, who partook in the protest, told NewsClick.
"Many [contract] workers are surely upset with not being able to return to work," he said, adding that "we cannot call it [settlement] a win. However, the situation became tough as we completed four months without any income, so this was the only option we were left with" added Radheshyam, was also among the representatives of the protesting contractual staff in the March 3 meeting with the contracting agencies.
Moving beyond the win-lose debate, Satbir Singh, Former Haryana state president of Centre of Indian Trade Unions (CITU), believes the Honda movement has lessons on the challenges being faced by trade unions today. "Employment and humane working conditions are the biggest demands of the times that we are in. However, protests cannot go on forever and in that regard a settlement with the management is inevitable," he said.
While Singh feels a thorough review of the decisions taken during the course of the four-month-long HMSI protest was needed, Anant of Automobile Industry Contract Workers' Union blamed the HMSI employees' union and Trade Union Council (TUC) "for leaving the workers with little bargaining power." Trade Union Council comprises representations from central trade unions, such as INTUC, CITU, AITUC and others.
"The workers who had put pressure on the management by halting the production were asked to leave the company premises on the assurances of TUC. The mobility of the [contract] workers was restricted to a ground. With the company able to resume production, the contract workers demonstrating at the nearby ground were bound to get 'tired' as months passed," he told NewsClick.
Sandeep, 29, one of the contract workers at Manesar's Honda since 2011, was of the same opinion. While blaming the media for not "giving enough coverage", and the government for not "paying any heed to thousands of protesting workers," he also said: "we shouldn't have left the company premises. A settlement reached then would have been better as there would have been more pressure on the company to accept our demands."
While the protest led by the Honda contract workers might not have yielded the desired results, it surely has raised many questions on the future workers' movements, especially those led in industrial belts that are increasingly hiring contract workers and apprentices.
Get the latest reports & analysis with people's perspective on Protests, movements & deep analytical videos, discussions of the current affairs in your Telegram app. Subscribe to NewsClick's Telegram channel & get Real-Time updates on stories, as they get published on our website.
Subscribe Newsclick On Telegram