How Revolutionary Freedom Fighters Faced Their Most Difficult Month
Bhagat Singh, Sukhdev and Rajguru faced their worst trials between 26 Feb and 25 March 1931.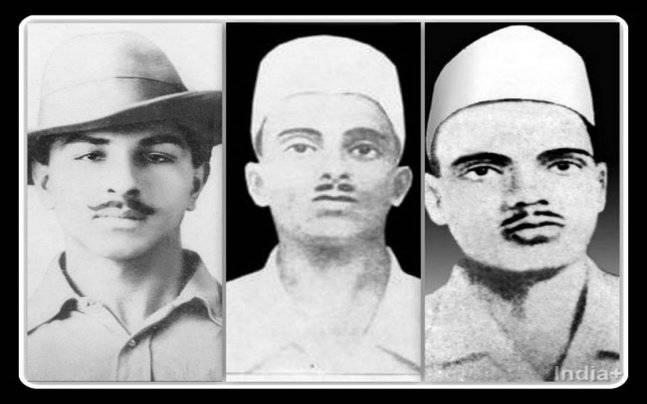 March 23 is observed as the Martyrdom Day of three of India's greatest freedom fighters, Bhagat Singh, Sukhdev and Rajguru. To understand this critical time in the history of the revolutionary freedom movement, it is important to speak of not just one day but an entire month, when not three but four important members, including two of the most significant leaders of this movement, and a leader of the mainstream Congress party, who was closest to the revolutionaries, were killed. This month-long period, which proved the most difficult for the movement ran from 26 February 1931  to 25 March 1931.
What is most important is how this movement, its members, its martyrs and their family members, faced difficulties with the greatest courage. Such that even in this phase, when they confronted their biggest losses, they actually became a source of inspiration for countless people. This first played a great role in securing freedom and then, even to this day, made them a source of inspiration for all those who are committed to justice, equality, communal harmony and secularism in India.
To start this story, let us see how dismal the situation looked on 25 February 1931. The death sentence for Bhagat Singh, Rajguru and Sukhdev had already been announced. Their comrade Yatindra Nath Das, one of the greatest freedom fighters had died after a  fast of over 60 days. Most other comrades were also in jail. While some efforts for their escape from prisons had been initiated (particularly for the escape of Bhagat Singh who, at 23, had already emerged as the most inspiring leader with a huge mass following), a big setback was the accidental death of another senior and very brave comrade, Bhagwati Charan Vohra in the course of preparing for the escape. 
The respected Congress leader Ganesh Shankar Vidyarthi was closest to these revolutionaries among his party's leaders. Unfortunately, he too was in jail at this critical juncture. Both as political leader and editor of the well-regarded newspaper, Pratap, he could have helped the revolutionaries in significant ways at this critical phase, but from prison he could not provide any assistance.
The only saving grace during this dismal situation was that the most courageous  warrior and capable strategist, Chandra Shekhar Azad, was still out in the open and trying to rebuild the revolutionary organisation despite adverse circumstances. Hiding himself at times as a sadhu and at times as a driver, this never-say-die warrior had managed to evade arrest even though all senior members of the organisation had been arrested. 
It is said that at times even he almost fell into the net cast by the police, but such was his awe and hidden respect among even some police officials that they did not come forward to arrest him.
However, after being betrayed by someone he trusted, on 27 February, Azad, too, was surrounded by a large posse of police at Alfred Park, Allahabad. He fought most bravely till the last. Then his ammunition was exhausted. He had saved a bullet for such an eventuality where there was no hope left of escape. He used it to shoot himself and died in the park where his memorial now stands. Thus ended the last hope of the revolutionaries to stage a comeback.
Meanwhile, the colonial government was getting restless over the increasing public anger against the death sentence for Bhagat Singh, Sukhdev and Rajguru. So they secretly planned to hurriedly hang the three great freedom fighters on March 23 before protests could escalate.
A little before this, Vidyarthi was released and quickly returned to active work despite his poor health, in his main area of work in Kanpur. The colonial government feared that the biggest opposition to the hanging of the three great freedom fighters will be organised under his watch at Kanpur. Hence, the rulers planned to suddenly instigate communal violence in the city. 
They knew that Vidyarthi would definitely go to the violence-affected areas to rescue victims of the affected communities. The cover of communal violence could then be used to assassinate him. This is exactly how events played out. Vidyarthi was stabbed and died on March 25. There is anecdotal evidence to suggest that there had been a conversation, earlier, in the slums of the city, that the Lion of Kanpur would be killed on that day.
Hence the tragic month which started on 27 February 1931 with the death of Chandrashekhar Azad, ended on 25 March with the death of Vidyarthi. Within a short span of four weeks four of the most courageous revolutionary leaders were dead and, in addition, their most invaluable and trusted friend within the Congress Party was also gone. 
All the revolutionaries who died were very young, in their twenties. Bhagat Singh was 23, Azad was 24. Vidyarthi was only 41 too, when he died while rescuing victims of a deliberately-ignited communal episode. 
Yet the inspiring and extraordinary courage shown by all these martyrs in their last days had the desired effect. It made a lasting impact on a very large number of people in India and even abroad. It is not widely known that thousands of people, even in Britain, had signed petitions for commuting the death sentences awarded to Bhagat Singh, Rajguru and Sukhdev after a very unjust and arbitrary trial. 
As for the impact in India, in some parts of the country, the popularity of Bhagat Singh, who only lived until 23, equalled that of Gandhi. More and more Indians, particularly the youth, were inspired by the example set by Bhagat Singh and his comrades to make sacrifices to overthrow the yoke of colonialism. This was their great contribution, for it speeded up the effort for complete freedom.
As the views of Bhagat Singh and his comrades regarding their very strong commitment to justice, equality and communal harmony became better known, the commitment for these values within the larger freedom movement was also strengthened. In fact, even to this day, when these most cherished constitutional values and principles are threatened, the people of India continue to draw strength and inspiration from the lives and ideas of Shaheed Bhagat Singh and his comrades.
The writer is a freelance journalist. He recently edited a collection of biographies of freedom fighters titled Azadi Ke Deewanon ki Dastaan (Vitasta, Delhi). The views are personal
Get the latest reports & analysis with people's perspective on Protests, movements & deep analytical videos, discussions of the current affairs in your Telegram app. Subscribe to NewsClick's Telegram channel & get Real-Time updates on stories, as they get published on our website.
Subscribe Newsclick On Telegram