Imprudent Judgement Leaves Detainees in Despair
The human cost of detention and the implications of re-verification of NRC.
Representational use only.
Silchar: The Supreme Court, on April 2020 directed the release of detainees who have been lodged in the detention camps of Assam for more than two years, because of the COVID-19. Kamrul Hussain Laskar and Minara Begum were among the inmates released on bail from Silchar detention camp who were declared foreigners by a Foreigners Tribunal (FT), often criticised for passing either faulty or discriminatory judgments.
After spending a better part of their lives in various camps across Assam, Laskar and Begum maintain they are Indian citizens as they find their own families and identities hard to locate and easy to lose.
DETENTION AND PECULIAR FT JUDGEMENTS
Laskar presented himself before an FT after receiving a notice (allegedly under coercion) from the border police issued in the name of one Kamrul Islam. He believes that his father, Abdul Hussain Laskar nudged the authorities because of financial and personal differences. According to him, Abdul abandoned all responsibility towards his mother and remained distant, leading to a souring of relations between the two. After running away to Meghalaya in search of work when he was eleven years old, Laskar found shelter with various family members living in different parts of the northeast before marrying in 2005. Despite having documents such as the school leaving certificate countersigned by the certificate inspector of schools and the voter list of 2015, which designates Abdul as his father, Laskar failed to prove that he was born through a 'Genuine Indian Parent'.
The judgement based on documents such as Laskar's old driving licence states, "In the O.P's evidence and documents the father of the O.P's name is Abdul Hussain". The order also observes the signature in affidavits and papers are the signs of a student of class one or two rather than class eight.
While Laskar had to leave behind his children under the care of his wife Jhuma after being taken to a detention camp in 2016, Minara Begum was accompanied by her 15-day-old daughter Sahanara as they spent the next ten years meandering around various detention camps. Her husband Rahimuddin Shil took care of their five other children.
Begum was declared a foreigner and sent to detention despite having land records and legacy data from 1965 to prove her domicile. She failed to establish a relationship with her father, as people living in flood-prone areas tend to misplace documents while they relocate. They served nine years of their detention in Kokrajhar, a female facility, after languishing in Goalpara for the first six months. "The authorities gave us cow milk which you cannot feed an infant", teary-eyed Begum says, adding "The doctor and administrators in Goalpara kept teasing us as Bangladeshi and abused us whenever we asked for assistance". In Kokrajhar, Begum took to weaving blankets as Sahanara started studying and playing with other kids lodged there. Sometimes, she used to stand by the gate calling out Baba, Mama to strangers passing by.
LIFE AFTER DETENTION
The family members of Laskar and Begum carried on without them. Jhuma found a job in a nearby Mimi factory and sustained the family with little monetary assistance from others. Often she would borrow fifty rupees to bribe the jail authorities to meet Laskar. While Laskar was in the detention camp, his lawyer gave up on his case and didn't even bother to inform him about the decision. He thought his case was being handled by his lawyer. In reality, no one was assigned until social activist Kamal Chakraborty reached out. Rahimuddin remarried after losing all hope of seeing his wife again, stoking the division of their house, like their life into two. Laskar and Begum have to report to the nearby police station once a week. They have not been able to find regular work, misery exacerbated by the lockdown imposed since last year.
Wishfully thinking about his mother, Laskar adds, "I don't have the money and I don't know where she is right now, but I hope to look for her". His four children are enrolled in a nearby school and help with fishing and repair work of the house. Sahanara lives with her parents and goes to a nearby school. "I don't umm.... remember the name of my classmates, but we play a lot during tiffin period", she says while showing off her notebooks. She also recited a Sukumar Roy poem at a cultural festival in Silchar last year.
Social activist Kamal Chakraborty and representatives from organisations such as 'Beekshan Cine Commune' have visited families of Laskar and Begum to offer financial and legal aid since their release. Laskar has acquired a new Driving license with the help of Chakraborty, who has also taken up the responsibility for Sahanara's education. Advocate Aman Wadud has agreed to represent both Kamrul Hussain Laskar and Minara Begum in Guwahati High Court.
POLITICS OF ETHNONATIONALISM AND IMPLICATIONS OF RE-VERIFICATION
The Bharatiya Janata Party (BJP) and its coalition were able to secure a majority in Assam for a second consecutive term, strengthening its stronghold over a state where elections have been determined historically by politics of ethnonationalism. Himanta Biswa Sarma was sworn in as the 15th Chief Minister of Assam this year and said that his coalition government favoured 20% re-verification of the updated National Register of Citizens (NRC) list (published in August 2019) of in districts sharing a border with Bangladesh and 10% in the remaining Districts. Till now, the Union Government has not taken any decision to prepare the National Register of Indian Citizens at the national level," Union Minister of State for Home Nityanand Rai said while replying to a question in the Rajya Sabha on whether the central government had any plans to implement the NRC throughout the country.
Assam now has 100 FTs with over lakhs of cases pending. The primary purpose of these Tribunals is to identify foreigners. The State government bears the expenses of FTs, which the MHA reimburses later. According to Chakraborty, the trial for 19,00,000 people who are already left off the NRC list would take a minimum of 50 years to complete. Apart from the added expenditure on the government for an exercise with no clear end in sight, it is easy to overlook the human cost of NRC. Citizens like Laskar and Begum face excruciating horror and harassment in the camps for several years, in a twilight zone of legality, with either rare visits or no contact from their families. Even after bail, they find themselves clutched inside a vicious cycle of lawyers and courts stifling their desire and right to lead a free life.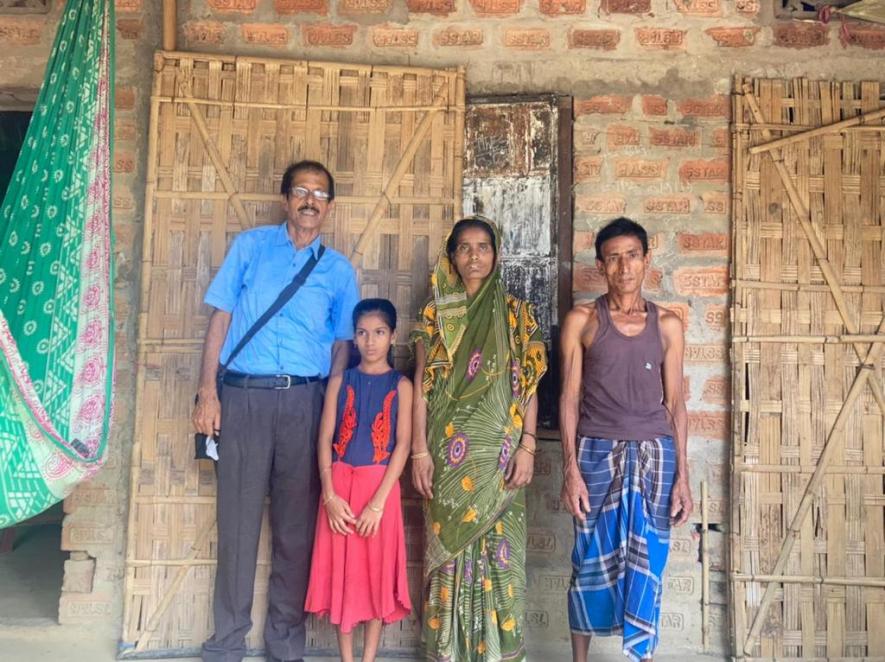 Kamrul's old driver license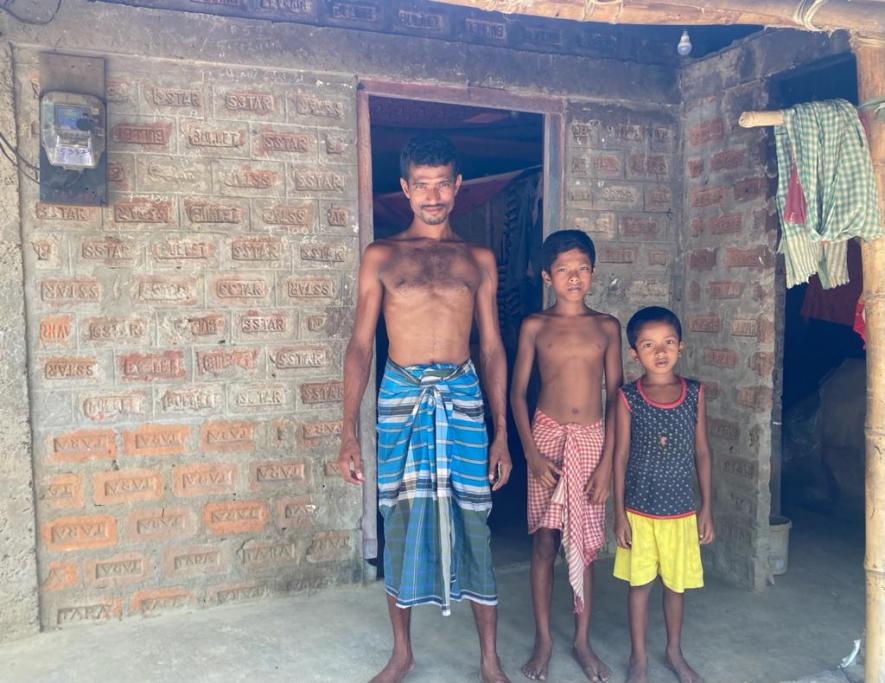 Kamrul with two of his sons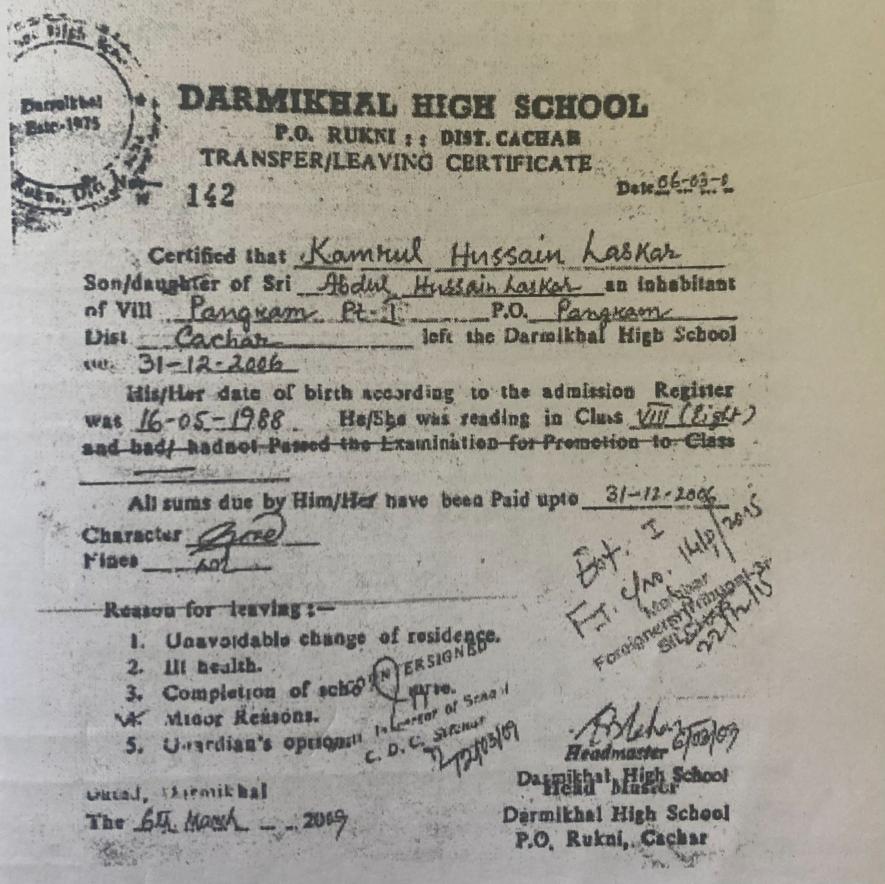 Kamrul's high school leaving certificate
The author is a freelance journalist and is currently pursuing his Master's in Convergent Journalism from AJK MCRC, Jamia Millia Islamia.
All photos were taken by the author.
Get the latest reports & analysis with people's perspective on Protests, movements & deep analytical videos, discussions of the current affairs in your Telegram app. Subscribe to NewsClick's Telegram channel & get Real-Time updates on stories, as they get published on our website.
Subscribe Newsclick On Telegram