India Misses Unique R-Day Celebration: SKM to Intensify Struggle
Farmers celebrate Republic Day in Jind by holding a protest rally to mark the second stage of the farmer movement.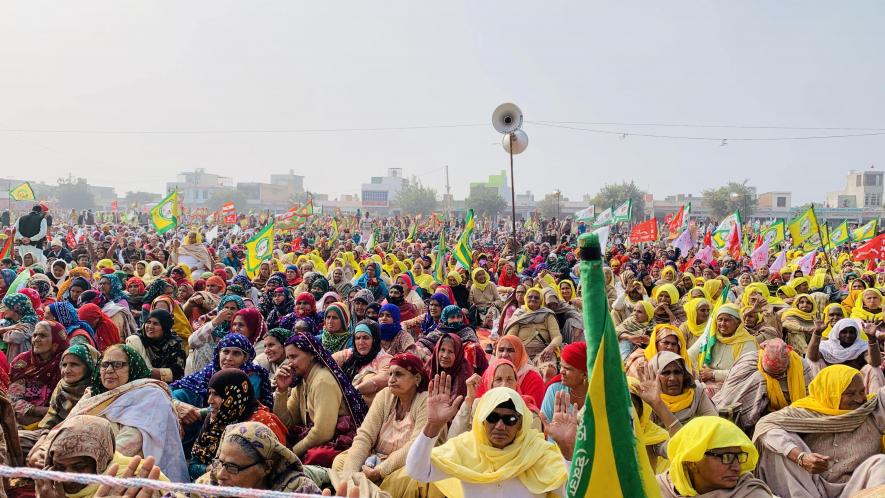 Jind (Haryana): Far from the customary Republic Day Parade at the glittering Central Vista, thousands of farmers congregated at Anaj Mandi, in Haryana' Jind, to celebrate the Constitution and its values.
Though the celebration was unusual—it was the largest farmer meeting after the suspension of agitation at Delhi's borders to protest the consistent apathy towards the demands for minimum support price (MSP as per the Swaminathan formula), revoking of the Electricity Amendment Bill and justice to Lakhimpur Khiri case victims.
According to the farmers, the protest marked the beginning of the second stage of the movement in which the Samyukta Kisan Morcha (SKM) will intensify its struggle to claim fair crop remuneration and remind the Centre about other promises made at the culmination of the Delhi agitation.
The Centre, through its letter by then-farmers welfare department secretary Sanjay Agarwal, had assured the leaders that it would form a committee with a clear mandate to ensure MSP to farmers, revoke cases related to the agitation and do away with the adverse provisions of Bill.
"The idea behind the rally was to show our unity because Central law enforcement agencies tried hard to sabotage our Kisan Parade on Republic Day in 2021 during our agitation at Delhi's borders," Krantikari Kisan Union president Darshan Pal told Newsclick.
"It gave an impression that we are no longer united. However, we defied all propaganda and ultimately won. Farmer organisations came together again in Kurukshetra last year and resolved to celebrate Republic Day in Jind to reiterate our demands. Today, we are remembering our martyrs and the rally is an important development in the second phase of the movement," he added.
Pal emphasised that the first phase of the movement revolved around repealing the three contentious farm laws. "The consensus among farmers was to suspend the agitation after Modi's announcement. We had won and needed some break."
He said it was a "tactic to see if the government realises its promises. When it defaulted, we met again in Delhi last year and announced that we would resume our struggle for MSP, Electricity Amendment Bill and punishment for Lakhimpur Khiri culprits. We reminded the Centre through letters and memorandums to MLAs and MPs".
Republic Day is "important for several reasons", Pal said. "We lost Navreet Singh in Uttar Pradesh due to police violence. Farmers are holding bike rallies, meetings and conventions across the country today. The government lied to us on MSP. It introduced the Electricity Amendment Bill. We aim to expose the BJP-RSS combine and isolate it politically before general elections."
Bharatiya Kisan Union Ekta (Ugrahan) president Joginder Singh Ugrahan was seen eagerly waiting for buses carrying farmers to arrive at the destination. The organisation had made elaborate arrangements to manage the rally—from feeding thousands of people to ensuring the safety of women and children.
Large batches of farmers came from Punjab's Malwa belt, infamous for an agrarian crisis and farmer suicides. A study revealed that 16,606 farmers had committed suicide in Punjab alone from 2000-2016 owing to distress.
Ugrahan said that his "apprehension was correct" when the government invited SKM representatives to discuss MSP. "Neither they informed us about the mandate of the committee nor its members. The other members and experts were the same people who supported the farm laws. What would we achieve by going there? It was a clear betrayal."
The Republic Day celebration is a "reminder that the emancipation of farmers cannot be achieved till they are indebted" he said.
"We want to realise the Constitution in its true spirit. It says that working people will get justice and we seek it. Farmers are in debt due to the government's dishonesty and wrong policies," he further said. "The Centre "presented a model which favoured corporate entities through expensive seeds, fertilisers and pesticides. These entities now wish to control the entire agriculture sector. We would not tolerate it."
Mangtu Ram and his friends, who came from Mansa district's Sardulgarh, explained the maths behind their debt. Ram planted cotton on 18 of his 22 acres hoping to profit this year.
"I got spurious seeds and pesticides—there was no cotton. A few plants that had flowers were destroyed by pests. Fertilisers are expensive with bags now weighing 45 kg compared to earlier 50 kg. When this government came to power in 2014, a bag of DAP cost Rs 300. Now, it has increased to Rs 1,300," Ram said.
"The price of one bag of urea has jumped from Rs 100 to Rs 275. Pesticides, which cost 100 per acre, now cost Rs 1,200. We cannot even recover our rent. Our biggest concern is the closure of government seed research centres with the entire market being handed over to the private sector," Ram added.
Mentioning his story of "never-ending loans", Rishi Pal Singh said, "Since groundwater in my area cannot be used for irrigation, farmers have to invest in pipelines measuring up to 4 km to get water from canals. The cost is in lakhs. Three bags of seeds are needed for an acre, which costs Rs 3,000. Besides, pesticides, herbicides, diesel and labour expenses plus rent inflate the bill."
Singh said that a farmer "does not even get a quintal of cotton per acre, which will hardly fetch Rs 9,000. In this situation, he also has to take care of his family. It is a cycle of never-ending loans."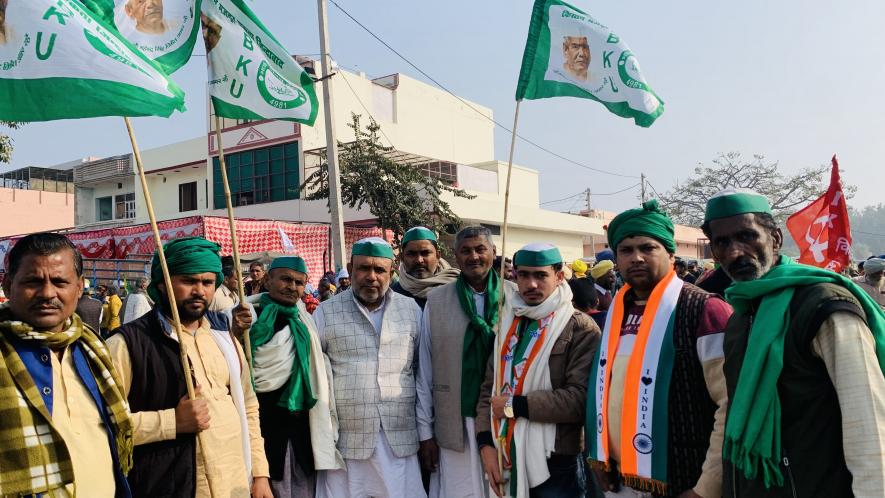 The mobilisation from Uttar Pradesh (UP) was managed by BKU (Tikait). Parminder Dhaka and his friends travelled 190 km to Jind to "listen to Rakesh Tikait and "convey the pain" of sugarcane farmers in western UP.
"When the BJP was in the Opposition in UP, its workers demanded Rs 450 per quintal MSP from the Samajwadi Party government. The party has been in power for six years, but no member gives a damn about the demand. Does it mean we don't feel pain anymore? Not at all," Dhaka said.
Dhaka said that farmers "consoled themselves that the loss of farming could be compensated" if any of their sons get selected for the Army. "The government snatched that opportunity as well through the Agnipath Scheme."
Sachin Chaudhary isn't interested in farming anymore. "The input costs have rocketed, and mills are unwilling to pay us on time. "Bajaj Sugar Mill, in Bhasana, alone owes Rs 222 crore to farmers from the previous year. The input cost, excluding the family labour, for one quintal is Rs 300 whereas we receive Rs 350 in return," the young farmer said.
Farmers and agricultural workers in Haryana are angry over a new scheme under which family identity cards are linked with every social security scheme.
Ram Chander, an activist of All India Kisan Sabha (AIKS) from Narwana (Jind), said that the government had fixed Rs 1,80,000 annual family income as the benchmark for this card along with 12 exclusions.
"The ridiculous part is that if you own a motorcycle, you cannot get the PDS ration. If your electricity bill exceeds Rs 1,000 per month, you are out. Even a pension is included in family income to keep you out. That is why angry farm workers are present in the rally in large numbers," Chander said.
The rally also mourned the Lakhimpur Khiri victims and offered condolences. Terai Kisan Sangathan president Tejinder Singh Virk said that the families of the deceased still await justice.
"We are very grateful that the Supreme Court took sou motto cognisance of the killings. Yet the bail for Ashish Mishra on is hurtful. The world watched how he mowed down people under his jeep and farmers only reacted in self-defence. I hope the judiciary will deliver justice by keeping in mind the Constitution we are celebrating today," he told Newsclick.
Get the latest reports & analysis with people's perspective on Protests, movements & deep analytical videos, discussions of the current affairs in your Telegram app. Subscribe to NewsClick's Telegram channel & get Real-Time updates on stories, as they get published on our website.
Subscribe Newsclick On Telegram