Superpower? India First Needs to Save Its Children & Women from Malnutrition
Latest health survey (NFHS-5) reveals shocking levels of anaemia and malnutrition in states.
In a chilling report, the latest National Family and Health Survey (NFHS)-5 has found that some states have one-third to nearly half of young children (up to 5 years of age) suffering from low weight, stunting and wasting, all symptoms of chronic lack of healthy food. 
In addition, an unconscionable half to over three-fourth of children, and one-third to three-fourth of women in the reproductive age (15-49 years) suffer from anaemia, again attributable to either lack of balanced food or chronic diseases. 
The survey was carried out in 2019-20, and covered a sample of about seven lakh households spread across all states. The data released is of 17 states and five Union territories (covering about 50% of India's population). Survey work couldn't be completed in the remaining states due to the COVID-19 pandemic. 
Shockingly, only a few states have shown some improvement in these numbers over the past five years since the last such survey (NFHS-4) was conducted in 2015-16.
A striking feature of the latest released data, which should worry the Central and state governments, and policy advisers, is that both, India's richer and poorer states figure among the states with the highest proportion of child and women's malnutrition. Clearly, the poor population of the so-called richer states is no better than the poor states.
In the following analysis, only the 17 states are considered, while the Union territories – including Jammu & Kashmir and Ladakh – will be discussed separately.
Child Malnutrition
Underweight children, that is, those below the standard weight for an age, as defined by international standards adapted for countries, is a very reliable indicator of persistent malnutrition. This affects the child's physical and mental development and thus casts a long shadow on the future of such children. 
As can be seen in the chart below, among the states with the highest share of underweight children are Bihar (41%), Gujarat (40%), Maharashtra (36%) and Karnataka (33%), while Kerala and some of the North-Eastern Indian states have lower underweight rates, though still unacceptably high. Note that Bihar is one of the poorest states, and Gujarat one of the richest ones – yet underweight children's shares are virtually the same.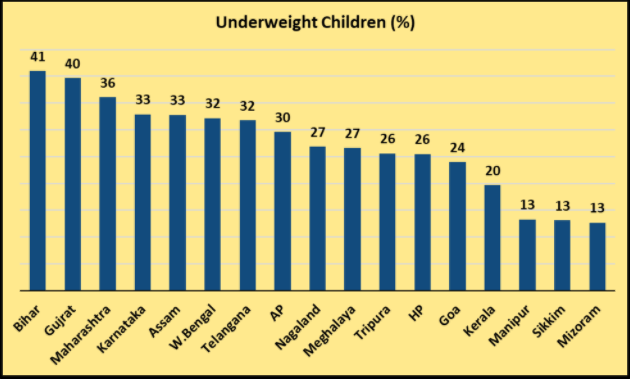 Bihar has improved slightly from 2015-16 – the share of underweight children is now 41% compared with 44% then. But both Gujarat and Maharashtra are practically at the same levels. Assam, Telangana, Himachal Pradesh and Kerala have shown deterioration with slightly more children underweight now, and Nagaland has shown an increase of over 10%.
Low weight is visible in children in two ways: stunting (low height for age) or wasting (low height for weight). Both these parameters were checked in the NHFS-5 survey. The results can be seen in the chart below.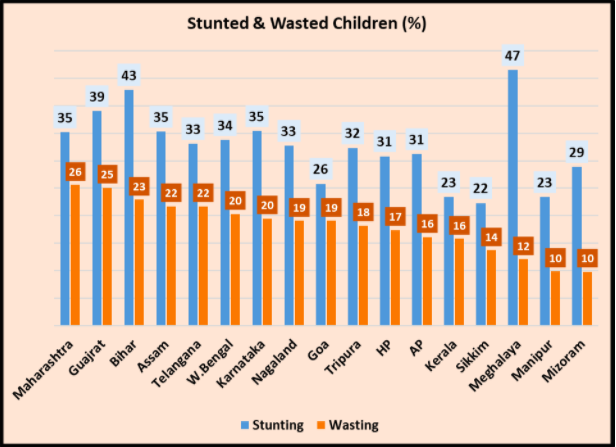 Again, you can find some of the richer states like Maharashtra and Gujarat right at the top with some of the more backward and poorer states, like Bihar and Assam. Other North-Eastern states continue at the lower end, except Meghalaya which has the highest proportion of stunted children at 47%. The survey experts have cautioned that in the smaller states like those in the North-East (except Assam) the sample sizes are small and hence results need to be taken with some caution.
Rampant Anaemia 
The other feature of an imbalanced or deficient diet – even of hunger – is existence of chronic anaemia. Again, this deficiency of iron in the blood affects both physical and mental development of the child. The chart below shows the shockingly high rates of anaemia in small children.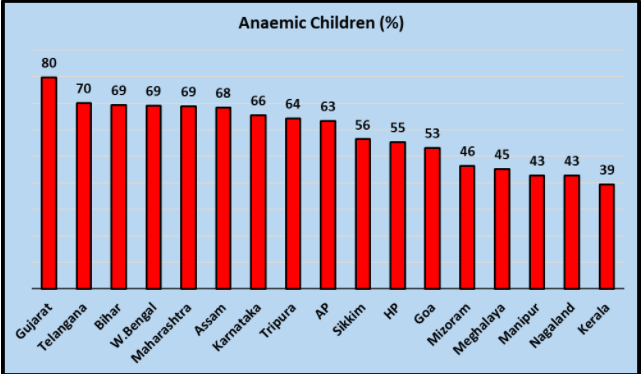 Note that yet again, Bihar is sandwiched between some of the more prosperous states like Gujarat and Maharashtra, although West Bengal and Telangana, too, are among the top five states. What is most striking is that the share of children with anaemia is over 60% in nine of the states and over 40% in 16 out of 17 states, with only Kerala marginally below that at 39%. Clearly, this is a national problem which has reached dire levels. Another noteworthy fact is that anaemia levels have increased in all states, except Meghalaya, where a small decline is reported. 
This clearly shows that all the policies and exhortations by Central and state governments are failing as people are just unable to procure healthy balanced food on a daily basis. Remember, that this is when several government-run programmes are providing food to children, mainly through anganwadis for this age group. 
Another equally disturbing aspect of this crisis is that anaemia continues unabated among women of reproductive age. As the chart below shows, Bihar and Gujarat continue to figure in the top five states, but the other three states are West Bengal, Tripura and Assam, all in Eastern India. In all the states, barring a few, proportion of women with anaemia has increased.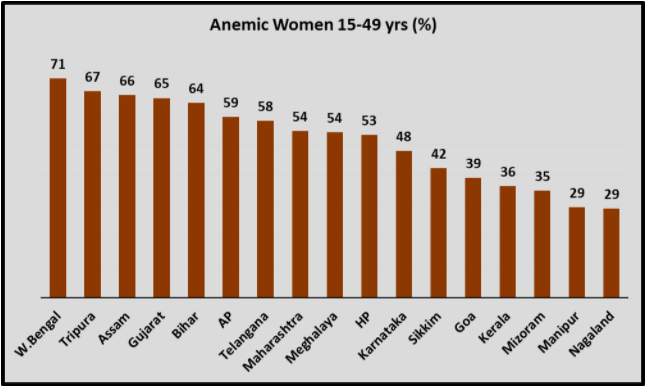 Among some of the states with worrying increases are: Assam (20 percentage points increase), Tripura (13), Gujarat (10) and West Bengal (9). Policy makers evidently need to address this deadly crisis on an emergency basis: a weak mother, suffering from exhaustion and susceptible to infections, will have an effect on the whole household, and especially on children because in India's society, it is she who looks after children and the elderly, and cooks, etc. 
The Survey report also highlights that among pregnant women, too, high rates of anaemia were found. This would mean that the children they bear will inherit weaknesses and susceptibilities – they will be doomed from the first day of their life.
The picture is not yet complete: the remaining states/UTs data will hopefully be released at the earliest. It will include some of the biggest states like Uttar Pradesh, Madhya Pradesh and Rajasthan, as also some of the poorer states like Odisha, Jharkhand and Chhattisgarh, besides the relatively prosperous ones like Punjab and Haryana. 
Yet, the trend shows a worsening of the nutrition crisis in India, even though the country is often declared to be "the fastest growing economy" or moving quickly to become "a $5 trillion economy", or that a "New India" is being forged, and so on. These claims are all hollow: India is made up of people, who are hungry and debilitated. Not only that, our policy- makers are condemning future generations, too, to this prison of failing bodies, because today's children are tomorrow's adults.
[Data processing inputs by Peeyush Sharma
Get the latest reports & analysis with people's perspective on Protests, movements & deep analytical videos, discussions of the current affairs in your Telegram app. Subscribe to NewsClick's Telegram channel & get Real-Time updates on stories, as they get published on our website.
Subscribe Newsclick On Telegram